Have you seen the latest authoritative research on the use of rewards and recognition published by the Enterprise Engagement Alliance? If not, click here for a free edition of the eBook, The Art and Science of Engaging Rewards. It's the most comprehensive, up-to-date report on all aspects of the rewards and recognition business and a must-read for anyone involved in the market.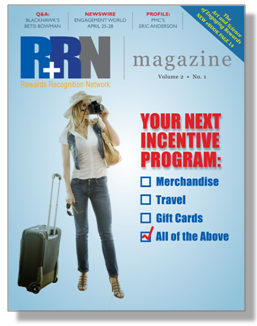 RRN Can Help Suppliers Profit From New Growth Trends
The engagement movement is creating exciting opportunities for our field as merchandise, gift card and travel suppliers identify new and creative ways to enhance the rewards experience. At the same time, RRN, at RewardsRecognitionNetwork.com, helps both leading suppliers and newcomers profit from the new growth in this field through unique, low-cost content marketing strategies that help generate leads and close sales.
A Full-Service Solution for Brands and Retailers
RewardsRecognitionNetwork.com is the only media company in the rewards and recognition space offering advertisers a completely integrated advertising program in multiple media that includes content marketing, face-to-face exhibits and complete support services, such as:
The RewardsRecognitionNetwork.com portal and eNewsletter, reaching many of the industry's key power-buyers with the latest new products, research and trends.
The Rewards & Recognition Expo, where the industry's leading buyers, brands and wholesalers go to learn, share, and buy.
RRN print and digital publication to ensure the industry's top buyer's know about your unique selling benefits.

RRN's Engagement Agency that can provide a complete turnkey business development solutions using eNewsletters, content, telephone prospecting, PR, print and web sales tools, and social media to identify business opportunities.