E2E Group Aims for Leadership Role in Human Capital Management

In its quest to provide clients a lifetime career management solution, E2E Group has the potential to transform the traditional recognition field from focusing primarily on rewards and technology to providing full-service human capital management solutions.

Ask E2E Group CEO Phil Stewart his five-year vision for the parent company of the Engage2Excel, Rideau, and Hinda brands, and his answer is clear: to be a preeminent professional services firm in human capital management that helps organizations achieve a high level of sustainable employee engagement. Based on Stewart's roots at IBM's Kenexa talent management division, the E2E Group CEO is building a full-service human capital management firm to manage lifetime career relationships and customer loyalty across the company's three main business lines: Engage2Excel for career lifetime management; Rideau for advanced recognition, analytics, and training solutions, and Hinda for rewards, loyalty, and the sale of E2E Group services through Hinda's growing network of VARS (Value-Added Resellers)—with all divisions having the ability to cross-sell services as needed by clients.

Explaining the move to purchase Rideau, Stewart says that "Rideau was the perfect fit not only to expand our footprint into the Canadian market, but also in Europe, where both of our companies have clients. Rideau has established a pre-eminent name in recognition and is the market leader in Canada," which is one reason why Rideau is maintaining its name, Montreal location, and team. Stewart says the main differentiation point for E2E Group is "the depth and breadth of our solutions from pre-hire to retire that drives the entire career experience for every employee," so that employees can visualize a path for themselves within the organization. The company even reaches into customer engagement with Hinda's loyalty solutions. All the company's reward fulfillment operations have been centralized at the E2E Group's Global Rewards Center location in Chicago.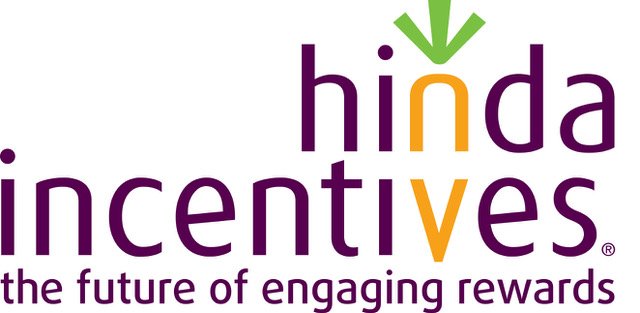 E2E Group: A Family of Human Capital Brands
Stewart uses the Coca-Cola analogy to explain the vision of E2E Group: the company has different brands that have their own focus but which any division can bring to the table to help a client. "We know there is much more to an employee relationship than recognition," he points out. "The opportunity starts even before someone is hired and then at every step along the way, beginning with the welcome kit the day they join to create an environment in which people wish to stay and grow," an issue he believes is becoming a CEO priority given the severe talent shortage that shows no signs of abating. He notes one client that has developed a building block model for each person's desk to help them more clearly visualize their journey and accomplishments.
With its combined services, E2E Group now includes everything from recruitment, onboarding, the first-day experience, engagement measurement, development of a career path all the way to retirement, rewards and recognition, the Vistance recognition and learning platform, and loyalty.

From the standpoint of Peter Hart, who heads E2E Group's Rideau group in Montreal, "This is what made E2E Group the right choice for Rideau: the people who are driving E2E Group come from IBM/Kenexa where they were accustomed to dealing in a professional services environment, so we knew that they would understand Vistance analytics and how the platform adds value, not an easy task for a traditional recognition salesperson. When you bring together the technologies, capabilities, and thought leadership of our combined companies, including Dr. Jack Wiley's 'Respect model,' and our relationships with Dr. Charles Scherbaum for analytics, Roy Saunderson and Chester Elton on Recognition, we have the industry's most comprehensive thought leadership resources."
ESM asked if E2E Group felt it had the potential to disrupt the traditional recognition marketplace. Answers Stewart, "Our goal is not to disrupt. We see it two-fold. There's still a recognition-solution buyer who needs a better recognition solution or to conduct pulse surveys, or to help hire people, and we focus on those client needs, in part because we often identify larger, more scalable opportunities that lead to the chief human resources officer. We were recently in a meeting with a client about a recognition opportunity, and the topic of innovation came up, for which we also have a solution. There is a large recognition market, and many programs that are broken that can be improved. We're actively pursuing that market, and recognition will always play a role."
On the other hand, he points out, "With the science behind what we are doing, we are helping companies become more successful in their management of human capital and that is a C-suite priority today." A major differentiator, he adds, "Is that we lead with solutions and how to accomplish a client's goals." This means having a different type of sales force than is typical in the recognition field, which traditionally has focused on awards and technology.
Hart believes that the new Business Roundtable charter (See ESM:
Business Roundtable: CEOs Must Commit to Benefiting All Stakeholders
), and
SEC requirements for human capital disclosures
are part of a broader trend. "The reason the Business Roundtable is talking about this subject is that it's good for business. At the end of the day, they are making this pledge for an economic reason." Adds Stewart: "If an organization is not focused on attracting and retaining the best talent, it cannot compete. If an organization can find the right people and engage them, customer engagement will follow, because how you treat employees will have a direct impact on how they treat customers."
For More Information
Sales and PR Contact:
Tommy Lee Hayes-Brown
‭877-789-0449, ext. 436‬‬‬‬
---
Master the Principles of Enterprise Engagement to Achieve Organizational Goals and Enhance Your Career
Profit from a new strategic and systematic approach to engagement to enhance your organization's brand equity; increase sales, productivity, quality, innovation, and safety, and reduce risks.
Get trained to become a Chief Engagement Officer for your organization.
Achieve ISO 10018 Quality People Management Certification to demonstrate your organization's strategic commitment to people to your customers, employees, distribution partners, vendors, communities, investors, and regulators.
Learn how to create Sustainability or Integrated Reports for Your Organization or Clients.
Get up-to-speed on ISO human resources standards and guidelines to enhance HR performance.
Live Education: Enterprise Engagement in Action. Take advantage of scheduled monthly live webinar preparation courses for the Certified Engagement Practitioner designation consisting of three one-hour classes and of quarterly Advanced Engagement Practitioner courses consisting of three one-hour webinar classes. The AEP course is for individuals or teams seeking preparation ISO 10018 professional certification status. ICEE periodically runs regional one-day workshops on ISO 10018 Quality People Management principles and certification.
Resources: The Brand Media Coalition, the only guide to the story-telling power of brands and where to source them for business, event, promotional gifting, and rewards and recognition.
2019 Enterprise Engagement Solution Provider Directory
. The only directory of engagement solution providers covering all types of agencies and tactics as well as insights on how to select them.
Communities: The Enterprise Engagement Alliance and Advocate and the Brand Media Coalition free resource centers offering access to the latest research, news, and case studies; discounts, promotions, referrals, and commissions, when appropriate to third-party solution providers from participating coalition solution provider members.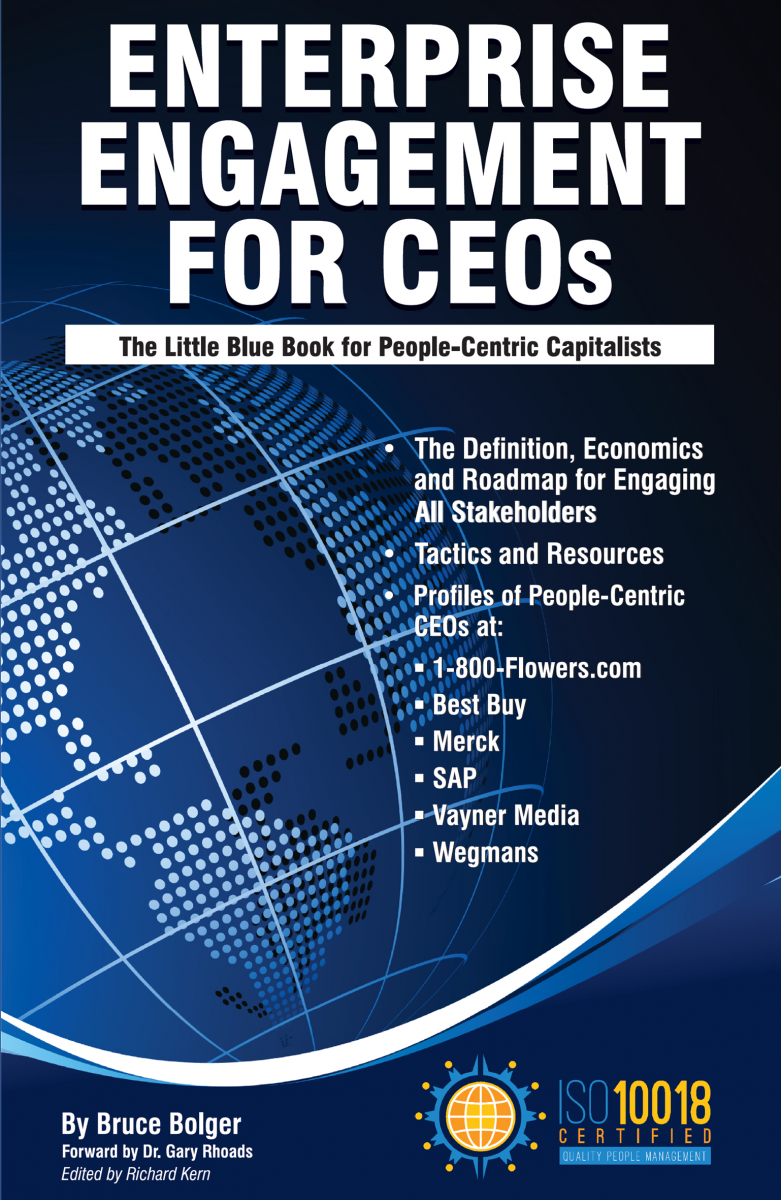 Written specifically to provide CEOs and their leadership teams a concise overview of the framework, economics, and implementation process of a CEO-led strategic and systematic approach to achieving success through people. (123 pages, $15.99)
Enterprise Engagement: The Roadmap 5th Edition
The first and most comprehensive book on Enterprise Engagement and the new ISO 9001 and ISO 10018 quality people management standards. Includes 36 chapters detailing how to better integrate and align engagement efforts across the enterprise. (312 pages, $36.)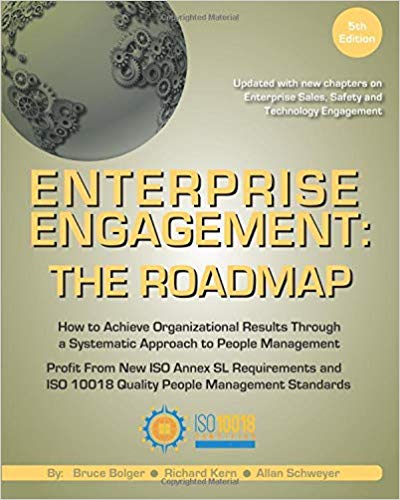 Online:
• 10-minute short course: click here for a 10-minute introduction to Enterprise
• Engagement and ISO standards on Coggno.com.
• 5-minute Audiopedia summary of the Enterprise Engagement field.
Services:
• The International Center for Enterprise Engagement at TheICEE.org, offering: ISO 10018 certification for employers, solution providers, and Enterprise Engagement technology platforms; Human Resources and Human Capital audits for organizations seeking to benchmark their practices and related Advisory services for the hospitality field.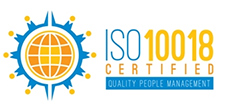 • The Engagement Agency at EngagementAgency.net, offering: complete support services for employers, solution providers, and technology firms seeking to profit from formal engagement practices for themselves or their clients, including Brand and Capability audits for solution providers to make sure their products and services are up to date.
• C-Suite Advisory Service—Education of boards, investors, and C-suite executives on the economics, framework, and implementation processes of Enterprise Engagement.
• Speakers Bureau—Select the right speaker on any aspect of engagement for your next event.
• Mergers and Acquisitions. The Engagement Agency's Mergers and Acquisition group is aware of multiple companies seeking to purchase firms in the engagement field. Contact Michael Mazer in confidence if your company is potentially for sale at 303-320-3777.
Enterprise Engagement Benchmark Tools: The Enterprise Engagement Alliance offers three tools to help organizations profit from Engagement. Click here to access the tools.
• ROI of Engagement Calculator. Use this tool to determine the potential return-on-investment of an engagement strategy.
• EE Benchmark Indicator. Confidentially benchmark your organization's Enterprise Engagement practices against organizations and best practices.
• Compare Your Company's Level of Engagement. Quickly compare your organization's level of engagement to those of others based on the same criteria as the EEA's Engaged Company Stock Index.
• Gauge Your Personal Level of Engagement. This survey, donated by Horsepower, enables individuals to gauge their own personal levels of engagement.
For more information, contact Bruce Bolger at Bolger@TheEEA.org, 914-591-7600, ext. 230.