One10 Marketing: The Power of the Pivot in the Time of Covid-19
One10 Marketing, a top-10 full-service performance improvement company, faced the pandemic by finding new ways to serve customers and leverage its people and expertise, says Richelle Taylor, Vice President Strategic Marketing. It is helping companies rapidly shift to new ways to engage, from moving travel incentives and meetings to merchandise and other rewards and virtual events; connecting to the hearts and minds of employees through enterprise engagement technology and effective communications and training, and by helping clients benefit from analytics to make better decisions.
Like every other company in the motivational events business, One10's incentive travel and meetings business experienced a shock this past spring when the pandemic hit. To Richelle Taylor, Vice President of Sales, this was the ultimate test of the company's agility, resilience and focus on strategy. While expecting the motivational events business to eventually return, the company's focus today is on helping organizations pivot from incentive travel and meetings; create a more unified brand through its enterprise engagement technology, communications, and learning services, and to help clients benefit from analytics to make better decisions. "One of the key benefits of our company is that we are award agnostic," adds Taylor. "Our focus is on helping clients achieve their goals."
A Storied History
Launching under the new name of One10 LLC after purchasing the Channel and Employee Loyalty divison from Aimia in 2017, the company today describes itself as "an 80-year-old startup." Its roots go back to the formation of Gold Bond stamps by its founder, the legendary Curt Carlson. In 2009, Carlson Marketing Group was sold to Aimia, a leading Canadian loyalty firm seeking a foothold in the US, Taylor explains. That was followed by the acquisition of Excellence in Motivation in 2012, whose management also had connections with the former Carlson Marketing team. When Aimia decided to pull out of business-to-business engagement to focus on loyalty, industry veterans
Bob Miller
, now President and CEO;
John Kernan
, CFO, and
Fred Sammet
, CIO, stepped in to buy the company in 2017.
Today, One10 ranks among the largest companies in the motivation space and counts some of the world's largest brands among its customers. It has offices in Minneapolis; Troy, MI; Dayton, Dallas, Los Angles, and Toronto, with about 600 employees, focusing in three areas:
•
Incentives and recognition
"We are in the business of performance improvement," says Taylor. "From soup to nuts, including program design--looking at how to engage employees. We have a consulting team that can help develop clear performance measures and strategies to engage the workforce. We can help develop a program that works. We have PhDs who come from human capital and performance sectors who know how to reward in the most effective way based on the people, business, and its products." The company says it helps engage sales and non-sales employees as well as supply chain partners.
Taylor believes the pandemic has forced companies to look internally to make sure they are leveraging their strengths. "When things are going well, companies can sometimes become complacent. The pandemic has forced everyone to reflect on what is happening and to focus on finding hidden resources and strengths they can use to respond."
A Growing Focus on Alignment
She elaborates, "This year, even before the pandemic, I can think of multiple companies that were beginning to wonder if they had become too siloed, and whether it was time to rally the company behind a single banner." It's her company's job, she says, to help organizations pivot in the same way One10 had to reorient its own plans in the face of the unexpected collapse of the meetings and incentive travel business.
"We were certainly affected by the downturn in our travel events business and like every company in our space had to furlough some people in that division, but we have weathered the storm better because of the diversity of our services," Taylor explains. The company has event bookings starting in the first half of 2021 with more in the second half, but Taylor still sees caution. "A lot of clients are eager to get back to face-to-face meetings. When people feel it is safe to travel again, we think there will be a burst of demand and pressure to get hotel rooms."
Short of a cure or powerful vaccine to the disease, she sees a gradual return to travel, starting first with small groups or individual travelers who feel more comfortable than others getting out on the road. In fact, she points out, smaller properties are already sold out in the second half of next year and into 2022.
Tapping Talent to Address Client Needs
To accommodate the need for clients starting earlier this year to postpone or cancel incentive trips, One10 developed a "Rewarding You" online catalog clients can quickly customize to offer winners carefully selected alternatives with high-perceived value specifically designed to meaningfully replace long-coveted trips. "This was one of the ways we pivoted in the face of the travel downturn."
Another growth area is virtual events. "This goes beyond having meetings on Zoom or Teams. It's about creating or replicating what we have lost with travel on hold: that feeling of being connected. It's about having a shared experience. Organizations are coming up with hybrid experiences done virtually. One client had a meeting with very slick production that included live cooking classes. Afterwards, people had delivered to their homes the ingredients they could use to practice what they learned. Companies are looking for creative ways to blend our virtual and physical worlds."
It's no different sitting in a training session, she points out. "To engage people, it's important to have little touchpoints along the way. You can't just broadcast information: people have to absorb it. That's our role."
Taylor believes that the "digitalization of the workforce" creates yet another significant opportunity to help organizations foster alignment. One10 has companies in all industries, but cites a major automotive client using its PerformX technology platform as a hub for engaging its key employees and other stakeholders, integrating push notifications, learning, account information management, rewards…The company is using our platform as their intranet. With everyone working at home, we see this as a significant opportunity for other companies as well."
She believes companies can benefit by leveraging the same interactive social tools that people use in their daily lives. "It's getting more difficult to communicate with people because there are so many demands on their mind share." Companies need to employ all sorts of tools, from gamification, badging and other creative devices to truly to make people keep coming back to the engagement platform on their smart phones, tablets, or computers.
Creative Marketing and Analytics Services
Having an in-house creative marketing and communications team, she says, adds an important dimension to the company's services, especially when clients no longer have meetings and events to tell their stories. These services can be used to help organizations cut through the clutter in just about any medium, she says, such as by creating contests, promotions, quizzes, or training materials.
The company's inhouse analytics capabilities, provide another advantage and opportunity, she says, starting with the company's PerformX enterprise engagement platform. "We have the ability to measure just about everything that we're doing for our clients and, aided by AI (artificial intelligence), can better understand users. That means making it easier for them to get the information they need or wish to see, and how better to personalize the experience. These practices are already being applied in the consumer world. B-to-B has some catching up to do to take advantage of the ability to measure performance and prescribe better solutions going forward."
At One10, Taylor says, "We are all thinking about how we re-imagine what we do today and continue to leverage our pool of talent. How can we keep our people focused on the goal of serving the rapidly changing needs of clients? It's our No. 1 priority to remain relevant by bringing suggestions and fresh new ideas to clients about human performance and improvement."
For More Information
Richelle Taylor
Vice President, Sales
Tel. 937 824 8103
---
Master the Principles of Stakeholder Capitalism And Implementation Through Enterprise Engagement
Education, Certifications, and Information to Activate
Stakeholder Capitalism Available Nowhere Else
A complete learning, certification, and information program and a course syllabus for educators.
Training and Certification
Enterprise Engagement Alliance Education: Certified Engagement Practitioner; Advanced Engaged Practitioner, and Certified Engagement Solution Provider learning and certification programs on how to implement Stakeholder Capitalism principles at the tactical level.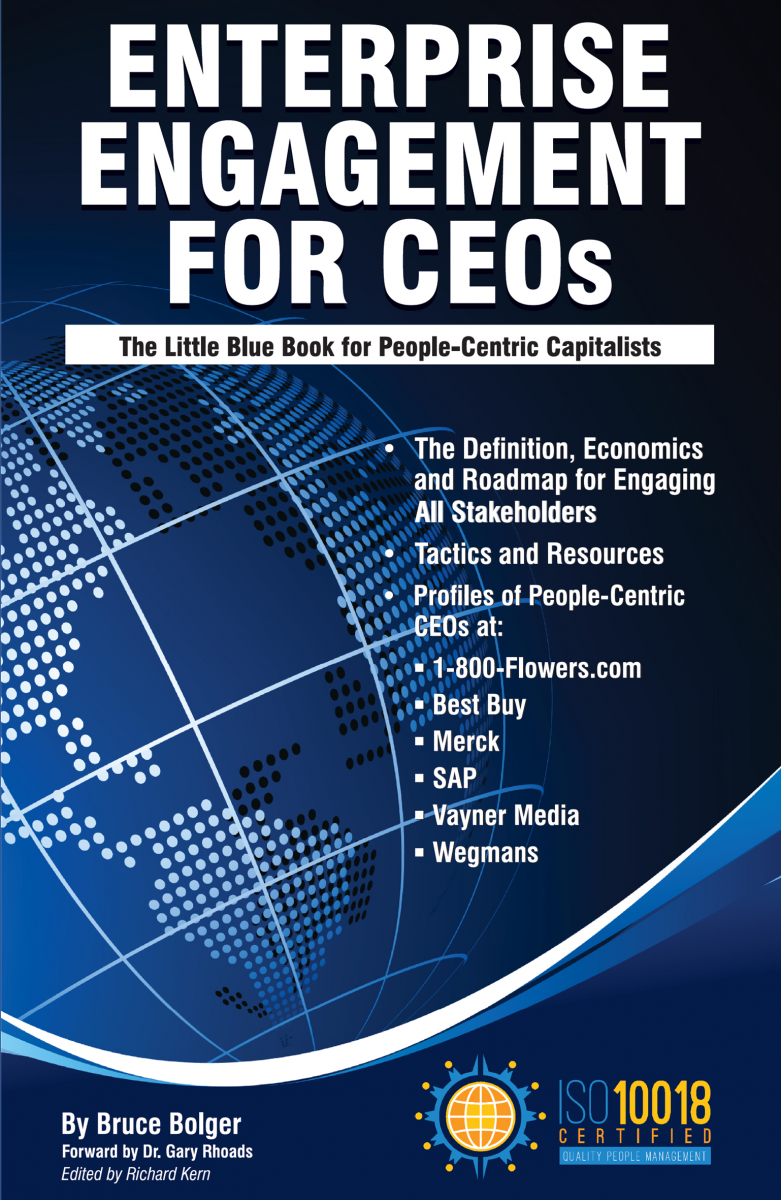 Join the EEA to begin your certification process or see our other resources below.
THE ONLY BOOKS ON STAKEHOLDER CAPITALISM IMPLEMENTATION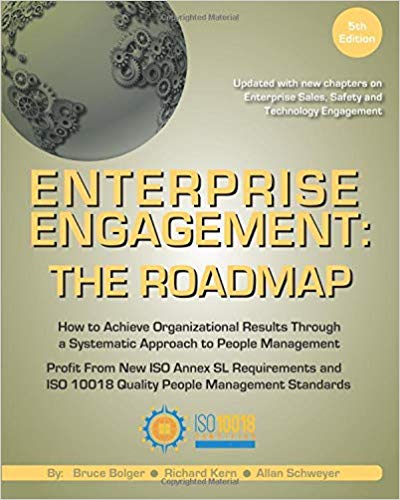 Enterprise Engagement: The Roadmap 5th Edition
The first and most comprehensive book on Enterprise Engagement and the new ISO 9001 and ISO 10018 quality people management standards. Includes 36 chapters detailing how to better integrate and align engagement efforts across the enterprise. (312 pages, $36.)
OTHER RESOURCES TO ACTUALIZE STAKEHOLDER CAPITALISM
Communities:
The
Enterprise Engagement Alliance and Advocate
and the
Brand Media Coalition
free resource centers offering access to the latest research, news, and case studies; discounts, promotions, referrals, and commissions, when appropriate to third-party solution providers from participating coalition solution provider members.
Enterprise Engagement
Resources:
EEXAdvisors.com provides the only curated online marketplace to access hundreds of solution providers in all areas of human capital management and enterprise engagement throughout the world.
Online Overview:
10-minute short course: click here for a 10-minute introduction to Enterprise Engagement and ISO standards from the Coggno.com learning platform.
Services:
• The Engagement Agency at EngagementAgency.net, offering: complete support services for employers, solution providers, and technology firms seeking to profit from formal engagement practices for themselves or their clients, including Brand and Capability audits for solution providers to make sure their products and services are up to date.
• C-Suite Advisory Service—Education of boards, investors, and C-suite executives on the economics, framework, and implementation processes of Enterprise Engagement.
• Speakers Bureau—Select the right speaker on any aspect of engagement for your next event.
• Mergers and Acquisitions. The Engagement Agency's Mergers and Acquisition group is aware of multiple companies seeking to purchase firms in the engagement field. Contact Michael Mazer in confidence if your company is potentially for sale at 303-320-3777.
Enterprise Engagement Benchmark Tools: The Enterprise Engagement Alliance offers three tools to help organizations profit from Engagement. Click here to access the tools.
• ROI of Engagement Calculator. Use this tool to determine the potential return-on-investment of an engagement strategy.
• EE Benchmark Indicator. Confidentially benchmark your organization's Enterprise Engagement practices against organizations and best practices.
• Compare Your Company's Level of Engagement. Quickly compare your organization's level of engagement to those of others based on the same criteria as the EEA's Engaged Company Stock Index.
• Gauge Your Personal Level of Engagement. This survey, donated by Horsepower, enables individuals to gauge their own personal levels of engagement.
For more information, contact Bruce Bolger at Bolger@TheEEA.org, 914-591-7600, ext. 230.