Transcend Engagement at the Convergence of Technology and Strategy
When Dr. Bob Randall founded Transcend Engagement over five years ago, he saw an opportunity to disrupt the employee engagement field by creating a platform and methodology to demonstrate a bottom-line impact. Today, he sees more interest in strategy and analytics than ever and has added a full suite of advisory services to provide clients a complete, measurable employee engagement solution.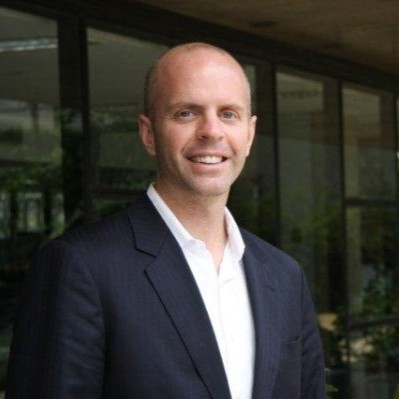 Dr. Bob Randall
is one of the few executives in the engagement business who did not come out of the rewards, recognition, or incentive business. Before launching Transcend, Randall held senior management positions in sales, manufacturing and business development for over 20 years. He is also Assistant Professor of Management for the College of St. Scholastica in Duluth, MN.
"The concept of the Transcend Engagement technology came out of my research on employee engagement," explains Randall. "From both research and experience, it became clear to me that what organizations lacked was a clear strategy for employee engagement designed to help achieve goals in a measurable way. It became clear that technology would make it easier for organizations to better align all of the ways they engage people to achieve better results."
An Integrated Approach
The Transcend Engagement SaaS-based platform is designed to make it easy for organizations to provide a complete a la carte suite of engagement solutions designed to engage, equip, and inspire employees, including: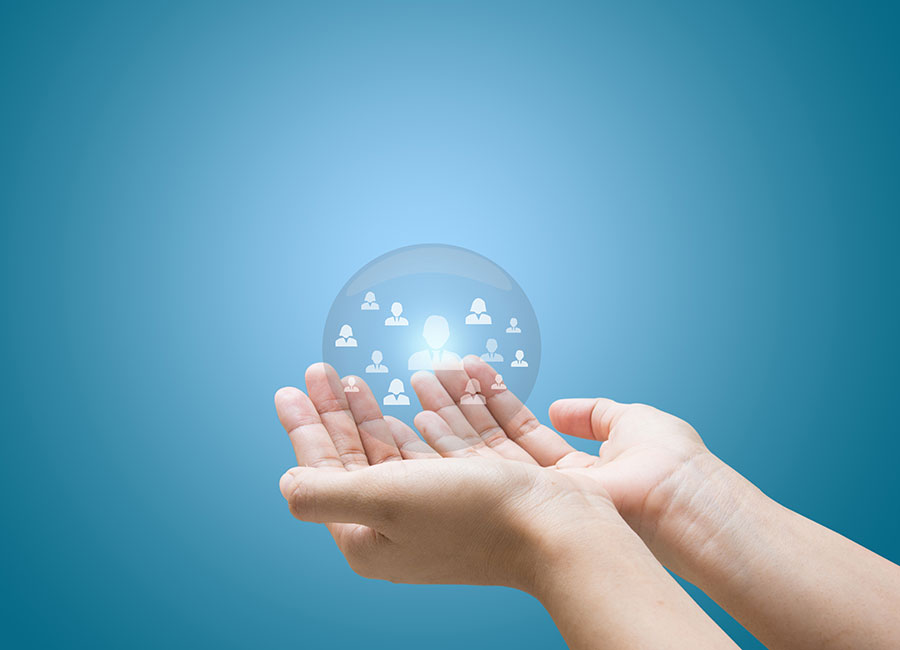 •
Communication to regularly update the team on critical information.
•
Surveys to monitor and act upon employee sentiment.
•
Feedback systems making it easy for employees to contribute constructive ideas.
•
Recognition to promote and support organizational values and goals, not simply length of service.
•
Social connection to develop team spirit.
•
Supervisor relationships—identifying and addressing the effectiveness of managers.
•
Employee development—creating feedback loops with an emphasis on skill development.
•
Analytics—the ability to track and compare employee involvement and program effectiveness.
The platform also supports rewards and recognition, company stores, and surprise-and-delight programs using tangible rewards to further enhance emotional connections, Randall says. "Research shows that when properly used, carefully selected tangible rewards properly presented can have a measurable effect on someone's commitment to an organization and their willingness to engage and to refer key stakeholders."
Randall explains that the easy-to-implement platform enables almost any size company to integrate all their employee engagement tools into a single application, tracking engagement of employees in real time based on their behaviors across all the tactics designed to engage them.
Beyond Rewards to Performance
Until recently, Randall observes, most organizations purchased employee engagement software as a means of updating the traditional length-of-service experience for which little reporting was demanded. Today, he says, there's much more interest in using employee engagement strategies and tactics to support the culture and the brand. "Companies are asking a lot more questions than they used to about how they can use our expertise, technology and processes to improve the ROI of their programs."
Unlike many companies offering employee engagement technologies, Randall observes, Transcend offers additional advisory services, including: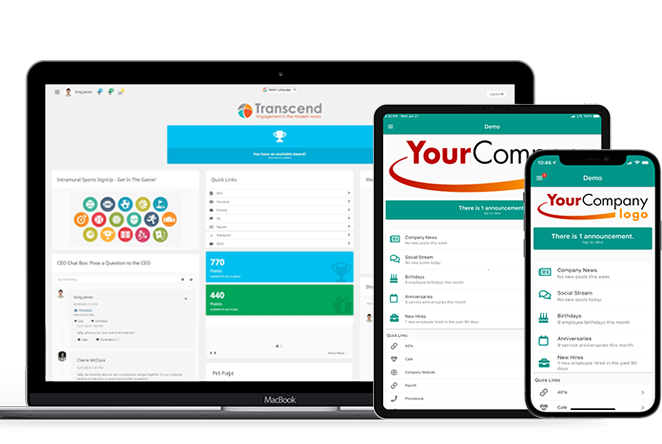 Program design.
For clients serious about program design and measurement, Randall says Transcend's advisory service provides a systematic approach to designing programs based on evaluating organizational or departmental goals, the audiences involved, and the best ways to achieve the goals in a measurable way with a return-on-investment.
Employee development. Randall reports that Transcend offers multiple employee development programs led by highly trained coaches to address:
•
Diversity, Equity, and Inclusion
"The company's approach to employee development identifies and supports areas where the manager or employee can continue to learn, develop and improve," Randall notes. "Visual dashboards help employees know where they stand and where they can improve."
Performance management. Most performance management systems demotivate people because assessments are infrequent, top-down, and cumbersome, Randall observes. His company's approach is "easily configurable to your culture and includes regular check-ins with managers to create more trust and alignment. Gen Z and Millennials want more feedback and coaching from their boss—so we built a platform to promote and track this activity."
The process, he says, is partly self-managed by employees, which "helps them maintain accountability and a sense of ownership over their performance and development in a way that enhances engagement and increases the chances of achieving or exceeding goals."
Transcend's technology was recently recognized by Adobe as a leading SaaS innovator on their Cold Fusion platform. "We have married up best-in-class technology with proven organization development principles and now seeing measurable results with our clients," says Randall. "When employees are engaged, everyone wins, and it is our mission to make that happen."
For More Information
Bob Randall, Founder
612-804-0862
Bob@transcendengagement.com
---
Master the Principles of Stakeholder Capitalism And Implementation Through Enterprise Engagement
Education, Certifications, and Information to Activate
Stakeholder Capitalism Available Nowhere Else
A complete learning, certification, and information program and a course syllabus for educators.
Training and Certification
Enterprise Engagement Alliance Education: Certified Engagement Practitioner; Advanced Engaged Practitioner, and Certified Engagement Solution Provider learning and certification programs on how to implement Stakeholder Capitalism principles at the tactical level.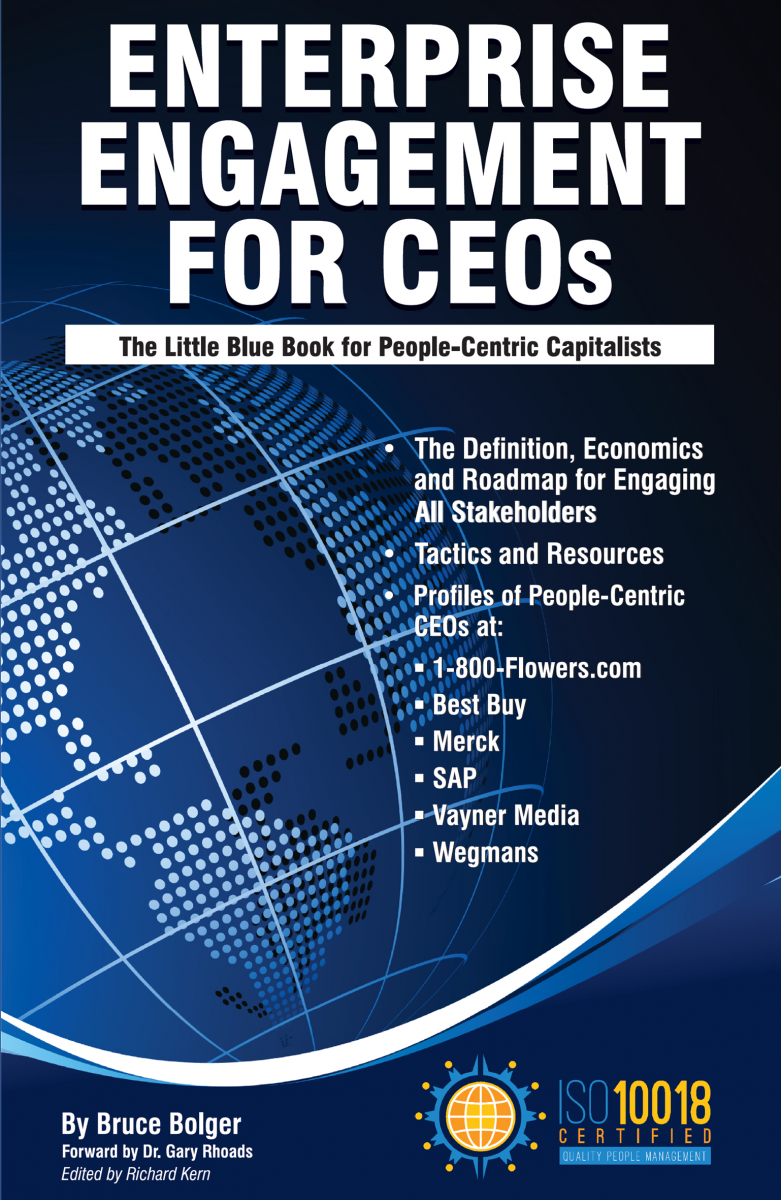 Join the EEA to begin your certification process or see our other resources below.
THE ONLY BOOKS ON STAKEHOLDER CAPITALISM IMPLEMENTATION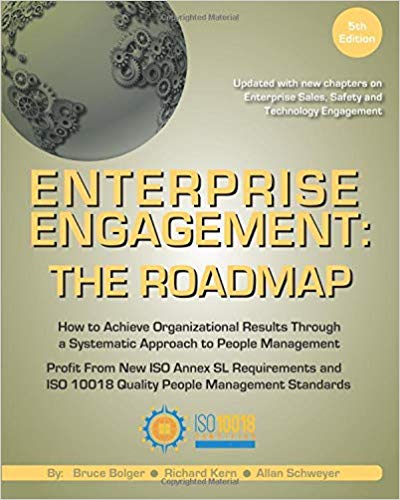 Enterprise Engagement: The Roadmap 5th Edition
The first and most comprehensive book on Enterprise Engagement and the new ISO 9001 and ISO 10018 quality people management standards. Includes 36 chapters detailing how to better integrate and align engagement efforts across the enterprise. (312 pages, $36.)
OTHER RESOURCES TO ACTUALIZE STAKEHOLDER CAPITALISM
Communities:
The
Enterprise Engagement Alliance and Advocate
and the
Brand Media Coalition
free resource centers offering access to the latest research, news, and case studies; discounts, promotions, referrals, and commissions, when appropriate to third-party solution providers from participating coalition solution provider members.
Enterprise Engagement
Resources:
EEXAdvisors.com provides the only curated online marketplace to access hundreds of solution providers in all areas of human capital management and enterprise engagement throughout the world.
Online Overview:
10-minute short course: click here for a 10-minute introduction to Enterprise Engagement and ISO standards from the Coggno.com learning platform.
Services:
• The Engagement Agency at EngagementAgency.net, offering: complete support services for employers, solution providers, and technology firms seeking to profit from formal engagement practices for themselves or their clients, including Brand and Capability audits for solution providers to make sure their products and services are up to date.
• C-Suite Advisory Service—Education of boards, investors, and C-suite executives on the economics, framework, and implementation processes of Enterprise Engagement.
• Speakers Bureau—Select the right speaker on any aspect of engagement for your next event.
• Mergers and Acquisitions. The Engagement Agency's Mergers and Acquisition group is aware of multiple companies seeking to purchase firms in the engagement field. Contact Michael Mazer in confidence if your company is potentially for sale at 303-320-3777.
Enterprise Engagement Benchmark Tools: The Enterprise Engagement Alliance offers three tools to help organizations profit from Engagement. Click here to access the tools.
• ROI of Engagement Calculator. Use this tool to determine the potential return-on-investment of an engagement strategy.
• EE Benchmark Indicator. Confidentially benchmark your organization's Enterprise Engagement practices against organizations and best practices.
• Compare Your Company's Level of Engagement. Quickly compare your organization's level of engagement to those of others based on the same criteria as the EEA's Engaged Company Stock Index.
• Gauge Your Personal Level of Engagement. This survey, donated by Horsepower, enables individuals to gauge their own personal levels of engagement.
For more information, contact Bruce Bolger at Bolger@TheEEA.org, 914-591-7600, ext. 230.