Korn Ferry Acquisition of Hay Group Reflects New Focus on Engagement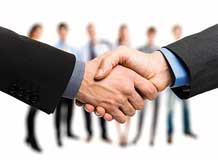 "Without people, there is no show," notes Gary D. Burnison, CEO of people advisory firm Korn Ferry, announcing the firm's acquisition of Hay Group, the Philadelphia-based human capital consulting firm. "Rockets didn't take us to the moon; it was the engineers and the dreamers," says Burnison in a press release about the acquisition. "The Internet didn't create a globally networked economy; it was the innovators and creators. Since the beginning of time, people have been the ultimate differentiator. Yet today, this simple truth is all too often plastered on office walls, but rarely acted upon in the halls. We need a new conversation on people. That's why Korn Ferry is combining with the Hay Group – knowing that when people align to a strategy and are developed and empowered to succeed, anything is possible."
The released goes on to note that Korn Ferry, when combined with Hay Group, will have 7,000 of " the best and brightest minds of our industry who have a single goal. Unleashing the best and brightest people so that organizations around the world may reach their highest aspirations, strategic goals, and ultimate potential." This sounds like an enterprise engagement company to us – a powerhouse with nearly $1.5 billion in annual sales.
Says Stephen Kaye, CEO of Hay Group, who will retain his position under the acquisition: "We feel this is the perfect combination of two great firms that will be uniquely positioned to help clients achieve their strategic goals and highest aspirations…we are now witnessing an extraordinary transformation that will shape the future of work and the global business environment."
Korn Ferry will combine Hay Group with its Leadership and Talent Consulting (LTC) segment and retain the Hay Group brand for that group, headed by Stephen Kaye. The company told shareholders it expects to achieve about $20 million in "annual cost synergies."
In the recent ESM article,
Human Capital Tech Expert Bret Starr: Engagement Has Arrived
, Starr predicted mergers and acquisitions in this emerging field as organizations worked to create an enterprise solution for engagement, just as occurred in other areas of technology in the past. With another large publicly-held company in the "engagement space," we see yet more evidence of the meteoric growth Starr and others are predicting. We have always predicted that the "Ogilvys" of engagement would emerge, and this might be the first of many.