The Great Shift Begins: Engage2Excel New Name and Vision for 123-Year-Old TharpeRobbins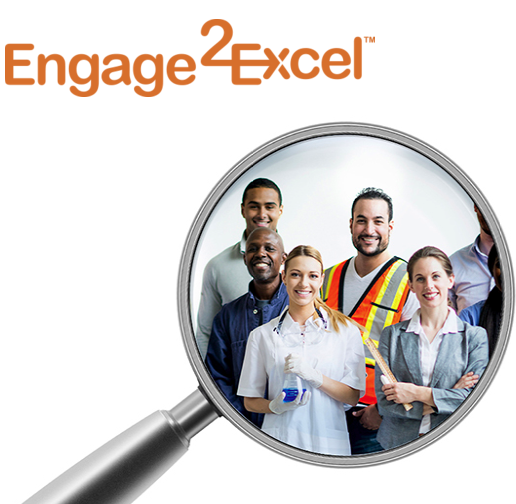 Engage2Excel
is the new name of TharpeRobbins Inc., the 123-year-old Statesville, NC-based recognition company, and one of the largest such firms in the U.S. The name change reflects the vision of the company's new CEO, Phil Stewart, who before joining TharpeRobbins spent eight years at IBM/Kenexa as Chief People Officer and since 2007 was President of the company's Recruitment Process Outsourcing business unit.
Said Stewart in an interview with ESM: "No. 1 on the minds of executives is engagement and culture. It has reached the point of being a top priority." The big opportunity, he notes, is to help clients develop recognition strategies tailored precisely to the needs of each organization in a way that provides a measurable return-on-investment. As part of the company's new direction, Stewart has recruited Jack Wiley, author of the book Respect, to serve as Engage2Excel's Chief Engagement Scientist. Using the methodology of Wiley's book, along with an employee engagement survey product and predictive analytics tool, Stewart says he aims to bring a new level of science to the recognition field.
"If you look at the recognition field, it's pretty segmented," he explains. "You still have many of the companies with product and jewelry backgrounds, and then you have those companies that bang their drums on technology. Others from the traditional incentive side of the business offer a little bit of everything. They all claim to drive business outcomes, but there's really nothing that measures it." Stewart says that many times the only measure is whether there's a general sense that employees liked the programs. The result is that a lot of recognition has become commoditized around product and technology. He says he saw much the same occur in the employee survey business from which he came, noting "The key is to provide measurable outcomes for clients."
Combining Surveys with 'Prescriptive Analytics'
Engage2Excel has partnered with predictive analytics firm
Vestrics
to enable organizations to precisely look at such issues as turnover, attendance, safety, length of service, wellness, etc., to identify specifically where recognition can deliver the best results. So in addition to offering employee survey products, "we can create a measurement map and correlate precisely where recognition can be applied to address a key objective," explains Stewart. "For instance, if you want to increase retention by 15%, this is where you need to invest to get the best return."
The goal, he says, is to take the analytics back to the clients to identify specifically the issues that have to be addressed, the behaviors required to increase performance, and keep managers focused on the right issues through measurement: "With Engage2Excel's new tools, the company can apply engagement surveys and analytics to find out what's going on in the organization. If you know that, you can better direct recognition dollars."
Stewart believes that the competitive edge will go to the solution providers that can follow through on the analytics to take responsibility for results, which explains why Engage2Excel brought in Jack Wiley, Ph.D., as the company's new Chief Engagement Scientist. Wiley is founder of the Kenexa High Performance Institute, Kenexa's research and development arm. He claims to be among the first to conduct research linking employee survey results to "measures of customer satisfaction and financial performance," according to his website.
The idea is to provide clients with the right benchmarks on employee engagement, as well as what he calls "prescriptive" analytics that identifies specifically those behaviors needed to achieve the specific goal. The plan is to use Wiley's "Respect" methodology as appropriate and/or bring in other consultants as needed to make sure the client has a complete program with someone accountable for the return-on-investment.
Strategic Account Development
As for its go-to-market strategy, Engage2Excel has recruited experienced account development people from consulting firms who Stewart says are accustomed to working at the strategic level and analyzing information in a way that helps clients identify concrete strategies. The company will continue to sell through about 25 independent representatives that were part of the original TharpeRobbins distribution strategy, offering them all of the same tools to help them create new opportunities in the engagement field with traditional clients.
Stewart admitted that it's not as easy as it looks to move recognition buyers into the engagement era, which starts with a strategic, ROI-based approach rather than the traditional length-of-service discussion. "Many companies have traditionally looked at rewards and recognition programs as tactical or part of the culture," he says. "Sometimes the person who runs the length-of-service award programs has no desire to be on the radar screen, because these are the first programs that get cut. Our goal is to bring them a solution that turns their budgets into a critical part of the business strategy that is on the profit side of the ledger, and which actually enhances their roles."
Engage2Excel is owned by private equity firm
Gridiron Capital
, and is the parent of the Hinda Incentives business that supports large-scale loyalty programs and solution providers in all areas of loyalty, promotions and incentives. See Hinda
Launches Loyalty Group
.