News Analysis: Wanted Now – Enterprise Engagement Executives
Johnson Controls Job Opportunity Signals Growing Opportunity and Challenge
The job posting below is real. The opportunity is at Johnson Controls, a global technology and multi-industrial leader based in suburban Milwaukee. If you are interested in applying, send your resume to Carrie Losch, Executive Recruiter, Johnson Controls, e-mail
carrie.losch@jci.com
.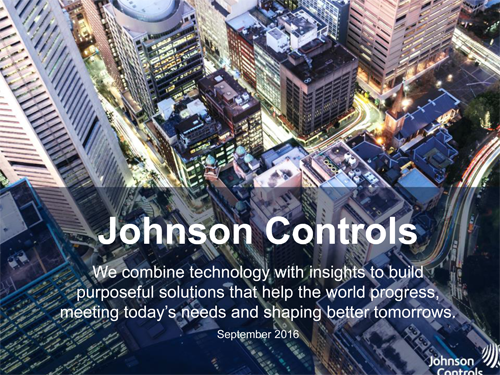 Click here for a PDF
providing a different perspective on the opportunity.
ESM is featuring this article not only to kick off a new free Job Board, but also to make an important point: This highlights the opportunities for professionals and the challenges forward-thinking organizations such as Johnson Controls will face in the new world of engagement.
Although this job is titled Director of Customer Experience, if you read the job description you'll see that what Johnson is really seeking is a professional with a firm grasp of enterprise-wide engagement – i.e., an understanding of, and ability to interface with, all the key groups in the organization; an understanding of the assessment, learning, recognition and other engagement tactics; and the ability to put those tactics together into a measurable strategy with the support of the organization. The perspective and skills required in this job description not only overlays with the EEA's Enterprise Engagement Framework, but also with the Quality Management Principles published in 2015 by ISO, the International Organization for Standardization.
See ESM: ISO Engagement Standards Part I: Why Now, Research, and Potential Implications.
The main challenge faced by organizations such as Johnson Controls is how many candidates have the breadth of experience and skills required by the new engagement-focused organization? This person has to understand branding, leadership, assessment, multiple communication platforms, innovation, rewards & recognition and analytics, as well as create formal, measurable strategies. Where is that taught in schools or in business? The company seeks someone with five to 10 years of experience in a field that has barely taken shape.
For at least a limited period, ESM will publish all engagement-related help wanted ads from both professional consulting firms, corporations, associations, schools and government at no cost. Just send to
rkern@TheEEA.org
. ESM will conceal the name of the company if requested.
---
DIRECTOR, CUSTOMER EXPERIENCE
[JOB DESCRIPTION]
PRIMARY PURPOSE
Provide expertise, vision and leadership to enable the Commercial Operating System and the execution of world-class customer experience practices that improve customer loyalty, market leadership and shareholder value, maximizing profitable growth for the enterprise.
Provide strategic direction and program office leadership for the Customer Experience program to support Commercial Excellence and associated sales, sales operations and customer service functions within the Johnson Controls Operating System across the company.
Create a company-wide culture of Customer Success.
PRINCIPLE DUTIES
Develop strategy and a consistent framework to deliver a world-class customer experience and make it easier to do business with Johnson Controls. Oversee all program design, planning and analysis to execute the enterprise strategy.
Design and implement a customer experience relationship program including global customer survey, world-class loyalty models and predictive analytics, action-planning processes, communication and role-based reporting through business scorecards and executive dashboards.
Share best practices across business units and leverage external benchmarks.
Establish targeted feedback mechanisms beyond surveys to address critical business transactions (ordering, delivery, invoicing, etc.). Define predictive measurement systems for key interactions with customers to enhance the customer experience through the entire business cycle.
Design and develop alternative listening posts to enable deeper connection with our customers and strengthen relationships as part of our account management strategies. Establish strategy and cadence for customer focus groups. Create customer advisory councils and define executive level engagement strategies.
Manage a portfolio of initiatives to deliver improved customer experience outcomes. View all activities with a process orientation driving efficient, measurable, robust and repeatable processes.
Execute process to measure customer experience maturity for the enterprise and business segments. Develop plans to improve capabilities based on gaps to a defined world-class framework.
Design and implement a scalable enterprise recognition program for customer experience that can be deployed at the business segment.
Partner with the Business Units to deliver on enterprise customer experience plan and roadmap. Proactively drive collaborative relationships with peers in the business units.
Chair the global Customer Experience Leadership Team. Develop goals and facilitate meetings to be productive, collaborative and action oriented. Champion best practice sharing across the enterprise.
Supports the work of the Commercial Leadership Council comprised of appropriate ELT level executives of these programs and keeps them up-to-date at all times with the latest program and process information.
Establish and deliver on enterprise customer experience key performance indictors (KPIs) for designated programs.
Provide a thorough, detailed and evolving understanding of customer experience that supports commercial excellence. Provide thought leadership to the business units and corporate management. Champion customer relationship management concepts and examples of success to senior leaders in all commercial aspects of the business.
Foster a lock step relationship with the Process Excellence, IT and HR organizations creating a seamless, planned, process-driven continuum between development, staging, production and support of applications and infrastructure.
Take a lead role in providing strategic vendor relationship management with the top external business partners.
Support all aspects of Johnson Controls Operating System for world-class sales excellence including sales models and supporting tool sets. These models and tools will allow Johnson Controls to be known as one of the best companies to sell for and the easiest company to do business with in the industries we serve.
Partner with various stakeholders on Marketing and Digital Communications requirements (e.g. tools and systems).
Performs other duties and projects as assigned.
REQUIREMENTS
Bachelor's degree required in business, marketing, engineering or equivalent experience. MBA or other graduate-level degree preferred, or equivalent combination of education and work experience.
10+ years' in customer experience management roles including direct commercial experience, sales operations function or related customer satisfaction experience., with 5+ years with direct responsibility for delivering exceptional 'customer experience'.
5+ years' experience managing within large global multi-industrial organizations.
Familiar with customer relationship management practices and process to leverage for maximum effectiveness. Experience operating in a multi-channel customer facing environment is essential.
Demonstrated organizational credibility in achievement delivering results and leading people over an extended period of time.
Has an understanding and knowledge of our company and industries we serve, and ability to coordinate different parts of organizations to achieve success.
Strong planning and analytical skills, with proven ability to apply these skills with business acumen to complex situations with competing priorities.
Proven expertise in developing and utilizing a management operating system to drive improved performance.
Proven ability to collaborate and effectively manage cross-functional teams charged with launching new programs and change management initiatives.
Strong consulting skills. Proven ability to partner with senior business leaders to understand needs and deliver solutions that meet expectations.
Demonstrated attention to detail a commitment to quality and be results driven and customer focused. Strategic planning and delivery leadership.
Demonstrated ability to write well, edit effectively and present complex issues and projects succinctly, logically and persuasively.
Ability to communicate effectively and drive the commercial vision, mission and strategy of the organization. Ability to influence without authority.
Superior organizational and problem solving abilities.
Travel requirement – up to 50%.