News Analysis: Part 1 - Enterprise Engagement Creates Big Opportunity for HR Management
CEOs are facing unprecedented pressure to develop strategic and tactical plans for the management of all their stakeholders - customers, employees, distribution partners and communities - and will need someone to lead the charge. This is the opportunity of a generation for the Human Resources field to demonstrate in a concrete way how it can contribute to shareholder value and organizational success.
Featured Content Sponsor: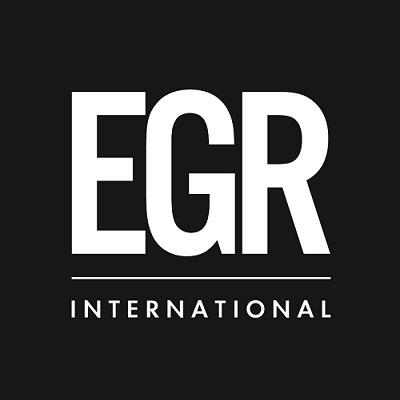 ---
CEOs in all enterprises will be increasingly obligated to disclose a strategic and systematic approach to managing their customers, employees and communities in the same way they do other assets. Even without Securities & Exchange Commission (SEC) requirements currently under consideration, it is likely that within just a few years most public companies will voluntarily disclose, to at least some extent, Human Capital investments and outcomes as they currently do research and development and other key operational issues. It will be common for the CEO's agenda to include responsibility for a strategic and tactical Human Capital plan that engages all interested parties in organizational goals and objectives, and it will also be common for annual reports to feature a section on an organization's Human Capital practices and outcomes. Someone must take charge of this.
Why This Scenario Is Inevitable
Multiple forces are converging to focus the C-suite's attention on an enterprise approach to engaging all stakeholders.
Managers of more than $15.7 trillion in investment capital now explicitly call upon public companies to disclose their Human Capital investments practices.
Investors demand more sustainable management practices: A Goldman Sachs JUST Company Exchange Traded Fund raised a near record $215 million on its first day, and the EEA's Engaged Company Stock Index (ECSI) continues to outperform the S&P 500 by more than 35 percentage points over six years. Public companies can no longer ignore the economics of sustainable management practices.
The SEC is considering a petition to require the disclosure of Human Capital investments in the same way public companies must disclose research and development.
Companies with any of 60 ISO standards, including ISO 9001 Quality Management and ISO 45001 Safety Management, are gradually learning that the CEO must lead the company's effort to connect the dots between engaging all stakeholders.
Respected media such as the Harvard Business Review and Forbes.com are increasingly writing about the need to link engagement across the enterprise.
A Social and Human Capital Coalition of 200 leading companies is about to agree upon voluntary Human Capital disclosures in response to increasing pressure from investors and regulators.
The concept of Enterprise Engagement may soon become a political issue. A New York Times columnist recently joined the voices of others urging the country to consider the merits of Sen. Elizabeth Warren's proposed Accountable Capitalism Act, which would require companies with $1 billion or more in sales to implement CEO-led Enterprise Engagement strategies that address the interests of all stakeholders: employees, customers, communities and shareholders. Click here for full story.
Lower Cost, More Sustainable Return Than Stock Buybacks?
Given that large publicly-held companies can spend in excess of $50 million in stock buybacks in a given year to increase their share price performance, imagine what even a large company could achieve with an investment of a few million dollars to implement an Enterprise Engagement strategy by recalibrating their brand message and breaking down silos to better align leadership, recruitment, coaching, assessment, communications, learning, innovation, rewards & recognition and analytics to achieve a clear return on investment on Human Capital.
The ROI of an enterprise approach to engagement is so compelling that it may soon become the fiduciary responsibility of most CEOs to have a strategic and systematic Human Capital plan. The concept of achieving organizational success by engaging all stakeholders in a strategic and systematic way has gained too much traction, makes too much economic sense and has too much appeal to the up and coming generations to simply go away.
So what does this have to do with HR? Once the light bulb goes on in the C-suite, someone needs to take charge and lead the process. With the proper CEO support, and HR executives possessing the right skills and experience, it's a unique opportunity for the Human Resources profession to make a critical and measurable contribution to the bottom line in terms of profits, growth and general stakeholder experience.
---
Featured Content Sponsor:
EGR International
A leading Engagement Agency with a proprietary, fully customizable engagement portal technology designed to support the demands of large enterprises.
Contact:
Robert Legge
Director of Channel Marketing
212-884-1854
---
Master the Principles of Enterprise Engagement to Achieve Organizational Goals and Enhance Your Career
Profit from a new systematic approach to engagement to enhance your organization's brand equity; increase sales, productivity, quality, innovation, and safety, and reduce risks.
Achieve ISO 10018 Quality People Management Certification to demonstrate your organization's strategic commitment to people to your customers, employees, distribution partners, vendors, communities, investors, and regulators.
Live Education:
Enterprise Engagement in Action Conference at Engagement World
, April 3, 2019, in San Francisco, in conjunction with the Selling Power Sales 3.0 Conference. Learn about the economics, framework, and implementation process for an ISO certifiable approach to achieving organizational objectives by strategically fostering the proactive involvement of all stakeholders.
Learn more and register now
.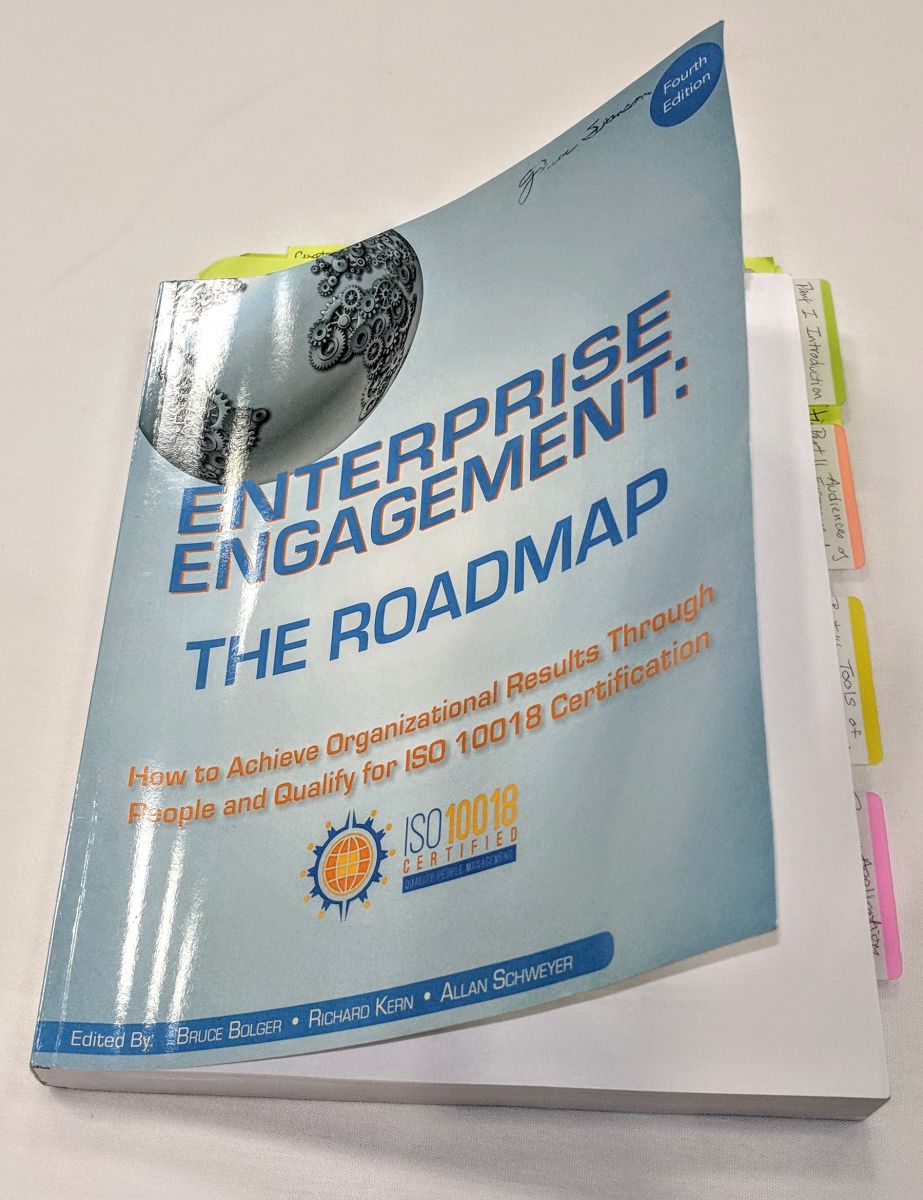 In Print:

Enterprise Engagement: The Roadmap 4th Edition, How to Achieve Organizational Results Through People and Quality for ISO 10018 Certification.
The first and most comprehensive book on Enterprise Engagement and the new ISO 9001 and ISO 10018 quality people management standards.
Online:

The Enterprise Engagement Academy at EEA.tmlu.org
, providing the only formal training on Enterprise Engagement and the new ISO 9001 and ISO 10018 quality people management standards. Provides preparation for professionals to support organizations seeking ISO 10018 employer or solution provider certification, as well as elective courses on Trade Show Engagement, Rewards and Recognition, Government, and other topics.
Plus
: 10-minute short course:
click here
for a 10-minute introduction to Enterprise Engagement and ISO standards on
Coggno.com
.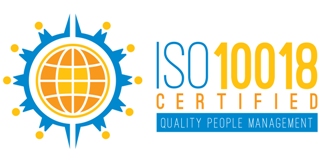 Services: The International Center for Enterprise Engagement at TheICEE.org
, offering: ISO 10018 certification for employers, solution providers, and Enterprise Engagement technology platforms; Human Resources and Human Capital audits for organizations seeking to benchmark their practices and related Advisory services for the hospitality field.
The Engagement Agency at EngagementAgency.net
, offering: complete support services for employers, solution providers, and technology firms seeking to profit from formal engagement practices for themselves or their clients, including Brand and Capability audits for solution providers to make sure their products and services are up to date.
C-Suite Advisory Service
—Education of boards, investors, and C-suite executives on the economics, framework, and implementation processes of Enterprise Engagement.
Speakers Bureau
—Select the right speaker on any aspect of engagement for your next event.
Mergers and Acquisitions.
The Engagement Agency's Mergers and Acquisition group is aware of multiple companies seeking to purchase firms in the engagement field. Contact Michael Mazer in confidence if your company is potentially for sale at 303-320-3777.
Enterprise Engagement Benchmark Tools:
The Enterprise Engagement Alliance offers three tools to help organizations profit from Engagement.
Click here
to access the tools.
• ROI of Engagement Calculator. Use this tool to determine the potential return-on-investment of an engagement strategy.
• EE Benchmark Indicator. Confidentially benchmark your organization's Enterprise Engagement practices against organizations and best practices.
• Compare Your Company's Level of Engagement. Quickly compare your organization's level of engagement to those of others based on the same criteria as the EEA's Engaged Company Stock Index.
• Gauge Your Personal Level of Engagement. This survey, donated by Horsepower, enables individuals to gauge their own personal levels of engagement.
For more information, contact Bruce Bolger at Bolger@TheEEA.org, 914-591-7600, ext. 230.