Enterprise Engagement: The Roadmap, 5th Edition Is Released - The Desk Reference for Engagement Leadership Across the Enterprise
The latest edition provides a comprehensive reference guide for anyone in charge of designing strategic or tactical engagement efforts at public, private, not-for-profit and governmental organizations. It demonstrates how to connect the dots between the organization's brand, values and goals, the people necessary for goal achievement, and the tactics used to engage them and measure results.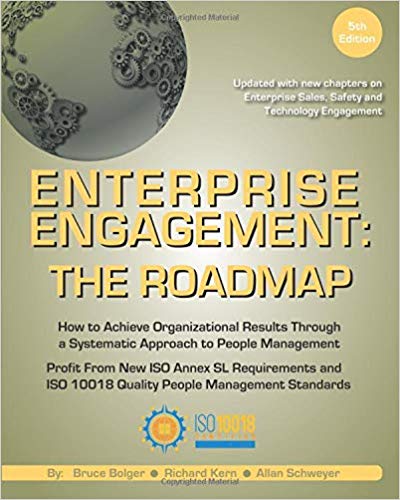 Enterprise Engagement: The Roadmap, 5th edition
, now available at
Amazon.com
on
BarnesandNobel.com
and other online book outlets), helps leaders profit from a strategic, systematic approach to engagement across the organization. Originally published by the Enterprise Engagement Alliance at
TheEEA.org
in 2010, the book is designed to help organizations implement strategic and systematic human capital processes across the enterprise by providing both a formal framework consistent with ISO (International Organization for Standardization) standards and a tactical guide to implementation at the front lines.
Enterprise Engagement differs from the traditional approach to employee and customer engagement tactics in that it aligns engagement strategies and tactics across the organization to ensure efficiency and measurable success.
A Strategic and Practical Guide
"Chief executives are under increasing pressure to lead organization-wide efforts to engage all stakeholders, including customers, distribution partners, sales and nonsales employees, vendors, and communities," explains Bruce Bolger, EEA President and a co-author of the 310-page publication. "What they lack is a formal roadmap because the subject is taught nowhere in schools. The current ad hoc, reactive approach silos engagement into different parts of the organization, when research suggests that the best results are achieved when the entire enterprise and all stakeholders are engaged." The book provides both a strategic and practical guide that addresses the particulars of different organizational audiences, as well as the many tactics used to engage them.
"Now that investors managing over $15 trillion in capital are focusing on public companies with formal human capital strategies, and roughly half a dozen different organizations are tracking sustainable management practices at public companies, it's no surprise that more organizations are beginning to address the issue of engagement across the enterprise," Bolger explains. "Over 200 companies have joined the Social and Human Capital Coalition to support creation of voluntary disclosure standards just when the International Organization for Standardization is releasing its new ISO 30414 Human Capital Disclosure Standards and the Securities & Exchange Commission is considering a petition to require public companies make formal human capital disclosures in their SEC filings. On top of that, ISO now requires a formal, CEO-led strategy to engage all stakeholders in the new Annex SL provisions in 60 ISO standards, including ISO 9001 Quality Management and ISO 30414 Human Capital disclosures."
Designed for Leaders of Engagement Strategies and Tactics
Enterprise Engagement: The Roadmap 5th edition provides the only practical guidebook and desk reference for executives and front-line management seeking to apply a strategic and systematic approach to engaging all stakeholders to help achieve organizational objectives and improve shareholder value and performance in all types and sizes of organizations. This book offers a formal framework for the application of engagement principles across the enterprise and details the numerous tactics and applications of engagement in all segments of business and the economy.
Enterprise Engagement: The Roadmap is designed for the senior leaders in charge of strategic and tactical engagement plan development and for the front-line managers involved with implementation. It provides a desk reference to all the engagement strategies and tactics and how to better align them to achieve strategic or tactical goals. It provides a guide to developing ISO Annex SL and ISO 10018 compliant strategies and for auditing engagement processes, as well as information on engagement careers and applications for engagement in government and not-for profits.
"By the time I finished reading Enterprise Engagement: The Roadmap my copy was filled with Post-it notes highlighting information I knew I would need to reference later," says, Grace Swanson, Vice President, Human Capital, Accumold, a high-tech manufacturer. "This book provides a complete guide to almost everything an organization needs to implement a strategic approach to engaging everyone in organizational goals in a systematic way."
42 Chapters Detail All Aspects of Engagement
The book contains 42 chapters covering the definition and formal framework for Enterprise Engagement, the economics, the relationship with ISO standards, the role of culture and how to break down organizational silos. It includes a section on engaging different types of audiences, with chapters on every key tool of Enterprise Engagement, from assessment, communications and preference management to technology, meetings, motivational events and much more. There is also a section on the application for engagement strategies in various sectors of the economy and careers.
Says Gary Rhoads, Stephen Mack Covey Professor of Marketing at the Marriot School of Business at Brigham Young University and Chairman of Xvoyant: "As a professor of marketing and entrepreneurship for most of my career, and founder of two leading companies in sales and marketing management, I know that delivering promises is one of the most critical strategies for success. Yet too many organizations fail to address the importance of engaging all stakeholders in organizational goals. Enterprise Engagement: The Roadmap is the only book I know that focuses on how to apply a strategic and tactical approach to engagement across the enterprise in a systematic way."
Barbara Porter, Executive Director, Ernst & Young, adds, "I have spent much of my career helping organizations develop great cultures, and in the end a successful strategy requires a CEO-led approach to connecting employees, managers, customers, vendors, suppliers, the community - everyone inside and outside the organization who has a stake in its success. I have repeatedly referenced almost every chapter in Enterprise Engagement: The Roadmap since the first edition came out, as it's the only book I know of that puts together in one place all the tactics needed to address engagement to achieve organizational results."
A Strategic and Systematic Approach that Connects the Dots
Concludes Dr. Ron McKinley, Vice President, Chief Standards Officer, Director, University of Texas Medical Branch Healthcare Management Institute, and Chair of ISO Technical Committees 260, Human Resource Management and 304, Healthcare Organization Management: "The world of organizational management has talked about the issue of engagement for going on two decades, and it's clear that despite all the discussion and expenditures on motivational speakers, leadership coaching, rewards and recognition, permission marketing, innovation, diversity, etc., little has changed.
Enterprise Engagement: The Roadmap
provides a game plan for a strategic and systematic approach that connects the dots between all stakeholders and the tools needed to engage them in the organizational mission."
---
Master the Principles of Enterprise Engagement to Achieve Organizational Goals and Enhance Your Career
Profit from a new systematic approach to engagement to enhance your organization's brand equity; increase sales, productivity, quality, innovation, and safety, and reduce risks.
Achieve ISO 10018 Quality People Management Certification to demonstrate your organization's strategic commitment to people to your customers, employees, distribution partners, vendors, communities, investors, and regulators.
Live Education:
Enterprise Engagement in Action Conference at Engagement World
, April 3, 2019, in San Francisco, in conjunction with the Selling Power Sales 3.0 Conference. Learn about the economics, framework, and implementation process for an ISO certifiable approach to achieving organizational objectives by strategically fostering the proactive involvement of all stakeholders.
Learn more and register now
.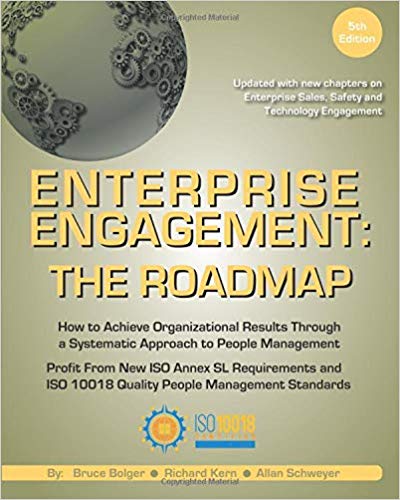 In Print:

Enterprise Engagement: The Roadmap 5th Edition.
The first and most comprehensive book on Enterprise Engagement and the new ISO 9001 and ISO 10018 quality people management standards.
Online:

The Enterprise Engagement Academy at EEA.tmlu.org
, providing the only formal training on Enterprise Engagement and the new ISO 9001 and ISO 10018 quality people management standards. Provides preparation for professionals to support organizations seeking ISO 10018 employer or solution provider certification, as well as elective courses on Trade Show Engagement, Rewards and Recognition, Government, and other topics.
Plus
: 10-minute short course:
click here
for a 10-minute introduction to Enterprise Engagement and ISO standards on
Coggno.com
.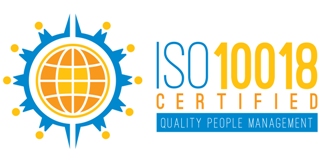 Services: The International Center for Enterprise Engagement at TheICEE.org
, offering: ISO 10018 certification for employers, solution providers, and Enterprise Engagement technology platforms; Human Resources and Human Capital audits for organizations seeking to benchmark their practices and related Advisory services for the hospitality field.
The Engagement Agency at EngagementAgency.net
, offering: complete support services for employers, solution providers, and technology firms seeking to profit from formal engagement practices for themselves or their clients, including Brand and Capability audits for solution providers to make sure their products and services are up to date.
C-Suite Advisory Service
—Education of boards, investors, and C-suite executives on the economics, framework, and implementation processes of Enterprise Engagement.
Speakers Bureau
—Select the right speaker on any aspect of engagement for your next event.
Mergers and Acquisitions.
The Engagement Agency's Mergers and Acquisition group is aware of multiple companies seeking to purchase firms in the engagement field. Contact Michael Mazer in confidence if your company is potentially for sale at 303-320-3777.
Enterprise Engagement Benchmark Tools:
The Enterprise Engagement Alliance offers three tools to help organizations profit from Engagement.
Click here
to access the tools.
• ROI of Engagement Calculator. Use this tool to determine the potential return-on-investment of an engagement strategy.
• EE Benchmark Indicator. Confidentially benchmark your organization's Enterprise Engagement practices against organizations and best practices.
• Compare Your Company's Level of Engagement. Quickly compare your organization's level of engagement to those of others based on the same criteria as the EEA's Engaged Company Stock Index.
• Gauge Your Personal Level of Engagement. This survey, donated by Horsepower, enables individuals to gauge their own personal levels of engagement.
For more information, contact Bruce Bolger at Bolger@TheEEA.org, 914-591-7600, ext. 230.