Petco Program Recognized by Incentive Magazine for Its Enterprise Engagement Approach
The trend toward more inter-connected and aligned engagement strategies across the organization is apparent in the Petco program honored by Incentive, a leading trade publication.
The Petco Program is a case study on how enterprise engagement strategies will disrupt traditional approaches to recognition that focus only on employees or length of service.
MotivAction
, a Minneapolis-based performance improvement company, and Petco earned the 2019 Motivation Masters award in the Recognition Category for development and delivery of the MyPetcoRecognition Program.
"We wanted to build a top-notch program that would rally our corporate, supply chain and retail team members around our core values," says Melissa Hernandez, Benefits & Rewards Analyst at Petco. "The program continues to evolve and expand. We learned from our early success to focus on the data and to adapt by leveraging the story the data shows. And the results of our enterprise-wide program have been phenomenal from an engagement, retention and market-share perspective."
"MotivAction is thrilled to have the honor of this award," says Mike McWilliams, MotivAction Vice President of Client Strategy, in a company statement. "This one is special because it's for an enterprise engagement strategy – a concept we believe strongly in – and it's for work with a valued client. We have a great team on board and we could not be more pleased to accept this award alongside a remarkable brand like Petco."
The Motivation Masters were announced at an awards luncheon at Incentive Live, Northstar Meeting Group's incentive, loyalty and motivation event taking place at the Fairmont Chicago Millennium Park.
The winners were selected by a team of judges based on each program's effectiveness, creativity and the tactics employed to reach the goals set for themselves. Each winning program will be profiled in the next print issue of Incentive magazine, published later this month, as well as online at
Incentivemag.com
and in the Incentive Weekly newsletter.
"Incentive's Motivation Masters Awards is our chance to spotlight some of the most outstanding programs in the industry – the most creative, effective and impactful reward and recognition campaigns out there," notes David R. Blansfield, Executive Vice President and Group Publisher of Northstar Meetings Group. "It is a chance to both celebrate those who are doing great things in the business of motivation and to learn for ourselves how they're generating such impressive results."
MotivAction
describes itself as a certified veteran-owned global performance improvement company with a single purpose – to help clients achieve more through meetings and events, sales incentives, employee engagement and recognition, customer loyalty, and training
For More Information:
Mike McWilliams
Vice President of Client Strategy
763-412-3234

---
Master the Principles of Enterprise Engagement to Achieve Organizational Goals and Enhance Your Career
Profit from a new systematic approach to engagement to enhance your organization's brand equity; increase sales, productivity, quality, innovation, and safety, and reduce risks.
Achieve ISO 10018 Quality People Management Certification to demonstrate your organization's strategic commitment to people to your customers, employees, distribution partners, vendors, communities, investors, and regulators.
Live Education:
Enterprise Engagement in Action Conference at Engagement World
, April 3, 2019, in San Francisco, in conjunction with the Selling Power Sales 3.0 Conference. Learn about the economics, framework, and implementation process for an ISO certifiable approach to achieving organizational objectives by strategically fostering the proactive involvement of all stakeholders.
Learn more and register now
.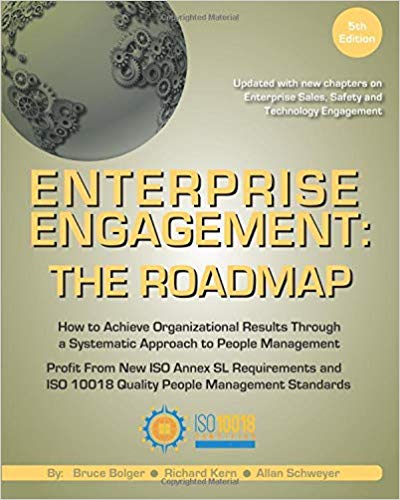 The first and most comprehensive book on Enterprise Engagement and the new ISO 9001 and ISO 10018 quality people management standards.
Online:

The Enterprise Engagement Academy at EEA.tmlu.org
, providing the only formal training on Enterprise Engagement and the new ISO 9001 and ISO 10018 quality people management standards. Provides preparation for professionals to support organizations seeking ISO 10018 employer or solution provider certification, as well as elective courses on Trade Show Engagement, Rewards and Recognition, Government, and other topics.
Plus
: 10-minute short course:
click here
for a 10-minute introduction to Enterprise Engagement and ISO standards on
Coggno.com
.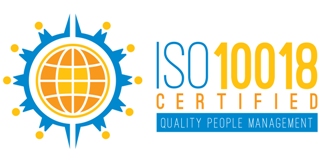 Services: The International Center for Enterprise Engagement at TheICEE.org
, offering: ISO 10018 certification for employers, solution providers, and Enterprise Engagement technology platforms; Human Resources and Human Capital audits for organizations seeking to benchmark their practices and related Advisory services for the hospitality field.
The Engagement Agency at EngagementAgency.net
, offering: complete support services for employers, solution providers, and technology firms seeking to profit from formal engagement practices for themselves or their clients, including Brand and Capability audits for solution providers to make sure their products and services are up to date.
C-Suite Advisory Service
—Education of boards, investors, and C-suite executives on the economics, framework, and implementation processes of Enterprise Engagement.
Speakers Bureau
—Select the right speaker on any aspect of engagement for your next event.
Mergers and Acquisitions.
The Engagement Agency's Mergers and Acquisition group is aware of multiple companies seeking to purchase firms in the engagement field. Contact Michael Mazer in confidence if your company is potentially for sale at 303-320-3777.
Enterprise Engagement Benchmark Tools:
The Enterprise Engagement Alliance offers three tools to help organizations profit from Engagement.
Click here
to access the tools.
• ROI of Engagement Calculator. Use this tool to determine the potential return-on-investment of an engagement strategy.
• EE Benchmark Indicator. Confidentially benchmark your organization's Enterprise Engagement practices against organizations and best practices.
• Compare Your Company's Level of Engagement. Quickly compare your organization's level of engagement to those of others based on the same criteria as the EEA's Engaged Company Stock Index.
• Gauge Your Personal Level of Engagement. This survey, donated by Horsepower, enables individuals to gauge their own personal levels of engagement.
For more information, contact Bruce Bolger at Bolger@TheEEA.org, 914-591-7600, ext. 230.