EPIC Coalition Demonstrates CEO, Investor Commitment to an Enterprise Approach to Human Capital
Supported by the CEOs of some of the world's largest companies and investment groups, the Coalition for Inclusive Capital's new Embankment Project provides further proof that the world is awakening to the importance of a strategic and systematic approach to engaging all stakeholders. Its set of recommended metrics for organizations to use in their Sustainability or Integrated Reports for investors and other stakeholders address the same issues as both ISO disclosure guidelines and those recommended by the Enterprise Engagement Alliance (see ESM: Sustainabilty Reports: The Next Marketing Must Have?)
Featured EEA Supporter:

---
Anyone who remains skeptical about the emergence of the concept of Enterprise Engagement or the principles of ISO 10018 Quality People Management standards or Human Resources standards read on. The first report from a worldwide coalition of leading CEOs and investors committed to "inclusive capital" recommends specific disclosures by public companies and other organizations of clear and comparable human capital, sustainable environmental and governance practices.
In 2014, the not-for-profit Coalition for Inclusive Capitalization was founded by Lynn Forester de Rothschild, Chairman of E.L. Rothschild LLC, to "engage leaders across business, government and civil society in their efforts to make capitalism more dynamic, sustainable and inclusive." Last year, the Coalition for Inclusive Capitalism and EY (Ernst & Young) created the Embankment Project for Inclusive Capitalism (EPIC) "around the simple belief that we are more likely to incentivize and create sustainable value over the long term if we can better identify, measure and articulate the actions which create that value. With the contribution of over 30 global business leaders, the project brought together a collection of participants with both market strength and diversity across the entire investment chain, representing $30 trillion of assets under management and almost 2 million employees."
The goal of the project: "develop a standardized, material and comparable set of metrics for the measurement of activities that create long-term value and affect a broad range of stakeholders, including customers, employees, suppliers, communities and shareholders"–in other words, the entire enterprise.
The Need to Focus on the Longer Term
According to the organization, "Today, a company's value is increasingly reflected not just in its short-term financial performance, but also by intangible assets such as intellectual property, talent, brand and innovation, as well as impacts on society and the environment, that are not fully captured by traditional financial statements."
Supporters of the effort include the CEOs of over 30 major companies and asset managers, including Aetna, BASF, Dow Dupont, Ecolab, Johnson & Johnson, Nestle, Novartis, PepsiCo, Unilever and asset management firms Amundi, Barings, BlackRock, Fidelity Investments, Investec, J.P. Morgan Asset & Wealth Management, Neuberger Berman, Nuveen, Schroders, State Street Global Advisors, Vanguard and others.
Eight working groups addressed what they identified as they key metrics of an organization's commitment to human capital and recently issued its first report. The goal is to identify reportable metrics that organizations can use in their
Sustainability or Integrated Reports
to enable investors to make reasonable comparisons between organizations.
Eight Recommended Metrics for Human Capital and Sustainable Reporting
Human Capital Deployment. To remedy the significant fuzziness involved with human capital measures, the working group outlined a series of metrics–"like percent of voluntary turnover–that all companies could disclose to offer a clearer picture of how effectively they deploy and manage their human capital."
Organizational Culture. In response to similar ambiguities related to culture, the group created a standardized survey that it says every company can use to collect hard data on how their cultures impact the performance of people.
Consumer Trust. The group identified five key factors associated with trust and has developed a "net trust score" that they claim "has demonstrated a positive correlation between the net trust score and financial performance."
Innovation. The working group created an approach that helps to communicate a company's innovation strategy, building on the framework and its execution of the strategy at each stage of the innovation process–ideation, development, launch and maturity. For instance, what is a company's research and development spending in strategic areas as a percentage of sales? What percentage of revenues come from products introduced in the past several years?"
Sustainable Development Goals (SDG). This working group focused on "developing a method to identify the metrics that explain how SDG-related contributions impact a company's long-term value. For instance, one might measure how efficiently a company uses water… But much work still needs to be done to quantify and articulate this in a way that is useful for investors."
Corporate Governance. According to EPIC, "Investors assert that many companies could better articulate how their governance structure supports their ability to create and protect value in the long term…Our research found that asset managers consider that externally available information relating to board strategy oversight is often limited to a discussion of short-term performance measures such as annual EPS (earnings per share), cash flows, etc. Frequently it does not provide adequate commentary on the achievement of annual milestones relative to long-term strategic goals, or the actions taken by the board. Furthermore, the asset managers consider that many boards do not adequately explain how executive remuneration structures are reflective of long-term performance." The working group would like to see boards explain the alignment between long-term performance and executive pay and consider extending the length of the evaluation period to five years.
Employee Health. This working group identified that "there is a significant body of evidence that effective workplace health programs deliver net positive financial returns. However, current disclosures are often limited and primarily focus on occupational safety. Taking into account privacy considerations, the working group has proposed a metric that can be universally applied, allows for comparability, is easily adopted and provides insights to investors about how companies are helping their employees manage their health."
Consumer Health. The group believes that "the impact a company's product or service has on consumer health can be a long term benefit or risk to any business. If they improve health outcomes, there is an opportunity to increase their value. But if they worsen health, they risk regulation, public backlash and more." This working group offers two types of metrics to provide to an investor a portfolio-wide overview: pragmatic (which aim to measure how many people's health is impacted by products and services) and ambitious (which aim to more precisely measure the extent to which a population's health improves or decreases due to a product or service)."
Click here
for the complete report with recommendations.
According to the organization, "The health of corporations and financial markets–and public trust in both–is critical to economic growth. Our collective future strongly depends on vibrant and sustainable capital markets, and market participants have a role to ensure long term value creation that can benefit all."
---
Featured EEA Supporter:
The Enterprise Engagement Academy
Master the hottest new profession through online training and certification.
For More Information
Or, contact:
Bruce Bolger, President
245 Saw Mill River Rd., Suite 106
Hawthorne NY 10532
914-591-7600, ext. 230
---
Master the Principles of Enterprise Engagement to Achieve Organizational Goals and Enhance Your Career
Profit from a new strategic and systematic approach to engagement to enhance your organization's brand equity; increase sales, productivity, quality, innovation, and safety, and reduce risks.
Get trained to become a Chief Engagement Officer for your organization.
Achieve ISO 10018 Quality People Management Certification to demonstrate your organization's strategic commitment to people to your customers, employees, distribution partners, vendors, communities, investors, and regulators.
Learn how to create Sustainability or Integrated Reports for Your Organization or Clients.
Get up-to-speed on ISO human resources standards and guidelines to enhance HR performance.
Live Education:
Enterprise Engagement in Action
. Take advantage of a three-hour customized webinar for individuals or teams on all aspects of Enterprise Engagement, including the definition, economics, implementation framework, return on investment, ISO quality people management standards, as well as preparation for Certified and Advanced Engagement Practitioner status.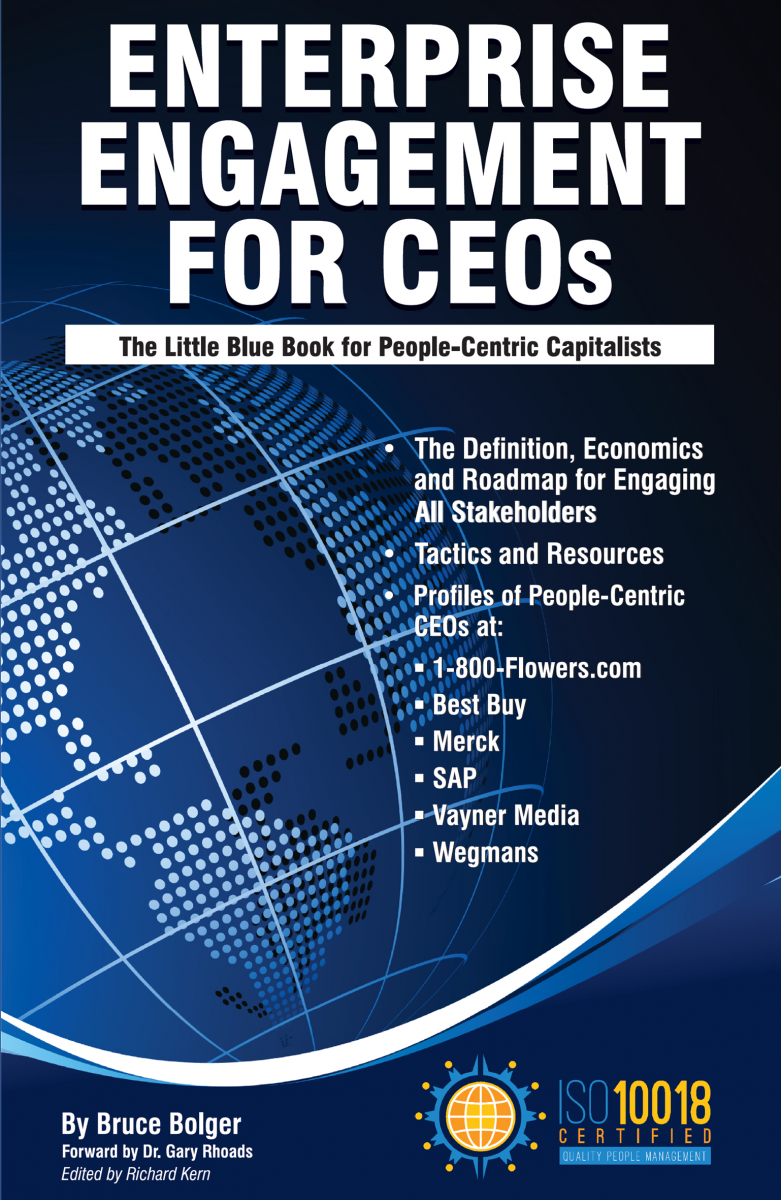 ICEE periodically runs regional one-day workshops on ISO 10018 Quality People Management principles and certification. Stay tuned for upcoming date.
In Print:
Written specifically to provide CEOs and their leadership teams a concise overview of the framework, economics, and implementation process of a CEO-led strategic and systematic approach to achieving success through people. (123 pages, $15.99)
The first and most comprehensive book on Enterprise Engagement and the new ISO 9001 and ISO 10018 quality people management standards. Includes 36 chapters detailing how to better integrate and align engagement efforts across the enterprise. (312 pages, $36.)
Online:

The Enterprise Engagement Academy at EEA.tmlu.org
, providing the only formal training on Enterprise Engagement and the new ISO 9001 and ISO 10018 quality people management standards. Provides preparation for professionals to support organizations seeking ISO 10018 employer or solution provider certification, as well as elective courses on Trade Show Engagement, Rewards and Recognition, Government, and other topics.
Plus
:
10-minute short course:
click here
for a 10-minute introduction to Enterprise Engagement and ISO standards on
Coggno.com
.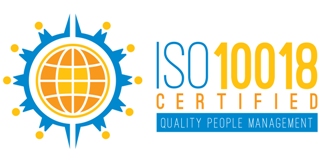 Services: The International Center for Enterprise Engagement at TheICEE.org
, offering: ISO 10018 certification for employers, solution providers, and Enterprise Engagement technology platforms; Human Resources and Human Capital audits for organizations seeking to benchmark their practices and related Advisory services for the hospitality field.
The Engagement Agency at EngagementAgency.net
, offering: complete support services for employers, solution providers, and technology firms seeking to profit from formal engagement practices for themselves or their clients, including Brand and Capability audits for solution providers to make sure their products and services are up to date.
C-Suite Advisory Service
—Education of boards, investors, and C-suite executives on the economics, framework, and implementation processes of Enterprise Engagement.
Speakers Bureau
—Select the right speaker on any aspect of engagement for your next event.
Mergers and Acquisitions.
The Engagement Agency's Mergers and Acquisition group is aware of multiple companies seeking to purchase firms in the engagement field. Contact Michael Mazer in confidence if your company is potentially for sale at 303-320-3777.
Enterprise Engagement Benchmark Tools:
The Enterprise Engagement Alliance offers three tools to help organizations profit from Engagement.
Click here
to access the tools.
• ROI of Engagement Calculator. Use this tool to determine the potential return-on-investment of an engagement strategy.
• EE Benchmark Indicator. Confidentially benchmark your organization's Enterprise Engagement practices against organizations and best practices.
• Compare Your Company's Level of Engagement. Quickly compare your organization's level of engagement to those of others based on the same criteria as the EEA's Engaged Company Stock Index.
• Gauge Your Personal Level of Engagement. This survey, donated by Horsepower, enables individuals to gauge their own personal levels of engagement.
For more information, contact Bruce Bolger at Bolger@TheEEA.org, 914-591-7600, ext. 230.