Business Roundtable: CEOs Must Commit to Benefiting All Stakeholders
Nearly 10 years after the Enterprise Engagement Alliance was founded, the world's leading CEOs in the Business Roundtable formally embrace an enterprise approach to engaging all stakeholders that uses language almost identical to that adopted by ISO (International Organization for Standardization) standards, including ISO Annex SL requirements in ISO 90001 Quality Management and 60 ISO standards, as well as in ISO 10018 Quality People Management standards and ISO 30414 Human Capital Management guidelines.
By Bruce Bolger
August 2019 will go down as a remarkable month in the world of human capital management and what the Enterprise Engagement Alliance calls the field of
Enterprise Engagement
. First, the U.S.
Securities & Exchange Commission
announces proposed rules that will shortly require publicly held companies registered in the U.S. to disclose human capital practices. Then, in a stunning announcement that garnered immediate mainstream and social media attention, the nation's most prestigious organization of CEOs, the Business Roundtable,
announced an update
in its "Statement of the Purpose of a Corporation" language committing the 181 signatories to lead their companies "for the benefit of all stakeholders—customers, employees, suppliers, communities, and shareholders."
The new principles read like a manifesto for Enterprise Engagement. Here is a word-for-word synopsis of the pledge made by the 181 CEOs. (Compare their statement published on Aug. 19, 2019 of the new corporate purpose with the definition and framework of
Enterprise Engagement
, first published in 2009"). The CEOs make a pledge to:
"Delivering value to our customers. We will further the tradition of American companies leading the way in meeting or exceeding customer expectations.
Investing in our employees. This starts with compensating them fairly and providing important benefits. It also includes supporting them through training and education that help develop new skills for a rapidly changing world. We foster diversity and including, dignity and respect.
Dealing fairly and ethically with our suppliers. We are dedicated to serving as good partners to the other companies, large and small, that help us meet our missions.
Supporting the communities in which we work. We respect the people in our communities and protect the environment by embracing sustainable practices across our businesses.
Generating long-term value for shareholders, who provide the capital that allows companies to invest, grow and innovate. We are committed to transparency and effective engagement with shareholders."
In their introduction to the new principles, the signatories wrote: "America's economic model, which is based on freedom, liberty, and other enduring principles of our democracy, has raised standards of living for generations, while promoting competition, consumer choice and innovation. America's businesses have been a critical engine to its success. Yet we know that many American's are struggling. Too often hard work is not rewarded, and not enough is being done for workers to adjust to the rapid pace of change in the economy. If companies fail to recognize that the success of our system is dependent on inclusive long-term growth, many will raise legitimate questions about the role of large employers in our society."
Dr. Ron McKinley, Co-founder of the International Center for Enterprise Engagement at
TheICEE.org
, which offers the first certification program for ISO standards and guidelines ISO 10018 Quality People Management, ISO 30414 Human Capital Reporting, and three other human capital standards in assessment, knowledge management, and workforce management, explains, "Finally there is an agreement all parties from the Securities & Exchange Commission, investors, and CEOs that there is a need for a principles-based strategic and systematic approach to the management of all human capital. This confluence of forces promises to have enormous positive benefits in a relatively short period. Now that companies are required to make disclosure on human capital, ISO human capital standards and guidelines provide a 'safe harbor' demonstrating their commitment to maintaining effective human capital management practices."
Echoes Lee Webster, Co-founder of ICEE, "The ISO standards that transformed quality and safety management could not have come at a better time. Now that CEOs and even governments understand the importance of a strategic and systematic approach to human capital, everything is in place to make tremendous strides. The main worry now is that we lose another 10 years throwing around bright shiny objects or wasting money on motivational speakers, when ISO standards have taught us what every smart organization or household leader already knows: a strategic, systematic and proactive approach always yields a better result than one that is reactive and ad hoc."
Dr. McKinley and Webster were the co-founders of the first ISO working group on human capital standards and led the development of about a dozen standards and/or guidelines other published or under development over an eight-year period until 2019.
Editor's note: See the Wikipedia definition of
Enterprise Engagement
to see how closely the framework of the Business Roundtable aligns with the principles of Enterprise Engagement developed in 2008.
---
Master the Principles of Enterprise Engagement to Achieve Organizational Goals and Enhance Your Career
Profit from a new strategic and systematic approach to engagement to enhance your organization's brand equity; increase sales, productivity, quality, innovation, and safety, and reduce risks.
Get trained to become a Chief Engagement Officer for your organization.
Achieve ISO 10018 Quality People Management Certification to demonstrate your organization's strategic commitment to people to your customers, employees, distribution partners, vendors, communities, investors, and regulators.
Learn how to create Sustainability or Integrated Reports for Your Organization or Clients.
Get up-to-speed on ISO human resources standards and guidelines to enhance HR performance.
Live Education: Enterprise Engagement in Action. Take advantage of scheduled monthly live webinar preparation courses for the Certified Engagement Practitioner designation consisting of three one-hour classes and of quarterly Advanced Engagement Practitioner courses consisting of three one-hour webinar classes. The AEP course is for individuals or teams seeking preparation ISO 10018 professional certification status. ICEE periodically runs regional one-day workshops on ISO 10018 Quality People Management principles and certification.
Resources: The Brand Media Coalition, the only guide to the story-telling power of brands and where to source them for business, event, promotional gifting, and rewards and recognition.
2019 Enterprise Engagement Solution Provider Directory
. The only directory of engagement solution providers covering all types of agencies and tactics as well as insights on how to select them.
Communities: The Enterprise Engagement Alliance and Advocate and the Brand Media Coalition free resource centers offering access to the latest research, news, and case studies; discounts, promotions, referrals, and commissions, when appropriate to third-party solution providers from participating coalition solution provider members.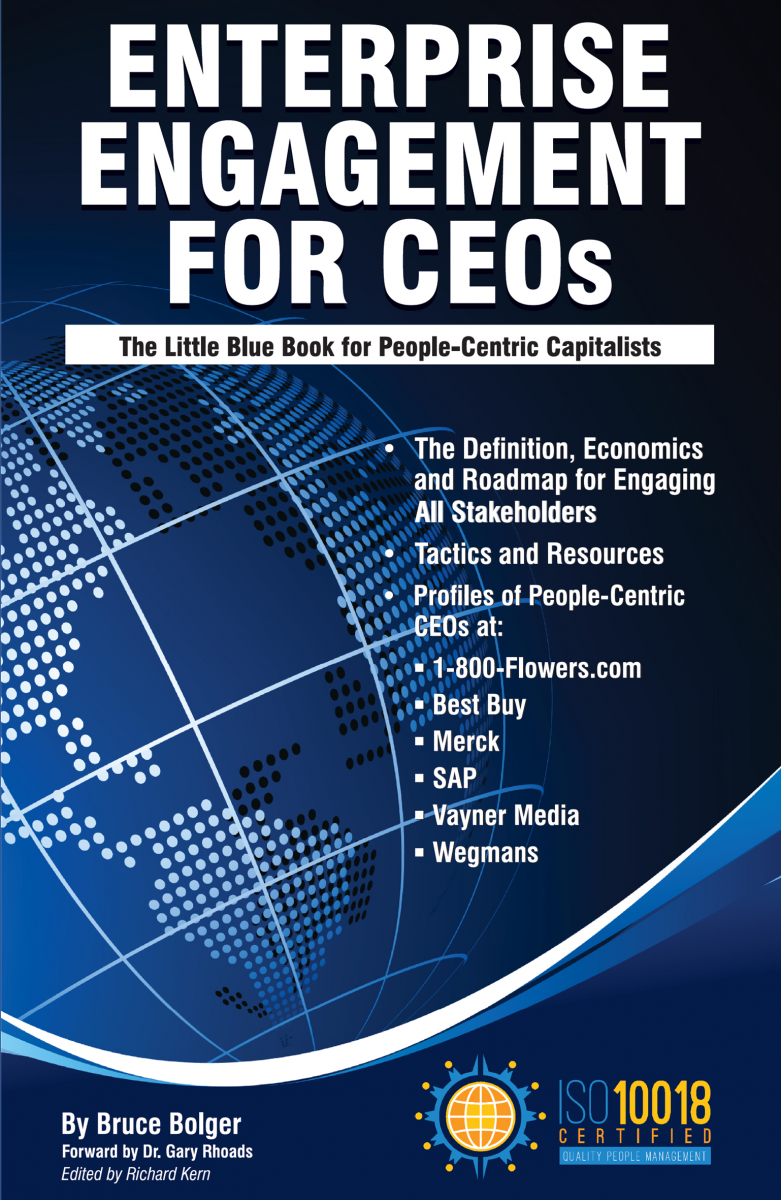 Written specifically to provide CEOs and their leadership teams a concise overview of the framework, economics, and implementation process of a CEO-led strategic and systematic approach to achieving success through people. (123 pages, $15.99)
Enterprise Engagement: The Roadmap 5th Edition
The first and most comprehensive book on Enterprise Engagement and the new ISO 9001 and ISO 10018 quality people management standards. Includes 36 chapters detailing how to better integrate and align engagement efforts across the enterprise. (312 pages, $36.)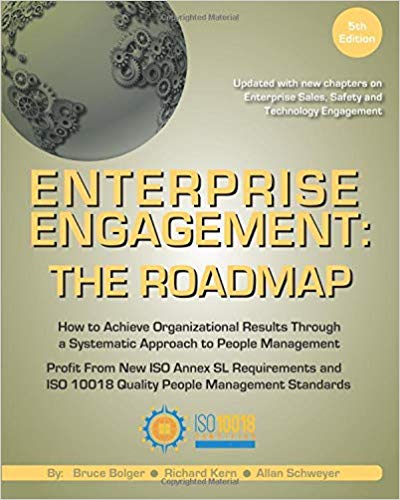 Online:
• 10-minute short course: click here for a 10-minute introduction to Enterprise
• Engagement and ISO standards on Coggno.com.
• 5-minute Audiopedia summary of the Enterprise Engagement field.
Services:
• The International Center for Enterprise Engagement at TheICEE.org, offering: ISO 10018 certification for employers, solution providers, and Enterprise Engagement technology platforms; Human Resources and Human Capital audits for organizations seeking to benchmark their practices and related Advisory services for the hospitality field.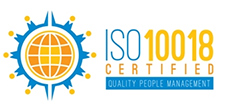 • The Engagement Agency at EngagementAgency.net, offering: complete support services for employers, solution providers, and technology firms seeking to profit from formal engagement practices for themselves or their clients, including Brand and Capability audits for solution providers to make sure their products and services are up to date.
• C-Suite Advisory Service—Education of boards, investors, and C-suite executives on the economics, framework, and implementation processes of Enterprise Engagement.
• Speakers Bureau—Select the right speaker on any aspect of engagement for your next event.
• Mergers and Acquisitions. The Engagement Agency's Mergers and Acquisition group is aware of multiple companies seeking to purchase firms in the engagement field. Contact Michael Mazer in confidence if your company is potentially for sale at 303-320-3777.
Enterprise Engagement Benchmark Tools: The Enterprise Engagement Alliance offers three tools to help organizations profit from Engagement. Click here to access the tools.
• ROI of Engagement Calculator. Use this tool to determine the potential return-on-investment of an engagement strategy.
• EE Benchmark Indicator. Confidentially benchmark your organization's Enterprise Engagement practices against organizations and best practices.
• Compare Your Company's Level of Engagement. Quickly compare your organization's level of engagement to those of others based on the same criteria as the EEA's Engaged Company Stock Index.
• Gauge Your Personal Level of Engagement. This survey, donated by Horsepower, enables individuals to gauge their own personal levels of engagement.
For more information, contact Bruce Bolger at Bolger@TheEEA.org, 914-591-7600, ext. 230.