The New Human Capital Mandate: Has it Arrived?
To better understand the potential impact of the new Securities & Exchange Commission (SEC) Human Capital disclosure language in the new proposed SK regulations, ESM turned to Larry Beeferman. As a Fellow at Harvard Law School's Labor and Worklife Program who helped establish and for many years led the Pensions and Capital Stewardship Project there, Beeferman is a realist when it comes to matters related to human capital and investment concerns. While encouraged by the new attention to human capital management, Beeferman is concerned that the draft regulations do not call for sufficient disclosure.
So are the new human capital disclosure rules proposed by the SEC a mandate for CEOs to implement a strategic and systematic approach to the management of people? No, says Larry Beeferman, but it's a step forward. The proposed update of SEC rules for SK disclosers is in a 60-day comment period after which the SEC could further seek further input. For example, it could hold public hearings before finalizing the regulation for submission to the White House and Office of Information & Regulatory Affairs for review. Depending upon the effective date of any new regulations, public companies could have to begin compliance in 2020. See ESM:
SEC Proposes Rule to Include Human Capital Disclosures: Comments Invited
. US companies with over 500 employees in any European Union country will, depending on the country, have to make detailed human capital disclosures in the next few years.
According to Beeferman, the new proposed human capital disclosure language is part of a broad deregulation of SEC SK disclosure rules that put the focus on "principles-based" reporting. This approach gives public companies broad leeway in what they wish to disclose by enabling the CEO to determine specifically those issues the organization feels are relevant to its business. "The language seems to suggest that this will be a broad loosening on the way organizations must disclose information that will give them more leeway to determine what they wish to share. It also appears that organizations will be given more flexibility in subsequent years on how they update investors on past issues." This, he says, could require interested investors to look back at past reports to fully understand the context unless the updated disclosures include the necessary reference information, adding a burden to the process.
The same applies to the human capital disclosure language, he explains. For the first time, organizations would be required to report on human capital issues that their leadership deems relevant to their businesses, but the proposed rule leaves the specifics up to management. The proposed amendment of Item 101(c) would: "include, as a disclosure topic, human capital resources, including any human capital measures or objectives that management focuses on in managing the business, to the extent such disclosures would be material to an understanding of the registrant's business, such as, depending on the nature of the registrant's business and workforce, measures or objectives that address the attraction, development, and retention of personnel."
Human Capital Disclosures Required But With Broad Latitude
The
SEC proposal
elaborates: "Because human capital may represent an important resource and driver of performance for certain companies, and as part of our efforts to modernize disclosure, we propose to amend Item 101(c) to refocus registrants' human capital resources disclosures. Specifically, we propose replacing the current requirement to disclose the number of employees with a requirement to disclose a description of the registrant's human capital resources…"
Observes Beeferman, "At the margins, this is a plus. It offers investors a little leverage. The CEO is being asked to reflect hard on what's relevant; it's an opening wedge to strengthen the conversation about human capital." By requiring organizations to address the issue, investors will be able to evaluate in part by the nature, quality, and quantity of information disclosed the importance that organization places on human capital management and how it addresses the issues posed by it for the company. Beeferman adds that while "the SEC understandably relies on the term `human capital' because it is a commonly used shorthand, it falls short because it fails to reflect the reality of the workplace, which "encompasses not only the capabilities people being to bear in their work but also their commitment they make to the enterprise and what commitment is made to them, the character of the workplace community of which they are a part, the nature and influence of communications within it, and the like."
Beeferman is also concerned that if the final regulations require little specificity, "We might be in it for years before there's a chance that these disclosures will offer meaningful detail." He adds that "there is no assurance that the disclosures will be uniform enough to enable meaningful comparisons between and among companies." Beeferman intends to draft his own comments to the regulation. He noted that the Senate has held hearings on ESG business practices and disclosures and that politicians such as Sen. Elizabeth Warren are already on the record in favor of legislation requiring large companies to address the needs of employees, customers, communities shareholders. Were the Democrats to win the White House and Senate, it is possible that Congress could take some type of action about disclosure of human capital related policies and practices. Editor's note: The EEA is not a political organization or lobbying group and does not promote candidates based on positions on human capital but certainly will report on any candidates who discuss the issue pro or against. See ESM:
Sen. Elizabeth Warren Proposes Bill That Would Mandate Enterprise Engagement Practices at Large Companies
.
Beeferman says he has no way to determine the SEC chair's motive for including the new language. However, he notes that "the SEC has had on its plate for about two years an investor petition for regulations requiring disclosure on human capital issues. The subject has been pressed by the SEC's Investor Advisory Committee and the Chairman has shown himself receptive to the topic." So in that respect, Beeferman is "not surprised that the language in the proposed rules was included." He further speculated that these provisions might also have been added to help offset what he suspects will be broader concerns by investors about the proposed deregulation of SK disclosures.
Human Capital Rules Part of a Broader Change
"These changes related to the nature of disclosures is a big deal," he asserts, wondering if the summer lull and the high profile of election, trade conflict, and state of the economy stories has caused the general business media to overlook the implications of the proposed deregulation of the SK regulations, let alone the new human capital disclosure requirements. "The comment period for these regulations runs through early October. I wonder if the business media and investment community will wake up to the significance of these changes after the Labor Day holiday and the comment period nears completion." He said that the concept of "principles-based" disclosures has merit, but that the seemingly great leeway proposed to be given to organizations about what they wish to disclose could potentially be controversial when members of the investment community (and others with a stake in disclosure) focus more closely on what has been advanced.
According to SEC procedures, following the commenting period, the SEC can either make changes in the proposed regulations and/or submit them to the White House for review before publication. They could take effect as early as sometime in 2020, Beeferman says. No congressional or other approval is required. Given that the draft regulations come from an SEC led and dominated by Trump appointees, at first blush, it would that the Trump administration would be supportive, Beeferman adds.
Beeferman has broader concerns about the overall ESG investor movement. "While there is some debate about how much money is flowing into ESG-oriented founds, we know it has been characterized as amounting to trillions of dollars. This raises concerns about how to determine if organizations truly have ESG practices, and in fact what constitutes ESG practices that are relevant to organizational performance. Given what seems to be a rapidly increasing number of ESG-type investment products—which might be further spurred by the Business Roundtable's recent statement on corporate purpose – it is very important that representations about the relevance and application of ESG-related factors be thoughtfully and fairly presented. There has been and I expect that there will be increasing pushback on this from those not sympathetic or even opposed to ESG practices."
The Business Roundtable, the nation's most prestigious group of CEOs, has adopted a statement about corporate purpose that includes the principles of Enterprise Engagement and ISO 10018 Quality People Management standards that address the need to strategically address the needs of all stakeholders, not just shareholders.
---
Master the Principles of Enterprise Engagement to Achieve Organizational Goals and Enhance Your Career
Profit from a new strategic and systematic approach to engagement to enhance your organization's brand equity; increase sales, productivity, quality, innovation, and safety, and reduce risks.
Get trained to become a Chief Engagement Officer for your organization.
Achieve ISO 10018 Quality People Management Certification to demonstrate your organization's strategic commitment to people to your customers, employees, distribution partners, vendors, communities, investors, and regulators.
Learn how to create Sustainability or Integrated Reports for Your Organization or Clients.
Get up-to-speed on ISO human resources standards and guidelines to enhance HR performance.
Live Education: Enterprise Engagement in Action. Take advantage of scheduled monthly live webinar preparation courses for the Certified Engagement Practitioner designation consisting of three one-hour classes and of quarterly Advanced Engagement Practitioner courses consisting of three one-hour webinar classes. The AEP course is for individuals or teams seeking preparation ISO 10018 professional certification status. ICEE periodically runs regional one-day workshops on ISO 10018 Quality People Management principles and certification.
Resources: The Brand Media Coalition, the only guide to the story-telling power of brands and where to source them for business, event, promotional gifting, and rewards and recognition.
2019 Enterprise Engagement Solution Provider Directory
. The only directory of engagement solution providers covering all types of agencies and tactics as well as insights on how to select them.
Communities: The Enterprise Engagement Alliance and Advocate and the Brand Media Coalition free resource centers offering access to the latest research, news, and case studies; discounts, promotions, referrals, and commissions, when appropriate to third-party solution providers from participating coalition solution provider members.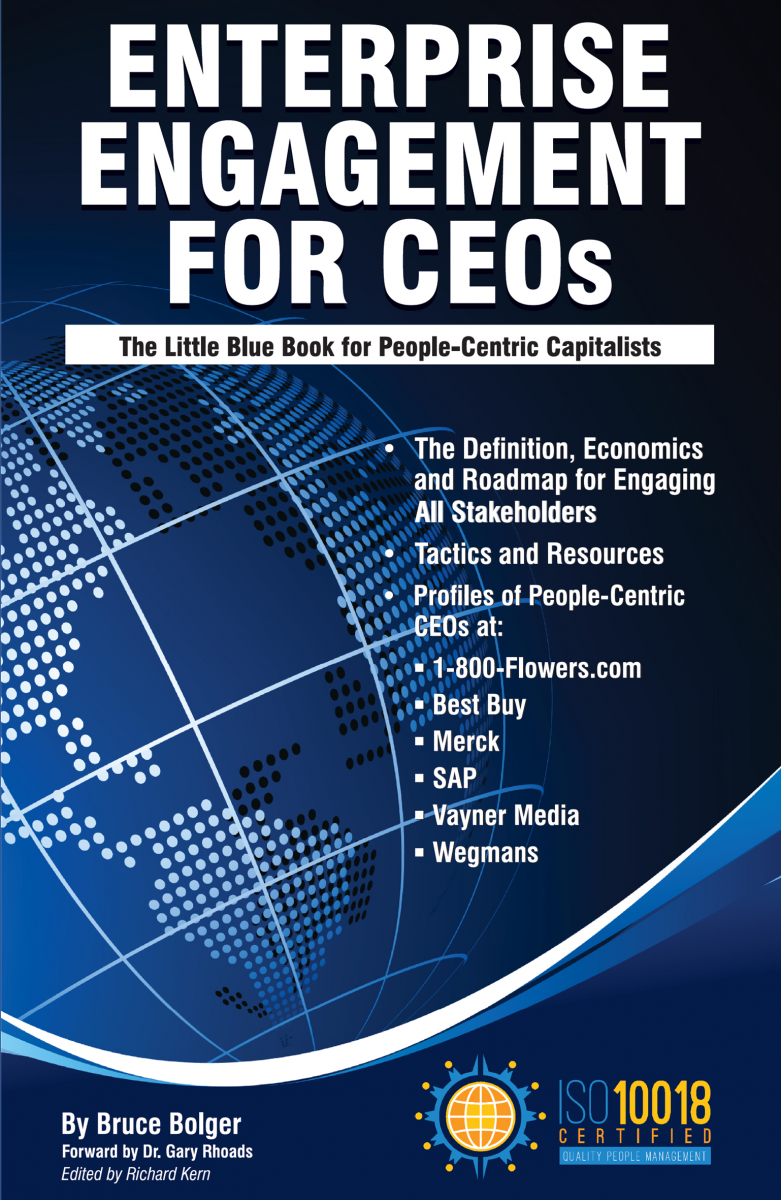 Written specifically to provide CEOs and their leadership teams a concise overview of the framework, economics, and implementation process of a CEO-led strategic and systematic approach to achieving success through people. (123 pages, $15.99)
Enterprise Engagement: The Roadmap 5th Edition
The first and most comprehensive book on Enterprise Engagement and the new ISO 9001 and ISO 10018 quality people management standards. Includes 36 chapters detailing how to better integrate and align engagement efforts across the enterprise. (312 pages, $36.)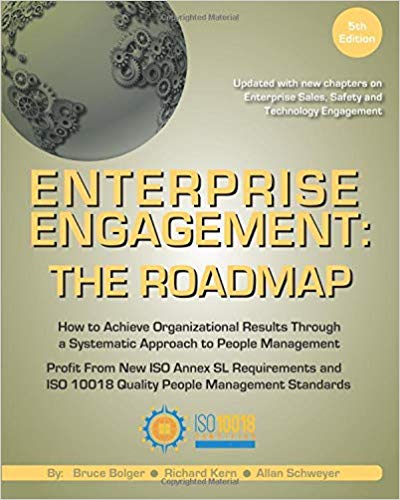 Online:
• 10-minute short course: click here for a 10-minute introduction to Enterprise
• Engagement and ISO standards on Coggno.com.
• 5-minute Audiopedia summary of the Enterprise Engagement field.
Services:
• The International Center for Enterprise Engagement at TheICEE.org, offering: ISO 10018 certification for employers, solution providers, and Enterprise Engagement technology platforms; Human Resources and Human Capital audits for organizations seeking to benchmark their practices and related Advisory services for the hospitality field.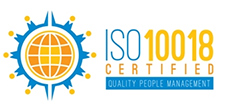 • The Engagement Agency at EngagementAgency.net, offering: complete support services for employers, solution providers, and technology firms seeking to profit from formal engagement practices for themselves or their clients, including Brand and Capability audits for solution providers to make sure their products and services are up to date.
• C-Suite Advisory Service—Education of boards, investors, and C-suite executives on the economics, framework, and implementation processes of Enterprise Engagement.
• Speakers Bureau—Select the right speaker on any aspect of engagement for your next event.
• Mergers and Acquisitions. The Engagement Agency's Mergers and Acquisition group is aware of multiple companies seeking to purchase firms in the engagement field. Contact Michael Mazer in confidence if your company is potentially for sale at 303-320-3777.
Enterprise Engagement Benchmark Tools: The Enterprise Engagement Alliance offers three tools to help organizations profit from Engagement. Click here to access the tools.
• ROI of Engagement Calculator. Use this tool to determine the potential return-on-investment of an engagement strategy.
• EE Benchmark Indicator. Confidentially benchmark your organization's Enterprise Engagement practices against organizations and best practices.
• Compare Your Company's Level of Engagement. Quickly compare your organization's level of engagement to those of others based on the same criteria as the EEA's Engaged Company Stock Index.
• Gauge Your Personal Level of Engagement. This survey, donated by Horsepower, enables individuals to gauge their own personal levels of engagement.
For more information, contact Bruce Bolger at Bolger@TheEEA.org, 914-591-7600, ext. 230.