EEA Launches "People Power Brands, Brands Power People" Campaign
This new outreach effort addresses the special connection between people and brands and the need for solutions providers that can help organizations implement a strategic and systematic approach to engaging all stakeholders in a sustainable way.
"People Power Brands, Brands Power People" is the theme of a new outreach campaign by the Enterprise Engagement Alliance aimed to help the C-suite address the growing demand for a more strategic and systematic approach to achieving organizational goals through people. According to Bruce Bolger, Founder of the Enterprise Engagement Alliance, an outreach and education arm promoting the importance of an enterprise approach to engagement, "People are the core of brand equity. The great organizations, movements, architectural or sporting event triumphs, are the result of engaged people, and yet most organizations overlook this connection. We aim to change that."
The effort is sponsored by nearly three dozen leading brands, master fulfillment companies, and a variety of engagement solution providers. The campaign is comprised of two portals to address both sides of the people equation and I marketed through the Enterprise Engagement Alliance's own media products, ESM at
EnterpriseEngagement.org
and RRN at
RewardsRecognitionNetwork.com
, as well as through select media and events to reach both strategic and tactical influencers at organizations large and small, Bolger explains.
"The Enterprise Engagement Advisors Network at
EEXAdvisors.com
addresses the 'People Power Brands' side of the story, with a complete reference center on the topic of Enterprise Engagement, an overview of the many different types of solutions, and a directory growing by the day of profiles of leading companies as well as listings that encompass over a dozen disciplines and nearly 200 suppliers," says Bolger. The platform also includes listings of events and education resources, and a referral program for participating Enterprise Engagement advisors, for which
registration is free
. "Our goal is to support a growing community of independent solution providers, which is why we provide basic listings for all types of tactical experts for free."
Adds Bolger, "Just as much as people power brands, great brands power people. Whether it's a favorite local restaurant, car repair shop, tailor, or a favorite audio, kitchen or housewares product, great brands bring joy both in our personal lives and in business. This in part is why we have created the first ever guide to Brand Media at
BrandMediaCoalition.com
to be used by anyone in consumer marketing, rewards and recognition, gifting, promotions, affinity marketing, fundraising, etc. seeking to learn more about the great brands and which ones are most appropriate to tell their own stories, whatever the application—from a promotion or gift to items for the lobby boardroom or organizational common areas. Learning the stories of great brands is as educational as it is useful to anyone learning how to create a sustainable brand."
The goal, Bolger adds, "is to create a new marketplace of experts at brands, gift cards, master fulfilment companies; incentive, rewards, recognition, and loyalty programs who understand the story-telling power of brand media the same way advertising agencies understand traditional media." Anyone can sign up for free to become a Brand Media Specialist, which includes a free listing on the
BrandMediaCoalition.com
.
People who sign up for either portal will also receive special offers, discounts, and referral opportunities from participating solution providers. See founding sponsor
MaritxCX.com Profile
for an example.
Observes Dr. Ron B. McKinley, co-founder of the International Center for Enterprise Engagement at
TheICEE.org
, which has created the first training and certification program for ISO 10018 quality management and five other ISO HR standards, "People often forget that every organization has a brand, either one that is carefully developed, authentic, and maintained, or one that is haphazard and ad hoc. A guiding principle of ISO standards is that organizations will achieve better and more measurable results from any endeavor, including the management of brand equity, with a strategic approach that brings together all the tools in a more coordinated fashion. We believe the
EEXAdvisors.com
can be an invaluable tool to help organizations find the right solutions for their organizations, and we look forward to using this platform to promote the services of professionals who earn ISO certifications."
The campaign consists of two information resources portals aimed at creating a community of experts ready to assist organizations with any sort of strategic or tactical solutions to support brands. "In many cases Enterprise Engagement is a new form of advertising that focuses on keeping promises instead of just making them, and this requires a wide variety of experts, from branding, leadership coaching, assessment and feedback, multi-platform communications, learning, diversity and inclusion, collaboration and innovation, rewards and recognition, loyalty, analytics and more. For organizations to achieve the best results from these efforts, they need to be better aligned and integrated toward common goals."
For More Information
Bruce Bolger
Co-Founder, Enterprise Engagement Alliance
914-591-7600, ext. 230
---
Master the Principles of Enterprise Engagement to Achieve Organizational Goals and Enhance Your Career
Profit from a new strategic and systematic approach to engagement to enhance your organization's brand equity; increase sales, productivity, quality, innovation, and safety, and reduce risks.
Get trained to become a Chief Engagement Officer for your organization.
Achieve ISO 10018 Quality People Management Certification to demonstrate your organization's strategic commitment to people to your customers, employees, distribution partners, vendors, communities, investors, and regulators.
Learn how to create Sustainability or Integrated Reports for Your Organization or Clients.
Get up-to-speed on ISO human resources standards and guidelines to enhance HR performance.
Live Education: Enterprise Engagement in Action. Take advantage of scheduled monthly live webinar preparation courses for the Certified Engagement Practitioner designation consisting of three one-hour classes and of quarterly Advanced Engagement Practitioner courses consisting of three one-hour webinar classes. The AEP course is for individuals or teams seeking preparation ISO 10018 professional certification status. ICEE periodically runs regional one-day workshops on ISO 10018 Quality People Management principles and certification.
Resources: The Brand Media Coalition, the only guide to the story-telling power of brands and where to source them for business, event, promotional gifting, and rewards and recognition.
2019 Enterprise Engagement Solution Provider Directory
. The only directory of engagement solution providers covering all types of agencies and tactics as well as insights on how to select them.
Communities: The Enterprise Engagement Alliance and Advocate and the Brand Media Coalition free resource centers offering access to the latest research, news, and case studies; discounts, promotions, referrals, and commissions, when appropriate to third-party solution providers from participating coalition solution provider members.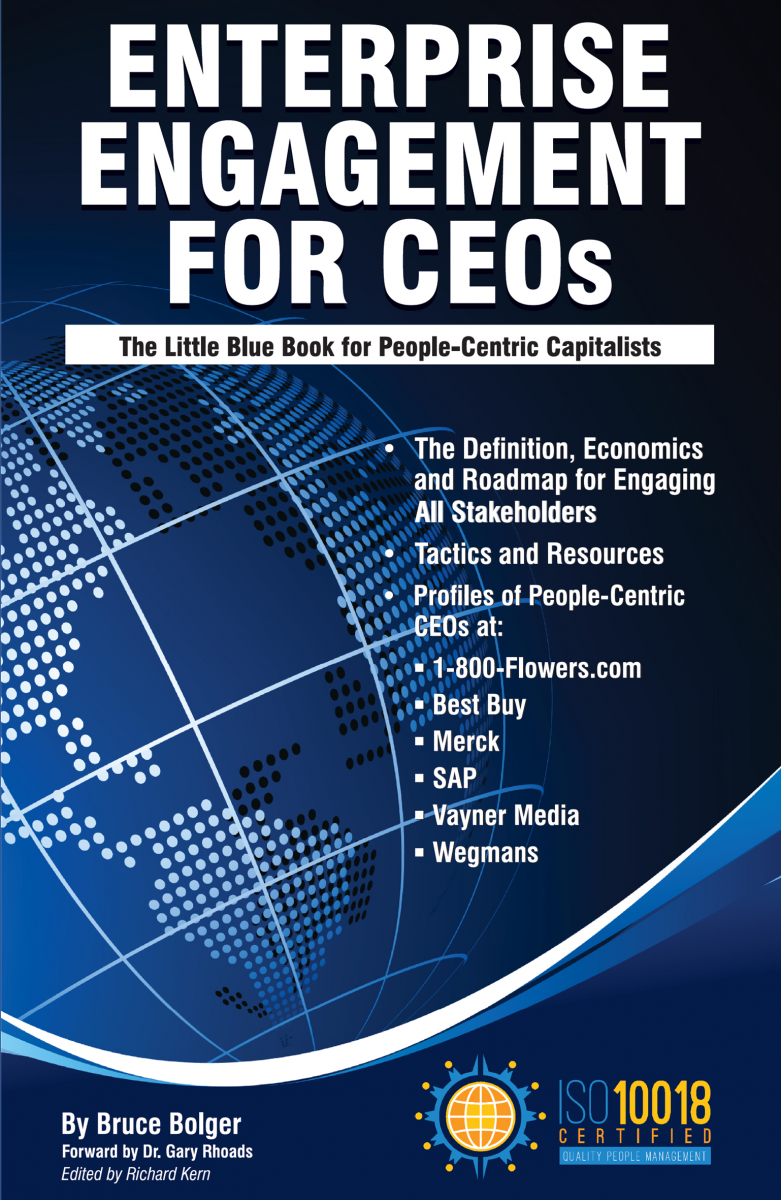 Written specifically to provide CEOs and their leadership teams a concise overview of the framework, economics, and implementation process of a CEO-led strategic and systematic approach to achieving success through people. (123 pages, $15.99)
Enterprise Engagement: The Roadmap 5th Edition
The first and most comprehensive book on Enterprise Engagement and the new ISO 9001 and ISO 10018 quality people management standards. Includes 36 chapters detailing how to better integrate and align engagement efforts across the enterprise. (312 pages, $36.)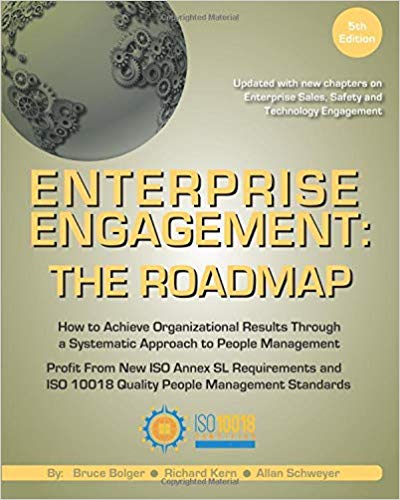 Online:
• 10-minute short course: click here for a 10-minute introduction to Enterprise
• Engagement and ISO standards on Coggno.com.
• 5-minute Audiopedia summary of the Enterprise Engagement field.
Services:
• The International Center for Enterprise Engagement at TheICEE.org, offering: ISO 10018 certification for employers, solution providers, and Enterprise Engagement technology platforms; Human Resources and Human Capital audits for organizations seeking to benchmark their practices and related Advisory services for the hospitality field.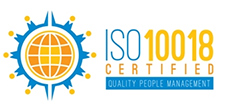 • The Engagement Agency at EngagementAgency.net, offering: complete support services for employers, solution providers, and technology firms seeking to profit from formal engagement practices for themselves or their clients, including Brand and Capability audits for solution providers to make sure their products and services are up to date.
• C-Suite Advisory Service—Education of boards, investors, and C-suite executives on the economics, framework, and implementation processes of Enterprise Engagement.
• Speakers Bureau—Select the right speaker on any aspect of engagement for your next event.
• Mergers and Acquisitions. The Engagement Agency's Mergers and Acquisition group is aware of multiple companies seeking to purchase firms in the engagement field. Contact Michael Mazer in confidence if your company is potentially for sale at 303-320-3777.
Enterprise Engagement Benchmark Tools: The Enterprise Engagement Alliance offers three tools to help organizations profit from Engagement. Click here to access the tools.
• ROI of Engagement Calculator. Use this tool to determine the potential return-on-investment of an engagement strategy.
• EE Benchmark Indicator. Confidentially benchmark your organization's Enterprise Engagement practices against organizations and best practices.
• Compare Your Company's Level of Engagement. Quickly compare your organization's level of engagement to those of others based on the same criteria as the EEA's Engaged Company Stock Index.
• Gauge Your Personal Level of Engagement. This survey, donated by Horsepower, enables individuals to gauge their own personal levels of engagement.
For more information, contact Bruce Bolger at Bolger@TheEEA.org, 914-591-7600, ext. 230.