Human Capital Disclosures Already Are Law in the European Union
While the US Securities & Exchange Commission considers finalization of its proposed rule to require human capital disclosures from public companies in the US, European Union Directive 2014/95/EU is now taking effect in 28 member states. The directive recommends the use of respected international standards for reporting purposes, which can include the new ISO 30414 Human Capital Internal and External Reporting standards, according to Dr. Ron McKinley, Co-Founder, International Center for Enterprise Engagement at TheICEE.org, as well as Ernst & Young, in a recent report on human capital disclosures.
Any organization in the European Union with 500 or more employees; public companies, or those with a balance sheet of 20 million Euros ($22 million) or annual sales of $40 million Euros ($44 million) employing 250 or more employees, now must publish corporate responsibility reports on their human capital and environmental practices.
Regarding human capital practices, the directive, published in 2014 and now in effect in all member countries, states: "As regards to social and employee-related matters, the information provided in the statement may concern the actions taken to ensure gender equality, implementation of fundamental conventions of the International Labour Organisation, working conditions, social dialogue, respect for the right of workers to be informed and consulted, respect for trade union rights, health and safety at work and the dialogue with local communities, and/or the actions taken to ensure the protection and the development of those communities. With regard to human rights, anti-corruption and bribery, the non-financial statement could include information on the prevention of human rights abuses and/or on instruments in place to fight corruption and bribery."
The annual reports, either included in management's annual reports or within six months of financial disclosures, must include a brief description of the organizations business model and non-financial key performance indicators considered by management to be relevant to the business. The reports need to include information on matters related to: the environment; social and employee issues; respect for human rights, and anti-corruption and bribery. For each of these issues, companies must disclose:
•
The policies pursued by each organization as it relates to these matters, including due diligence processes and the outcomes of those policies.
•
The major risks associated with these issues to the organization's operations and how the risks are managed.
•
Non-financial performance indicators relevant to the business and these issues.
•
A description of what information is considered material to sustainable operations.
In explaining the need for the disclosures, the directive states:
"In its resolutions of 6 Feb. 2013 on, respectively, 'Corporate Social Responsibility'…the European Parliament acknowledged the importance of businesses divulging information on sustainability such as social and environmental factors, with a view to identifying sustainability risks and increasing investor and consumer trust. Indeed, disclosure of non- financial information is vital for managing change toward a sustainable global economy by combining long-term profitability with social justice and environmental protection. In this context, disclosure of non-financial information helps the measuring, monitoring and managing of undertakings' performance and their impact on society. Thus, the European Parliament called on the Commission to bring forward a legislative proposal on the disclosure of non-financial information by undertakings allowing for high flexibility of action, in order to take account of the multidimensional nature of corporate social responsibility (CSR) and the diversity of the CSR policies implemented by businesses matched by a sufficient level of comparability to meet the needs of investors and other stakeholders as well as the need to provide consumers with easy access to information on the impact of businesses on society."
The directive suggests that "In providing this information, undertakings which are subject to this Directive may rely on national frameworks, union-based frameworks such as the Eco-Management and Audit Scheme (EMAS), or international frameworks such as the United Nations (UN) Global Compact… or other recognised international frameworks."
In a recent report by the advisory firm EY, the company recommends consideration of multiple worldwide-respected frameworks, including the new ISO 30414 standard published by the International Organization of Standardization, "an independent, nongovernmental international organization that develops voluntary, consensus-based, market-relevant international standards. ISO 30414:2018 provides guidelines and metrics for human capital reporting, including diversity, organizational cultural, health and safety,"
Dr. Ron McKinley, Co-Founder of the International Center for Enterprise Engagement at
TheICEE.org
, and part of the working committee that created the standard, observes, "The ISO 30414 Human Capital reporting standard has come along at a propitious time to help European and organizations worldwide provide meaningful disclosures in compliance with the EU directive and coming SEC regulations. ISO standards clearly meet the EU criteria for recognized frameworks and, by focusing on the process and not just the end result, provides more transparency."
---
Master the Principles of Enterprise Engagement to Achieve Organizational Goals and Enhance Your Career
Profit from a new strategic and systematic approach to engagement to enhance your organization's brand equity; increase sales, productivity, quality, innovation, and safety, and reduce risks.
Get trained to become a Chief Engagement Officer for your organization.
Achieve ISO 10018 Quality People Management Certification to demonstrate your organization's strategic commitment to people to your customers, employees, distribution partners, vendors, communities, investors, and regulators.
Learn how to create Sustainability or Integrated Reports for Your Organization or Clients.
Get up-to-speed on ISO human resources standards and guidelines to enhance HR performance.
Live Education: Enterprise Engagement in Action. Take advantage of scheduled monthly live webinar preparation courses for the Certified Engagement Practitioner designation consisting of three one-hour classes and of quarterly Advanced Engagement Practitioner courses consisting of three one-hour webinar classes. The AEP course is for individuals or teams seeking preparation ISO 10018 professional certification status. ICEE periodically runs regional one-day workshops on ISO 10018 Quality People Management principles and certification.
Resources: The Brand Media Coalition, the only guide to the story-telling power of brands and where to source them for business, event, promotional gifting, and rewards and recognition.
2019 Enterprise Engagement Solution Provider Directory
. The only directory of engagement solution providers covering all types of agencies and tactics as well as insights on how to select them.
Communities: The Enterprise Engagement Alliance and Advocate and the Brand Media Coalition free resource centers offering access to the latest research, news, and case studies; discounts, promotions, referrals, and commissions, when appropriate to third-party solution providers from participating coalition solution provider members.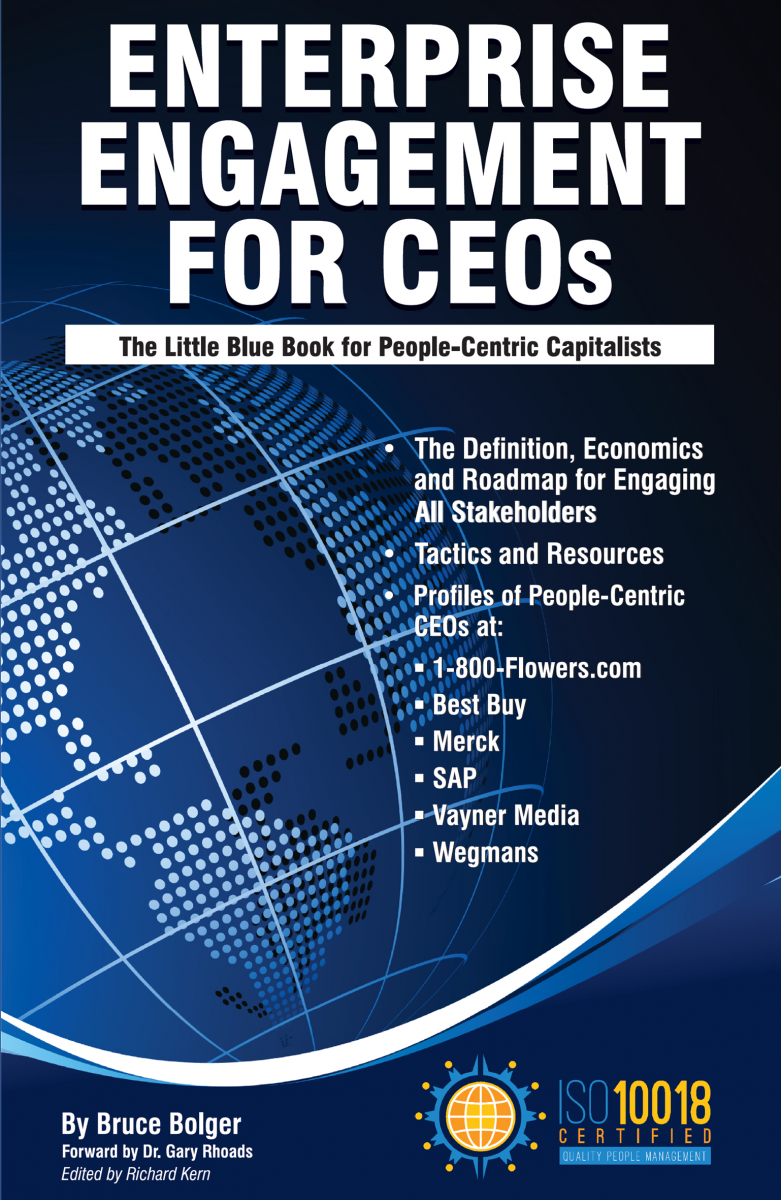 Enterprise Engagement: The Roadmap 5th Edition
The first and most comprehensive book on Enterprise Engagement and the new ISO 9001 and ISO 10018 quality people management standards. Includes 36 chapters detailing how to better integrate and align engagement efforts across the enterprise. (312 pages, $36.)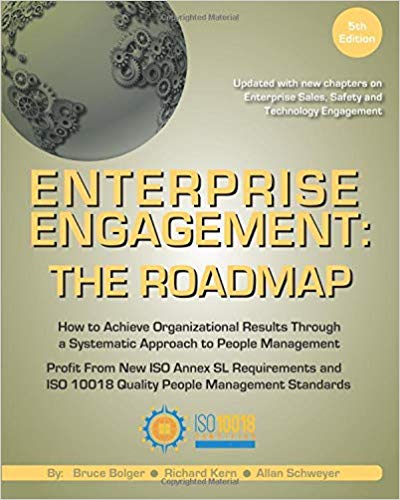 Online:
10-minute short course: click here for a 10-minute introduction to Enterprise Engagement and ISO standards from the Coggno.com learning platform.
Services:
• The International Center for Enterprise Engagement at TheICEE.org, offering: ISO 10018 certification for employers, solution providers, and Enterprise Engagement technology platforms; Human Resources and Human Capital audits for organizations seeking to benchmark their practices and related Advisory services for the hospitality field.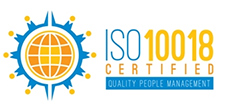 • The Engagement Agency at EngagementAgency.net, offering: complete support services for employers, solution providers, and technology firms seeking to profit from formal engagement practices for themselves or their clients, including Brand and Capability audits for solution providers to make sure their products and services are up to date.
• C-Suite Advisory Service—Education of boards, investors, and C-suite executives on the economics, framework, and implementation processes of Enterprise Engagement.
• Speakers Bureau—Select the right speaker on any aspect of engagement for your next event.
• Mergers and Acquisitions. The Engagement Agency's Mergers and Acquisition group is aware of multiple companies seeking to purchase firms in the engagement field. Contact Michael Mazer in confidence if your company is potentially for sale at 303-320-3777.
Enterprise Engagement Benchmark Tools: The Enterprise Engagement Alliance offers three tools to help organizations profit from Engagement. Click here to access the tools.
• ROI of Engagement Calculator. Use this tool to determine the potential return-on-investment of an engagement strategy.
• EE Benchmark Indicator. Confidentially benchmark your organization's Enterprise Engagement practices against organizations and best practices.
• Compare Your Company's Level of Engagement. Quickly compare your organization's level of engagement to those of others based on the same criteria as the EEA's Engaged Company Stock Index.
• Gauge Your Personal Level of Engagement. This survey, donated by Horsepower, enables individuals to gauge their own personal levels of engagement.
For more information, contact Bruce Bolger at Bolger@TheEEA.org, 914-591-7600, ext. 230.