Why ISO 10018, 30414 and Other Human Capital Standards Are a Big Deal for HR
A recent article in Workforce.com asserts that ISO 30414 human capital standards are a "big deal for HR." An article on the web site of the Society of Human Resource Managers says it could "create a boon for HR." Having just completed the first audit (at least in a Western country) for the ISO 10018 People Competence and Involvement standard, it is apparent that human resources professionals have the unique training and role required to manage the human capital audits and disclosures that will soon be required of most organizations, if not for competitive reasons alone.
By Dr. Ron McKinley, with Bruce Bolger
What Is Involved with an ISO 10018 or Human Capital Audit
There is nothing like doing a job to know what's required of it. The recent audit of DTE Energy for the world's first
ISO 10018 People Involvement and Competence
standard provided a first-hand insight of what is required of any ISO human capital audit, whether it be for ISO 10018 , ISO 30414 Human Capital Management Internal and External Reporting, or one of any
four more ISO human capital standards
introduced over the past year.
From the first ISO 10018 audit, we draw the following conclusions:
•
Not only are the education, expertise, and skills required of an ISO human capital audit ideally suited to the expertise and role of human resources professionals, human capital audits are particularly interesting and rewarding because they get at the heart and soul of an organization's people management strategies and outcomes.
•
ISO standards belie the fallacy that human capital issues cannot be evaluated in a comparable way. It is clear from the audit that DTE has a sincere and strategic effort to engage its entire enterprise in a systematic way whose efficacies can be evaluated in an objective manner potentially comparable with the activities and outcomes of other conforming or nonconforming organizations.
Based on this experience, a thorough and systematic evaluation of an organization's human capital processes surely can help determine that there is a sincere and determined effort to identify and address the needs of all stakeholders—customers, employees, suppliers, and communities—as well as to track outcomes in a comparable way.
DTE Energy provides a particularly unique learning experience because it is, as far as we know, the first organization anywhere in the world to submit to an ISO 10018 audit and has probably received the first ISO human capital standard certification. ISO 10018 was created by the same ISO Technical Committee, ISO TC 176, that administers ISO 9001 quality standards, that are utilized by an estimated 1.2 million companies worldwide. We have found no documentation identifying or supplying information related to the first ISO 9000 audit in the late 1980s after the standard was introduced in 1987, so the first audit we know of for any human capital standards provides a particularly illuminating experience. ICEE intends to carefully document and learn from each audit in order to continually improve the process and benefits.
What Is Involved with an ISO 10018 or Human Capital Audit
The audit process has unique rewards for professionals who enjoy learning about organizations and people, branding, strategies and engagement tactics. An ISO 10018 audit is fascinating and highly instructive for those who find it interesting to see how an organization defines its brand, purpose, objectives, strategies and tactics, and who enjoy listening to people at all levels of an organization. The audit provides an enriching experience for those who find it intriguing to see how strategies, tactics, and, yes, passions, translate into organizational results, including potentially more rewarding job opportunities for employees and greater satisfaction for consumers, communities, and suppliers, as well as investors. No organization is perfect: ISO standards are a measure of a sincere effort to apply a strategic and systematic approach that connects the various processes. Employee and engagement customer scores using reputable processes; turnover; safety and wellbeing scores; numbers of lawsuits; regulatory penalties; financial results, and in the case of public companies, stock prices, are among the many outcome measures.
An ISO human capital audit requires a complete understanding of the purpose, intentions, and spirit of the standard, and the ability, through a thorough review of documentation and extensive personal and group meetings, the purpose and spirit in which the standard is applied to achieve the goal. In the case of ISO 10018, this includes the process used by the organization to equip and align people's efforts and motivations toward common goals that meet customer needs. While one might be tempted to identify other issues related to the standard, for purposes of comparability, the audit only involves the elements specified in the standard. Standards are updated every five years: it is expected that an updated version of ISO 10018 will be available sometime in 2020.
Having had a career in all aspects of human resources, with senior positions at both large and small organizations involving several industries, I found the process of this audit particularly fascinating and rewarding, because the audit involves a thorough and methodical process to verify that the organization follows the standard with a rigor that demonstrates total organizational commitment to a strategic and systematic approach. In the case of ISO 10018, that means involving, engaging, and equipping all stakeholders to address customer needs and achieve organizational objectives, hence the name of ICEE's ISO 10018 certification: Quality People Management.
The skills involved with these audits go to the heart of what human resources professionals are trained to do: find out what is going on. In this case, the issue does not involve often unpleasant employee relations, misconduct issues or litigation threats, or tedious procedural reviews, but rather the brand promise, vision, mission, and values of an organization and how they are addressed throughout its entire community of stakeholders. Unlike other ISO audits, or human resources compliance audits, which might include spot checks of reports, device calibrations or other documentation procedures, ISO 10018, as well as other ISO human capital standards in general, look for evidence that the organization has a strategic and systematic approach to addressing the needs of all stakeholders. The goal is not only to ensure conformance to standards but to make sure the standard is being used to improve efficiency, reduce risks, and create better experiences. So, rather than random checks of quality control charts, or uncomfortable meetings, the audit involves:
1. The pre-audit gap analysis. This step ensures that the organization fully understands the standard and what will be necessary to achieve the certification. There is no reason to conduct an unsuccessful audit, as the standard and requirements are quite transparent and disclosed in advance.
2. Submission of documentation. In ideal circumstances, in advance of the audit, the organization submits evidence of all its activities related to the standard for pre-audit review. For ISO 10018 Quality People Management certification, this includes information on:
•
The organization's goals, values, and overall implementation process.
•
Employee and customer engagement scores, in the case of DTE Energy from Gallup and J.D. Powers, and/or other reputable survey organizations or internal methods.
•
Details on all the activities related to all stakeholders—customers, employees, suppliers, communities, or others, including such processes as:
o
Assessment and feedback
o
Recruitment and coaching
o
Rewards and recognition
As one can imagine, organizations with a commitment to these activities have little problem coming up with evidence, which can include survey or feedback documentation, videos, website pages and visits, newsletters, presentation decks, outcome reports, testing and survey data, innovations, and evidence that the organization understands the standard and how their activities contribute to its successful application.
3. Onsite audit meetings. This involves one full day at headquarters and one-half day per additional location (or a percentage of locations at large organizations) to conduct meetings with the CEO or equivalent, all appropriate senior management, a selection of middle management involved with implementation, and a variety of employees at all levels. The purpose of the meetings is to discern their knowledge of the spirit and principles of the standard, and their understanding of their role as it pertains to the substance and spirit of the standard.
Because the standard is the equivalent of a roadmap with a clear framework and checklist, it is relatively easy for an experienced business person to verify if the organization's processes conform with the spirit and substance of the standard and to objectively and transparently score the organization's conformance—an 80% score is required to achieve certification. The 10018 audit is not designed nor could it verify that every conforming practice meets the highest standard of excellence. It does verify that every best effort was made to include such practices, i.e., communications, training, rewards and recognition, etc., to support the overall brand, culture, and objectives in a strategic and systematic manner designed to maximize alignment of purpose.
While the ISO 10018 standard focuses on the process, including the organization's methods for measuring outcomes, it is not itself a measure of outcomes. In the case of DTE Energy, it's engagement scores, growth, community relationships and stock market scores underscore the rather obvious conclusion that a proactive, strategic, and systematic approach to achieving a goal will yield a better result than reactive, ad hoc approaches.
---
Master the Principles of Enterprise Engagement to Achieve Organizational Goals and Enhance Your Career
Profit from a new strategic and systematic approach to engagement to enhance your organization's brand equity; increase sales, productivity, quality, innovation, and safety, and reduce risks.
Get trained to become a Chief Engagement Officer for your organization.
Achieve ISO 10018 Quality People Management Certification to demonstrate your organization's strategic commitment to people to your customers, employees, distribution partners, vendors, communities, investors, and regulators.
Learn how to create Sustainability or Integrated Reports for Your Organization or Clients.
Get up-to-speed on ISO human resources standards and guidelines to enhance HR performance.
Live Education: Enterprise Engagement in Action. Take advantage of scheduled monthly live webinar preparation courses for the Certified Engagement Practitioner designation consisting of three one-hour classes and of quarterly Advanced Engagement Practitioner courses consisting of three one-hour webinar classes. The AEP course is for individuals or teams seeking preparation ISO 10018 professional certification status. ICEE periodically runs regional one-day workshops on ISO 10018 Quality People Management principles and certification.
Resources: The Brand Media Coalition, the only guide to the story-telling power of brands and where to source them for business, event, promotional gifting, and rewards and recognition.
2019 Enterprise Engagement Solution Provider Directory
. The only directory of engagement solution providers covering all types of agencies and tactics as well as insights on how to select them.
Communities: The Enterprise Engagement Alliance and Advocate and the Brand Media Coalition free resource centers offering access to the latest research, news, and case studies; discounts, promotions, referrals, and commissions, when appropriate to third-party solution providers from participating coalition solution provider members.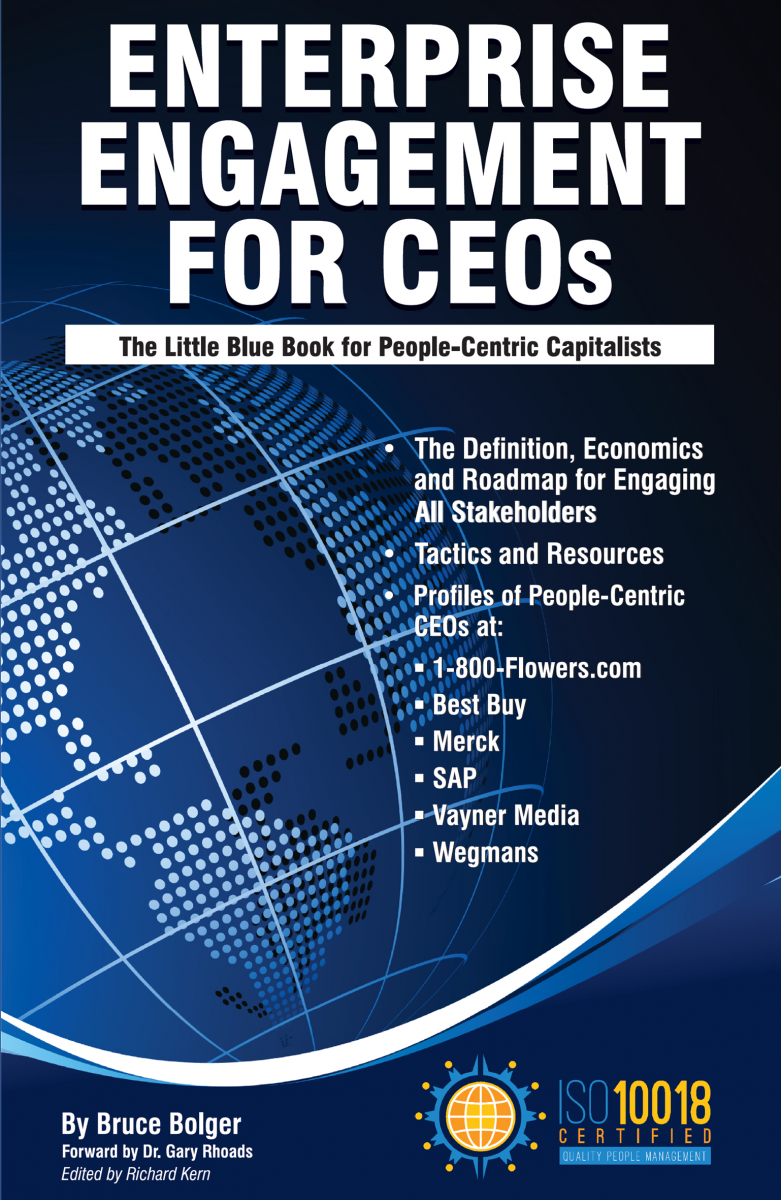 Enterprise Engagement: The Roadmap 5th Edition
The first and most comprehensive book on Enterprise Engagement and the new ISO 9001 and ISO 10018 quality people management standards. Includes 36 chapters detailing how to better integrate and align engagement efforts across the enterprise. (312 pages, $36.)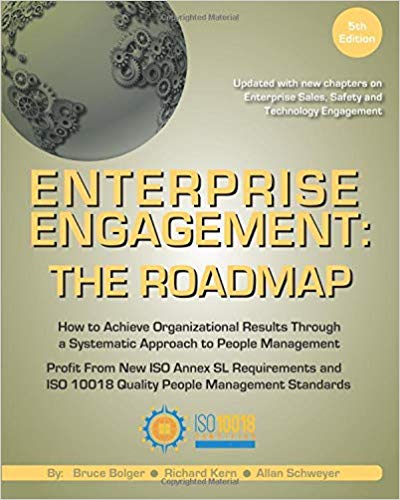 Online:
10-minute short course: click here for a 10-minute introduction to Enterprise Engagement and ISO standards from the Coggno.com learning platform.
Services:
• The International Center for Enterprise Engagement at TheICEE.org, offering: ISO 10018 certification for employers, solution providers, and Enterprise Engagement technology platforms; Human Resources and Human Capital audits for organizations seeking to benchmark their practices and related Advisory services for the hospitality field.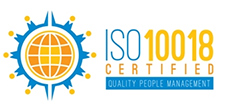 • The Engagement Agency at EngagementAgency.net, offering: complete support services for employers, solution providers, and technology firms seeking to profit from formal engagement practices for themselves or their clients, including Brand and Capability audits for solution providers to make sure their products and services are up to date.
• C-Suite Advisory Service—Education of boards, investors, and C-suite executives on the economics, framework, and implementation processes of Enterprise Engagement.
• Speakers Bureau—Select the right speaker on any aspect of engagement for your next event.
• Mergers and Acquisitions. The Engagement Agency's Mergers and Acquisition group is aware of multiple companies seeking to purchase firms in the engagement field. Contact Michael Mazer in confidence if your company is potentially for sale at 303-320-3777.
Enterprise Engagement Benchmark Tools: The Enterprise Engagement Alliance offers three tools to help organizations profit from Engagement. Click here to access the tools.
• ROI of Engagement Calculator. Use this tool to determine the potential return-on-investment of an engagement strategy.
• EE Benchmark Indicator. Confidentially benchmark your organization's Enterprise Engagement practices against organizations and best practices.
• Compare Your Company's Level of Engagement. Quickly compare your organization's level of engagement to those of others based on the same criteria as the EEA's Engaged Company Stock Index.
• Gauge Your Personal Level of Engagement. This survey, donated by Horsepower, enables individuals to gauge their own personal levels of engagement.
For more information, contact Bruce Bolger at Bolger@TheEEA.org, 914-591-7600, ext. 230.