Engagement Field Has Unexpected Opportunity Through ROI Measurement
Despite the enormous worldwide economic downturn, the field of engagement has an unprecedented opportunity. Suddenly every CEO is confronted with the long-overlooked fact that not only are people an organization's No. 1 asset, they are its only asset. For the first time, we can literally see that without customers, employees, distribution partners, suppliers and communities, all our real estate and equipment are valueless. The engagement field clearly has not delivered results for organizations over the last 10 years, because neither employee engagement nor customer satisfaction have improved over that time, and industry was already moving on to the term "experience" because clearly the term "engagement" hadn't produced any results. Now is the time to take advantage of readily accessible human capital management information and return-on-investment processes to demonstrate the true value of people.

"Only when the tide goes out do you see who is swimming naked," Warren Buffet famously said.
The dirty secret is that US companies spend upwards of $100 billion to engage customers, employees, distribution partners and other suppliers, using promotions, incentives, loyalty programs, games, motivational events, social media, gifts, benefits and perquisites, etc. with very little return-on-investment measurement. No manufacturing or research facility would be satisfied with the way most organizations plan, implement, or measure their human capital management and engagement efforts. Based on the assumption of many CEOs and other executives that human capital cannot be measured, and even less so engagement tactics such as promotions, incentives, recognition, and loyalty programs, organizations routinely operate programs that are planned and run year after year by people who have no training in engagement process design or measurement, and, based on surveys by the
Incentive Research Foundation
, rarely consult outside experts.
According to
Allan Schweyer
, President of TMLU, a human capital strategy firm; Chief Academic Advisor to the
Incentive Research Foundation
, and Director of Curriculum for the Enterprise Engagement Alliance at
TheEEA.org
, "In my experience, very few organizations have a rigorous approach to human capital management or, for that matter, measurement of incentive, recognition, loyalty, or learning efforts. In the case of many engagement efforts, most organizations stop at the point of doing employee engagement surveys or a survey about the quality of a program, or maybe going a bit further and trying to measure whether the person feels more engaged as a result. Beyond that, very few make any effort to follow up later to see if there was an impact on the individual's or team's behaviors; or to measure the level of business impact, let alone the return on investment. I don't think there has been any appetite to invest money in this process."
Why the Lack of ROI Measurement
Why do organizations consistently overlook the multiple ways they can measure human capital and the effectiveness of engagement strategies?
The primary reason may be that most CEOs are skeptical that human capital can be measured, and many are not even convinced that strategic human capital management is a serious performance differentiator. The managers who plan engagement efforts, rarely pressed for ROI measurement and who often know little about formal process design or return-on-investment measurement, rarely ask about serious measurement systems from solution providers: most suppliers of engagement tactics will say that they don't push return-on-investment measures because their "clients aren't asking for it." Now, with many companies feeling under pressure to make snap decisions about how to engage people working under new circumstances, and left in many cases only with the people they really don't want to lose, many are once again throwing slap-dash tactics at a situation that merits and requires a strategic and measurable solution.
Laura Queen, Founder and CEO of
29Bison.com
, a human capital advisory firm for the investment community, explains why most companies do not have a strategic human capital management and measurement plan. "Besides the fact that most CEOs receive no education on the subject, any investments in human resources are treated as a cost on the balance sheet, rather than an as an asset that can be depreciated. A company can capitalize an investment in toilets and depreciate that cost over time but has to account for any costs related to human resources as an expense."
The fact is that unless an organization is run by a CEO who has a strategic approach to achieving success by addressing the interests of all stakeholders, none of the frequently used engagement tactics will have much more than a band-aid affect or promote behaviors that would have occurred any way. In fact, in many cases, these efforts can promote short-term behaviors that produce long-term damage. Because of the lack of understanding of the field of human capital or engagement, most organizations shop for engagement tactics like bright shiny objects, with each department often budgeted to make up their own formulas, often with little connection to other efforts in the organization. Some might use motivational speakers and newsletters or social media; others, incentives, promotions, or recognition, yet others a learning platform, or an engagement survey or net-promoter score. Rarely are these all orchestrated to work together to support common objectives.
Even worse, many large organizations have siloes between external marketing and internal marketing, with more siloes between sales and marketing, and more between the learning, communications, organizational development, or analytics teams in big HR departments. Rarely is there a CEO-led, strategic and systematic approach to engaging all stakeholders across the enterprise measured through use of concrete human capital metrics. At many organizations, the process is reactive, ad hoc at best, much like the state of quality management in manufacturing in the 1980s before competition from the Japanese and ISO 9000 quality management standards led the way to a more strategic, proactive approach.
How could anyone know how to properly measure and manage human capital or design and measure engagement strategies when the subject is not taught in most schools or covered with any seriousness in the business media? Education certification programs produced by the
Enterprise Engagement Alliance
,
Incentive Marketing Association
,
Loyalty Academy
, and
Recognition Professionals International
, are virtually unknown, even though almost every company uses some variation on an incentive, recognition, loyalty, or overall engagement strategy. The fact is, most organizations overlook much of the research and common-sense recommendations for effective customer, employee, distribution partner engagement, and many of the current incentive, recognition, and loyalty programs will be in grave danger now unless their advocates can demonstrate a meaningful return on investment.
Human Capital and Engagement ROI Can Be Measured
Over 20 years of research has shown that it is not difficult to measure key human capital metrics invaluable to determining the productivity of investments in customer, employee, distribution partner or other engagement efforts. The recently published ISO 30414 human capital reporting standards provide dozens of suggestions for useful scorecards. On the macro level, organizations can gauge the effectiveness of their human capital management practices by tracking from year to year: revenue, profits, and costs per employee and customer; cost of training and benefits per employee; turnover of employees and customers; recruitment costs per new employee and customer; accident rates; safety or product defect recalls; diversity of stakeholders; law suits from employees and customers; employee and customer engagement scores and/or willingness to recommend; workforce readiness and job sharing capabilities, and much more. Year-to-year changes in those indices, especially if they could be compared with companies in the same industry, provide invaluable information on the overall productivity and quality of engagement effort outcomes and keep management focused on scorecards that matter.
Many public companies object to recommendations to disclose key human capital indices perhaps because exposing the productivity, quality, and profitability of customer and employee relationships provides competitors with invaluable information and risks exposure to embarrassment at companies with poor scores.
Similarly, contrary to popular belief, almost any engagement effort can be measured. A paper published by the American Productivity and Quality Center about 20 years known as the
Master Measurement Model
provides a statistical process control used in quality management for designing and measuring almost any type of engagement effort that only a few people have ever used. It employs a systematic approach that uses a formal involvement process with relevant stakeholders to identify the goals and objectives of any effort and the best ways to achieve them, and then a combination of three to five qualitative and quantitative measures to monitor and evaluate the results.
For the many practitioners and/or suppliers who let their clients run programs without any serious return-on-investment, it's probably too late to salvage the program if the CEO has it on the chopping block. That in turn creates a great opportunity for other solution providers with the knowledge and courage to educate their clients on the ability to deploy engagement solutions with a clear return-on-investment both on a macro- and micro-level.
Education and Certification Opportunities
There are multiple, affordable learning and certification programs specifically related to enterprise engagement, human capital management, incentive programs, and rewards and recognition, all with online learning programs.
Enterprise Engagement
—the Enterprise Engagement Alliance Certified and Advanced Engagement Professional programs provides formal training on a strategic and systematic approach to engaging all stakeholders, including return-on-investment measurement.
Human Capital Analytics
—the International Center for Enterprise Engagement at
TheICEE.org
has a learning and certification program on ISO 30414 human capital internal and external reporting.
Incentive programs
—The Incentive Marketing Association provides a learning and certification program for incentive program design.
Loyalty
—the Loyalty Academy offers a comprehensive learning and certification program for customer loyalty programs.
Recognition
—The Recognition Professionals International has a complete training and certification program for Recognition.
---
Master the Principles of Stakeholder Capitalism And Implementation Through Enterprise Engagement
Education, Certifications, and Information to Activate
Stakeholder Capitalism Available Nowhere Else
A complete learning, certification, and information program and a course syllabus for educators.
Training and Certification
Enterprise Engagement Alliance Education: Certified Engagement Practitioner; Advanced Engaged Practitioner, and Certified Engagement Solution Provider learning and certification programs on how to implement Stakeholder Capitalism principles at the tactical level.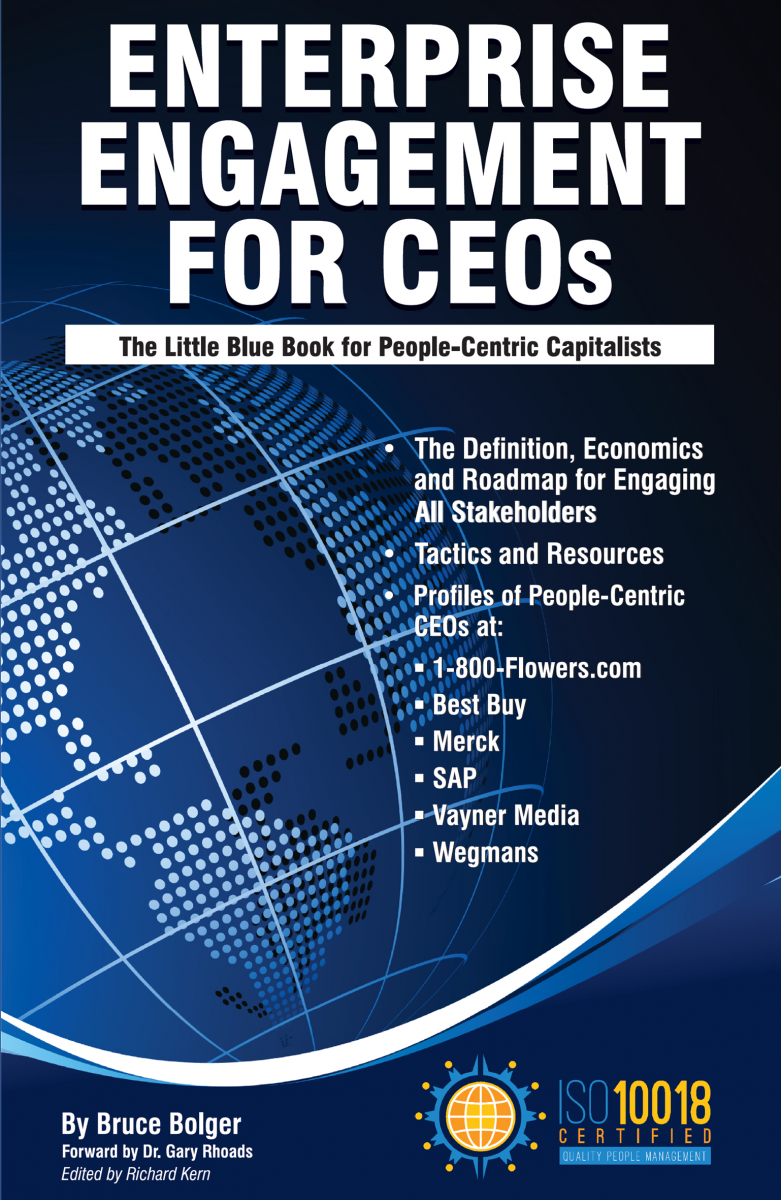 Join the EEA to begin your certification process or see our other resources below.
THE ONLY BOOKS ON STAKEHOLDER CAPITALISM IMPLEMENTATION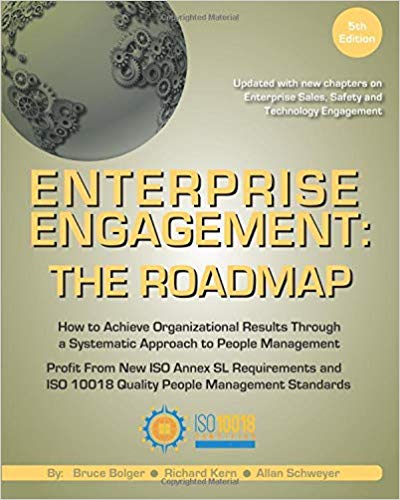 Enterprise Engagement: The Roadmap 5th Edition
The first and most comprehensive book on Enterprise Engagement and the new ISO 9001 and ISO 10018 quality people management standards. Includes 36 chapters detailing how to better integrate and align engagement efforts across the enterprise. (312 pages, $36.)
OTHER RESOURCES TO ACTUALIZE STAKEHOLDER CAPITALISM
Communities:
The
Enterprise Engagement Alliance and Advocate
and the
Brand Media Coalition
free resource centers offering access to the latest research, news, and case studies; discounts, promotions, referrals, and commissions, when appropriate to third-party solution providers from participating coalition solution provider members.
Enterprise Engagement
Resources:
EEXAdvisors.com provides the only curated online marketplace to access hundreds of solution providers in all areas of human capital management and enterprise engagement throughout the world.
Online Overview:
10-minute short course: click here for a 10-minute introduction to Enterprise Engagement and ISO standards from the Coggno.com learning platform.
Services:
• The Engagement Agency at EngagementAgency.net, offering: complete support services for employers, solution providers, and technology firms seeking to profit from formal engagement practices for themselves or their clients, including Brand and Capability audits for solution providers to make sure their products and services are up to date.
• C-Suite Advisory Service—Education of boards, investors, and C-suite executives on the economics, framework, and implementation processes of Enterprise Engagement.
• Speakers Bureau—Select the right speaker on any aspect of engagement for your next event.
• Mergers and Acquisitions. The Engagement Agency's Mergers and Acquisition group is aware of multiple companies seeking to purchase firms in the engagement field. Contact Michael Mazer in confidence if your company is potentially for sale at 303-320-3777.
Enterprise Engagement Benchmark Tools: The Enterprise Engagement Alliance offers three tools to help organizations profit from Engagement. Click here to access the tools.
• ROI of Engagement Calculator. Use this tool to determine the potential return-on-investment of an engagement strategy.
• EE Benchmark Indicator. Confidentially benchmark your organization's Enterprise Engagement practices against organizations and best practices.
• Compare Your Company's Level of Engagement. Quickly compare your organization's level of engagement to those of others based on the same criteria as the EEA's Engaged Company Stock Index.
• Gauge Your Personal Level of Engagement. This survey, donated by Horsepower, enables individuals to gauge their own personal levels of engagement.
For more information, contact Bruce Bolger at Bolger@TheEEA.org, 914-591-7600, ext. 230.