Free Organizational Assessment Tool Charts Path to a Better Business
The RBL Group (RBL) and CorpU have co-created, refined, and delivered an Organizational Guidance System (OGS) to help organizations more effectively achieve their goals. For a limited time, they are inviting organizations free access to an assessment tool to "identify specific paths to achieve the results you want to impact for talent, business performance, customers, and investors." Having a business operating system such as on OGS offers organizations both a competitive edge and better performance, as well as less risk and better experiences for all stakeholders.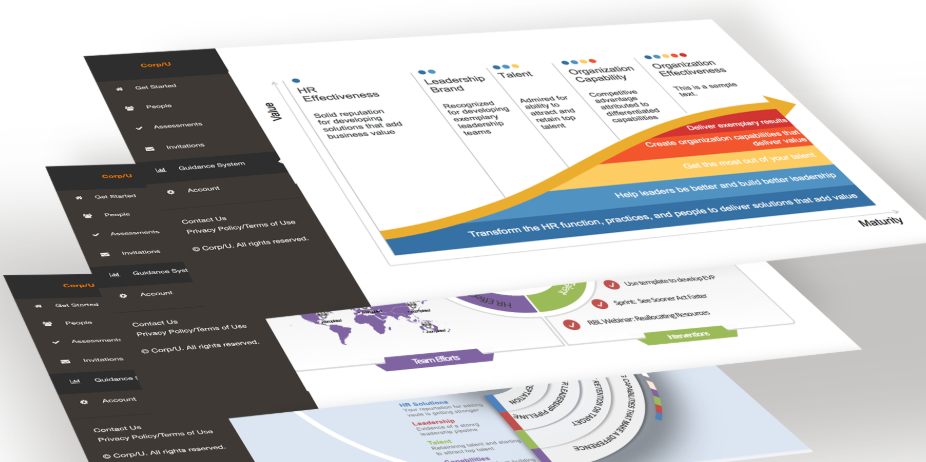 Organizational management can test a new sustainable approach to achieving their goals by participating in a free online self-assessment test created to support The RBL Group's new Organizational Guidance System. Go to
RBL.ai
; select and complete one of the four eight- to 12-minute assessments on Organizational Capability; Leadership Brand; Talent and HR Effectiveness, and instantly view your organization's score in that category along with insights on the results. The company will shut down this soft launch during the summer before launching its official product.
While all individual data is confidential, the aggregate is used by the company to determine which types of activities correlate with higher performance. So far, based on 30,000 responses from 1,200 companies, high-performing companies score particularly well on customer responsiveness, innovation, external sensing, speed and agility, and shared mindset/culture.
The assessment platform is designed to help organizations take the right steps in the right order to achieve the desired results, and to have a means of monitoring progress and identifying corrective actions along the way. The questions are organized to correlate business activities with customer and investor outcomes to help identify the potential business impact. RBL plans to use the platform and aggregate data for its own clients and plans to create a white-label assessment platform and framework that can be used by third-party agencies and consultants. The goal is to marry the advantages of a business operating system with an ongoing platform to develop the best strategy
A Strategic Plan Based on Desired Outcomes
According to Dave Ulrich and Norm Smallwood, co-founders of The RBL Group, "an OGS articulates desired business, customer, and investor outcomes, then offers guidance to attain them. In our collective one hundred years of professional experience (with over 35 books, hundreds of articles, and consulting with thousands of companies), we have identified four general pathways to create effective or winning organizations."
According to Ulrich and Smallwood, those pathways include:
•

Talent.
The raw ingredients of any organization are its people who bring competencies (skills to get work done today and tomorrow), commitment (engagement and energy), and contribution (work experiences with purpose, opportunities to grow, and a sense of community).
•

Organization.
Winning in the marketplace comes from turning individual competencies into organizational capabilities that make the whole greater than the sum of the parts. Teamwork delivers business results more than talent; the workplace more than workforce; cultural systems more than skills, Ulrich and Normwood say.
•

Leadership.
An individual leader matters but creating a collective leadership brand throughout an organization matters even more for sustained business, customer, and investor results, based on the organization's findings.
•

Human Resources (HR).
While business leaders are primarily responsible for talent, organization, and leadership agendas, HR professionals and the HR departments where they work also impact sustained organization success, the co-founders assert.
The Three Phases of Action
The company's OGS action process includes three phases: assessment/diagnosis; intervention; and precision navigation.
1. Assessment/Diagnosis. A guidance system starts with information that sets a baseline, defines outcomes, and monitors progress. Assessments can be made in talent, organization, leadership, and human resources. The company's new assessment tool helps organizations establish the benchmark.
2. Interventions for Improvement. "There are literally thousands of interventions that can be made to improve each pathway (including utilizing one of the 2,700 HR apps). For example, to create a stronger leadership brand, organizations could make many initiatives ranging from relatively simple (e.g., read a book, listen to a TED talk); to moderately demanding (attend a course, receive coaching); to complex (create a leadership capital index for investors).
An OGS offers "business and HR leaders a menu of choices, each of which has a degree of difficulty to implement and a relative impact on the desired outcome. From this array of intervention choices, business and HR leaders can improve organization performance along each of the four paths."
3. Precision Navigation for Informed Choices. Ulrich and Smallwood believe that guidance systems need to monitor progress and offer adjustment suggestions to reach the desired outcomes. "Likewise, an OGS offers ongoing, relevant, real-time, and actionable information to make better choices for the four pathways," they emphasize. "This information comes in our Software as a Service (SaaS) package from which leaders and HR professionals receive timely reports with insights on how to adapt to meet desired goals. This precision navigation helps leaders know when they are getting off target and how to adjust to deliver sustainable impact."
The RBL Group principals "believe the time is right for organizations to establish an OGS because a thorough body of knowledge exists for each of the four paths (talent, organization, leadership, and HR), and we are weaving them together to deliver business, customer, and investor results. Coupled with the latest technological advances (e.g., SaaS packages), the OGS can be readily accessed, scaled, and personalized for organization effectiveness."
For More Information
Dave Ulrich
Co-founder, The RBL Group
Norm Smallwood
Co-founder, The RBL Group
---
Master the Principles of Stakeholder Capitalism And Implementation Through Enterprise Engagement
Education, Certifications, and Information to Activate
Stakeholder Capitalism Available Nowhere Else
A complete learning, certification, and information program and a course syllabus for educators.
Training and Certification
Enterprise Engagement Alliance Education: Certified Engagement Practitioner; Advanced Engaged Practitioner, and Certified Engagement Solution Provider learning and certification programs on how to implement Stakeholder Capitalism principles at the tactical level.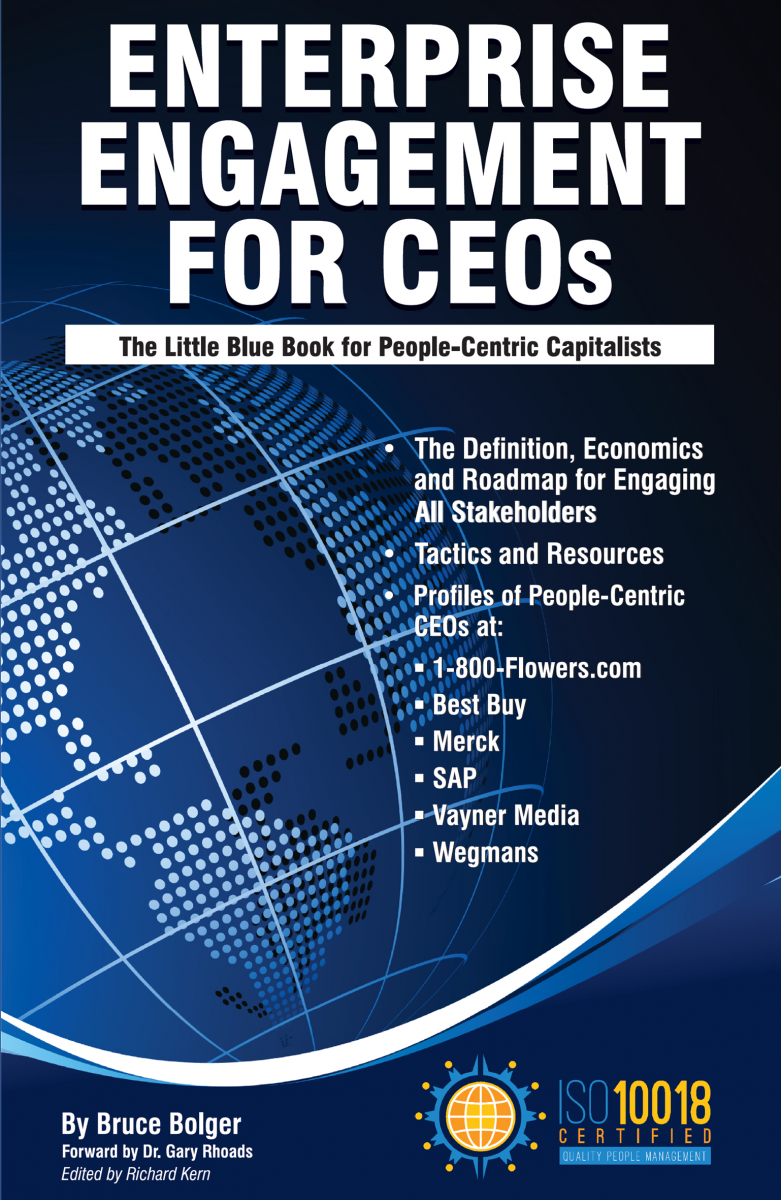 Join the EEA to begin your certification process or see our other resources below.
THE ONLY BOOKS ON STAKEHOLDER CAPITALISM IMPLEMENTATION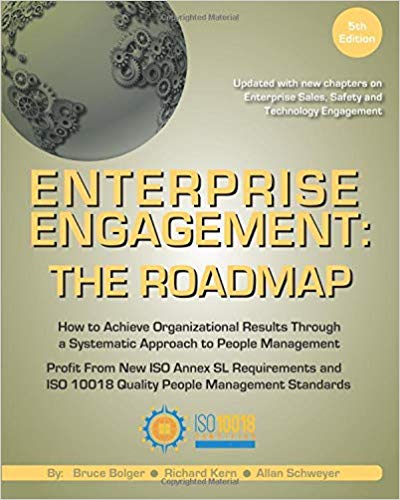 Enterprise Engagement: The Roadmap 5th Edition
The first and most comprehensive book on Enterprise Engagement and the new ISO 9001 and ISO 10018 quality people management standards. Includes 36 chapters detailing how to better integrate and align engagement efforts across the enterprise. (312 pages, $36.)
OTHER RESOURCES TO ACTUALIZE STAKEHOLDER CAPITALISM
Communities:
The
Enterprise Engagement Alliance and Advocate
and the
Brand Media Coalition
free resource centers offering access to the latest research, news, and case studies; discounts, promotions, referrals, and commissions, when appropriate to third-party solution providers from participating coalition solution provider members.
Enterprise Engagement
Resources:
EEXAdvisors.com provides the only curated online marketplace to access hundreds of solution providers in all areas of human capital management and enterprise engagement throughout the world.
Online Overview:
10-minute short course: click here for a 10-minute introduction to Enterprise Engagement and ISO standards from the Coggno.com learning platform.
Services:
• The Engagement Agency at EngagementAgency.net, offering: complete support services for employers, solution providers, and technology firms seeking to profit from formal engagement practices for themselves or their clients, including Brand and Capability audits for solution providers to make sure their products and services are up to date.
• C-Suite Advisory Service—Education of boards, investors, and C-suite executives on the economics, framework, and implementation processes of Enterprise Engagement.
• Speakers Bureau—Select the right speaker on any aspect of engagement for your next event.
• Mergers and Acquisitions. The Engagement Agency's Mergers and Acquisition group is aware of multiple companies seeking to purchase firms in the engagement field. Contact Michael Mazer in confidence if your company is potentially for sale at 303-320-3777.
Enterprise Engagement Benchmark Tools: The Enterprise Engagement Alliance offers three tools to help organizations profit from Engagement. Click here to access the tools.
• ROI of Engagement Calculator. Use this tool to determine the potential return-on-investment of an engagement strategy.
• EE Benchmark Indicator. Confidentially benchmark your organization's Enterprise Engagement practices against organizations and best practices.
• Compare Your Company's Level of Engagement. Quickly compare your organization's level of engagement to those of others based on the same criteria as the EEA's Engaged Company Stock Index.
• Gauge Your Personal Level of Engagement. This survey, donated by Horsepower, enables individuals to gauge their own personal levels of engagement.
For more information, contact Bruce Bolger at Bolger@TheEEA.org, 914-591-7600, ext. 230.