EEA Zoom Show Focuses on Advertising and Marketing in the Era of Authenticity
Matthew Della Croce; President Global and Corporate for Allison Partners; Satish Korde, a brand strategy consultant and formerly CEO of GTB, and Allan Steinmetz; CEO, Founder, Inward Consulting, will join EEA Zoom show host Bruce Bolger, Enterprise Engagement Alliance at TheEEA.org founder, on how the advertising and marketing field can adapt to the new focus on authenticity and purpose. The live session is set for July 22 at 1 pm, ET US. Register now.
This Zoom Show features leaders in branding, marketing, and advertising to discuss the future of marketing and advertising in the time of Covid-19. On the one hand, the severe economic downturn and increasing push to digital is squeezing margins for agencies, and on the other hand, consumers have become even more skeptical about companies and are demanding a greater focus on people and authenticity: 70% of respondents to a recent JUST Capital/Harris Poll say they prefer to do business, work for, or do business with people-focused businesses.
This Zoom show addresses the potential impact of this collision of trends on advertising and marketing. Does the field of advertising and marketing field have a transformative opportunity in the era of authenticity and purpose? Are clients ready to be challenged to use the powerful tools of advertising and marketing to focus not only telling the truth and helping people in their campaigns, but on keeping their promises? Are marketers ready to build internal and distribution partner engagement and promise delivery into every "campaign?"
Click here
to register. Or
click here
for the latest schedule of upcoming Zoom shows as well as recordings of past shows.
Three marketing and advertising industry leaders will discuss both the opportunities and challenges facing advertising and marketing in the era of authenticity and purpose. Storytelling and emotional connections and informing people are more important than ever, but how will the field overcome the damage done by the long-time focus on making promises instead of keeping them, and selling, rather than helping? Panelists will discuss whether the marketing and advertising fields have reduced their effectiveness by enabling clients to make promises they don't keep and, if so, what can be done about it?
While some leading integrated agencies have moved into internal corporate communications, more is required to ensure promise delivery. The panelists will discuss whether marketing has a role to play in this sphere. And, if so, does the field of advertising and marketing currently have the knowledge of the key tools, expertise and influence needed to focus on the promise-delivery side: making sure promises are kept? Panelists will be asked about the development of an "enterprise" brand architecture; a clear process for promise delivery, and a story that is connected to what the customer will actually experience.
---
Master the Principles of Stakeholder Capitalism And Implementation Through Enterprise Engagement
Education, Certifications, and Information to Activate
Stakeholder Capitalism Available Nowhere Else
A complete learning, certification, and information program and a course syllabus for educators.
Training and Certification
Enterprise Engagement Alliance Education: Certified Engagement Practitioner; Advanced Engaged Practitioner, and Certified Engagement Solution Provider learning and certification programs on how to implement Stakeholder Capitalism principles at the tactical level.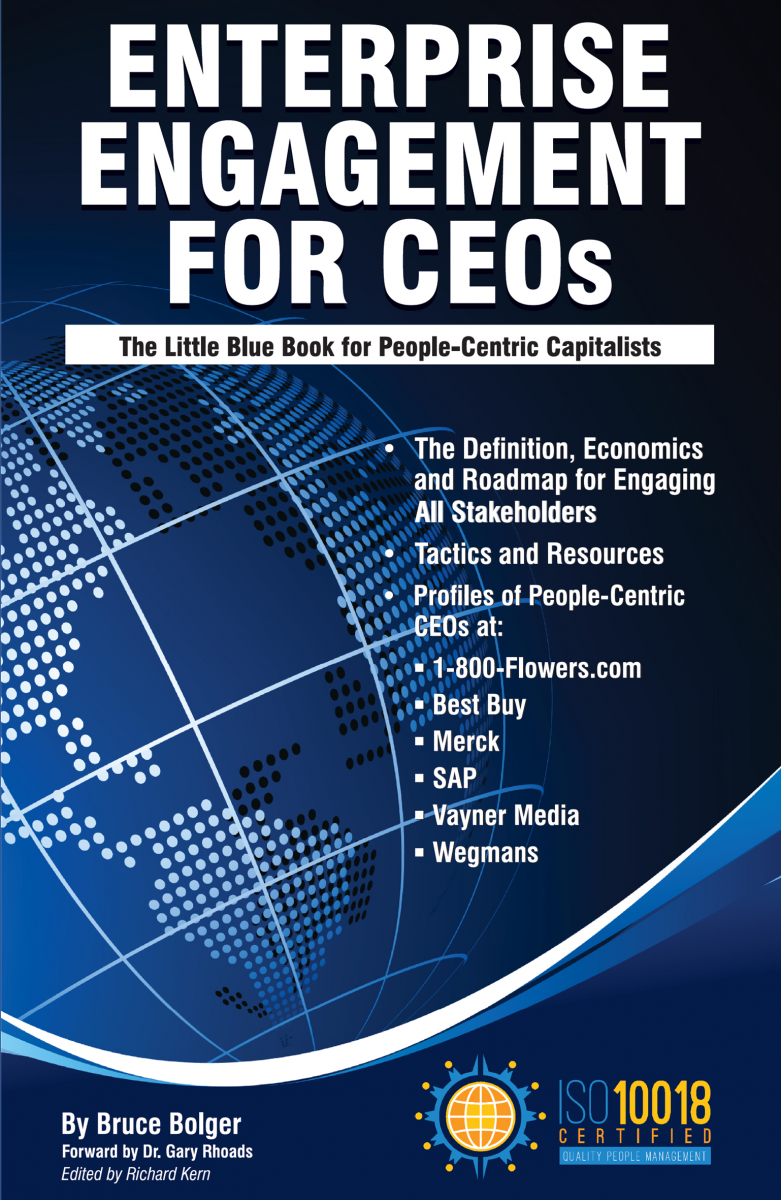 Join the EEA to begin your certification process or see our other resources below.
THE ONLY BOOKS ON STAKEHOLDER CAPITALISM IMPLEMENTATION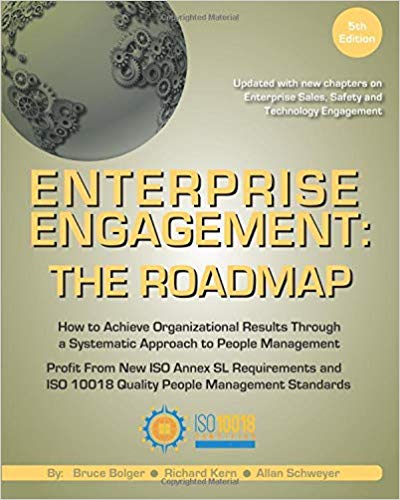 Enterprise Engagement: The Roadmap 5th Edition
The first and most comprehensive book on Enterprise Engagement and the new ISO 9001 and ISO 10018 quality people management standards. Includes 36 chapters detailing how to better integrate and align engagement efforts across the enterprise. (312 pages, $36.)
OTHER RESOURCES TO ACTUALIZE STAKEHOLDER CAPITALISM
Communities:
The
Enterprise Engagement Alliance and Advocate
and the
Brand Media Coalition
free resource centers offering access to the latest research, news, and case studies; discounts, promotions, referrals, and commissions, when appropriate to third-party solution providers from participating coalition solution provider members.
Enterprise Engagement
Resources:
EEXAdvisors.com provides the only curated online marketplace to access hundreds of solution providers in all areas of human capital management and enterprise engagement throughout the world.
Online Overview:
10-minute short course: click here for a 10-minute introduction to Enterprise Engagement and ISO standards from the Coggno.com learning platform.
Services:
• The Engagement Agency at EngagementAgency.net, offering: complete support services for employers, solution providers, and technology firms seeking to profit from formal engagement practices for themselves or their clients, including Brand and Capability audits for solution providers to make sure their products and services are up to date.
• C-Suite Advisory Service—Education of boards, investors, and C-suite executives on the economics, framework, and implementation processes of Enterprise Engagement.
• Speakers Bureau—Select the right speaker on any aspect of engagement for your next event.
• Mergers and Acquisitions. The Engagement Agency's Mergers and Acquisition group is aware of multiple companies seeking to purchase firms in the engagement field. Contact Michael Mazer in confidence if your company is potentially for sale at 303-320-3777.
Enterprise Engagement Benchmark Tools: The Enterprise Engagement Alliance offers three tools to help organizations profit from Engagement. Click here to access the tools.
• ROI of Engagement Calculator. Use this tool to determine the potential return-on-investment of an engagement strategy.
• EE Benchmark Indicator. Confidentially benchmark your organization's Enterprise Engagement practices against organizations and best practices.
• Compare Your Company's Level of Engagement. Quickly compare your organization's level of engagement to those of others based on the same criteria as the EEA's Engaged Company Stock Index.
• Gauge Your Personal Level of Engagement. This survey, donated by Horsepower, enables individuals to gauge their own personal levels of engagement.
For more information, contact Bruce Bolger at Bolger@TheEEA.org, 914-591-7600, ext. 230.