Marketing Visionary Heads Up Enterprise Engagement Brand Marketing Curriculum
Allan Steinmetz, CEO and founder of Inward Strategic Consulting, a pioneer in the concept of linking external and internal marketing and engagement, is tapped to oversee the Enterprise Engagement Alliance's Brand Marketing certification program. The program is designed for marketing and agency management seeking to bring 360-degree branding strategies and tactics to their organizations or agencies. He joins Dave Bookbinder, Senior Director, CFGI, a leading business valuations firm, and author of ROI: Return on Individuals, who is heading up the Enterprise Engagement for CFOs program. Steinmetz believes that the field of Enterprise Engagement provides a unique opportunity for forward-thinking marketing agencies and professionals.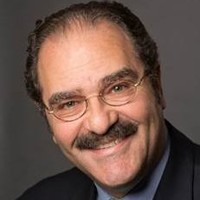 Allan Steinmetz
, CEO and founder of
Inward Strategic Consulting
in 1998, maybe the first agency focused on connecting external branding to employees to ensure promise delivery, is the new Academic Advisor for Enterprise Engagement in Brand Marketing. He will oversee the application of the Enterprise Engagement curriculum in the world of marketing and advertising as well as the Marketing curriculum and community.
Click here
to join the EEA and select the professional category appropriate to your needs.
Steinmetz will be a panelist on the EEA Zoom Show on "Marketing and Advertising in the Era of Authenticity," July 22, at 1 pm ET US, with Matthew Della Croce, President Global and Corporate for Allison Partners; Satish Korde, a brand strategy consultant and formerly CEO of GTB.
Register here
.
Steinmetz has a blue-chip marketing career whose clients have included Walmart, Ford Motor Company, McDonald's, Prudential, Aetna, Cummins, Little Debbie's Cakes, HP and many more. Before that, he was Executive Vice President of Marketing and Strategy for Parago, the company that launched How2.com, a dot.com pioneer. He served as Senior Vice President, Worldwide Director of Marketing for ADL, Arthur D. Little; Associate Partner, Worldwide Director of Marketing and Communications for Anderson Consulting, (Accenture); Senior Vice President/Director of Marketing Worldwide, for Young & Rubicam Advertisng. In 2012 he was listed as one of the top 25 consultants in the United States by CONSULTING magazine. Steinmetz was recently featured in ESM. See:
Authenticity Will Rule, Say Loyalty Marketing Execs
.
The EEA's Certified and Advanced Engagement practitioner certifications are designed to provide management in finance, marketing, sales, human resources, and government/not-for-profits, with a full understanding of the principles of an enterprise approach to engagement to achieve sustainable organizational objectives. Based on a curriculum launched in 2009, the EEA's certification program is overseen by
Allan Schweyer
, Curriculum Director, who is also Chief Academic Advisor to the Incentive Research Foundation and a leading business curriculum designer, and
Gary Rhoads
, Chief Academic Advisor, and CEO and founder of
Xvoyant.com
and Professor Emeritus of Marketing and Entrepreneurship, Marriott Graduate School of Business, Brigham Young University.
Redefining the Brand
As one of the first marketing executives to focus on 360-degree branding when he launched his agency, Steinmetz says the field of Enterprise Engagement provides a unique opportunity for traditional advertising and marketing agencies struggling against commoditization, media fragmentation, and the low margins of digital marketing. "The CMO and agencies have always said they are the stewards of the brand, but are they? A brand is not just an image or a promise, it's the delivery of that the company's purpose and all associated experiences. Brand purpose delivery requires the commitment of all stakeholders, not only sales and non-sales employees, but distribution and supply chain partners, communities or anyone involved with the success of an organization."
He continues, "From my many years of experience in marketing for many types of brands, it became clear to me that the most successful marketing not only strikes an emotional chord through the content and story but delivers the promise and purpose at every step of the relationship. That simply isn't possible without all your employees, distribution and supply chain partners, communities and other stakeholders onboard. The brand of marketing and advertising have been tarnished by a long history of campaigns that make promises but don't keep them. Nobody knows what to believe anymore when they see an ad or hear a marketing pitch. This just won't fly in the new era of authenticity."
Timing, Steinmetz says, is everything. He believes that the Covid-19 crisis will already accelerate pressures being placed on CEOs by investors seeking a more sustainable path to profitability; consumers who increasingly want to do business with companies that care about people, talented employees who have a choice of companies to work for, and communities that might welcome some new businesses more than others. "CEOs probably have never been under more pressure to worry about people, not only because people are watching companies to see how they are handling the crisis, but because many recently experienced the unthinkable scenario of having a business suddenly devoid of customers or employees. Companies and their leadership need to acknowledge that the old ways will not come back. It is time to start thinking through how to organize work for a distributed workforce, improve internal and external brand engagement, and replace lost revenue."
The focus on a more integrated approach to addressing the needs of all stakeholders, he notes, has begun to take off. "When you have business leaders of the likes of Klaus Schwab of the World Economic Forum; Larry Fink of Blackrock; Paul Tudor Jones of JUST Capital, and others talking about the concept of Stakeholder Capitalism, with a growing number of articles in leading media, the concept will eventually trickle down to CEOs."
An Unparalleled Opportunity for Brand Marketing
Steinmetz believes the marketing field has an unparalleled opportunity to tap into the vast sums companies spend to engage internal audiences with little measurement, using many of the same strategic branding, research, story-telling, and engagement media tools used in external marketing. "When I began Inward in 1998, we were way ahead of our time. The concept of having a 360-degree brand architected for every stakeholder and of integrating external marketing systematically into all internal marketing to create a single customer-talent-community brand still hasn't caught on in the traditional marketing and agency world, because it hasn't yet caught on with many CEOs. Most CEOs at the time and most still do not have a 360-degree brand or strategic human capital management process with clear metrics, so neither the CMO or CHRO (chief human resources officer) is driven to develop a single brand proposition that resonates with customers and that is passionately delivered by all stakeholders involved for the benefit of all."
The agency of the future, Steinmetz says, will offer clients "360-degree brand architecture, with an integrated customer, talent, and distribution and supply chain partner, and community brand that disciplines an aligned, integrated and measurable story-telling, social media, communications, learning and overall engagement approach so that promises made get delivered. By aligning the brand and all the many tactical elements needed to deliver brand purpose, the organization achieves enormous efficiencies, more measurability, less politics, and better experiences."
Who is better equipped to bring together and orchestrate all these capabilities? "Brand, digital, and PR agencies have almost all the tactical resources to take advantage of this opportunity. What they lack is an awareness of the opportunity and an understanding of the tactical implementation of applying authentic marketing to the internal as well as external market."
For More Information
Allan Steinmetz
CEO
Tel. 617-308-3017
asteinmetz@inwardconsulting.com
---
Master the Principles of Stakeholder Capitalism And Implementation Through Enterprise Engagement
Education, Certifications, and Information to Activate
Stakeholder Capitalism Available Nowhere Else
A complete learning, certification, and information program and a course syllabus for educators.
Training and Certification
Enterprise Engagement Alliance Education: Certified Engagement Practitioner; Advanced Engaged Practitioner, and Certified Engagement Solution Provider learning and certification programs on how to implement Stakeholder Capitalism principles at the tactical level.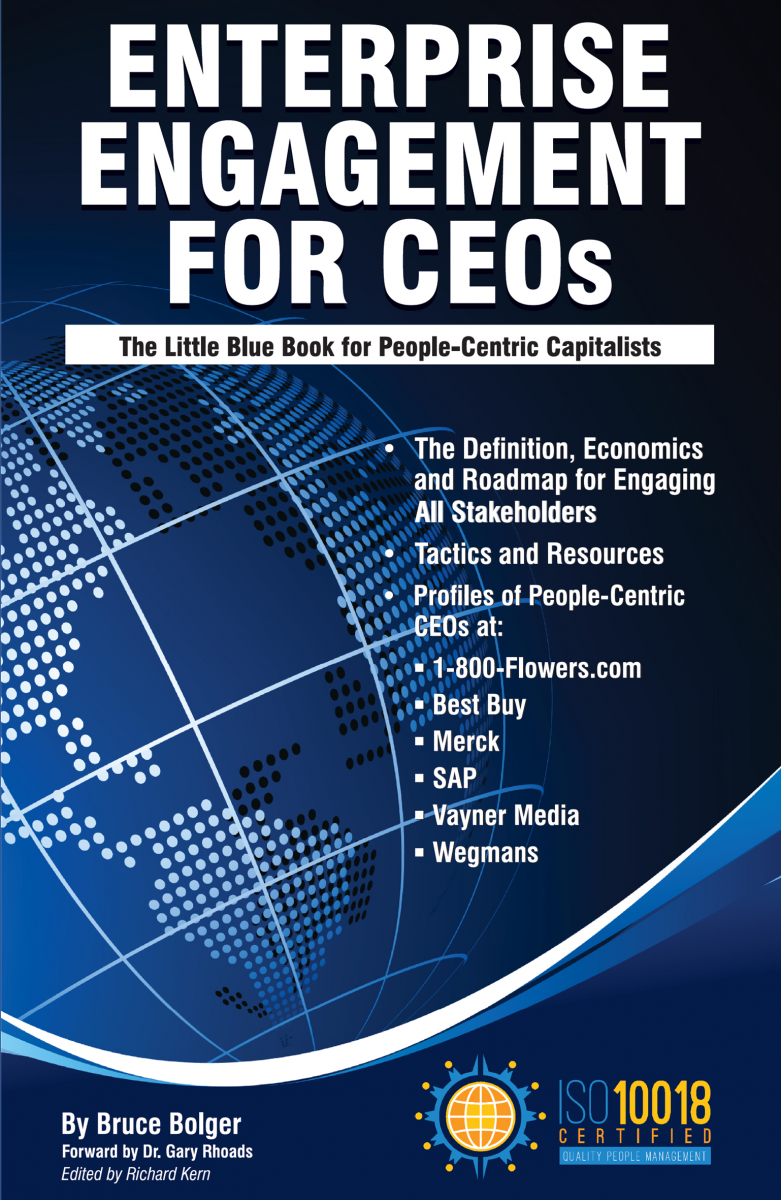 Join the EEA to begin your certification process or see our other resources below.
THE ONLY BOOKS ON STAKEHOLDER CAPITALISM IMPLEMENTATION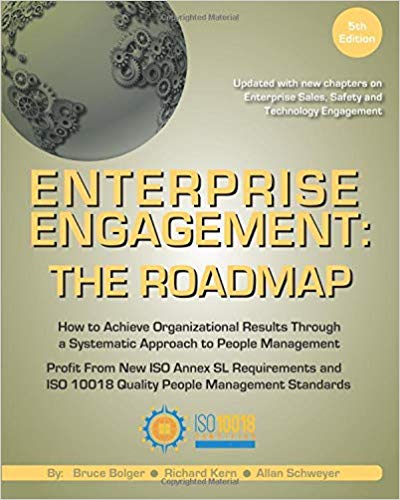 Enterprise Engagement: The Roadmap 5th Edition
The first and most comprehensive book on Enterprise Engagement and the new ISO 9001 and ISO 10018 quality people management standards. Includes 36 chapters detailing how to better integrate and align engagement efforts across the enterprise. (312 pages, $36.)
OTHER RESOURCES TO ACTUALIZE STAKEHOLDER CAPITALISM
Communities:
The
Enterprise Engagement Alliance and Advocate
and the
Brand Media Coalition
free resource centers offering access to the latest research, news, and case studies; discounts, promotions, referrals, and commissions, when appropriate to third-party solution providers from participating coalition solution provider members.
Enterprise Engagement
Resources:
EEXAdvisors.com provides the only curated online marketplace to access hundreds of solution providers in all areas of human capital management and enterprise engagement throughout the world.
Online Overview:
10-minute short course: click here for a 10-minute introduction to Enterprise Engagement and ISO standards from the Coggno.com learning platform.
Services:
• The Engagement Agency at EngagementAgency.net, offering: complete support services for employers, solution providers, and technology firms seeking to profit from formal engagement practices for themselves or their clients, including Brand and Capability audits for solution providers to make sure their products and services are up to date.
• C-Suite Advisory Service—Education of boards, investors, and C-suite executives on the economics, framework, and implementation processes of Enterprise Engagement.
• Speakers Bureau—Select the right speaker on any aspect of engagement for your next event.
• Mergers and Acquisitions. The Engagement Agency's Mergers and Acquisition group is aware of multiple companies seeking to purchase firms in the engagement field. Contact Michael Mazer in confidence if your company is potentially for sale at 303-320-3777.
Enterprise Engagement Benchmark Tools: The Enterprise Engagement Alliance offers three tools to help organizations profit from Engagement. Click here to access the tools.
• ROI of Engagement Calculator. Use this tool to determine the potential return-on-investment of an engagement strategy.
• EE Benchmark Indicator. Confidentially benchmark your organization's Enterprise Engagement practices against organizations and best practices.
• Compare Your Company's Level of Engagement. Quickly compare your organization's level of engagement to those of others based on the same criteria as the EEA's Engaged Company Stock Index.
• Gauge Your Personal Level of Engagement. This survey, donated by Horsepower, enables individuals to gauge their own personal levels of engagement.
For more information, contact Bruce Bolger at Bolger@TheEEA.org, 914-591-7600, ext. 230.