News Analysis: Pandemic Stokes More Debate About Stakeholder Capitalism
Two recent contributors to the Harvard Law School Forum on Corporate Governance offer contrasting views on the Stakeholder Capitalism movement. One of those views, published in the New York Times, opposes Stakeholder Capitalism based on what the Enterprise Engagement Alliance believes to be a false definition. The other article in the Harvard Law School publication takes the opposite view that investors are demanding organizations to focus on purpose and culture because they are critical to success.

A debate is growing in the highest levels of business on the emerging concept of Stakeholder Capitalism, with opponents arguing that it could destroy capitalism and proponents saying it's critical to capitalism's salvation.
On the one hand, in a New York Times Week in Review
Article
on July 26, N. Gregory Mankiw, Robert M. Beren Professor of Economics at Harvard University, argues against Stakeholder Capitalism with a viewpoint headlined: "C.E.O.s Are Qualified to Make Profits, Not Lead Society." He bases his opposition specifically to the wording of the new Business Roundtable "Statement on the Purpose of a Corporation," which commits them "to lead their companies for the benefit of all stakeholders—customers, employees, suppliers, communities, and shareholders." On the other hand, in the Harvard Law School
corporate governance newsletter,
the authors cite a survey they conducted finding that investors overwhelmingly want organizations to focus on purpose and culture to drive more sustainable performance.
CEO's Must Focus on Profits, Not Lead Society
In the New York Times article, author Mankiw, argues against Stakeholder Capitalism with the position that "this approach to corporate management expects executives to be broadly competent social planners rather than narrowly focused profit maximizers. It's unlikely that corporate executives, with their business training and limited experience, have the skills to play this role well." The author echoes the viewpoint of politically conservative observers, as expressed by Republican analyst Karl Rove in a recent panel discussion on the Chris Wallace Fox News Sunday show.
Demonstrating the dangers of getting entangled in partisan politics, the definition of Stakeholder Capitalism under attack actually is being conflated to suggest that Stakeholder Capitalism is about taking from one stakeholder to give to another. In fact, Stakeholder Capitalism is a grass-roots approach to business management based on sound research and common sense, and supported by respected ISO (International Organization for Standardization) human capital standards, that organizations with a strategic approach to human capital management and measurement linked to their organization's brand, culture, and objectives will consistently outperform their competitors in terms of financial performance and share price performance. Why? For the simple reason that these organizations have lower marketing and recruitment costs. They have lower turnover and attract customers and employees by word of mouth without as much need for sales and marketing. They are more productive because employees focus on the actions and behaviors that lead to external or internal customer satisfaction. These companies benefit from greater commitment from their distribution and supply chain partners and have fewer lawsuits or friction with the communities in which they operate.
The author and other opponents argue that Stakeholder Capitalism somehow takes the CEO's eyes off the road when in fact CEOs are constantly balancing the interests of all stakeholders in the current world almost precisely as described in Mankiw's argument against Stakeholder Capitalism.
Stakeholder Capitalism is about aligning the interests of all stakeholders toward the common good of the organization and profiting from the opportunity to create value for society, not by pitting one stakeholder against the other as the opponents define it. For many entrepreneurs, finding ways to create value by contributing benefits to society is anything but an obstacle: it's a profound opportunity to find ways to profit by solving society's problems.
In the new world of human capital management, the CEO looks at all the factors that could cascade from a decision and how it affects the interests of stakeholders and not just in the next one year but the next three to five years. The success of ISO standards proves that a holistic approach to decision-making actually improves long-term performance to the benefit of shareholders by factoring in a truer picture of the impact of a decision in all parts of the business and in the years ahead.
Opponents to this approach to business seem to be concerned that under Stakeholder Capitalism, businesses would not be allowed to make money by underpaying employees, paying excessive executive compensation to CEOs or to private equity companies, paying for stock buybacks instead of investing in long-term growth, kicking safety and environmental risks down the road and/or manipulating their taxes to the edge of legality. No one is arguing that businesses shouldn't have the right to run a short-term oriented operation, but it turns out that an increasing number of investors now recognize the pitfalls and even dangers of that approach.
Investors Demand Corporate Purpose
In a recent survey of investors conducted by SquareWell Partners, a law firm specializing in ESG (Environmental, Social, and Governance) Investing, and published in the
Harvard Business School Forum on Corporate Governance
newsletter, "76% of respondents are already expecting companies to have defined their purpose, and 93% think it is a necessary foundation to set a long-term business that creates value and strengthens corporate culture."
The authors, SquareWell partners Edouard Dubois and Ali Saribas, observe: "While the survey evidences a strong interest from the investor community regarding corporate purpose, these are still early days, and only 21% of investors have already included the concept in their evaluation of ESG (Environmental, Social, Governance) risks and opportunities. This could change quickly, however, as almost two-thirds of the surveyed investors are engaging with companies on their corporate purpose, which is the first step for them to evaluate the relevance of the topic. Companies that are successful in achieving this alignment between their purpose, their culture, their long-term strategy, their executive remuneration and their societal impact will have a much more attractive equity story to tell the market."
A clear purpose is cited by 93% of investors as needed to set a long-term business strategy that creates value; 76% believe it strengthens corporate culture; 38% believe it focuses on stakeholders; and 28% believe it differentiates from customers, SquareWell reports.
As to measurement, "75% of the respondents believe companies should come up with Key Performance Indicators (KPIs) to measure their progress on fulfilling their purpose. Such KPIs should then be included in variable incentive mechanisms of executives, according to 59% of the investors surveyed. Companies should also assess if their purpose and these KPIs are aligned with the Sustainable Development goals developed by the United Nations."
The survey finds that "an overwhelming 93% of respondents identify the board as responsible for defining the company's purpose compared to just 55% that identify the senior management team (including the CEO) as having this responsibility; however, investors identified the management team and the board as equally responsible for implementation."
As to who is responsible for defining corporate purpose, the investors respond: 93%, the Board; 55%, the senior management team, including the CEO; 31%, stakeholders, 14%, other, 7% board committee, 4%, CEO on her or his own.
---
Master the Principles of Stakeholder Capitalism And Implementation Through Enterprise Engagement
Education, Certifications, and Information to Activate
Stakeholder Capitalism Available Nowhere Else
A complete learning, certification, and information program and a course syllabus for educators.
Training and Certification
Enterprise Engagement Alliance Education: Certified Engagement Practitioner; Advanced Engaged Practitioner, and Certified Engagement Solution Provider learning and certification programs on how to implement Stakeholder Capitalism principles at the tactical level.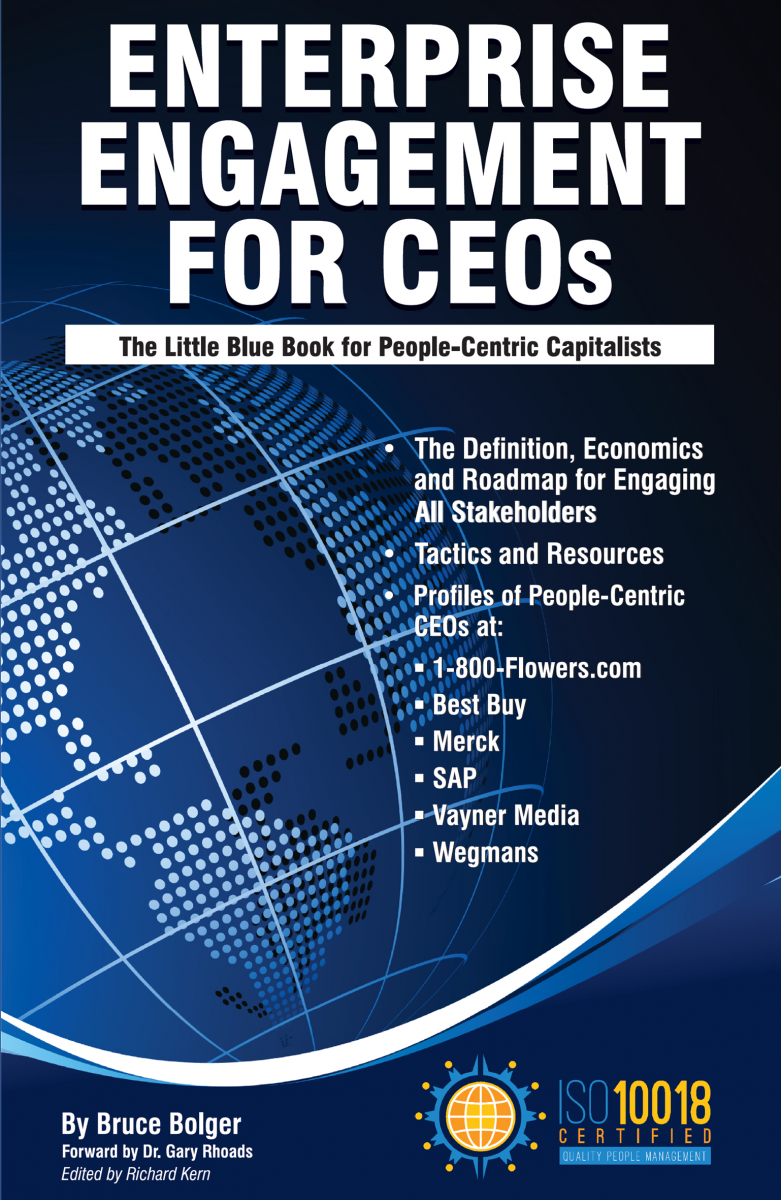 Join the EEA to begin your certification process or see our other resources below.
THE ONLY BOOKS ON STAKEHOLDER CAPITALISM IMPLEMENTATION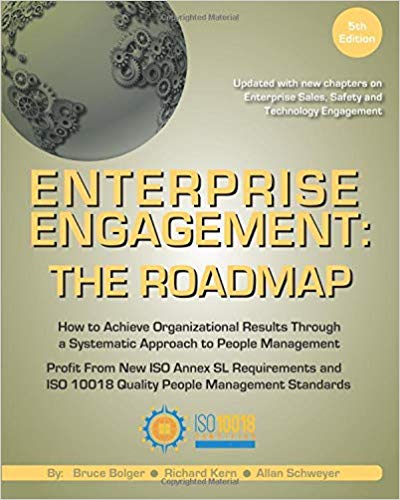 Enterprise Engagement: The Roadmap 5th Edition
The first and most comprehensive book on Enterprise Engagement and the new ISO 9001 and ISO 10018 quality people management standards. Includes 36 chapters detailing how to better integrate and align engagement efforts across the enterprise. (312 pages, $36.)
OTHER RESOURCES TO ACTUALIZE STAKEHOLDER CAPITALISM
Communities:
The
Enterprise Engagement Alliance and Advocate
and the
Brand Media Coalition
free resource centers offering access to the latest research, news, and case studies; discounts, promotions, referrals, and commissions, when appropriate to third-party solution providers from participating coalition solution provider members.
Enterprise Engagement
Resources:
EEXAdvisors.com provides the only curated online marketplace to access hundreds of solution providers in all areas of human capital management and enterprise engagement throughout the world.
Online Overview:
10-minute short course: click here for a 10-minute introduction to Enterprise Engagement and ISO standards from the Coggno.com learning platform.
Services:
• The Engagement Agency at EngagementAgency.net, offering: complete support services for employers, solution providers, and technology firms seeking to profit from formal engagement practices for themselves or their clients, including Brand and Capability audits for solution providers to make sure their products and services are up to date.
• C-Suite Advisory Service—Education of boards, investors, and C-suite executives on the economics, framework, and implementation processes of Enterprise Engagement.
• Speakers Bureau—Select the right speaker on any aspect of engagement for your next event.
• Mergers and Acquisitions. The Engagement Agency's Mergers and Acquisition group is aware of multiple companies seeking to purchase firms in the engagement field. Contact Michael Mazer in confidence if your company is potentially for sale at 303-320-3777.
Enterprise Engagement Benchmark Tools: The Enterprise Engagement Alliance offers three tools to help organizations profit from Engagement. Click here to access the tools.
• ROI of Engagement Calculator. Use this tool to determine the potential return-on-investment of an engagement strategy.
• EE Benchmark Indicator. Confidentially benchmark your organization's Enterprise Engagement practices against organizations and best practices.
• Compare Your Company's Level of Engagement. Quickly compare your organization's level of engagement to those of others based on the same criteria as the EEA's Engaged Company Stock Index.
• Gauge Your Personal Level of Engagement. This survey, donated by Horsepower, enables individuals to gauge their own personal levels of engagement.
For more information, contact Bruce Bolger at Bolger@TheEEA.org, 914-591-7600, ext. 230.