EEA Zoom Sept. 10 Zoom Show Focuses on Human Capital Management, Metrics, and Role of the CFO
The new focus on human capital management and metrics, and the need to create a more tangible return on investment in people, is creating a new opportunity for CFOs to add value to their organizations. This EEA Zoom Show, set for Sept. 10 at 1 pm ET US, brings together panelists with extensive experience in finance to discuss the opportunities and challenges. Register here.
With every organization rethinking expenses, CFOs are increasingly involved with decisions related to the largest expense of all: the 50% or more of annual revenue typically allocated to paying for people, sales and marketing, with rarely any return-on-investment measurement. The arrival of practice, simple human capital dashboards make it possible now to turn what traditionally was considered a sunk cost into an investment.
This EEA Zoom Show brings together CFOs, a valuations expert, and human capital advisory firm to discuss practical ways for organizations to enhance performance through a strategic and systematic focus on people. This Enterprise Engagement Alliance Strategic Zoom Show is recorded and available shortly after on the
EEA's Enterprise Engagement and Human Capital Management
Youtube channel.
The panel will feature:
Dave Bookbinder
, Senior Director at CFGI, (a leading accounting advisory company) and author of
The New ROI: Return on Individuals
;
Glen Hartenbaum
, CFO, Gemini Bakery Equipment Company;
Jim Caruso
, CFO, Simplura Health Group, and
Kimberly Lanier
, Associate Director, Organizational Transformation, Protiviti.
This one-hour EEA Zoom Show will feature a discussion with leading CFO experts on the following subjects:
•
What is human capital management, metrics, and HR analytics and why CFOs should care?
•
What do they believe to be the current state of human capital management, metrics, and prescriptive analytics in business today as it relates to measuring the ROI of expenditures on people, including customers?
•
To what extent do they believe organizations are focusing on creating more value through their customers, employees and other stakeholders through their external and internal communications and engagement activities?
•
Can organizations benefit from better human capital scorecards that can be meaningful for management and how to make sure that the right information gets into the right hands?
•
Can organizations do a better job of measuring their internal and external people engagement efforts—human resources and marketing programs?
•
A discussion about Corporate Responsibility Reports and why more companies are publishing them.
•
A review of the types of human capital disclosure are on the horizon and where and the potential implications.
•
To what degree are human capital issues being or should be addressed in mergers and acquisitions?
•
What could be the potential impact ISO 30414 human capital standards and how these and others could affect investor and regulatory disclosures?
Panelists:
Dave Bookbinder
, Senior Director at CFGI, (a leading accounting advisory company) and author of
The New ROI: Return on Individuals.
Kimberly Lanier
, Associate Director, Organizational Transformation, Protiviti
---
Master the Principles of Stakeholder Capitalism And Implementation Through Enterprise Engagement
Education, Certifications, and Information to Activate
Stakeholder Capitalism Available Nowhere Else
A complete learning, certification, and information program and a course syllabus for educators.
Training and Certification
Enterprise Engagement Alliance Education: Certified Engagement Practitioner; Advanced Engaged Practitioner, and Certified Engagement Solution Provider learning and certification programs on how to implement Stakeholder Capitalism principles at the tactical level.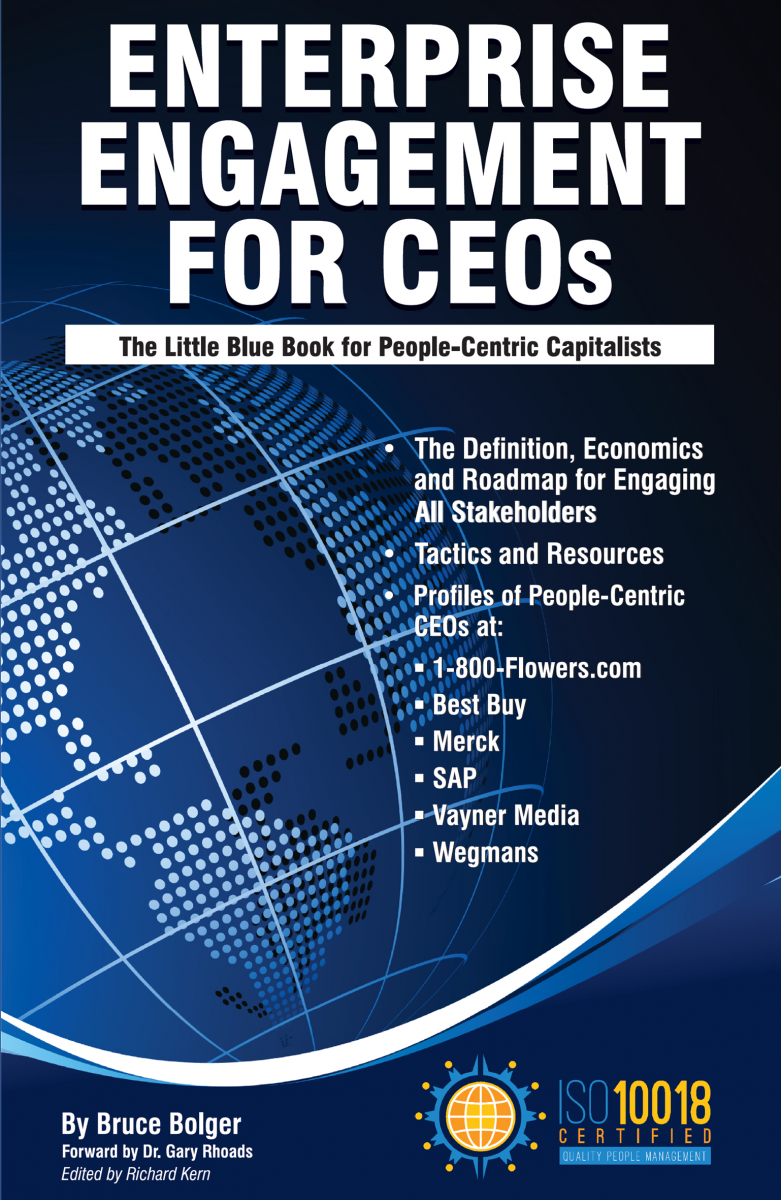 Join the EEA to begin your certification process or see our other resources below.
THE ONLY BOOKS ON STAKEHOLDER CAPITALISM IMPLEMENTATION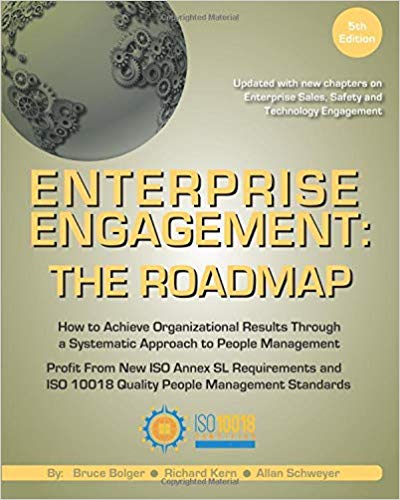 Enterprise Engagement: The Roadmap 5th Edition
The first and most comprehensive book on Enterprise Engagement and the new ISO 9001 and ISO 10018 quality people management standards. Includes 36 chapters detailing how to better integrate and align engagement efforts across the enterprise. (312 pages, $36.)
OTHER RESOURCES TO ACTUALIZE STAKEHOLDER CAPITALISM
Communities:
The
Enterprise Engagement Alliance and Advocate
and the
Brand Media Coalition
free resource centers offering access to the latest research, news, and case studies; discounts, promotions, referrals, and commissions, when appropriate to third-party solution providers from participating coalition solution provider members.
Enterprise Engagement
Resources:
EEXAdvisors.com provides the only curated online marketplace to access hundreds of solution providers in all areas of human capital management and enterprise engagement throughout the world.
Online Overview:
10-minute short course: click here for a 10-minute introduction to Enterprise Engagement and ISO standards from the Coggno.com learning platform.
Services:
• The Engagement Agency at EngagementAgency.net, offering: complete support services for employers, solution providers, and technology firms seeking to profit from formal engagement practices for themselves or their clients, including Brand and Capability audits for solution providers to make sure their products and services are up to date.
• C-Suite Advisory Service—Education of boards, investors, and C-suite executives on the economics, framework, and implementation processes of Enterprise Engagement.
• Speakers Bureau—Select the right speaker on any aspect of engagement for your next event.
• Mergers and Acquisitions. The Engagement Agency's Mergers and Acquisition group is aware of multiple companies seeking to purchase firms in the engagement field. Contact Michael Mazer in confidence if your company is potentially for sale at 303-320-3777.
Enterprise Engagement Benchmark Tools: The Enterprise Engagement Alliance offers three tools to help organizations profit from Engagement. Click here to access the tools.
• ROI of Engagement Calculator. Use this tool to determine the potential return-on-investment of an engagement strategy.
• EE Benchmark Indicator. Confidentially benchmark your organization's Enterprise Engagement practices against organizations and best practices.
• Compare Your Company's Level of Engagement. Quickly compare your organization's level of engagement to those of others based on the same criteria as the EEA's Engaged Company Stock Index.
• Gauge Your Personal Level of Engagement. This survey, donated by Horsepower, enables individuals to gauge their own personal levels of engagement.
For more information, contact Bruce Bolger at Bolger@TheEEA.org, 914-591-7600, ext. 230.