Olumo Goes Beyond Surveys to Foster 2-Way Conversations
This company's unique approach is designed to create engagement with employees through anonymous two-way conversations, not just surveys, according to its creator, Robert Brown. This approach, he says, "allows us to ask qualifying questions and engage in deep conversations that take us from a 50,000-foot survey response to an understanding of the root cause of the issues people are experiencing." He says the platform recently helped one organization significantly increase its Employee Net Promoter Score (ENPS) despite the pandemic and resulting layoffs because of enhanced communication and understanding.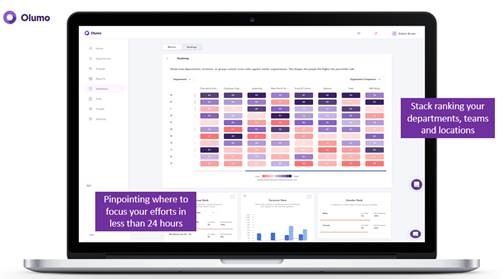 Olumo
is a Workplace Experience platform that offers a systematic approach to driving business results through human analytics that includes a unique, anonymous communication methodology to get to the heart of employee views. Based on the application of design thinking to employee assessment, the company developed a process it calls L.E.A.P. (for Listen, Engagement, take Action, and measure Progress.) Olumo engages your people by asking questions surrounding 56 key relationship metrics developed by organizational psychologists. Employees receive a single randomized text each week with a single question, with no app to install.
Olumo rolls the responses up into a dashboard that pinpoints areas of concern and enables the administrator to use an anonymous platform for two-way communications with respondents to get at the heart of the issues identified in the conversations. This provides employees the opportunity to provide specific input while controlling their anonymity. "These deep conversations help companies to get to the root cause of a problem."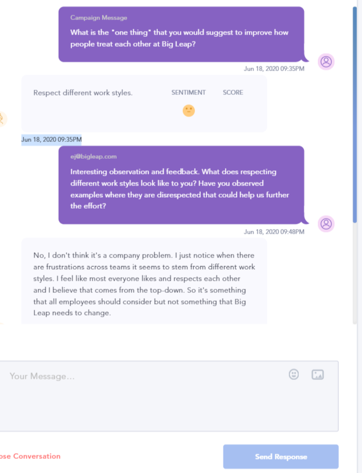 There are 12 core experience categories, including: Alignment, Diversity & Inclusion, Well Being, and even Risk Mitigation. Risk Mitigation, he points out, "helps organizations quickly identify risks that could lead to legal action, such as mistreatment of employees, customers, or vendors."
Brown believes that "if organizations address the issues that come out of these ongoing conversations, they can actually improve engagement, even in difficult times. By enabling employees to voice their concerns and by directly addressing them, one of our clients was able to increase its Employee Net Promotor Scores (ENPS) from 65 to 85," he asserts, "even during a period of layoffs due to the pandemic."
Brown adds, "Olumo helps you to truly understand your people and the experience that they are having with your organization. These crucial conversations help your people to feel heard, to have a sense that their opinion is important to the organization, and to feel that the organization cares enough to listen and respond."
For More Information
Robert Brown
Tel. 801-918-8555
---
Master the Principles of Stakeholder Capitalism And Implementation Through Enterprise Engagement
Education, Certifications, and Information to Activate
Stakeholder Capitalism Available Nowhere Else
A complete learning, certification, and information program and a course syllabus for educators.
Training and Certification
Enterprise Engagement Alliance Education: Certified Engagement Practitioner; Advanced Engaged Practitioner, and Certified Engagement Solution Provider learning and certification programs on how to implement Stakeholder Capitalism principles at the tactical level.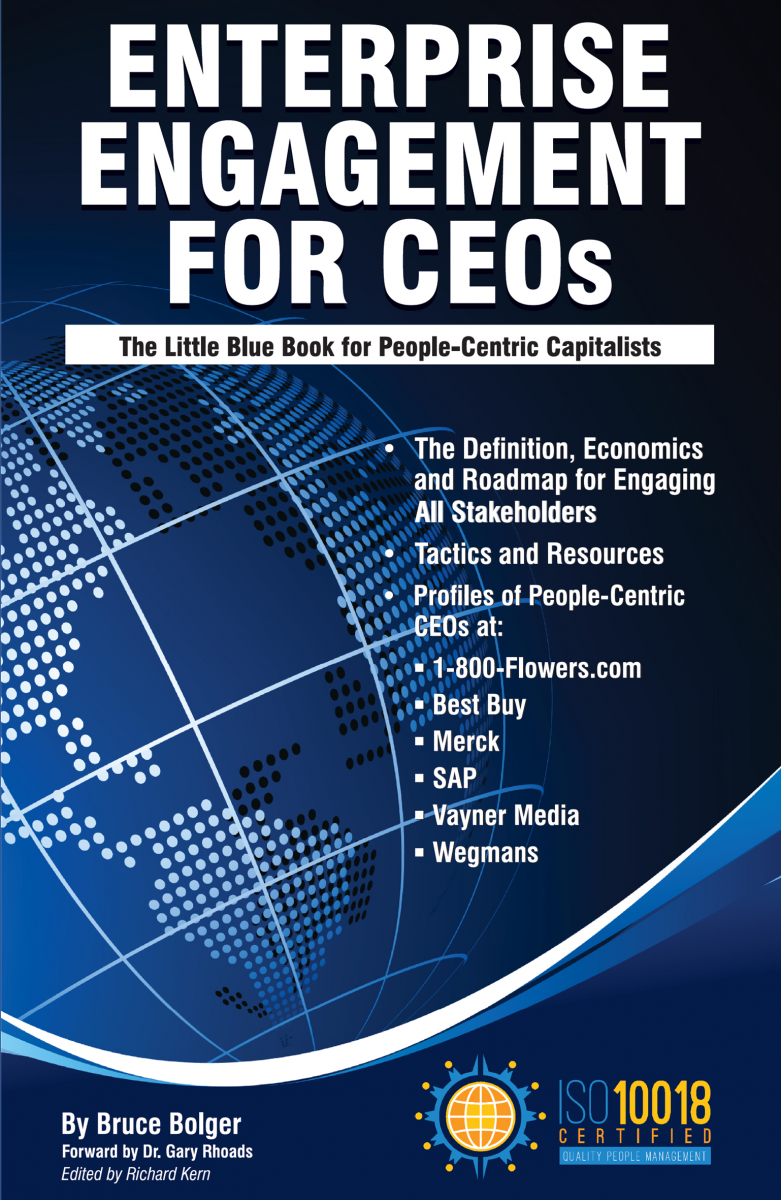 Join the EEA to begin your certification process or see our other resources below.
THE ONLY BOOKS ON STAKEHOLDER CAPITALISM IMPLEMENTATION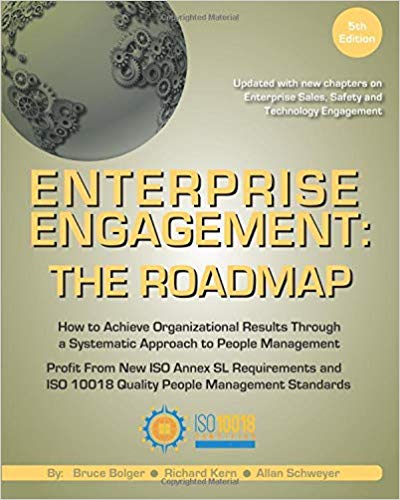 Enterprise Engagement: The Roadmap 5th Edition
The first and most comprehensive book on Enterprise Engagement and the new ISO 9001 and ISO 10018 quality people management standards. Includes 36 chapters detailing how to better integrate and align engagement efforts across the enterprise. (312 pages, $36.)
OTHER RESOURCES TO ACTUALIZE STAKEHOLDER CAPITALISM
Communities:
The
Enterprise Engagement Alliance and Advocate
and the
Brand Media Coalition
free resource centers offering access to the latest research, news, and case studies; discounts, promotions, referrals, and commissions, when appropriate to third-party solution providers from participating coalition solution provider members.
Enterprise Engagement
Resources:
EEXAdvisors.com provides the only curated online marketplace to access hundreds of solution providers in all areas of human capital management and enterprise engagement throughout the world.
Online Overview:
10-minute short course: click here for a 10-minute introduction to Enterprise Engagement and ISO standards from the Coggno.com learning platform.
Services:
• The Engagement Agency at EngagementAgency.net, offering: complete support services for employers, solution providers, and technology firms seeking to profit from formal engagement practices for themselves or their clients, including Brand and Capability audits for solution providers to make sure their products and services are up to date.
• C-Suite Advisory Service—Education of boards, investors, and C-suite executives on the economics, framework, and implementation processes of Enterprise Engagement.
• Speakers Bureau—Select the right speaker on any aspect of engagement for your next event.
• Mergers and Acquisitions. The Engagement Agency's Mergers and Acquisition group is aware of multiple companies seeking to purchase firms in the engagement field. Contact Michael Mazer in confidence if your company is potentially for sale at 303-320-3777.
Enterprise Engagement Benchmark Tools: The Enterprise Engagement Alliance offers three tools to help organizations profit from Engagement. Click here to access the tools.
• ROI of Engagement Calculator. Use this tool to determine the potential return-on-investment of an engagement strategy.
• EE Benchmark Indicator. Confidentially benchmark your organization's Enterprise Engagement practices against organizations and best practices.
• Compare Your Company's Level of Engagement. Quickly compare your organization's level of engagement to those of others based on the same criteria as the EEA's Engaged Company Stock Index.
• Gauge Your Personal Level of Engagement. This survey, donated by Horsepower, enables individuals to gauge their own personal levels of engagement.
For more information, contact Bruce Bolger at Bolger@TheEEA.org, 914-591-7600, ext. 230.