Engagement Agency: New Service Helps Establish SEC-Compliant Human Capital Reporting Strategies
In light of the new Securities & Exchange Commission requirements for human capital disclosures, the Enterprise Engagement Alliance's Engagement Agency has launched a new service to help organizations develop effective strategies and content for human capital disclosures and Corporate Responsibility Reports.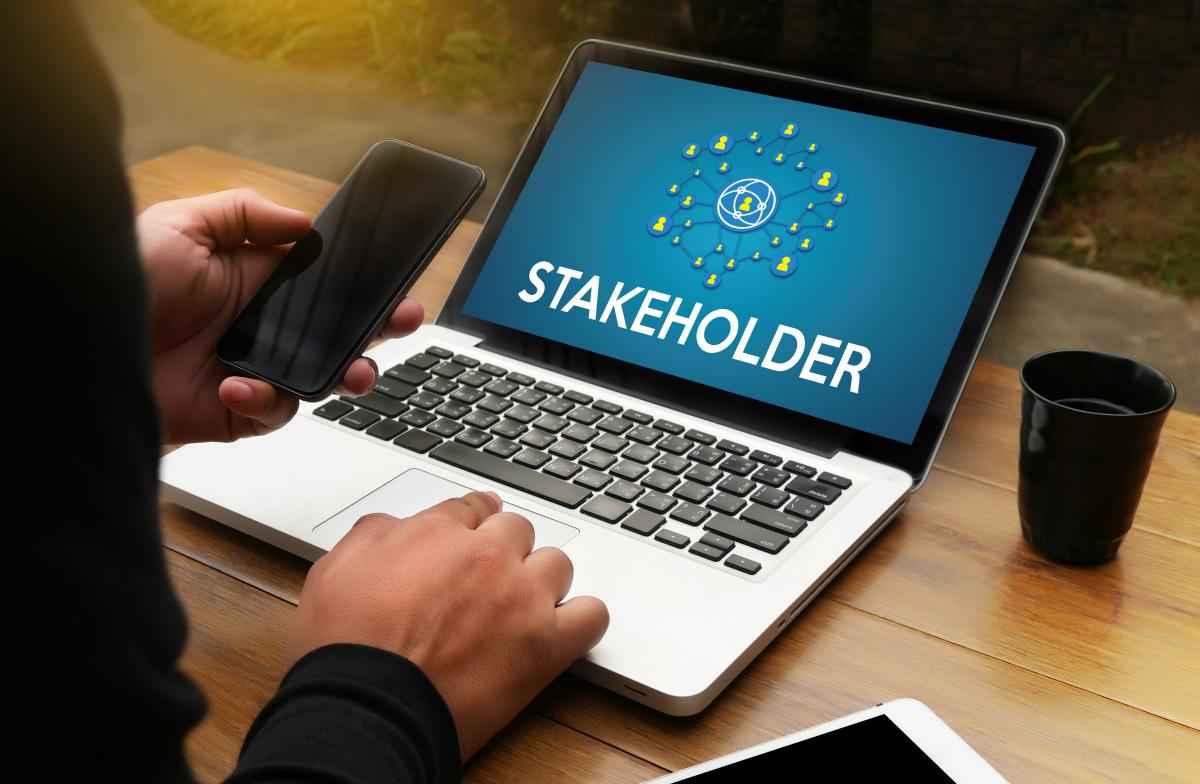 Based on a new Securities & Exchange Commission requirement that US public companies disclose human capital resources practices and metrics material to their business, the Engagement Agency has launched the first known service to help organizations develop effective internal and external reporting strategies for public disclosures, according to Bruce Bolger, Founder of the Enterprise Engagement Alliance at TheEEA.org and its Engagement Agency advisory practice at EngagementAgency.net. The same services can be used by private equity firms that often follow SEC disclosure requirements, or any organization that believes it's time to benefit from a human capital management reporting and disclosure strategy or the ability to measure the return on investment of engagement expenditures. These include such activities as incentive, recognition, loyalty, training, communications, and related engagement efforts.


Human Capital Reporting Becomes a Strategic Decision
Explains Bruce Bolger, Founder of the Engagement Agency, "Because of the principles-based approach, the content of these disclosures is not so much a legal matter but a business decision as to how organizations seek to approach human capital and either integrate or distance the issue from its brand. Even more importantly, it's an opportunity to identify an untapped opportunity for wealth creation by creating human capital dashboards linked to organizational goals that can turn a fixed people expense into a profit center. Therefore, it requires a combination not only of expertise in human capital management processes, metrics, and disclosures, but also in customer and talent brand marketing, as well as corporate communications. Very few organizations bring such a unique combination of expertise to the new task of human capital management strategics, metrics, and reporting."
Proxy season is coming up and about 3,600 companies now must determine what to do about the new disclosure requirement on human capital that is bound to be closely watched by ESG (Environmental, Social, Governance) investors, Bolger points out, adding, "While the private equity business is not required to follow these rules, most private equity firms closely follow SEC requirements, especially when they involved matters deemed to be 'material.'"
SEC to Business: People Truly Are an Asset
Adds Bolger, "The SEC requirement for human capital disclosures provides confirmation that people are material to organizational success and that it's time to apply a more rigorous analysis of people investments and return on investment to people management practices. Because almost no management receives training in this area, and because the attorneys and other advisors who help CEOs address these issues have equally little training, the Engagement Agency claims to provide a range of advisory expertise with experts in human capital management, marketing, business management and communications who can:
•
Inform management on the meaning, intent, and implications of the principles-based reporting requirements of the SEC rules.
•
Help organizations develop an overall strategy framework for human capital external and internal reporting based on their current human capital management practices and future roadmap.
•
Conduct a gap analysis to help organizations determine their current and ideal state for human capital reporting, and what's needed to fill short- or long-term gaps.
•
Determination of what types of information should and can be disclosed without subjecting the company to competitive disadvantage.
•
ROI analysis of current human capital management and engagement practices to determine the value of their contribution to the organization.
•
Creation of strategic Corporate Responsibility Reports that address the needs of all stakeholders while protecting competitive advantages when possible.
Explains Bolger, "By using a principles-based approach, the SEC actually raises the stakes for organizations in terms of disclosures. Insightful analysts knowledgeable about people management will be able to readily detect whether a company is sincere in its commitment to people and to measure their impact on the organization. CEOs will have to think very carefully about what they disclose, because that will become the benchmark against which they are held not only in the first year but in the years to come."
Bolger adds, "The SEC regulation does more than put pressure on CEOs and CFOs to analyze human capital analytics, it raises the red flag that as many as 80% of US organizations have no clear strategy for measuring the ROI and effectiveness of the 50% or more of annual expenses dedicated to people. Organizations using this new service not only will establish a reporting strategy that will be useful and effective with investors, customers, employees, the supply chain, communities and regulators but will also determine a human capital reporting strategy to drive better, more sustainable business outcomes."
For More Information
Bruce Bolger, Managing Director
Tel. 914-591-7600, ext. 230
Bolger@TheICEE.org
---
Master the Principles of Stakeholder Capitalism And Implementation Through Enterprise Engagement
Education, Certifications, and Information to Activate
Stakeholder Capitalism Available Nowhere Else
A complete learning, certification, and information program and a course syllabus for educators.
Training and Certification
Enterprise Engagement Alliance Education: Certified Engagement Practitioner; Advanced Engaged Practitioner, and Certified Engagement Solution Provider learning and certification programs on how to implement Stakeholder Capitalism principles at the tactical level.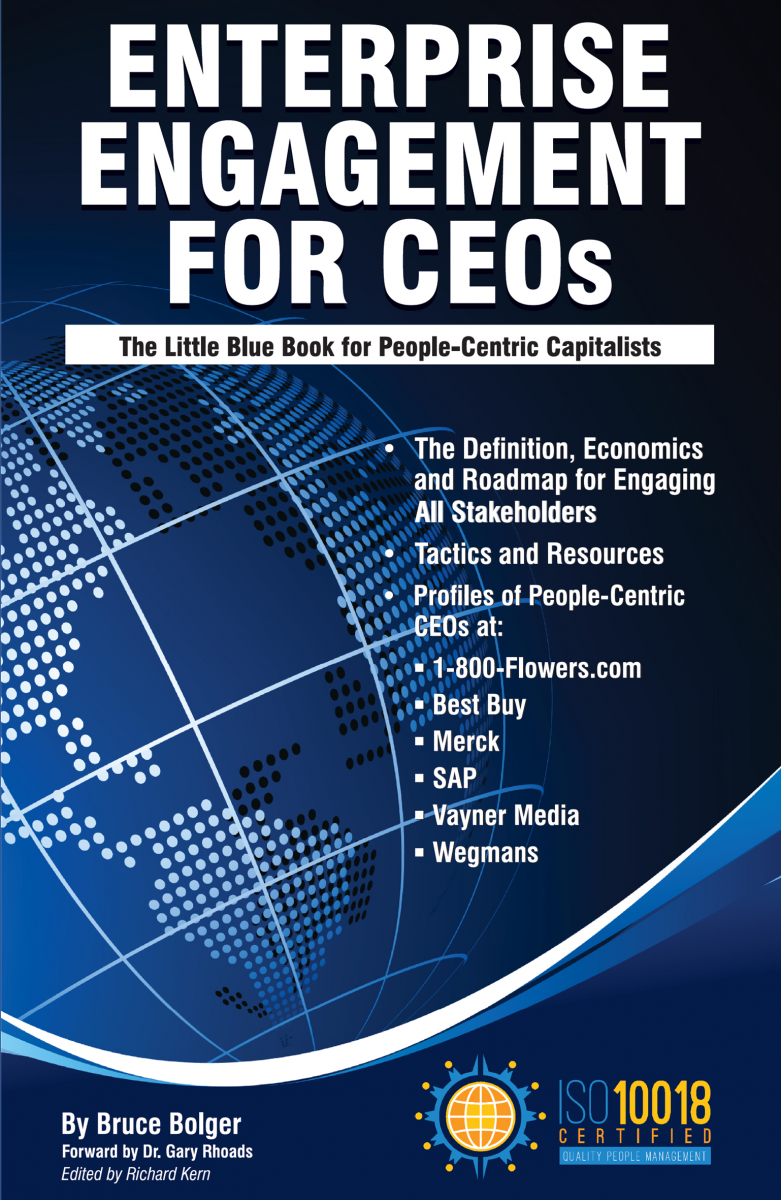 Join the EEA to begin your certification process or see our other resources below.
THE ONLY BOOKS ON STAKEHOLDER CAPITALISM IMPLEMENTATION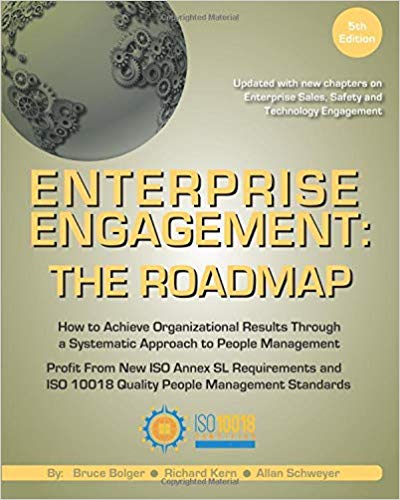 Enterprise Engagement: The Roadmap 5th Edition
The first and most comprehensive book on Enterprise Engagement and the new ISO 9001 and ISO 10018 quality people management standards. Includes 36 chapters detailing how to better integrate and align engagement efforts across the enterprise. (312 pages, $36.)
OTHER RESOURCES TO ACTUALIZE STAKEHOLDER CAPITALISM
Communities:
The
Enterprise Engagement Alliance and Advocate
and the
Brand Media Coalition
free resource centers offering access to the latest research, news, and case studies; discounts, promotions, referrals, and commissions, when appropriate to third-party solution providers from participating coalition solution provider members.
Enterprise Engagement
Resources:
EEXAdvisors.com provides the only curated online marketplace to access hundreds of solution providers in all areas of human capital management and enterprise engagement throughout the world.
Online Overview:
10-minute short course: click here for a 10-minute introduction to Enterprise Engagement and ISO standards from the Coggno.com learning platform.
Services:
• The Engagement Agency at EngagementAgency.net, offering: complete support services for employers, solution providers, and technology firms seeking to profit from formal engagement practices for themselves or their clients, including Brand and Capability audits for solution providers to make sure their products and services are up to date.
• C-Suite Advisory Service—Education of boards, investors, and C-suite executives on the economics, framework, and implementation processes of Enterprise Engagement.
• Speakers Bureau—Select the right speaker on any aspect of engagement for your next event.
• Mergers and Acquisitions. The Engagement Agency's Mergers and Acquisition group is aware of multiple companies seeking to purchase firms in the engagement field. Contact Michael Mazer in confidence if your company is potentially for sale at 303-320-3777.
Enterprise Engagement Benchmark Tools: The Enterprise Engagement Alliance offers three tools to help organizations profit from Engagement. Click here to access the tools.
• ROI of Engagement Calculator. Use this tool to determine the potential return-on-investment of an engagement strategy.
• EE Benchmark Indicator. Confidentially benchmark your organization's Enterprise Engagement practices against organizations and best practices.
• Compare Your Company's Level of Engagement. Quickly compare your organization's level of engagement to those of others based on the same criteria as the EEA's Engaged Company Stock Index.
• Gauge Your Personal Level of Engagement. This survey, donated by Horsepower, enables individuals to gauge their own personal levels of engagement.
For more information, contact Bruce Bolger at Bolger@TheEEA.org, 914-591-7600, ext. 230.