Analysis: Stakeholder Capitalism Makes More News
In the last week, Stakeholder Capitalism continues to draw both positive and negative attention from the media and business influencers. The Enterprise Engagement Alliance promotes the concept of Stakeholder Capitalism because it is an approach to organizational success supported by the implementation process and curriculum developed by the Enterprise Engagement in 2009. See Stakeholder Capitalism: A Primer.
By Bruce Bolger
The topic of Stakeholder Capitalism continues to gain increasing attention. In the past week, the New York Times featured an article on John Mackey of Whole Foods on the principles of Stakeholder Capitalism; the influential World Economic Forum released a report recommending specific disclosures for human capital and other ESG (Environmental, Social, and Governance) practices and metrics; leading law firms are telling CEOs what they have to do to comply with new US Securities & Exchange Commission disclosure requirements, and right-wing organizations have continued to criticize it as being anti-shareholder.
In a New York Times article published in its Sunday Business section, John Mackey of
Whole Foods Market
, says, "When businesses find their true purpose and serve not just investors but all stakeholders, everyone wins." He adds, "Whole Foods can't solve all the country's problems...What we can do...is sell healthy food to people. We have 100,000 people working with the company. So, we've been a good employer. We've tried to keep them safe during Covid-19 times."
Mackey says Amazon has been a good owner and that it bases it's decisions on analytics more than Whole Foods did when it was an independent company. "Amazon made the decision, and Whole Foods concurred with it, that we just needed to pay better." He says the company made less profit for that year but "morale went through the roof." What he didn't say is that analytics prove that effectively managed companies deliberately pay more than the minimum wage because of the resulting higher productivity and quality and less turnover and risks.
Also last week, the
World Economic Forum
doubled down on its commitment to promoting Stakeholder Capitalism in a report overseen by Brian Moynihan, Bank of America CEO and Klaus Schwab of the WEF, "
Measuring Stakeholder Capitalism: Towards Common Metrics and Consistent Reporting of Sustainable Value Creation
." The report recommends an ambitious set of ESG disclosure principles, including human capital measures related to diversity, pay equity, health and safety, training, employee turnover, and oversight of supply chain people practices.
Those who are interested in these new disclosure recommendations can attend a free webinar, while registration is available to learn about this new initiative from Brian Moynihan, Chairman and CEO of Bank of America; Klaus Schwab, Founder & Executive Chairman, World Economic Forum; Carine Di Sibio, Global Chairman & CEO, EY, and others. The event is on Oct. 7 at 11 am ET US.
Register here
.
Pointing out the 2021 proxy season is near,
Michael S. Melbinger
, an attorney at
Winston & Strawn LLP
tells clients in the
company's blog
some of the human capital issues they need to consider in light of the new Securities & Exchange Commission disclosure requirements:
The organizational structure through which the company manages its human capital resources.
Internal rates of hiring and promotion.
Measures regarding average hours of training per employee per year.
Measures regarding worker productivity.
The education and experience of the company's workforce.
Succession planning for potential successors to senior leadership roles.
Opportunities for emerging talent in the organization.
The safety of the workforce, including frequency, severity and lost-time due to injuries, illnesses and fatalities, and percent of first-tier suppliers that were audited for safety and health compliance.
Inculcating company culture and norms.
Information regarding the trend of all/each of the human capital factors above."
In a recent article in the
New York Times
, "Business Roundtable Stakeholder Capitalism Gets a Report Card: It's Not Good," author Peter S. Goodman cites numerous examples of Business Roundtable members overlooking the principles of the charter they signed to address the interests of all stakeholders. However, the writer provides no formal definition of Stakeholder Capitalism upon which to draw this conclusion. (Stakeholder Capitalists must make tough decisions too, such as a highly successful employee-owned company that had to lay off employees after the pandemic struck to preserve the survival of the enterprise.)
Writer Andrew Stuttaford writes in
National Review
that Stakeholder Capitalism will result in "a country that is poorer and less free than it should be." The writer states: "Stakeholder capitalism is a modish name for what is just another expression of corporatism, an old ideology with a sometimes sinister past that, because of the power it gives to the unelected and the unaccountable, will never fall far out of style. That, in this case, it involves playing around with other people's money only adds to its sleazy appeal."
Similarly, in an
Economist
, article, "What Is Stakeholder Capitalism," the writer warns: "Beware of a new world of near impossible trade-offs." Yet he too never provides a clear widely accepted definition.
On the other end of the spectrum, Binyamim Applebaum, a member of the New York Times editorial board,
writes recently
, "Government remains the most powerful means to express our collective will. The necessary solution is to create stronger incentives for good behavior and laws against bad behavior. Instead of urging power companies to burn less fossil fuel, tax carbon emissions. Instead of pleading with McDonald's to raise wages, raise the federal minimum wage. Instead of shaming Amazon for squeezing small business, enforce antitrust laws."
This one week of news reflects a lot of discussion about a subject that has yet to have a formal, widely accepted definition.
---
Master the Principles of Stakeholder Capitalism And Implementation Through Enterprise Engagement
Education, Certifications, and Information to Activate
Stakeholder Capitalism Available Nowhere Else
A complete learning, certification, and information program and a course syllabus for educators.
Training and Certification
Enterprise Engagement Alliance Education: Certified Engagement Practitioner; Advanced Engaged Practitioner, and Certified Engagement Solution Provider learning and certification programs on how to implement Stakeholder Capitalism principles at the tactical level.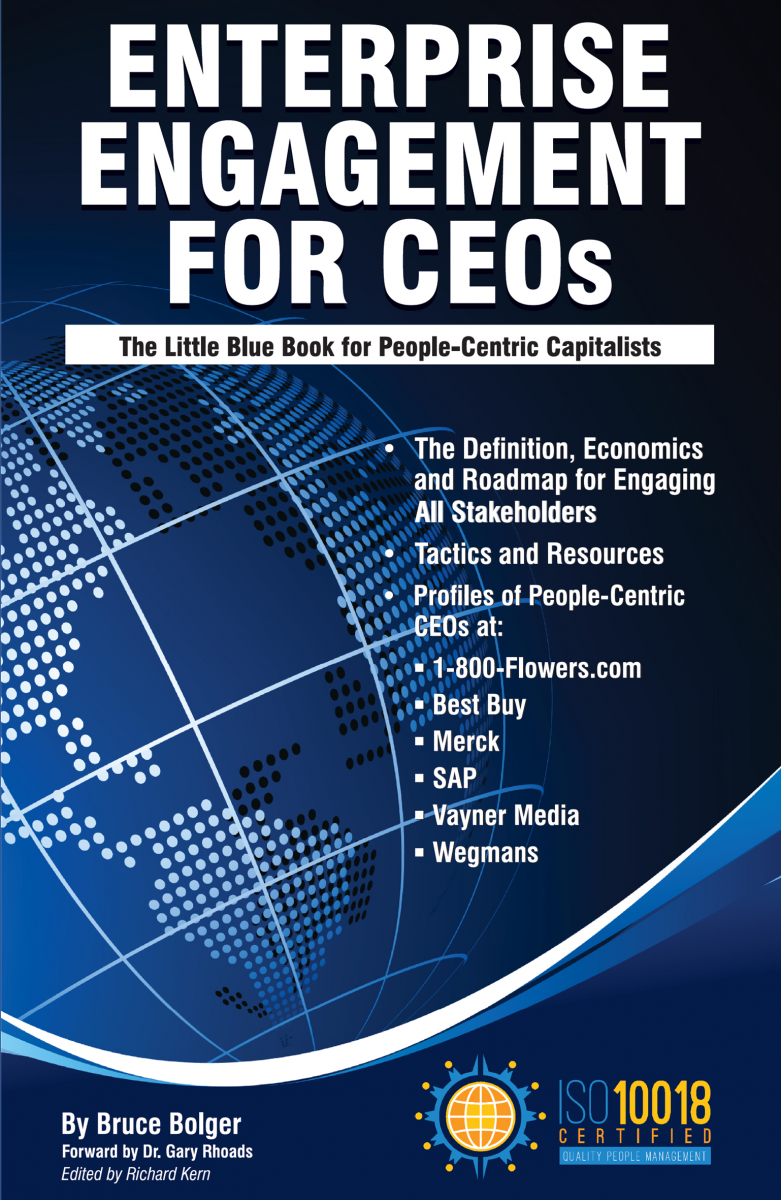 Join the EEA to begin your certification process or see our other resources below.
THE ONLY BOOKS ON STAKEHOLDER CAPITALISM IMPLEMENTATION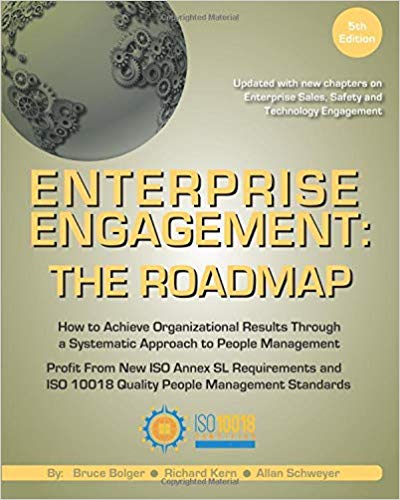 Enterprise Engagement: The Roadmap 5th Edition
The first and most comprehensive book on Enterprise Engagement and the new ISO 9001 and ISO 10018 quality people management standards. Includes 36 chapters detailing how to better integrate and align engagement efforts across the enterprise. (312 pages, $36.)
OTHER RESOURCES TO ACTUALIZE STAKEHOLDER CAPITALISM
Communities:
The
Enterprise Engagement Alliance and Advocate
and the
Brand Media Coalition
free resource centers offering access to the latest research, news, and case studies; discounts, promotions, referrals, and commissions, when appropriate to third-party solution providers from participating coalition solution provider members.
Enterprise Engagement
Resources:
EEXAdvisors.com provides the only curated online marketplace to access hundreds of solution providers in all areas of human capital management and enterprise engagement throughout the world.
Online Overview:
10-minute short course: click here for a 10-minute introduction to Enterprise Engagement and ISO standards from the Coggno.com learning platform.
Services:
• The Engagement Agency at EngagementAgency.net, offering: complete support services for employers, solution providers, and technology firms seeking to profit from formal engagement practices for themselves or their clients, including Brand and Capability audits for solution providers to make sure their products and services are up to date.
• C-Suite Advisory Service—Education of boards, investors, and C-suite executives on the economics, framework, and implementation processes of Enterprise Engagement.
• Speakers Bureau—Select the right speaker on any aspect of engagement for your next event.
• Mergers and Acquisitions. The Engagement Agency's Mergers and Acquisition group is aware of multiple companies seeking to purchase firms in the engagement field. Contact Michael Mazer in confidence if your company is potentially for sale at 303-320-3777.
Enterprise Engagement Benchmark Tools: The Enterprise Engagement Alliance offers three tools to help organizations profit from Engagement. Click here to access the tools.
• ROI of Engagement Calculator. Use this tool to determine the potential return-on-investment of an engagement strategy.
• EE Benchmark Indicator. Confidentially benchmark your organization's Enterprise Engagement practices against organizations and best practices.
• Compare Your Company's Level of Engagement. Quickly compare your organization's level of engagement to those of others based on the same criteria as the EEA's Engaged Company Stock Index.
• Gauge Your Personal Level of Engagement. This survey, donated by Horsepower, enables individuals to gauge their own personal levels of engagement.
For more information, contact Bruce Bolger at Bolger@TheEEA.org, 914-591-7600, ext. 230.