How Stakeholder Capitalists Can Help Rebuild America...And How Biden Can Help
Stakeholder Capitalism was developed organically by businesspeople seeking a more sustainable form of profit generation, not by politicians or academics. But there are steps government can take to accelerate the movement.

The World Economic Forum and Business Roundtable call it
Stakeholder Capitalism
. The Pope calls it
Inclusive Capital
. Others call it
Conscious Capitalism
. Whatever name you favor, its time has come. Because the concept arose organically even before the pandemic from businesspeople around the world who all reached the same conclusion at the same time: organizations that have a strategic and systematic approach to addressing the needs of all stakeholders outperform those that don't.
Over the last year, ever since the
Business Roundtable
published its new Stakeholder Capitalism charter changing the strategic focus of a corporation from a shareholder-centric approach to a stakeholder- centric approach, the concept has received increasing coverage in the world's leading business media, including the
New York Times
, the
Wall Street Journal
,
Barron's
,
Fortune
. It has met with opposition from the
right
claiming that Stakeholder Capitalism robs from shareholders to pay for social causes and from the
left
that it's just public relations fluff.
In fact,
Stakeholder Capitalism
is simply better business.
Independent research
as well as the
share-price performance
of public companies have verified that organizations that have a strategic focus on addressing the needs of all their stakeholders—customers, employees, distribution partners, and communities—consistently outperform their competitors in the
stock market
. There is substantial evidence that effective investments in people provide just as much of a return and perhaps more than share buybacks, with much greater benefits for employees, customers, supply chain partners, society, and the environment.
While the right-wing advocates Shareholder Capitalism, which focuses relentlessly on generating profits for shareholders at the expense of other stakeholders and the environment, and the left-wing advocates Democratic Socialism, which advocates that capitalism and government should be run democratically with a focus on workers, Stakeholder Capitalism brings together the best of both concepts. It creates wealth only by creating wealth for customers, employees, supply chain partners, communities, and the environment. In other words, the ultimate driver for Stakeholder Capitalism is indeed the profit motive, albeit a more sustainable one because it creates wealth by growing the pie for all.
Best of all, Stakeholder Capitalism doesn't require government intervention. Like the total quality management movement in the 1990s, which transformed quality manufacturing and helped restore the US automotive market and manufacturing in general, Stakeholder Capitalism applies the same strategic, systematic, proactive approach to people management: clarifying a True North, purpose, and culture tied to organizational goals transparent to all stakeholders, and then consistently recruiting talent at all levels and from all communities consistently provided with the workplace experience and capabilities aligned to support that purpose: coaching, communications, learning, effective job design, opportunities for collaboration and innovation, rewards and recognition, etc., with very clear performance metrics as used in quality manufacturing to continually improve.
Nonetheless, there is much President Biden and his administration can do to accelerate the movement.
Set an example.
Apply the same principles to people management to government management as Stakeholder Capitalism does for free enterprise. He can actively promote and elevate the Obama era
Government Performance and Results (GRPA) Act of 2010
that requires agencies to implement performance management systems and to strengthen employee engagement to improve organizational performance.
Recognize industry leaders. In the 1990s, the Malcolm Baldrige Quality Awards honoring leading US companies that make a commitment to quality manufacturing helped draw attention to the importance of quality and received worldwide attention. President Biden could visit the facilities of demonstrated leaders in Stakeholder Capitalism, both public and private, companies such as Texas Roadhouse, WD-40, Jet blue, Southwest Airlines, Best Buy, Merck, Wegman's, Market Basket and so many others that, without using the term Stakeholder Capitalism, have led the way toward this new type of capitalism. These companies address the fundamental failures of Shareholder Capitalism by creating wealth through people instead of extracting it from them. All these companies provide good paying jobs, opportunities for advancement, diversity inclusion, and so much more for society than do Shareholder Capitalists.
Require clear human capital and environment disclosures. The Securities & Exchange Commission for the first time requires public companies to disclose their human capital practices to the extent they are material to their business. The European Union requires such disclosures of all companies considered to have an impact on society, though generally with 500 or more employees. There are already bills languishing in Congress that would require more specific disclosures of both public and private companies in the US, and the SEC can continue to enhance those disclosures, potentially consistent with ISO 30414 human capital standards created by the same organization whose ISO 9000 standards transformed quality. Give investors, customers, employees and communities the information they need to determine whom they'd rather invest in, do business with, work for, or have in their localities.
Provide tax incentives for investments in people. Give businesses a good reason to invest excess cash into people instead of share buybacks with targeted deductions for investments in diversity inclusion, training, job design, rewards and recognition, human capital analytics that are tied to clear performance metrics disclosed in Corporate Responsibility Reports. Such targeted investments can yield greater profits that in turn can create a positive impact on tax revenues while developing the capabilities of our people for the benefit of society.
There is no need to vilify or outlaw Shareholder Capitalists provided they comply with the law. Let market forces work the magic that Milton Friedman envisaged, for the master of capitalism would indeed have approved of a system that provides a better and more sustainable return for shareholders while creating greater wealth and choice for employees, customers, businesses, and communities.
---
Master the Principles of Stakeholder Capitalism And Implementation Through Enterprise Engagement
Education, Certifications, and Information to Activate
Stakeholder Capitalism Available Nowhere Else
A complete learning, certification, and information program and a course syllabus for educators.
Training and Certification
Enterprise Engagement Alliance Education: Certified Engagement Practitioner; Advanced Engaged Practitioner, and Certified Engagement Solution Provider learning and certification programs on how to implement Stakeholder Capitalism principles at the tactical level.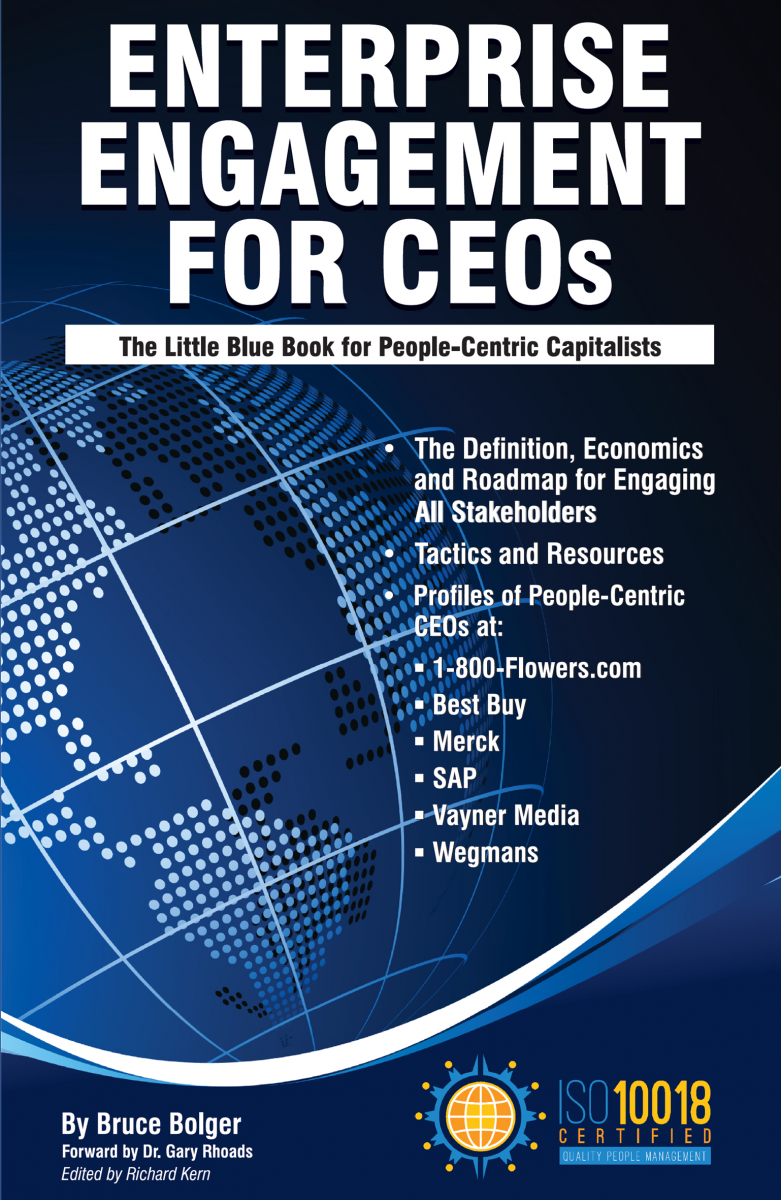 Join the EEA to begin your certification process or see our other resources below.
THE ONLY BOOKS ON STAKEHOLDER CAPITALISM IMPLEMENTATION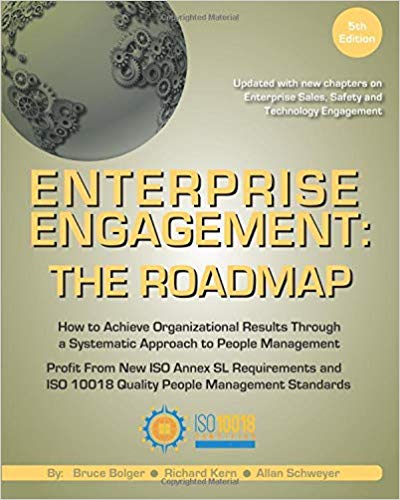 Enterprise Engagement: The Roadmap 5th Edition
The first and most comprehensive book on Enterprise Engagement and the new ISO 9001 and ISO 10018 quality people management standards. Includes 36 chapters detailing how to better integrate and align engagement efforts across the enterprise. (312 pages, $36.)
OTHER RESOURCES TO ACTUALIZE STAKEHOLDER CAPITALISM
Communities:
The
Enterprise Engagement Alliance and Advocate
and the
Brand Media Coalition
free resource centers offering access to the latest research, news, and case studies; discounts, promotions, referrals, and commissions, when appropriate to third-party solution providers from participating coalition solution provider members.
Enterprise Engagement
Resources:
EEXAdvisors.com provides the only curated online marketplace to access hundreds of solution providers in all areas of human capital management and enterprise engagement throughout the world.
Online Overview:
10-minute short course: click here for a 10-minute introduction to Enterprise Engagement and ISO standards from the Coggno.com learning platform.
Services:
• The Engagement Agency at EngagementAgency.net, offering: complete support services for employers, solution providers, and technology firms seeking to profit from formal engagement practices for themselves or their clients, including Brand and Capability audits for solution providers to make sure their products and services are up to date.
• C-Suite Advisory Service—Education of boards, investors, and C-suite executives on the economics, framework, and implementation processes of Enterprise Engagement.
• Speakers Bureau—Select the right speaker on any aspect of engagement for your next event.
• Mergers and Acquisitions. The Engagement Agency's Mergers and Acquisition group is aware of multiple companies seeking to purchase firms in the engagement field. Contact Michael Mazer in confidence if your company is potentially for sale at 303-320-3777.
Enterprise Engagement Benchmark Tools: The Enterprise Engagement Alliance offers three tools to help organizations profit from Engagement. Click here to access the tools.
• ROI of Engagement Calculator. Use this tool to determine the potential return-on-investment of an engagement strategy.
• EE Benchmark Indicator. Confidentially benchmark your organization's Enterprise Engagement practices against organizations and best practices.
• Compare Your Company's Level of Engagement. Quickly compare your organization's level of engagement to those of others based on the same criteria as the EEA's Engaged Company Stock Index.
• Gauge Your Personal Level of Engagement. This survey, donated by Horsepower, enables individuals to gauge their own personal levels of engagement.
For more information, contact Bruce Bolger at Bolger@TheEEA.org, 914-591-7600, ext. 230.