Micron Sets the Standard for a Corporate Responsibility Report
Every organization will one day need to do what companies like Micron Technology are doing today: publishing comprehensive Corporate Responsibility Reports. Based on the new US Securities & Exchange and European Union human capital disclosure requirements, the known viewpoints of incoming Biden administration officials at the Securities & Exchange Commission and Labor Department, and the pressure from ESG (Environmental, Social, and Governance)-oriented investors, employees, customers, and communities, organizations of almost every size will eventually have to publish Corporate Responsibility Reports. In fact, 90% of S&P 500 companies already publish some kind of Corporate Responsibility Report, according to a survey by the Governance and Accountability Institute.The Micron 2020 Sustainability Report provides a roadmap for every organization serious about starting now to create wealth for shareholders by creating value for all stakeholders—employees, customers, supply chain partners, and communities.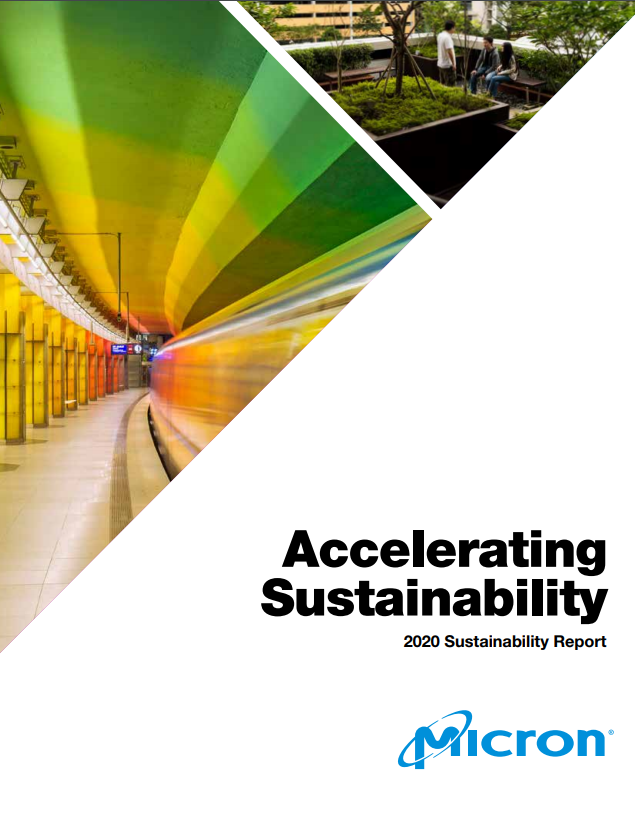 What is most important about Corporate Responsibility Reports is not what they say; it's what they substantiate. The best reports share the vision, actions, and results of efforts to achieve organizational goals by strategically and sustainably addressing the needs customers, employees, supply chain partners, and communities. While the focus of the EEA is on the "S" of Environmental, Social, and Governance management, Micron's Sustainability Report covers all three aspects.
Micron is a leading worldwide semi-conductor company.
Here's an overview and some observations about the report's section on people.
Stakeholder Engagement
This section specifies the organization's commitment to addressing the needs of all stakeholders and how.
Who We Engage
How We Engage
Why It Matters
Employees

•

Ongoing supervisor interactions

•

Meetings hosted by senior leaders

•

Compliance hotline for reporting concerns

•

Intranet with global and local content where employees can share sustainability-related suggestions

To create a culture in which all employees contribute to our success
Customers

•

Customer requirement documents

•

Membership in industry organizations

To understand how we are performing from our customers' perspectives and build industry consensus on social and environmental issues

Shareholders

•

Annual shareholder meeting

•

Quarterly financial calls

•

One-on-one analyst meetings

•

Annual report and sustainability report

To foster transparency and ensure we are meeting the needs of our shareholders and the investor and analyst communities

Policymakers

Membership in organizations where we operate, such as:

•

American Chamber of Commerce in Taipei

•

European Automotive Technology Council

•

European Research Platform

•

Idaho Association of Commerce & Industry

•

Italy Industry Trade Association

•

Northern Virginia Technology Council

•

Silicon Valley Leadership Group

•

U.S. Chamber of Commerce

•

U.S.-China Business Council

•

U.S. Information Technology Office

•

U.S.-Taiwan Business Council

•

Virginia Manufacturers Association

To engage with policymaking that governs and affects our business
Suppliers

•

Compliance hotline for reporting concerns

•

Reviews of supplier performance

•

Responsible Business Alliance membership

•

Supplier quality requirements document

To maintain an open dialogue about our expectations with respect to social and environmental criteria

Communities

•

STEM education outreach

•

Grants toward education and basic human needs

•

Engagement in local, regional and national STEM education conversations

•

Employee volunteerism and matching gifts

To build relationships, social justice and shared value between Micron and organizations located where we operate
People
This section outline's the organization's workforce management philosophy and basic statistics, such as:
2019 Workforce at a Glance
Employees by Gender
Employees by Region
Recordable Injury Rate
U.S. Race/Ethnicity (Overall)

1CY19 does not include Micron's former 200mm fabrication facility in Singapore.
This section also provides information on its engagement and retention efforts based on surveys and team communications, along with accountability and other performance metrics. It reports on an online referral program that has attracted the participation of 46% of employees, with 17% of external hires now coming as a result.
The company's surveys ask questions such as, "My supervisor provides timely and meaningful recognition" and "At work, I am respected for who I am." The report says that the "participation rate in the October 2019 survey was 95%, and favorability ratings have increased since the survey was first conducted. We exceeded last year's goal of reaching at least 60% agreement with the statement, 'I find Micron's culture to be personally engaging and motivating.' Our target for 2020 is that 80% of employees state that their teams have developed action plans to improve their results.
The company says that it added a "new leadership engagement index (LEI), a subset of survey questions that help to gauge direct managers' abilities to engage their teams, a metric we are using to measure organizational success. LEI scores rose eight percentage points over a six-month period in 2019, which may be attributable to Micron's expanded development efforts."
Diversity, Equality & Inclusion
This section focuses on its specific practices, including the establishment of an advisory board team of leaders who represent many of Micron's key business areas across the globe. This DEI advisory council is designed to ensure all employee voices are represented and amplified. In 2019, Micron says it hired its first vice president of DEI, which allows it to deepen its commitments to all dimensions of diversity and leverage the strengths of Micron's global team. It says it also increased diversity at the highest levels by welcoming an additional woman to the Micron board of directors and nearly doubling the percentage of women as vice presidents (from 7.7% to 13.5%) in 2019."
The company reports that it funds or endorses Employee Resource Groups (ERGs) to provide mentorship, networking, and visibility to specific populations within the organization. It says 5,827 Micron employees have joined an ERG, with more than 47 chapters around the globe.
Highlights From FY 2019 Diversity, Equality & Inclusion Report
72% Growth in ERG membership
Three New ERGs (Black Employee Network, Tenured & Experienced @ Micron, and Capable)
25% Of Micron's board of directors are women
75 senior leaders have participated in inclusive leadership courses.
The company also reports that it spent 830,000 in additional compensation paid to ensure equal compensation to men and women in similar roles throughout the world.
Safe, Healthy & Secure
This section outlines the practices and results of efforts to fulfill its vision: "We strive for an incident-free workplace."
The report says, "Across our business, Micron is evolving safety to a value so embedded in our culture that it becomes instinctual. Our new safety culture program, Live Safe, is a call for all employees to own their personal safety and the safety of others."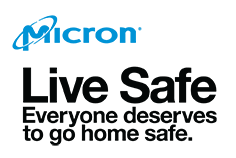 While it says its recordable injury rate of 0.14 in 2019 showed significant progress over 2018, the company expects "that the improvements in measurement and tracking under the Live Safe program may increase this reported rate in our next reporting cycle, even as we drive improvements."
The company says it's approach to safety is multilayered and involves all employees:
It has Health & Safety Committees at every manufacturing site, comprising both management and nonmanagement employees.
•
Promote overall operations and communications regarding safety.
•
Ensure messaging reinforces safety programs, recognizes safe behaviors, and highlights engagement activities.
•
Align guidance with ISO 45001 certifications.
Managers & Supervisors
•
Lead, implement and maintain safe, secure, and compliant work areas.
All Employees & Contractors
•
Help identify, eliminate, and control hazards and risks.
•
Follow all EHS (Environmental, Health and Safety) procedures and applicable legal requirements, including those contained in our Code of Business Conduct and Ethics
This section also outlines its Employee Wellness programs; work-life balance policies, and employee resource centers to provide guidance related to the family, finances, health and more.
Professional Development. The section of the report details professional and leadership development programs and policies related to computer- and web-based training, distance education, on-site university courses and training on cutting-edge technologies. "A rotational program helps new hires get an in-depth understanding of their functional teams through a series of three rotations. Micron employees have direct access to technical and business skills training through our internal learning management system and through systems we access for cultural awareness, personal and professional skills building and industry-relevant research."
The report outlines its Knowledge Management platform: the "Micron-TLP Technical Journal, an in-house, peer-reviewed archival journal with articles published by members of the Technical Leadership Program (TLP), as well as a variety of technical seminars. Micron's learning management system allows employees to view items that have been assigned to them or search the catalog and self-assign items. Users can also request or register for instructor-led learning or access online learning. As employees expand their capabilities and become qualified for new roles, our internal job opportunities allow them to grow within the company."
Some statistics provided include:
•
50.2 hours
:
Average training per full-time employee (an increase of more than 13 hours from 2018, primarily driven by an expansion of targeted employee workshops.)
•
4,700+
: People leaders participated in Journey to Higher Performance in 2019
Leadership Development. "Micron focuses on building capabilities and accelerating the success of leaders at key levels in the company. In 2019, we introduced the Micron leadership attribute model, which defines the attributes and capabilities that all leaders need to be successful. We also launched the Micron Leadership Accelerated ecosystem of experiences and resources, which is based on this attribute model. It supports current and emerging leaders at key transition points during their careers while also providing learning experiences for continued growth, including feedback, coaching, and mentoring."
Programs include:
•
Journey to Higher Performance.
---
Master the Principles of Stakeholder Capitalism And Implementation Through Enterprise Engagement
Education, Certifications, and Information to Activate
Stakeholder Capitalism Available Nowhere Else
A complete learning, certification, and information program and a course syllabus for educators.
Training and Certification
Enterprise Engagement Alliance Education: Certified Engagement Practitioner; Advanced Engaged Practitioner, and Certified Engagement Solution Provider learning and certification programs on how to implement Stakeholder Capitalism principles at the tactical level.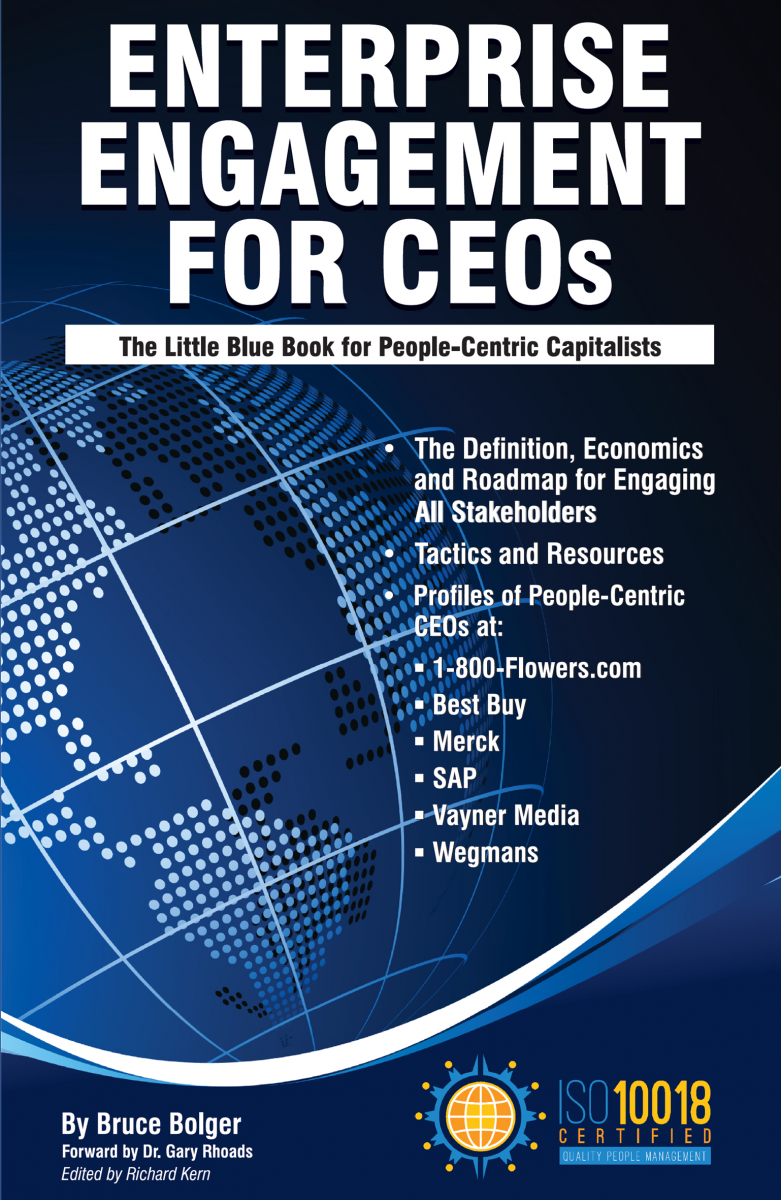 Join the EEA to begin your certification process or see our other resources below.
THE ONLY BOOKS ON STAKEHOLDER CAPITALISM IMPLEMENTATION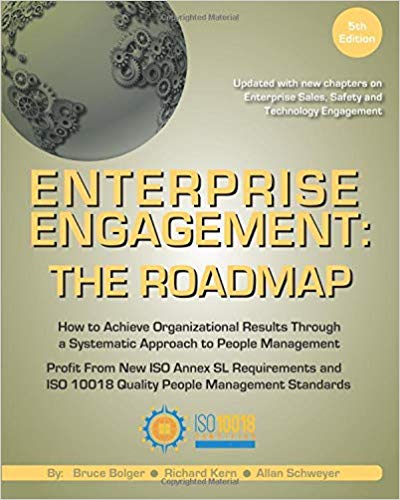 Enterprise Engagement: The Roadmap 5th Edition
The first and most comprehensive book on Enterprise Engagement and the new ISO 9001 and ISO 10018 quality people management standards. Includes 36 chapters detailing how to better integrate and align engagement efforts across the enterprise. (312 pages, $36.)
OTHER RESOURCES TO ACTUALIZE STAKEHOLDER CAPITALISM
Communities:
The
Enterprise Engagement Alliance and Advocate
and the
Brand Media Coalition
free resource centers offering access to the latest research, news, and case studies; discounts, promotions, referrals, and commissions, when appropriate to third-party solution providers from participating coalition solution provider members.
Enterprise Engagement
Resources:
EEXAdvisors.com provides the only curated online marketplace to access hundreds of solution providers in all areas of human capital management and enterprise engagement throughout the world.
Online Overview:
10-minute short course: click here for a 10-minute introduction to Enterprise Engagement and ISO standards from the Coggno.com learning platform.
Services:
• The Engagement Agency at EngagementAgency.net, offering: complete support services for employers, solution providers, and technology firms seeking to profit from formal engagement practices for themselves or their clients, including Brand and Capability audits for solution providers to make sure their products and services are up to date.
• C-Suite Advisory Service—Education of boards, investors, and C-suite executives on the economics, framework, and implementation processes of Enterprise Engagement.
• Speakers Bureau—Select the right speaker on any aspect of engagement for your next event.
• Mergers and Acquisitions. The Engagement Agency's Mergers and Acquisition group is aware of multiple companies seeking to purchase firms in the engagement field. Contact Michael Mazer in confidence if your company is potentially for sale at 303-320-3777.
Enterprise Engagement Benchmark Tools: The Enterprise Engagement Alliance offers three tools to help organizations profit from Engagement. Click here to access the tools.
• ROI of Engagement Calculator. Use this tool to determine the potential return-on-investment of an engagement strategy.
• EE Benchmark Indicator. Confidentially benchmark your organization's Enterprise Engagement practices against organizations and best practices.
• Compare Your Company's Level of Engagement. Quickly compare your organization's level of engagement to those of others based on the same criteria as the EEA's Engaged Company Stock Index.
• Gauge Your Personal Level of Engagement. This survey, donated by Horsepower, enables individuals to gauge their own personal levels of engagement.
For more information, contact Bruce Bolger at Bolger@TheEEA.org, 914-591-7600, ext. 230.