Economics of Mutuality (EoM) Foundation on Stakeholder Capitalism: It's Time for Action
The Economics of Mutuality (EoM) Foundation has as its "main mission to transform the global economic system by creating a mutuality of benefits among all stakeholders," says its Chief Advocacy Officer Jay Jakub. Founded in late 2020 out of an internal think tank at Mars, and incorporated and funded by the company for five years, the foundation aims to help organizations equip management at all levels to support a model that moves corporations from "value extraction for shareholders to a model that creates value for all by solving problems for stakeholders drawn together by a common purpose."
Launched in August 2020 by the former 60-plus year-old internal think tank of Mars known as Catalyst, the independent not-for-profit EoM Foundation through its for-profit consultancy EoM Solutions last year officially became an advisory service for organizations outside the company seeking a sustainable approach to profitability through people instead of from people.
According to the organization's web site, "The Economics of Mutuality restores relationships between business, society, and the environment by equipping companies to enhance their performance by meeting critical needs within their ecosystems." The EoM Foundation is a public interest foundation that advances the Economics of Mutuality through business research, education, and advocacy and is based in Geneva, Switzerland. Also based in Geneva, the EoM Solutions subsidiary is a "strategic management consultancy that deploys the Economics of Mutuality through proprietary capabilities, tools, and leadership development."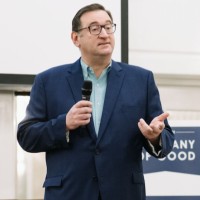 Says
Jakub
, the EoM Foundation will retain its not-for-profit activities related to research and educational outreach that will help train organizational leadership on the "economics of mutuality." The idea started in 2006 when John Mars, former Mars chairman, asked the question, "What is the right level of profit for the company?" He was referring to the fact that companies are only as strong as their weakest link, meaning that if they are taking too much profit they can create a squeeze on other stakeholders that will disadvantage the firm in the end.
The Mission: Transform Business for Good
Explains Jakub, "our mission is to transform business for good." While he is aligned with the Stakeholder Capitalism movement, he believes that the talk in the space still far outweighs the practical application experiences, and that nothing can truly change until management incentives change. "The incentives for management are misaligned with the principles of Stakeholder Capitalism, because right now they are all about generating short-term shareholder returns rather than holistic returns."
He adds, "Watch what happens when we change those incentives to human, social and natural capital to drive more value creation. Performance takes off because greater non-financial capital creation releases more economic and financial value, so you no longer need to trade profit to do good: doing good can generate superior profitability and resiliency."
Jakub is optimistic. "I think leaders are finally getting it, partly because of the millennial generation. Companies must adapt to the fact that today's employees want something more than just money. They seek fulfillment of a sense of purpose."
The Economics of Mutuality, he explains, is "about rediscovering the old truth that there is indeed a 'right' level of profit and that by focusing on the means – how one treats the other – rather than on the ends, profit maximization, one can be doubly blessed." Quoting the wisdom of King Solomon, he says, "A man may give freely and still have his wealth increase, and another man may take more than is his right and still come to be in need."
Short-Termism Inverts the Natural Order of Things
The focus on short-term results over the last 50 years, he says, "has inverted the natural order of things. It puts people and planet at the bottom and finance at the top when it should be the other way around. It's not sustainable. There is a dysfunctional surplus of money in the economy. It used to be that people and natural resources were plentiful and money was scarce which led to financial capitalism. Now we have too much money and a shortage of talent and natural resources. If we can create a culture that addresses the true drivers of individual wellbeing, that creates trust and social cohesiveness at the community level, you can attract, develop, retain, and optimize the performance of talent, equipping communities to work together for the common good. There are forms of non-financial capital that companies create or destroy and could leverage to benefit stakeholders and shareholders, but they don't have the metrics to enable them to mobilize this value. They are operating sub-optimally by squandering non-financial value. In business, you only manage what you measure."
Jakub points out, "When your business pollutes a river, you become a net user of natural capital, and you damage community social capital by violating trust as well as individual wellbeing – human capital. This all has an impact on your bottom line, but companies can't see this. We are learning through rigorous practice that growing social, human, and/or natural capital releases more economic performance. When you damage social, human, and natural capital, conversely, you hurt your profits. Economics of Mutuality is not rocket science, it's adapting business practice to the new context of the economy."
In addition to the EoM advisory service for organizations, EoM's foundation is developing MBA and management curriculum to teach EoM at the university level and is delivering an executive education program in partnership with Oxford University in the UK to train leadership on the framework and implementation process.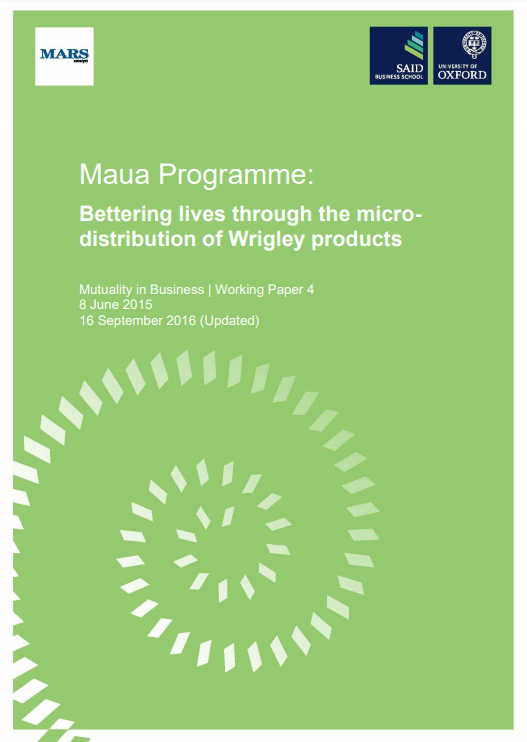 Starting as a think tank and advisory practice for Mars, Jakub says EoM had the opportunity to test its concepts at the front lines of business for over a decade before moving outside the company. The process was first used in Kenya in what became known as the
Maua project
to help launch the Wrigley brand in impoverished communities. Facing a general distrust of multinationals in the poorest parts of urban and rural Kenya, the company partnered with citizen sector organizations and even with a mega-church in low-income communities to recruit and train local micro-distributors able to deliver Wrigley products to kiosks where people frequently buy goods. The result was a significant increase in sales and earnings that created new opportunities for local entrepreneurs and more wealth for the community and for the company, often yielding 2x the retained earnings via a social business route-to-market (RTM) business than the neighboring Wrigley business working with traditional profit maximization approaches absent many of the challenges faced in poor communities.
Using the same EoM approach based on the principles of "mutuality," Mars'
Royal Canin
super-premium nutraceutical petfood line helped veterinarians compete against online sales by creating a special formulation for vets that would help reduce the mortality of puppies, of whom one in five generally die in infancy. EoM is now being tested across the Royal Canin businesses with encouraging results.
The Five Key Steps of EoM
Based on the premise that the purpose of an organization is to "create profitable solutions to the problems of people and planet," the EoM process has five key steps.
1. Define your purpose. EoM puts purpose instead of profit at the center of any business ecosystem of activity. "When you put purpose at the center, you create the right lens for determining the right stakeholders to populate the organization's ecosystem. Suddenly, when there is shared purpose, your business makes more sense than with profit at the center."
2. Identify and engage stakeholders. "We work with clients to make their purpose actionable. For Royal Canin, that means improving the lives of cats and dogs. For Novo Nordisk, a maker of Insulin, a similar process (outside of but aligned with EoM) began by changing its purpose from "selling more insulin" to "solving diabetes." That shift in focus, he explains, "changed its relationship with its stakeholders. This made the company a partner to solve the underlying problem rather than just another supplier profiting off of addressing symptoms. The company took off in a big way."
3. Develop a plan. This involves mapping out key stakeholders and surfacing their pain points through clinical interviews…The things that are broken that if 'healed' can free stakeholders to enhance performance. Work with the business to prioritize key pain points the organization should address, he advises.
4. Help deliver interventions. This step involves diagnosing the form of capital – Human, Social, Natural, or Financial – corresponding to each pain point to be internalized and designing interventions to grow that form of capital to ameliorate the issue, he explains. As pain points are healed, the ecosystem of stakeholder performance is enhanced.

5. Create a mutual profit and loss statement. This means establishing a purpose-driven change management approach as well as a mutual Profit and Loss statement embedded in the management accounts of the firm, Jakub advocates. "Being able to compare the 'mutual profit' of a business activity to its financial profit drives new types of conversations that often alter management behavior to align better with the firm's stated purpose. Firms that deliver their purpose perform better, period."

Outlining the future of the EoM consulting arm, Jakub says, "Our biggest challenge is not business development; it is keeping quality control. We are trying to grow our consulting capability and are in the process of developing independent consultants. We are looking at creating a certification process so we can partner with other firms."

For More Information
Jay Jakub
Senior Client Advisor, Chief Advocacy Officer
---
Master the Principles of Enterprise Engagement to Achieve Organizational Goals and Enhance Your Career
Profit from a new strategic and systematic approach to engagement to profit from the principles of Stakeholder Capitalism, enhance your organization's brand equity; increase sales, productivity, quality, innovation, and safety, and reduce risks.
Get trained to become a Chief Engagement Officer for your organization.
Learn how to create Sustainability or Integrated Reports for Your Organization or Clients.
Learning and Certification:
The Enterprise Engagement Alliance 2.0 education program, the only learning and certification platform for boards, executives, and managers seeking to understand the implementation principles of Stakeholder Capitalism, human capital management and measurement, and ROI of engagement. For more information, contact Bruce Bolger at Bolger@TheICEE.org or 914-591-7600, ext. 230.
Resources:
ESM at EnterpriseEngagement.org, an online trade publication founded in 2008 that features news, profiles, research, and more on the field of Enterprise Engagement, the implementation process for Stakeholder Engagement, and the EEXAdvisors.com buyer's guide and resource directory. This includes a comprehensive resource library on Stakeholder Capitalism, human capital management, measurement, and ROI of engagement.

RRN at RewardsRecognitionNetwork.com, an online trade publication founded in 1996 that features news, profiles, research and more on rewards, recognition, gifting and brand media, and the Brand Media Coalition, the only guide to the story-telling power of brands and where to source them for business, event, promotional gifting, and rewards and recognition. This features a comprehensive resource library on brand media, rewards, recognition, incentives, gifting and more.
The Enterprise Engagement Alliance Human Capital Management and ROI of Engagement Youtube channel featuring one-hour and 30-minute panel discussions with experts on multiple topics on Stakeholder Capitalism, Human Capital Management reporting and measurement, and engagement tactics.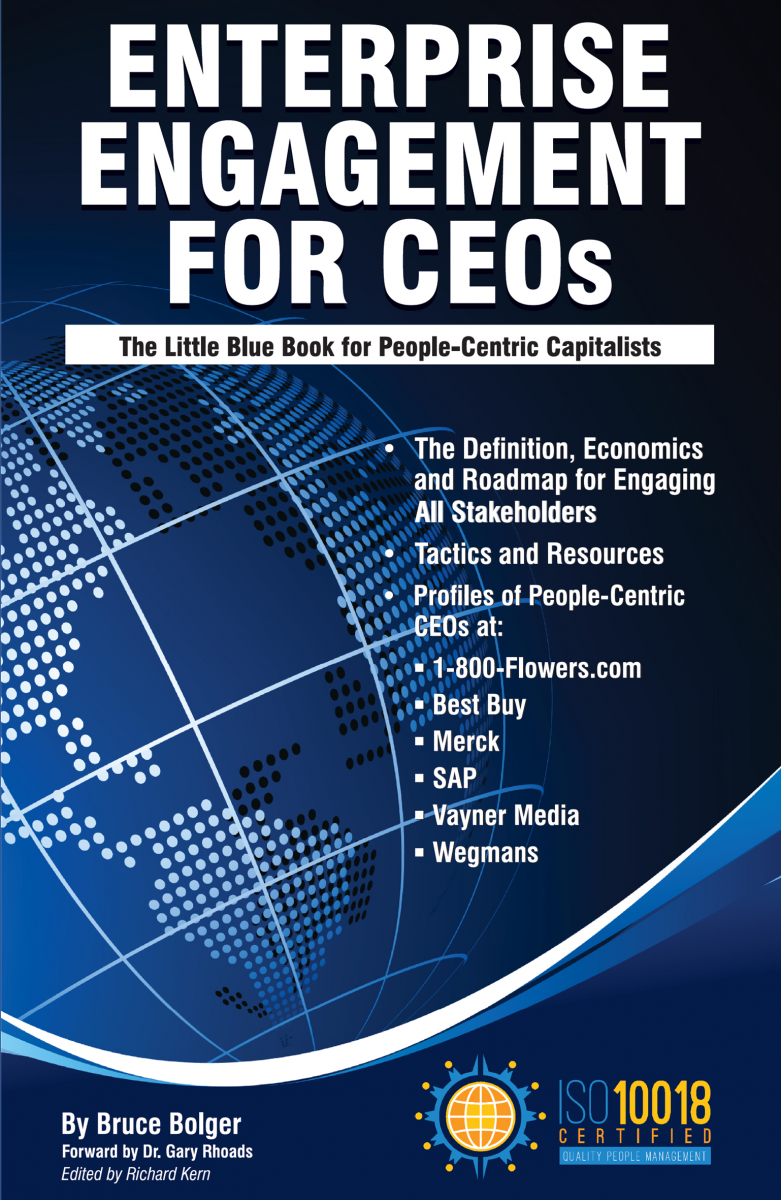 Enterprise Engagement: The Roadmap 5th Edition
The first and most comprehensive book on Enterprise Engagement and the new ISO 9001 and ISO 10018 quality people management standards. Includes 36 chapters detailing how to better integrate and align engagement efforts across the enterprise. (312 pages, $36.)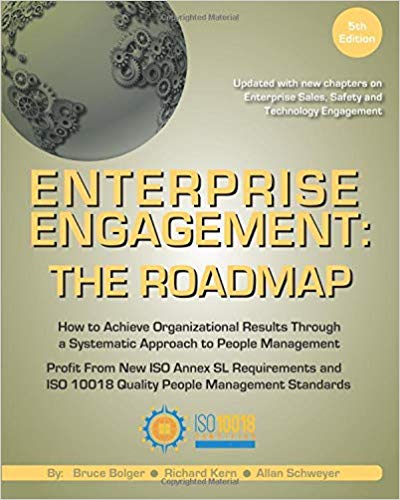 Services:
• The International Center for Enterprise Engagement at TheICEE.org, offering: ISO 10018 certification for employers, solution providers, and Enterprise Engagement technology platforms; Human Resources and Human Capital audits for organizations seeking to benchmark their practices and related Advisory services for the hospitality field.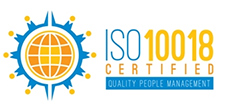 • The Engagement Agency at EngagementAgency.net, offering: complete support services for employers, solution providers, and technology firms seeking to profit from formal human capital management, reporting, and ROI of engagement practices for themselves or their clients, including Brand Alignment audits for brands and Capability audits for solution providers to make sure their products and services are up to date.
• C-Suite Advisory Services—Education of boards, investors, and C-suite executives on the economics, framework, and implementation processes of Enterprise Engagement.
• Speakers Bureau—Select the right speaker on any aspect of engagement for your next event.
• Mergers and Acquisitions. The Engagement Agency's Mergers and Acquisition group focuses on helping organizations focused on people sell to the right buyer and on assisting engagement solution providers seeking an exit or merger. Contact Michael Mazer in confidence if your company is potentially for sale at 303-320-3777.
Enterprise Engagement Benchmark Tools: The Enterprise Engagement Alliance offers three tools to help organizations profit from Engagement. Click here to access the tools.
• ROI of Engagement Calculator. Use this tool to determine the potential return-on-investment of an engagement strategy.
• EE Benchmark Indicator. Confidentially benchmark your organization's Enterprise Engagement practices against organizations and best practices.
• Compare Your Company's Level of Engagement. Quickly compare your organization's level of engagement to those of others based on the same criteria as the EEA's Engaged Company Stock Index.
• Gauge Your Personal Level of Engagement. This survey, donated by Horsepower, enables individuals to gauge their own personal levels of engagement.
For more information, contact Bruce Bolger at Bolger@TheICEE.org, 914-591-7600, ext. 230.