Impact of new SEC Rules on Small Caps, HR; ESG Funds Surge, and More
Here's a week of news briefs from the world of Stakeholder Capitalism, Human Capital Management, and Enterprise Engagement.
National Investor Relations Institute: SEC Rules Will Shape Human Capital Reporting, Policies
A recent National Investor Relations Institute virtual meeting reported that "SEC human capital disclosure requirements and stricter proxy advisor policies on board diversity will shape corporate reporting during the coming year."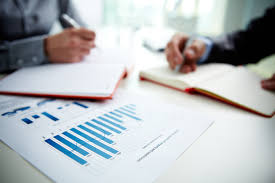 Published in the winter 2021 issue of IR Update, produced by the National Investor Relations Institute, and shared on
JDSupra
, the group was informed that "In 2020, many large public companies in the United States used the twin crises of COVID-19 and social injustice to highlight their existing ESG (Environmental, Social Governance) programs, leading to a heightened focus on these areas. Now, mid-cap and smaller cap public companies face increased pressure to put ESG programs in place from shareholders and external institutions such as Institutional Shareholder Services (ISS) and Glass Lewis, both of which recently adopted more stringent voting guidelines regarding board diversity and disclosure."
The report continues, "Adding to this pressure is the recent Securities and Exchange Commission Regulation S-K amendment requiring disclosure regarding human capital in annual reports on Form 10-K, which highlights the progression toward increased regulatory disclosure obligations regarding ESG.
Based on recently announced increased expectations for board diversity, the report says, "starting in 2022, ISS will recommend an 'against' or 'withhold' vote for the chair of the nominating committee for boards with no racially or ethnically diverse directors at companies in the Russell 3000 and S&P 1500. Also starting in 2022, Glass Lewis will recommend a vote against the nominating committee chair for companies that have a board of more than six members with fewer than two female directors."

Human Resources Executive Magazine—SEC Human Capital Disclosures Create Opportunity for HR
While a recent IBM survey of CEOs ranks CHROs dead last as a source of strategic counsel, and the HR world still focuses more on the warm and fuzzies or compliance than on people as a business, this
recent article
in
HR Executive
by Ben Reuveni is among the first in the human resources media to support the opportunity for human resources. He writes:
•
"The SEC's disclosure rules are changing HR forever. Are you ready?"
•
"The past year has shown us all just how critical HR is to the performance of a business. And with new Securities and Exchange Commission data disclosure guidelines going into practice, the role of HR has finally risen to its rightful place—the boardroom."
•
"Now it's up to CHROs to meet this moment—to not just report on the HR metrics driving a business forward, but to make a meaningful impact on them."
Liberals and Conservatives Agree on Something: Stakeholder Capitalism
According to the
JUST Capital
annual survey, by huge margins "almost all Americans...agree on the vision of stakeholder capitalism – paying a living wage, cultivating an inclusive workplace, and protecting workplace health and safety." JUST Capital is an independent nonprofit organization that is equipping the market with the data, tools, and insights it needs to deliver on the promise of stakeholder capitalism.
Not surprisingly, disagreements begin when it comes to the environment. "Liberals are more concerned about environmental issues compared to conservatives, such as limiting pollution No. 9 for liberals and No.15 for conservatives) and reducing carbon emissions No. 10 for liberals and No. 19 for conservatives). Conservatives put a higher priority on generating profits (No. 12 for conservatives and No. 19 for liberals).
---
Master the Principles of Enterprise Engagement to Achieve Organizational Goals and Enhance Your Career
Profit from a new strategic and systematic approach to engagement to profit from the principles of Stakeholder Capitalism, enhance your organization's brand equity; increase sales, productivity, quality, innovation, and safety, and reduce risks.
Get trained to become a Chief Engagement Officer for your organization.
Learn how to create Sustainability or Integrated Reports for Your Organization or Clients.
Learning and Certification:
The Enterprise Engagement Alliance 2.0 education program, the only learning and certification platform for boards, executives, and managers seeking to understand the implementation principles of Stakeholder Capitalism, human capital management and measurement, and ROI of engagement. For more information, contact Bruce Bolger at Bolger@TheICEE.org or 914-591-7600, ext. 230.
Resources:
ESM at EnterpriseEngagement.org, an online trade publication founded in 2008 that features news, profiles, research, and more on the field of Enterprise Engagement, the implementation process for Stakeholder Engagement, and the EEXAdvisors.com buyer's guide and resource directory. This includes a comprehensive resource library on Stakeholder Capitalism, human capital management, measurement, and ROI of engagement.

RRN at RewardsRecognitionNetwork.com, an online trade publication founded in 1996 that features news, profiles, research and more on rewards, recognition, gifting and brand media, and the Brand Media Coalition, the only guide to the story-telling power of brands and where to source them for business, event, promotional gifting, and rewards and recognition. This features a comprehensive resource library on brand media, rewards, recognition, incentives, gifting and more.
The Enterprise Engagement Alliance Human Capital Management and ROI of Engagement Youtube channel featuring one-hour and 30-minute panel discussions with experts on multiple topics on Stakeholder Capitalism, Human Capital Management reporting and measurement, and engagement tactics.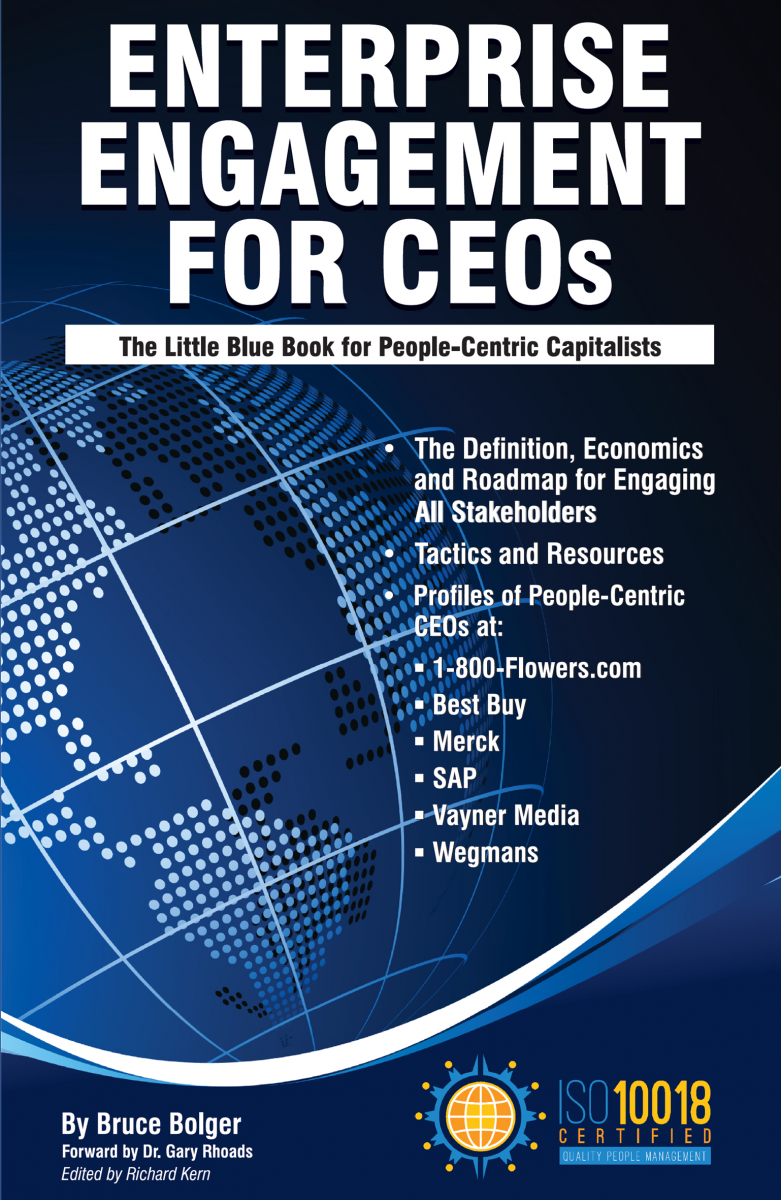 Enterprise Engagement: The Roadmap 5th Edition
The first and most comprehensive book on Enterprise Engagement and the new ISO 9001 and ISO 10018 quality people management standards. Includes 36 chapters detailing how to better integrate and align engagement efforts across the enterprise. (312 pages, $36.)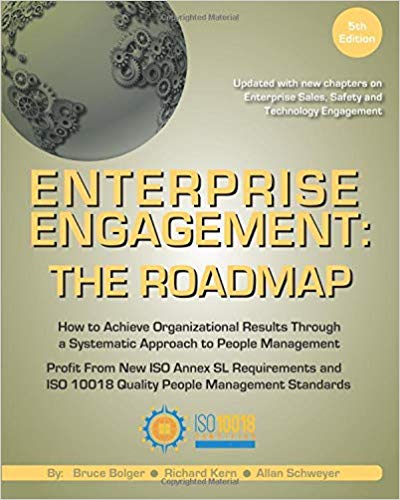 Services:
• The International Center for Enterprise Engagement at TheICEE.org, offering: ISO 10018 certification for employers, solution providers, and Enterprise Engagement technology platforms; Human Resources and Human Capital audits for organizations seeking to benchmark their practices and related Advisory services for the hospitality field.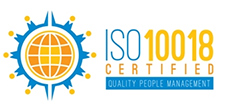 • The Engagement Agency at EngagementAgency.net, offering: complete support services for employers, solution providers, and technology firms seeking to profit from formal human capital management, reporting, and ROI of engagement practices for themselves or their clients, including Brand Alignment audits for brands and Capability audits for solution providers to make sure their products and services are up to date.
• C-Suite Advisory Services—Education of boards, investors, and C-suite executives on the economics, framework, and implementation processes of Enterprise Engagement.
• Speakers Bureau—Select the right speaker on any aspect of engagement for your next event.
• Mergers and Acquisitions. The Engagement Agency's Mergers and Acquisition group focuses on helping organizations focused on people sell to the right buyer and on assisting engagement solution providers seeking an exit or merger. Contact Michael Mazer in confidence if your company is potentially for sale at 303-320-3777.
Enterprise Engagement Benchmark Tools: The Enterprise Engagement Alliance offers three tools to help organizations profit from Engagement. Click here to access the tools.
• ROI of Engagement Calculator. Use this tool to determine the potential return-on-investment of an engagement strategy.
• EE Benchmark Indicator. Confidentially benchmark your organization's Enterprise Engagement practices against organizations and best practices.
• Compare Your Company's Level of Engagement. Quickly compare your organization's level of engagement to those of others based on the same criteria as the EEA's Engaged Company Stock Index.
• Gauge Your Personal Level of Engagement. This survey, donated by Horsepower, enables individuals to gauge their own personal levels of engagement.
For more information, contact Bruce Bolger at Bolger@TheICEE.org, 914-591-7600, ext. 230.