Tom Short, Kudos Co-Founder: KudosŪ Drives Shift in Enterprise Employee Recognition Space
One of the first companies to the market with an employee engagement platform in 2010, Kudos® sees a significant expansion of recognition beyond basic years-of-services, employees-of-the-month, and birthday programs to support key organizational goals. A Calgary, AB-based company with clients in the US and in over 80 countries, Kudos is a member of the Enterprise Engagement Alliance and has a storefront on
EEXAdvisors.com marketplace.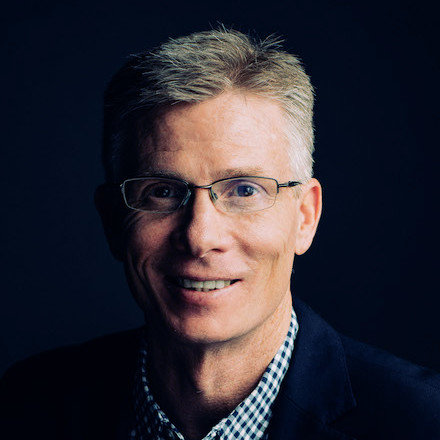 Tom Short
, Chief Customer Officer, sees a new world for the
Kudos
®
employee engagement application he and Kudos' CEO and co-founder Muni Boga created to enhance the traditional recognition experience through technology. In the past, many organizations were not concerned about generating a clear return-on-investment or delving into the extensive analytics available from their programs. Now, Short observes, many companies are eager for analytics that can help them make better decisions.
"Kudos has developed a program and system that goes beyond employee engagement to the point of providing unique and beneficial insights into how an organization is operating and how recognition plays a key role. Our goal is to demonstrate to the world how employee engagement is more than rewards and incentives, and through a laser focus on recognition we can drive critical behaviors that lead to positive business outcomes. We offer organizations invaluable data and insights that they can use to make better decisions and address the demands for human capital reporting and Corporate Sustainability Reports that are coming down the pike."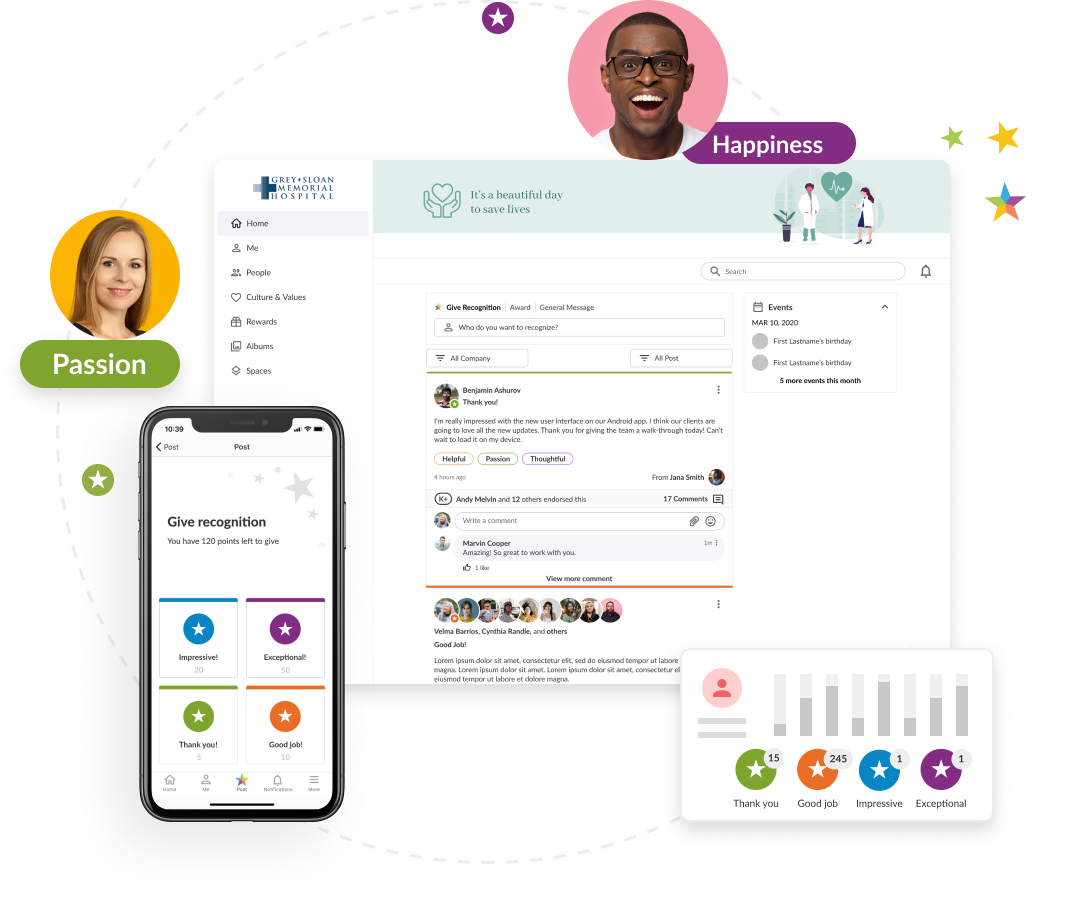 Short feels certain that even with the pandemic behind us, there will be a continued hybrid working environment that will require organizations to seek out new, efficient models for engaging people. "New tools to develop and maintain corporate culture and a connection with all employees in this new normal is in greater demand than ever. The genie is out of the bottle."
The technologies that will win, he said, will provide "a consumer-centric, seamless, easy to use, intuitive, platform available everywhere employees are located to connect, communicate and celebrate. It's about being ubiquitous." Short says that Kudos makes it easy to integrate with collaboration tools like Outlook, Teams, and Slack as well as HRMS systems like BambooHR, ADP Workforce Now, and many other platforms.
For employees, the platforms provide an ongoing connection that informs, shares success stories, and assesses engagement. For administrators, the result is a wealth of information that provides insights based on instant feedback on morale, engagement and focus on an individual, regional, or company-wide basis. It's a view that companies have never had before of their organization.
The data, he says, can be examined in the context of available employee demographic information such as roles, age groups and other key individual attributes. This enables organizations to run more equitable employee engagement initiatives that take into account their diverse and ever-changing workforces. "Employee engagement used to be measured mostly through surveys. Kudos gives you insights based on actual behaviors that organizations can turn into appropriate action steps. Surveys are still valuable but observing actual behavior paints a more accurate picture." He underlines: "Kudos can provide almost instant information on activities, behaviors, actions that can be correlated against survey information."
The potential for employee engagement technology and processes is enormous, Short believes, "because it's a paradigm shift that has only just begun." While many big companies adopted these platforms early on, he points out, "many did not use them beyond basic rewarding of employees, when the true opportunity is to drive behaviors in support of the organization's brand, purpose, and values. That is where the true power of employee engagement exists." And for the most part, SMB, mid-market and event many enterprise companies did not adopt the technologies at all. "Major growth in employee technology is happening to support not just on-the-spot recognition but the organization's entire employee engagement strategy, no matter what its size – and Kudos is leading the way."
Short says current customers are expanding their use of the Kudos technology and reporting capabilities. "The technology will become a competitive edge for employers because Millennials enjoy a smart device app that enables them to engage with their peers, get recognized or recognize someone for accomplishment, express gratitude, keep up with company news, and feel part of a community."
Contrary to the concerns of some companies, the social wall is effective, Short says, because it creates an opportunity to share positive feelings. Employees are publicly identified, and comments can easily be flagged by any visitor, "we have rarely seen a problem resulting from a social media wall post."
To achieve maximum benefits, technology success depends on having a properly designed program. "If the platform is just an afterthought, and not about driving key organizational goals and values, or isn't inclusive, organizations are missing out on the main benefits—not only increased engagement but the immediate feedback one gets on how people are collaborating. The technology makes it easy to weave engagement into every component of a business and make it visible and part of the culture."
He says Kudos "provides best practices and tried-and-true solution design to utilize Kudos in a way that creates strong employee culture, reduces turnover, improves productivity, and customer service through a more engaged workforce".
Custom campaigns can be rolled out to achieve specific engagement goals using clear Key Performance Indicators, he adds. "Our culture teams can share best practices and provide consultative services to enterprise clients and help benchmark their success."
The focus on digitalization in the workplace is reflected in Kudos' business. "We are growing. We are looking for excellent people who want to change the world one thank you at a time." This includes salespeople and developers.
Short says Kudos welcomes authorized referral partners all over the world and provides sales and other support materials to help tell their story. Kudos is also available in the ADP marketplace of solutions.
For More Information
Tom Short
Founder & Chief Customer Officer
587-955-9191
---
Master the Principles of Stakeholder Capitalism And Implementation Through Enterprise Engagement
Education, Certifications, and Information to Activate
Stakeholder Capitalism Available Nowhere Else
A complete learning, certification, and information program and a course syllabus for educators.
Training and Certification
Enterprise Engagement Alliance Education: Certified Engagement Practitioner; Advanced Engaged Practitioner, and Certified Engagement Solution Provider learning and certification programs on how to implement Stakeholder Capitalism principles at the tactical level.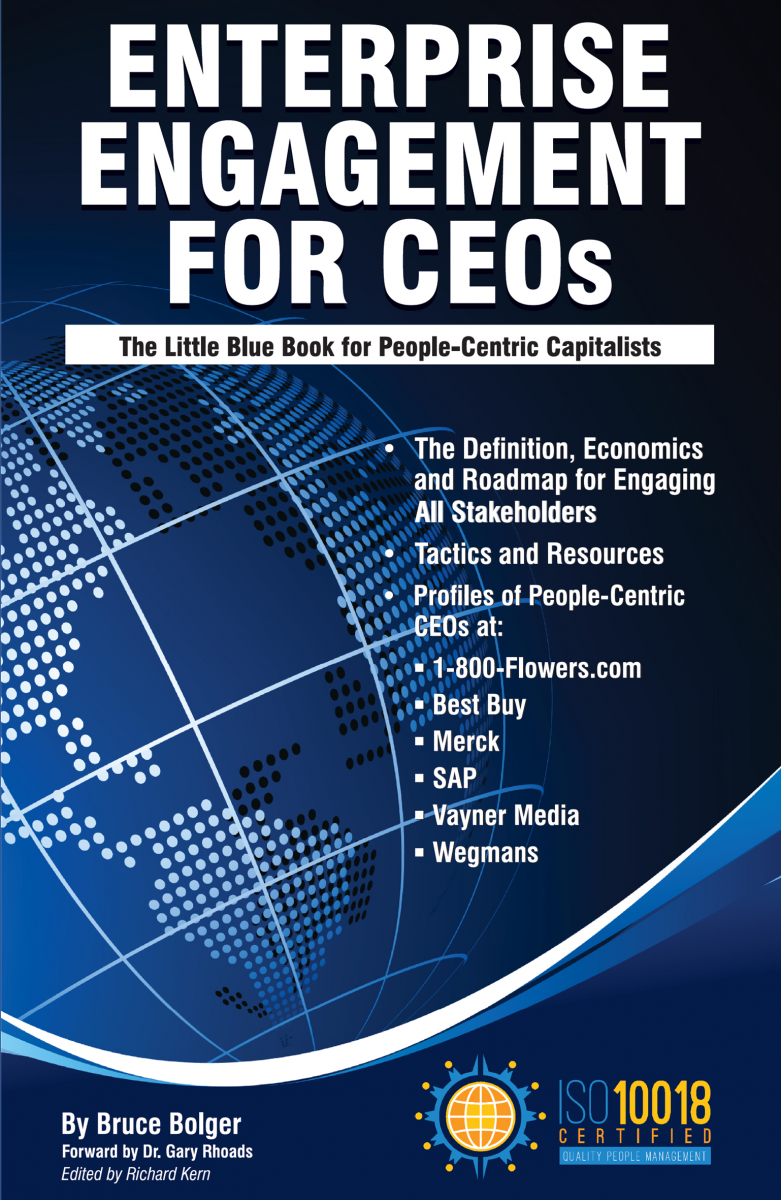 Join the EEA to begin your certification process or see our other resources below.
THE ONLY BOOKS ON STAKEHOLDER CAPITALISM IMPLEMENTATION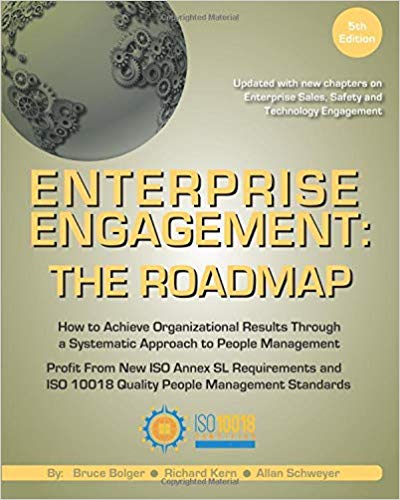 Enterprise Engagement: The Roadmap 5th Edition
The first and most comprehensive book on Enterprise Engagement and the new ISO 9001 and ISO 10018 quality people management standards. Includes 36 chapters detailing how to better integrate and align engagement efforts across the enterprise. (312 pages, $36.)
OTHER RESOURCES TO ACTUALIZE STAKEHOLDER CAPITALISM
Communities:
The
Enterprise Engagement Alliance and Advocate
and the
Brand Media Coalition
free resource centers offering access to the latest research, news, and case studies; discounts, promotions, referrals, and commissions, when appropriate to third-party solution providers from participating coalition solution provider members.
Enterprise Engagement
Resources:
EEXAdvisors.com provides the only curated online marketplace to access hundreds of solution providers in all areas of human capital management and enterprise engagement throughout the world.
Online Overview:
10-minute short course: click here for a 10-minute introduction to Enterprise Engagement and ISO standards from the Coggno.com learning platform.
Services:
• The Engagement Agency at EngagementAgency.net, offering: complete support services for employers, solution providers, and technology firms seeking to profit from formal engagement practices for themselves or their clients, including Brand and Capability audits for solution providers to make sure their products and services are up to date.
• C-Suite Advisory Service—Education of boards, investors, and C-suite executives on the economics, framework, and implementation processes of Enterprise Engagement.
• Speakers Bureau—Select the right speaker on any aspect of engagement for your next event.
• Mergers and Acquisitions. The Engagement Agency's Mergers and Acquisition group is aware of multiple companies seeking to purchase firms in the engagement field. Contact Michael Mazer in confidence if your company is potentially for sale at 303-320-3777.
Enterprise Engagement Benchmark Tools: The Enterprise Engagement Alliance offers three tools to help organizations profit from Engagement. Click here to access the tools.
• ROI of Engagement Calculator. Use this tool to determine the potential return-on-investment of an engagement strategy.
• EE Benchmark Indicator. Confidentially benchmark your organization's Enterprise Engagement practices against organizations and best practices.
• Compare Your Company's Level of Engagement. Quickly compare your organization's level of engagement to those of others based on the same criteria as the EEA's Engaged Company Stock Index.
• Gauge Your Personal Level of Engagement. This survey, donated by Horsepower, enables individuals to gauge their own personal levels of engagement.
For more information, contact Bruce Bolger at Bolger@TheEEA.org, 914-591-7600, ext. 230.