Connecting Corporate Social Responsibility to the Bottom Line
Corporate Social Responsibility is not just about charitable giving—it is becoming not only a competitive advantage but an organizational requirement.

Corporate Social Responsibility (CSR) and sustainability efforts have become a staple of business. In a 2019 report, the Governance and Accountability Institute research team determined that 86% of companies in the S&P 500 Index® published sustainability or corporate responsibility reports in 2018, compared to just under 20% in 2011. By not having a self-initiated CSR strategy, some industries risk increased regulation and efforts to force them into taking actions they would be better initiating themselves.

While being a good corporate citizen is socially desirable, businesses exist primarily to generate revenues and profits for their stakeholders. The good news is that the world has evolved so that being socially responsible and being profitable are no longer mutually exclusive but rather, intricately intertwined. Recently, the

World Economic Forum

published metrics to demonstrate corporate commitment to environmental and social issues. However, more work needs to be done to determine how this commitment pays off for the companies themselves in increased shareholder value.

Put simply, customers, employees, investors, and other stakeholders want to engage with companies with whom they share common values and respect. This principle has become an accepted fact with businesses of nearly every size and industry. But how much is this worth? How can you demonstrate the business value of these investments? Are there ways to get more business value out of these initiatives?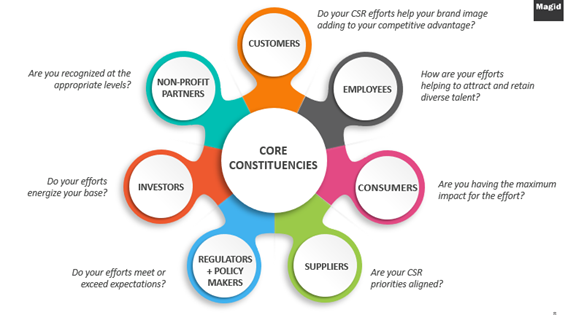 While the importance of CSR and sustainability efforts are accepted, these programs often do not realize their full potential for the following reasons:
CSR efforts are scattershot and not unified around a central strategy. While there are an endless range of causes in which to invest, companies can spread their money around in such a way that CSR activities seem reactive rather than strategic. In other words, the best at CSR focus on depth, not breadth.
CSR strategies are not synched with overall brand messaging. An effective CSR strategy should not require stakeholders to question how it is aligned with the mission, vision, and values of the company it represents. The CSR strategy should be a natural extension of the brand itself.
Communication strategies are not optimized, either in terms of messages or channels. While companies may be doing some very good things, often their stakeholder groups are not even aware because the company has not thoroughly researched the message or communication channel effectiveness. If this is the case, the business benefits of your CSR initiatives are going to be minimized.
Stakeholders have differing priorities. Customers, employees, and other stakeholders may not share the same degree of passion regarding various causes. What is important to internal stakeholders may not resonate the same with customers. This is particularly true in cases of corporate activism. Companies should research and understand both internal and external stakeholders' passion for various CSR activities and determine the greatest intersection with brand and company mission and values.
Recommendations for Optimizing Your CSR Program
How do you make sure your CSR is delivering the most value to your company and its stakeholders? The process can be described in six steps.

Step 1: Identify the stakeholders of interest.
The process of optimizing your CSR program is considerably complex, particularly given the number of key stakeholders who may be impacted by CSR actions. First, companies need to identify the stakeholders on whom they place the greatest importance in considering CSR activity. For instance, a company that seeks a source of ongoing talent could focus on educational programs in high schools or colleges serving low-income or minority communities.
Step 2: Identify priorities for each stakeholder group. Find where there is common ground and where there is divergence. In some cases, external stakeholders may not share the same value as internal stakeholders, which is why the discovery process is critical to avoid an insular view. Look for activities that help align the interests of stakeholders.
Step 3: Create and validate messaging. Next, create a strong messaging strategy and validate its effectiveness. Most critical to this process is defining the social challenge or opportunity and how the company's approach will be effective in addressing it. Make these activities and their outcomes part of the organization's central story, not an appendage.
Step 4: Identify the most effective channels. It is tempting to believe the channels that are most expedient and available are the best for communicating your CSR activities. However, you cannot assume that your multiple stakeholders consistently engage in these channels.
Step 5: Monetize the value of your CSR strategy. Since CSR activities involve significant investment, it is important to measure and maximize the return. How many customers have you retained or acquired due to CSR activity? How has your CSR attracted or retained employees? How have brand perceptions changed?
Step 6: Prioritize action.
The final step is to translate the information into specific strategic action. The result is a CSR program that will have maximum impact on your stakeholders, your shareholders, and society and, most importantly, will enable you to continuously reinvest in and grow your program.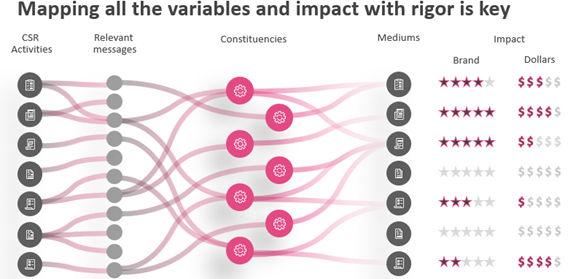 Corporate social responsibility initiatives are here to stay: more organizations will be under pressure to report on their activities. This is good for both business and society. But if a CSR program is not well-informed through insights among all relevant constituencies, you will, at best, be leaving money on the table, or worse, throwing money away.
Rick Garlick, Ph.D.
Vice President Strategy Consultant
Magid
224-500-6888
Garlick is also Chief Research Advisor for the Incentive Research Foundation.
---
Master the Principles of Stakeholder Capitalism And Implementation Through Enterprise Engagement
Education, Certifications, and Information to Activate
Stakeholder Capitalism Available Nowhere Else
A complete learning, certification, and information program and a course syllabus for educators.
Training and Certification
Enterprise Engagement Alliance Education: Certified Engagement Practitioner; Advanced Engaged Practitioner, and Certified Engagement Solution Provider learning and certification programs on how to implement Stakeholder Capitalism principles at the tactical level.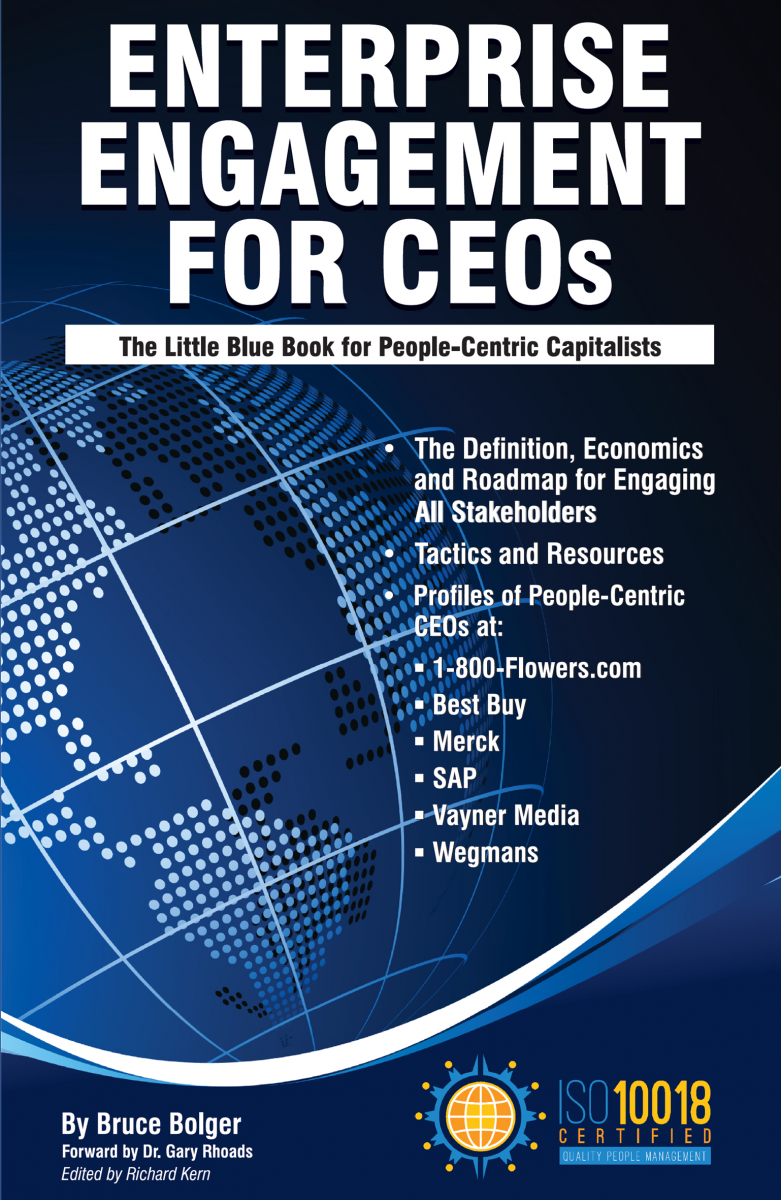 Join the EEA to begin your certification process or see our other resources below.
THE ONLY BOOKS ON STAKEHOLDER CAPITALISM IMPLEMENTATION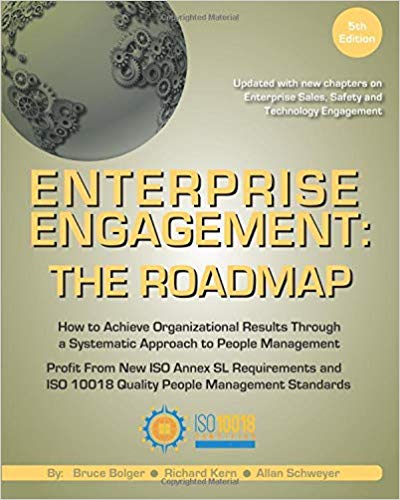 Enterprise Engagement: The Roadmap 5th Edition
The first and most comprehensive book on Enterprise Engagement and the new ISO 9001 and ISO 10018 quality people management standards. Includes 36 chapters detailing how to better integrate and align engagement efforts across the enterprise. (312 pages, $36.)
OTHER RESOURCES TO ACTUALIZE STAKEHOLDER CAPITALISM
Communities:
The
Enterprise Engagement Alliance and Advocate
and the
Brand Media Coalition
free resource centers offering access to the latest research, news, and case studies; discounts, promotions, referrals, and commissions, when appropriate to third-party solution providers from participating coalition solution provider members.
Enterprise Engagement
Resources:
EEXAdvisors.com provides the only curated online marketplace to access hundreds of solution providers in all areas of human capital management and enterprise engagement throughout the world.
Online Overview:
10-minute short course: click here for a 10-minute introduction to Enterprise Engagement and ISO standards from the Coggno.com learning platform.
Services:
• The Engagement Agency at EngagementAgency.net, offering: complete support services for employers, solution providers, and technology firms seeking to profit from formal engagement practices for themselves or their clients, including Brand and Capability audits for solution providers to make sure their products and services are up to date.
• C-Suite Advisory Service—Education of boards, investors, and C-suite executives on the economics, framework, and implementation processes of Enterprise Engagement.
• Speakers Bureau—Select the right speaker on any aspect of engagement for your next event.
• Mergers and Acquisitions. The Engagement Agency's Mergers and Acquisition group is aware of multiple companies seeking to purchase firms in the engagement field. Contact Michael Mazer in confidence if your company is potentially for sale at 303-320-3777.
Enterprise Engagement Benchmark Tools: The Enterprise Engagement Alliance offers three tools to help organizations profit from Engagement. Click here to access the tools.
• ROI of Engagement Calculator. Use this tool to determine the potential return-on-investment of an engagement strategy.
• EE Benchmark Indicator. Confidentially benchmark your organization's Enterprise Engagement practices against organizations and best practices.
• Compare Your Company's Level of Engagement. Quickly compare your organization's level of engagement to those of others based on the same criteria as the EEA's Engaged Company Stock Index.
• Gauge Your Personal Level of Engagement. This survey, donated by Horsepower, enables individuals to gauge their own personal levels of engagement.
For more information, contact Bruce Bolger at Bolger@TheEEA.org, 914-591-7600, ext. 230.