Q&A with EEA Head Bolger on The Engagement Agency
Offering so many services to support the growing field of Human Capital Management and the discipline of Enterprise Engagement, the Enterprise Engagement Alliance at TheEEA.org can seem confusing to some. Here's a Q&A with Bruce Bolger, Founder of the Enterprise Engagement Alliance, to explain the Engagement Agency and how it fits into the overall goal of the Enterprise Engagement Alliance: to promote a strategic and systematic approach to people management across the enterprise to fulfill the "S" of Environmental, Social, Governance management principles, increasingly known as Stakeholder Capitalism.
ESM: What's the role of the Engagement Agency?

Bolger:
While the Enterprise Engagement Alliance provides outreach through our media activities, and education through
our learning platform
s, the Engagement Agency focuses specifically on helping organizations implement formal internal and external Human Capital management and reporting strategies, supported by an Enterprise Engagement process, to achieve measurable results. The Engagement Agency advises organizations on strategic human capital management and reporting and Enterprise Engagement implementation processes to achieve goals more efficiently. It works with engagement solution providers on how they can better measure and align their solutions with other engagement tactics to provide organizations with greater return on investment.
We use a "gig" approach that enables organizations of any size to gain access to leading experts and solution providers without having to pay for a lot of full-time Engagement Agency "overhead." Clients only pay for the experts and solution providers' services they use.
ESM: What problems does the Engagement Agency solve?
Bolger: Companies spend half of their income or more each year not only on payroll but on a range of coaching, communications, learning, sales and non-sales incentives, awards, spiffs, surveys, innovation, coaching, DEI (Diversity, Equity, Inclusion) programs and many more, often with little alignment or return on investment. Given that so many of these tactics can have a meaningful ROI if used correctly and in concert with one another, we believe it's time to elevate the discipline applied to these investments to demonstrate a clear ROI and to achieve better results over time. Why not apply the same proactive and measurement rigor to people that we apply to manufacturing, research and development, or real estate or other acquisitions, etc."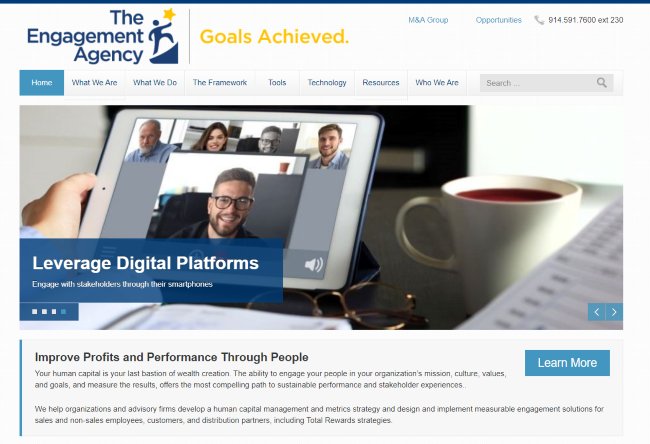 We help organizations of any size turn people from a cost center into a profit center, and by people we mean all stakeholders—customers, sales and non-sales employees, distribution and supply chain partners, and communities. We apply the same strategic and systematic approach used by ISO (International Organization for Standardization) to transform quality in manufacturing to help organizations achieve greater results by fostering the proactive involvement of all stakeholders. This includes: developing a strategic plan aligned with the culture, purpose, and goals, and helping to clarify the brand and culture if needed using a consensus-based process; establishing clear metrics linked to financial performance and organizational goals; assistance with the selection and/or training of third-party solution providers and technologies in all areas of engagement to ensure alignment with organizational goals and key metrics.
For solution providers, our focus is to help them benefit from the emerging world of Human Capital Management, Reporting, and Enterprise Engagement by educating their teams on the new principles of Human Capital management and Enterprise Engagement and by helping them update their stories and benefits and reach new clients and/or distribution partners seeking measurable solutions.
ESM: Aren't you competing with other types of advisory or solution providers that are part of the Enterprise Engagement Alliance family?
Bolger: Actually, it's the opposite. Our goal is to bring organizations and the right solution providers together, not to disintermediate anyone. Many CEOs and CFOs are driving with one eye on the road—overlooking metrics and practices that can have a direct impact on the bottom line. They are spending large somes on engagement strategies and tactics, often with little ROI measurement. Our goal is to do for Human Capital Management, Reporting, and Enterprise Engagement what the major advisory firms do for business operations, training, enterprise technology, culture, or other operational services. We help organizations and their solution providers benefit from a strategic, systematic, and measurable approach to people management and reporting and engagement across the enterprise to optimize sustainable performance and to address the "Social" issues related to ESG (Environmental, Social, and Governance) principles. We work closely with our solution provider partners to help equip them for the needs of organizations seeking to better align and measure their multiple engagement practices.
The leading management consulting firms have only begun to focus on human capital management and reporting from a strategic approach, and none that we know of offer a tactical solution around internal and external reporting and a measurable enterprise approach to engagement processes across the organization. We have experts in managed outsourcing specializing specifically on the engagement space. Leading management consulting firms may offer advisory services on human capital and many tactical elements related to training, coaching, assessment, innovation, culture, etc. but none of them that we know of focus on an enterprise approach across the organization supported by a team of experts in so many areas of engagement who understand the need for a strategic approach with alignment across the enterprise and clear measurement. And, even if they did, few could possibly have our years of experience at the bleeding edge of this sea-change in business practices.
As an organization that indisputably helped create this approach to business years before others, we encourage others to develop and promote Human Capital Management and Enterprise Engagement practices to support Stakeholder Capitalism or ESG objectives.
ESM: What types of expertise does the Engagement Agency provide and from whom?
Bolger:
A quick review of our growing board of
Senior Advisors
will clearly demonstrate that our model enables organizations to gain access to the right high-level expertise related to their direct area of pain. Our managed outsourcing approach identifies and vets precisely the appropriate experts and solutions based on an organization's needs, saving them considerable time and ensuring them that the solution providers they select align with their overall goals and understand the importance of alignment and metrics.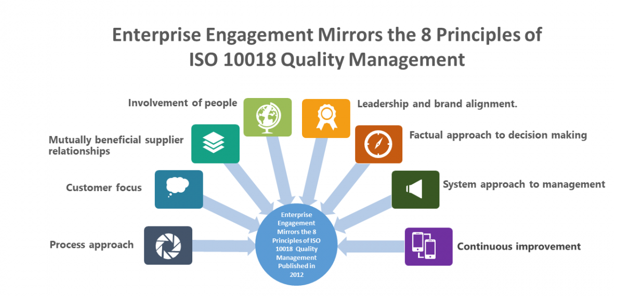 ESM: What are your key areas of expertise?
Bolger:
Founded in 2008, with our the first edition of our
curriculum
launched in 2009, the Enterprise Engagement Alliance is undeniably a premier organization dedicated to a strategic and systematic approach to aligning and measuring Human Capital Management and engagement strategies and tactics across the enterprise. In essence, we are applying the same strategic and systematic approach to people management across the enterprise to optimize sustainable performance that was used to improve quality management. It sounds easy, and it is not complicated, but most boards, CEOs, and other senior management have little understanding of a strategic and systematic approach to human capital management and measurement across the enterprise and how Enterprise Engagement practices can turn people into a profit center.
The Enterprise Engagement Alliance provides practical expertise and managed outsourcing services in the following areas:
•
Strategic Enterprise Engagement design
•
Human capital management and measurement, internal and external reporting, and ROI of Engagement
•
Business Operating Systems
•
Enterprise Engagement implementation
•
Brand and culture alignment
•
Diversity, Equity, Inclusion ROI
•
Assessment and feedback
•
Communications in every media
•
Learning and gamification
The etc. is important because we help clients find whatever solution makes sense for their needs.
ESM: What is your business model?
Bolger: We always start with the potential for return-on-investment. What is the organization trying to accomplish, with whom, and how? If it's a matter of human capital internal and external reporting or Enterprise Engagement practices, what are the benefits to the organization in terms of dollars or other measurable objectives? The Engagement Agency provides a complimentary 60-minute evaluation call with no obligation to help identify the ability to achieve desired goals or how.
After that, pre-agreed-upon fees based on a clear statement of work are charged for:
•
Developing a strategic or tactical Enterprise Engagement strategy to achieve organizational goals addressing the "Social" of ESG (Environmental, Social, Governance.)
•
Creating a strategy for Human Capital internal and external reporting.
•
Managed outsourcing, including clarification of specifications, requirements, infrastructure, technical, or cultural considerations; creating RFPs, setting up presentations, etc.—based on pre-agreed-upon fees.
•
Pay-for-performance improvement fees when appropriate, based on pre-agreed upon objectives and the programs and measures to support them.
•
Advisory, training and marketing services to engagement services and technology firms that seek to become part of the Engagement Agency community of solutions or otherwise expand their distribution.
The Engagement Agency will always recommend the right solution regardless of whether the company is a member of the Engagement Agency or Enterprise Engagement Alliance community. But we almost always start with experts and companies that we know understand the need for a strategic and systematic approach to engagement that includes clear alignment tooward achieving overall goals and an ROI.
For More Information
Bruce Bolger
Founder, Engagement Agency
914-591-7600, ext. 230
---
Master the Principles of Stakeholder Capitalism And Implementation Through Enterprise Engagement
Education, Certifications, and Information to Activate
Stakeholder Capitalism Available Nowhere Else
A complete learning, certification, and information program and a course syllabus for educators.
Training and Certification
Enterprise Engagement Alliance Education: Certified Engagement Practitioner; Advanced Engaged Practitioner, and Certified Engagement Solution Provider learning and certification programs on how to implement Stakeholder Capitalism principles at the tactical level.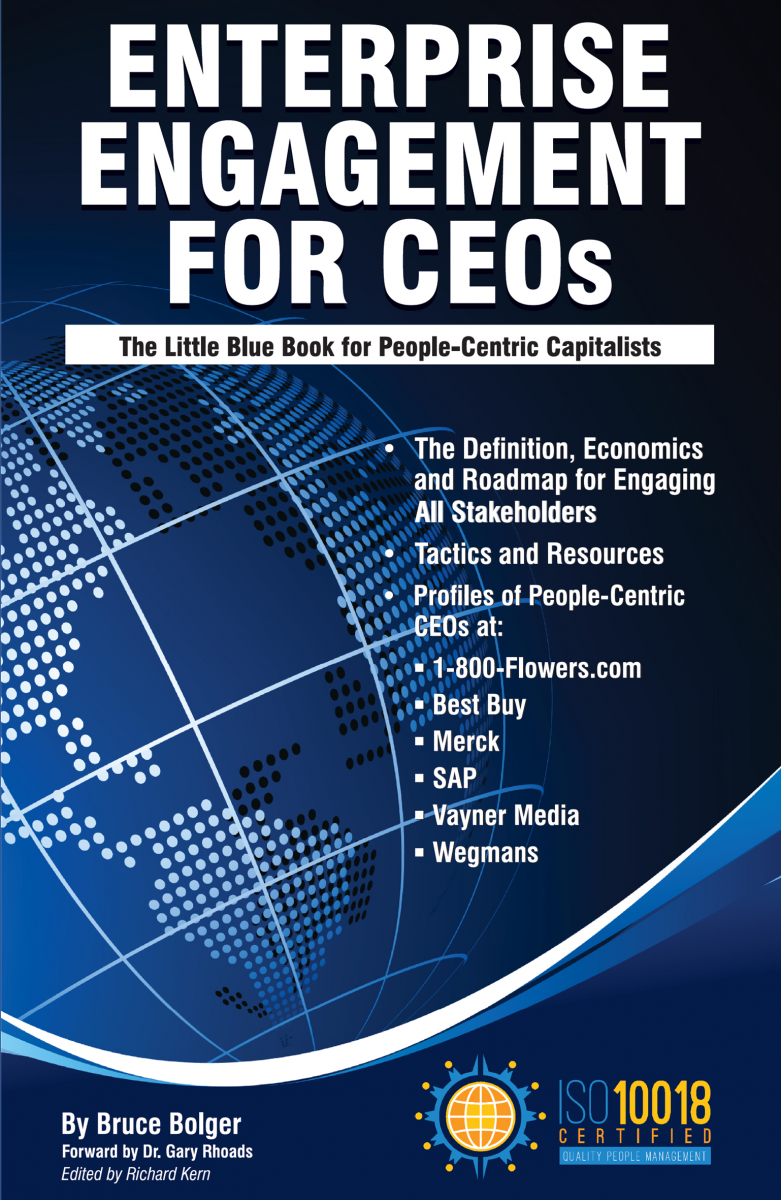 Join the EEA to begin your certification process or see our other resources below.
THE ONLY BOOKS ON STAKEHOLDER CAPITALISM IMPLEMENTATION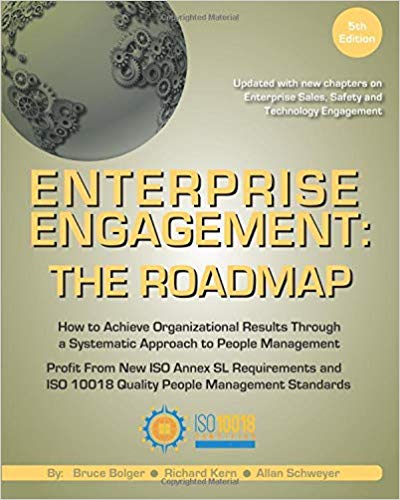 Enterprise Engagement: The Roadmap 5th Edition
The first and most comprehensive book on Enterprise Engagement and the new ISO 9001 and ISO 10018 quality people management standards. Includes 36 chapters detailing how to better integrate and align engagement efforts across the enterprise. (312 pages, $36.)
OTHER RESOURCES TO ACTUALIZE STAKEHOLDER CAPITALISM
Communities:
The
Enterprise Engagement Alliance and Advocate
and the
Brand Media Coalition
free resource centers offering access to the latest research, news, and case studies; discounts, promotions, referrals, and commissions, when appropriate to third-party solution providers from participating coalition solution provider members.
Enterprise Engagement
Resources:
EEXAdvisors.com provides the only curated online marketplace to access hundreds of solution providers in all areas of human capital management and enterprise engagement throughout the world.
Online Overview:
10-minute short course: click here for a 10-minute introduction to Enterprise Engagement and ISO standards from the Coggno.com learning platform.
Services:
• The Engagement Agency at EngagementAgency.net, offering: complete support services for employers, solution providers, and technology firms seeking to profit from formal engagement practices for themselves or their clients, including Brand and Capability audits for solution providers to make sure their products and services are up to date.
• C-Suite Advisory Service—Education of boards, investors, and C-suite executives on the economics, framework, and implementation processes of Enterprise Engagement.
• Speakers Bureau—Select the right speaker on any aspect of engagement for your next event.
• Mergers and Acquisitions. The Engagement Agency's Mergers and Acquisition group is aware of multiple companies seeking to purchase firms in the engagement field. Contact Michael Mazer in confidence if your company is potentially for sale at 303-320-3777.
Enterprise Engagement Benchmark Tools: The Enterprise Engagement Alliance offers three tools to help organizations profit from Engagement. Click here to access the tools.
• ROI of Engagement Calculator. Use this tool to determine the potential return-on-investment of an engagement strategy.
• EE Benchmark Indicator. Confidentially benchmark your organization's Enterprise Engagement practices against organizations and best practices.
• Compare Your Company's Level of Engagement. Quickly compare your organization's level of engagement to those of others based on the same criteria as the EEA's Engaged Company Stock Index.
• Gauge Your Personal Level of Engagement. This survey, donated by Horsepower, enables individuals to gauge their own personal levels of engagement.
For more information, contact Bruce Bolger at Bolger@TheEEA.org, 914-591-7600, ext. 230.