Investors Lead the Push for Stakeholder Capitalism
One would think that consumers would be the driving force for Stakeholder Capitalism. Ironically, it's investors who are at the cutting edge. While not one in 1,000 Americans has ever heard of a movement that could make their work lives and consumer experiences so much better, investors increasingly see the connection between human capital management and financial performance.
This year's annual conference of the Securities Industry Development Corporation in Malaysia is themed "Paving the Way for Profitability Through Sustainability." The program adds an emphasis people aspect of ESG (Environmental, Social Governance), featuring a presentation on Stakeholder Capitalism by
Bruce Bolger
, Founder and CEO of the Enterprise Engagement Alliance at
TheEEA.org
and
Uantchern Loh
, Chief Storyteller for stakeholder engagement company
Black Sun Asia Pacific
.
Set for June 16-17 in Malaysia, the virtual event is open to all interested parties.
Click here
for more information and to register.

For over a decade, the sustainability movement has focused on the environment: this conference recognizes the importance of the "S" or social elements of ESG management.
Attracting over 400 executives from all aspects of the Malaysian business community, this event recognizes that Stakeholder Capitalism, which creates returns for investors by creating value for employees, customers, distribution partners, communities, and the environment, is a worldwide movement being driven not by customers or labor unions—but by investors.
The program on Stakeholder Capitalism will provide:
•
A clear understanding of the definition—This is about Stakeholder Capitalism that grows the pie for the benefit of all—not Democratic Socialism, which takes from one stakeholder to give to another.
•
A quick history and overview of the well-known influencers backing this movement.
•
Ways for investors, talent and employees can cut through the public relations to identify an organization's material human capital practices (including all stakeholders).
•
Information on the human capital metrics linked to financial performance and risk.
•
Ideas on what organizations need to do to implement Stakeholder Capitalism at the front lines.
•
Information on the connection between Diversity, Equity, Inclusion, and Human Capital Management.
•
What organizations can do to connect the dots between the "E" and the "S" of ESG using the same strategic and systematic approach used to transform quality in manufacturing late in the last century.
•
An overview of the potential role of government in Stakeholder Capitalism.
---
Master the Principles of Stakeholder Capitalism And Implementation Through Enterprise Engagement
Education, Certifications, and Information to Activate
Stakeholder Capitalism Available Nowhere Else
A complete learning, certification, and information program and a course syllabus for educators.
Training and Certification
Enterprise Engagement Alliance Education: Certified Engagement Practitioner; Advanced Engaged Practitioner, and Certified Engagement Solution Provider learning and certification programs on how to implement Stakeholder Capitalism principles at the tactical level.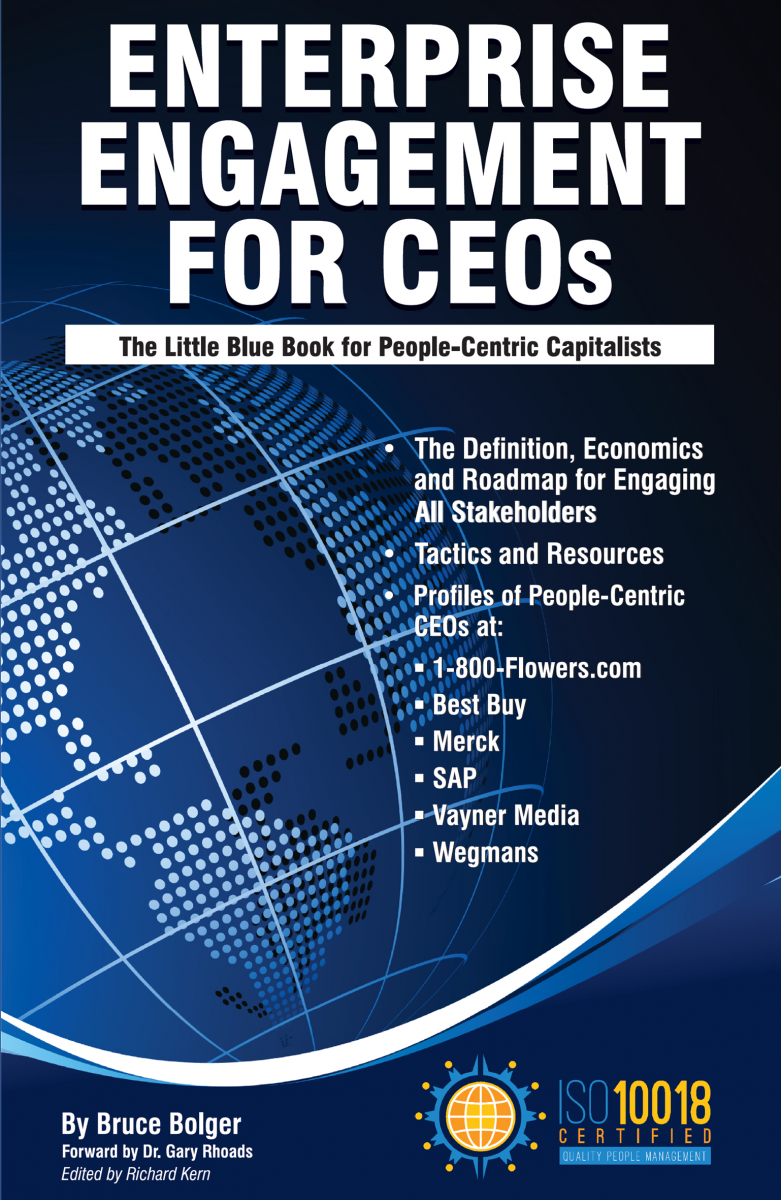 Join the EEA to begin your certification process or see our other resources below.
THE ONLY BOOKS ON STAKEHOLDER CAPITALISM IMPLEMENTATION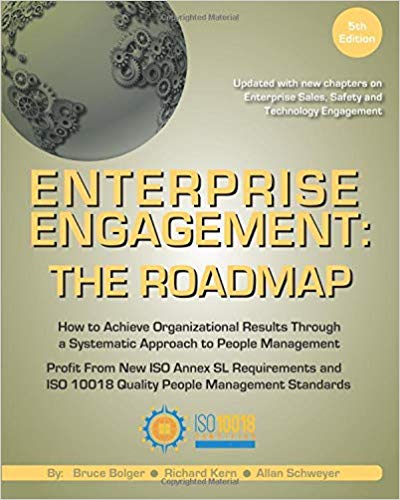 Enterprise Engagement: The Roadmap 5th Edition
The first and most comprehensive book on Enterprise Engagement and the new ISO 9001 and ISO 10018 quality people management standards. Includes 36 chapters detailing how to better integrate and align engagement efforts across the enterprise. (312 pages, $36.)
OTHER RESOURCES TO ACTUALIZE STAKEHOLDER CAPITALISM
Communities:
The
Enterprise Engagement Alliance and Advocate
and the
Brand Media Coalition
free resource centers offering access to the latest research, news, and case studies; discounts, promotions, referrals, and commissions, when appropriate to third-party solution providers from participating coalition solution provider members.
Enterprise Engagement
Resources:
EEXAdvisors.com provides the only curated online marketplace to access hundreds of solution providers in all areas of human capital management and enterprise engagement throughout the world.
Online Overview:
10-minute short course: click here for a 10-minute introduction to Enterprise Engagement and ISO standards from the Coggno.com learning platform.
Services:
• The Engagement Agency at EngagementAgency.net, offering: complete support services for employers, solution providers, and technology firms seeking to profit from formal engagement practices for themselves or their clients, including Brand and Capability audits for solution providers to make sure their products and services are up to date.
• C-Suite Advisory Service—Education of boards, investors, and C-suite executives on the economics, framework, and implementation processes of Enterprise Engagement.
• Speakers Bureau—Select the right speaker on any aspect of engagement for your next event.
• Mergers and Acquisitions. The Engagement Agency's Mergers and Acquisition group is aware of multiple companies seeking to purchase firms in the engagement field. Contact Michael Mazer in confidence if your company is potentially for sale at 303-320-3777.
Enterprise Engagement Benchmark Tools: The Enterprise Engagement Alliance offers three tools to help organizations profit from Engagement. Click here to access the tools.
• ROI of Engagement Calculator. Use this tool to determine the potential return-on-investment of an engagement strategy.
• EE Benchmark Indicator. Confidentially benchmark your organization's Enterprise Engagement practices against organizations and best practices.
• Compare Your Company's Level of Engagement. Quickly compare your organization's level of engagement to those of others based on the same criteria as the EEA's Engaged Company Stock Index.
• Gauge Your Personal Level of Engagement. This survey, donated by Horsepower, enables individuals to gauge their own personal levels of engagement.
For more information, contact Bruce Bolger at Bolger@TheEEA.org, 914-591-7600, ext. 230.