US House Passes Bill on Workforce Disclosures; SEC Launches 10-K Update, PwC Announces Major Investment in ESG
It is all but inevitable now that US public companies will have to disclose specific information on their employees, workforce engagement, turnover, DEI (Diversity, Equity, Inclusion), and safety and wellness. The accounting and management consulting powerhouse PwC has committed to hiring up to 100,000 people to help organizations around the world develop and implement Environmental, Social, and Governance (ESG) management strategies around the world.
The Workforce Investment Disclosure Act first reported in ESM last year has passed the House of Representatives. It would update disclosure requirements for public companies "that are currently inadequate to give investors a full picture of how modern businesses are investing in the safety and skills of their workforce. The bill would require public companies to report on 21 basic human capital metrics, including workforce turnover rates, skills and development training, workforce engagement, pay and benefits, and workforce health and safety."
Passage in the US Senate is unlikely but that same week the Securities and Exchange Committee began the process of creating updated 10-K human capital disclosure requirements that likely will include many of the same disclosures in the House bill. Gary Gensler, current SEC chair, is a passionate advocate for human capital management disclosures. Congressional approval is not required for SEC regulations.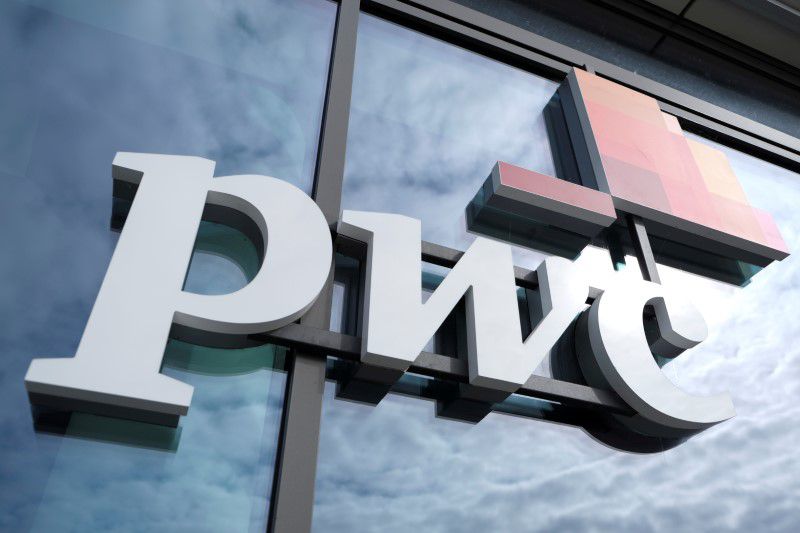 PwC, one of the world's largest accounting and management consulting firms, obviously sees the opportunity, and it won't be alone.
The company announced
that it's investing $5 billion and hiring up to 100,000 people in the next five years to help organizations address the E, S, and G of Stakeholder Capitalism.
There are over 200,000 companies in the US with sales of over $10 million, large enough to warrant a strategic and systematic approach to people management, or the "S" of ESG.
Reps. Dean Phillips (-MN) and Chrissy Houlahan (D-PA) recently "joined non-profit and business leaders to discuss the path toward a more equitable, sustainable and prosperous economy and to launch a new Congressional Stakeholder Capitalism Caucus dedicated to that cause. As our nation recovers from the historic COVID-19 crisis, the Stakeholder Capitalism Caucus will convene Members of Congress and sector leaders who are reimagining the role of American corporations to foster inclusion, generate longer-lasting growth, and benefit stakeholders more widely and equitably."
Click here
for more information.
---
Master the Principles of Stakeholder Capitalism And Implementation Through Enterprise Engagement
Education, Certifications, and Information to Activate
Stakeholder Capitalism Available Nowhere Else
A complete learning, certification, and information program and a course syllabus for educators.
Training and Certification
Enterprise Engagement Alliance Education: Certified Engagement Practitioner; Advanced Engaged Practitioner, and Certified Engagement Solution Provider learning and certification programs on how to implement Stakeholder Capitalism principles at the tactical level.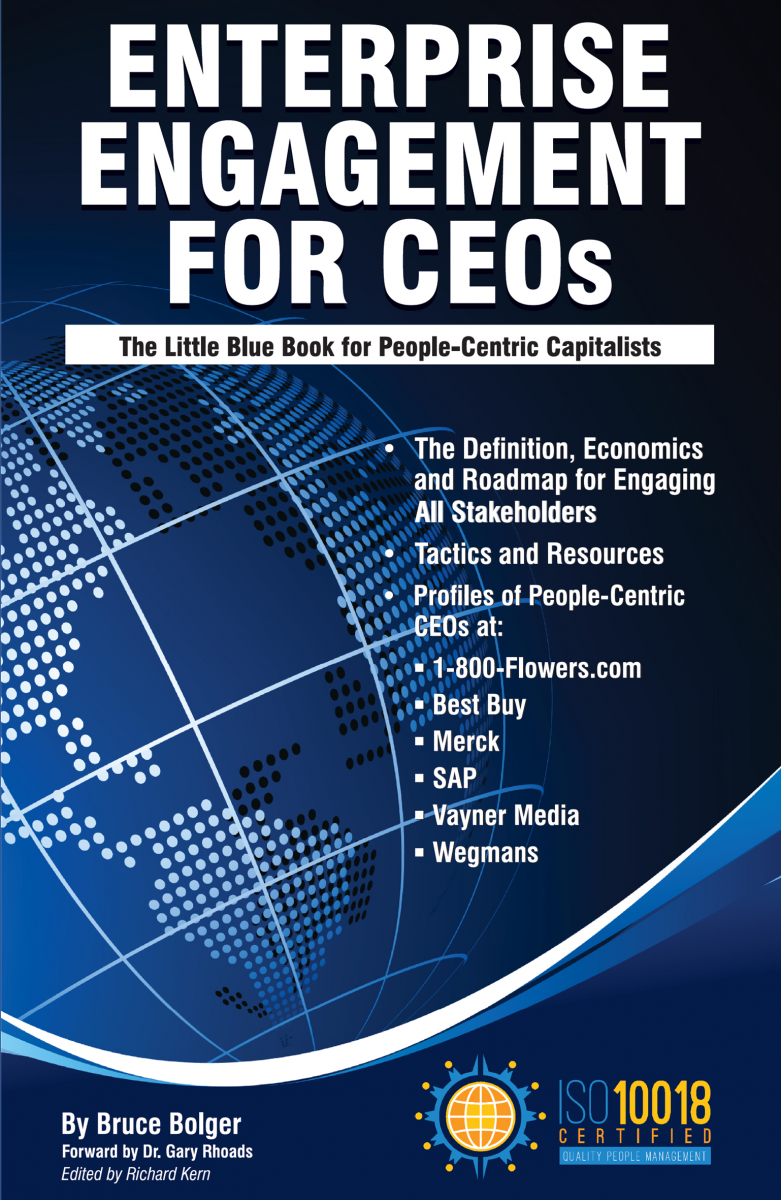 Join the EEA to begin your certification process or see our other resources below.
THE ONLY BOOKS ON STAKEHOLDER CAPITALISM IMPLEMENTATION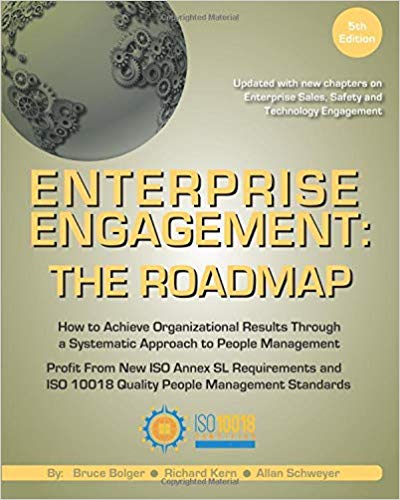 Enterprise Engagement: The Roadmap 5th Edition
The first and most comprehensive book on Enterprise Engagement and the new ISO 9001 and ISO 10018 quality people management standards. Includes 36 chapters detailing how to better integrate and align engagement efforts across the enterprise. (312 pages, $36.)
OTHER RESOURCES TO ACTUALIZE STAKEHOLDER CAPITALISM
Communities:
The
Enterprise Engagement Alliance and Advocate
and the
Brand Media Coalition
free resource centers offering access to the latest research, news, and case studies; discounts, promotions, referrals, and commissions, when appropriate to third-party solution providers from participating coalition solution provider members.
Enterprise Engagement
Resources:
EEXAdvisors.com provides the only curated online marketplace to access hundreds of solution providers in all areas of human capital management and enterprise engagement throughout the world.
Online Overview:
10-minute short course: click here for a 10-minute introduction to Enterprise Engagement and ISO standards from the Coggno.com learning platform.
Services:
• The Engagement Agency at EngagementAgency.net, offering: complete support services for employers, solution providers, and technology firms seeking to profit from formal engagement practices for themselves or their clients, including Brand and Capability audits for solution providers to make sure their products and services are up to date.
• C-Suite Advisory Service—Education of boards, investors, and C-suite executives on the economics, framework, and implementation processes of Enterprise Engagement.
• Speakers Bureau—Select the right speaker on any aspect of engagement for your next event.
• Mergers and Acquisitions. The Engagement Agency's Mergers and Acquisition group is aware of multiple companies seeking to purchase firms in the engagement field. Contact Michael Mazer in confidence if your company is potentially for sale at 303-320-3777.
Enterprise Engagement Benchmark Tools: The Enterprise Engagement Alliance offers three tools to help organizations profit from Engagement. Click here to access the tools.
• ROI of Engagement Calculator. Use this tool to determine the potential return-on-investment of an engagement strategy.
• EE Benchmark Indicator. Confidentially benchmark your organization's Enterprise Engagement practices against organizations and best practices.
• Compare Your Company's Level of Engagement. Quickly compare your organization's level of engagement to those of others based on the same criteria as the EEA's Engaged Company Stock Index.
• Gauge Your Personal Level of Engagement. This survey, donated by Horsepower, enables individuals to gauge their own personal levels of engagement.
For more information, contact Bruce Bolger at Bolger@TheEEA.org, 914-591-7600, ext. 230.