EEA Consolidates Education on the "S" ESG Management, Aka Stakeholder Capitalism
The Enterprise Engagement Alliance at TheEEA.org has consolidated all its educational and information resources on the "S" of Environmental, Social, and Governance (ESG) into a single 24/7, 365-day-a-year information center with news, resources, and training available via the Web, social media, e-newsletters, Youtube expert panels, face-to-face learning, and books.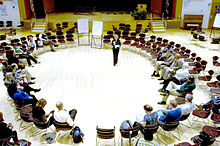 The Enterprise Engagement Alliance has consolidated all of its free and paid information and learning opportunities on a single 365-day-a-year, 24/7 learning platform in every conceivable format: digital, social media, e-newsletters, YouTube vidoes, a digital marketplace, a face-to-face event in April 2002 and the only two books that focus on Enterprise Engagement, the implementation process for the "S" of Environmental, Social, Governance (ESG) management, increasingly known as Stakeholder Capitalism.
•
Sign up for free
as an EEXAdvisor, student, or academic at
EEXAdvisors.com
to become part of a 365-day-a-year multi-media conference, learning, and peer-to-peer information exchange to access the training and information you need the way you want it.
•
Join the Enterprise Engagement Alliance
as an individual ($250 annually) and corporate member ($695 annually) to access the learning and certification program and benefit from professional development and marketing support.
The Enterprise Engagement education program addresses what Bob Liodice, CEO of the Association of National Advertisers who wrote recently that Stakeholder Capitalism, says "will also require changes in education. University presidents must reframe the way they teach marketing's role in business. They must work together with corporations to prepare students for rewarding careers that take a more holistic view of marketing as a tool to influence not just brand perception, but business operations."
The Enterprise Engagement Alliance in 2009 created the first formal framework and implementation process for achieving organizational goals by fostering the proactive involvement of customers, employees, distribution and supply chain partners, and communities—a concept today known as the "S" of Environmental, Social, Governance (ESG) management, or Stakeholder Capitalism. (The Enterprise Engagement Alliance has launched the Stakeholder Capitalism Society for students interested in ESG management.
The pandemic has changed how we learn and network. The Enterprise Engagement Alliance provides a 365-day-a-year, multi-media learning platform for anyone in general management, finance, sales, marketing, human resources, operations for any type of organization seeking to understand and apply the concepts of human capital management and enterprise engagement in their departments or organizations.
The EEA Learning and Information Menu
Social media (free). Keep up with the news and share information and questions via the EEA's LinkedIn community.
E-newsletters (free). Sign up for free as an EEXAdvisor at EEXAdvisor.com for bi-monthly e-newsletters with the latest information on all aspects of engagement.
YouTube video expert discussions (free). Access a growing library of informative panel discussions on all areas of engagement with industry experts on the EEA Youtube channel.
Online learning (paid). Join the EEA to begin your journey to become a master of the "S" of ESG. Individual and company memberships include training and certification options.
Digital marketplace (free). Find profiles of solution providers and/or resources on the Enterprise Engagement online marketplace at EEXAdvisors.com. Meet solution providers in five minute streaming videos that recreate a trade show Q&A.
Face to Face: A Live Peer-to-Peer Event in April 2022 (paid). Sign up at EEXAdvisors.com to receive notifications and to get at 10% discount (20% for members) on the Enterprise Engagement Alliance's April 2022 conference in New Orleans (see below): Implementing the S of ESG—Stakeholder Capitalism in Action. The innovative peer-to-peer format is for those seeking to master the professional skills involved with the analysis or implementation of human capital management, reporting, and ROI of engagement practices in a collaborative setting.
Books (paid—free to EEA members): Enterprise Engagement for CEOs provides a short guide for boards, senior management, and investors, and Enterprise Engagement: The Roadmap provides a practical implementation guide for management at all levels.
Preview of the April 2022 Stakeholder Capitalism in Action Event
Implementing the "S" of ESG: Stakeholder Capitalism in Action
Location: New Orleans, April 2022 dates and fees to be finalized soon.
Format: 2 days of practical sessions based on a highly interactive format facilitated by subject matter experts with opportunities to meet solution providers in round-table meetups.
Registration: Sign up now
for the free EEXAdvisors program or join to become an EEA member. You'll be notified when registration for the New Orleans event is live and you will automatically qualify for a 10% for free EEA members or 20% discount for paid EEA members.
An Innovative Peer-to-Peer Learning and Sharing Format
The format for this conference turns the traditional face-to-face program right-side up, putting the emphasis on opportunities for people to collaborate and get to know one another through a highly participative, peer-to-peer approach impossible to achieve on video meetings.
Introducing a completely interactive two-day program to help management understand how to implement a strategic human capital management plan, how to determine the metrics, who's in charge, how to break down siloes, create and analyze reporting strategies, etc., in a peer-to-peer format.
•
This format enables attendees to spend most of their time meeting and collaborating with peers in roundtables facilitated by experts in each topic area.
•
Keynotes and panels will be limited to key topics needed to keep the program in context and to share the latest trends in the use of key engagement tactics and measures.
•
Get your questions answered from experts or peers and share your perspectives with those whom you can help.
•
Experience one of the most intriguing and experiential cities in the US.
Who Can Benefit
Anyone interested in understanding the formal implementation, measurement, and analysis of human capital management, reporting, and ROI of engagement, including CEOs and management in:
•
Human resources and analytics
•
Not-for-profits and government
Key Topics Addressed in Keynotes, Panels, and Peer Circles
•
What is the "S" of ESG and Stakeholder Capitalism
•
Business operating systems and brand alignment
•
The economics of human capital management across the enterprise
•
The implementation framework and measurement process
•
Human capital internal and external reporting
•
Making sense of human capital standards
•
Consumer engagement essentials
•
Supply chain engagement
•
Communications principles
•
Enterprise Engagement technology
A Sharing Format
•
Instead of a reliance on lectures, the programs consist of round tables in which people participate in facilitated discussions together on the practical implementation of a strategic approach to people in a way that aligns key tactics with measurable results.
•
Speakers, panelists, and facilitators are topic experts who share information, answer questions, and facilitate a discussion enabling people to understand how the topic connects with an overall engagement strategy in a measurable way.
Advisory Board
Meet with Solution Providers
Each day, two hours will be set aside for meetings in roundtables with engagement solution providers with refreshments.
Enterprise Engagement Alliance Education Sponsors
The following companies have committed to advancing best practices in the management of people across the enterprise and are part of the managed outsourcing community of the
EEA's Engagement Agency
advisory service.
Founding Sponsor
EGR International
Trailblazing Sponsors
Resource Partners
Augeo
BCAT Partners
CarltonOne
Corporate Values
CourageousBC
Kudos
Lorandus Meetings and Communications
Luxe Incentives
ProsperBridge
Takpoints.com
Transcend Engagement
Travel and Transport Loyalty
---
Master the Principles of Stakeholder Capitalism And Implementation Through Enterprise Engagement
Education, Certifications, and Information to Activate
Stakeholder Capitalism Available Nowhere Else
A complete learning, certification, and information program and a course syllabus for educators.
Training and Certification
Enterprise Engagement Alliance Education: Certified Engagement Practitioner; Advanced Engaged Practitioner, and Certified Engagement Solution Provider learning and certification programs on how to implement Stakeholder Capitalism principles at the tactical level.
Join the EEA to begin your certification process or see our other resources below.
THE ONLY BOOKS ON STAKEHOLDER CAPITALISM IMPLEMENTATION
Enterprise Engagement: The Roadmap 5th Edition
The first and most comprehensive book on Enterprise Engagement and the new ISO 9001 and ISO 10018 quality people management standards. Includes 36 chapters detailing how to better integrate and align engagement efforts across the enterprise. (312 pages, $36.)
OTHER RESOURCES TO ACTUALIZE STAKEHOLDER CAPITALISM
Communities:
The
Enterprise Engagement Alliance and Advocate
and the
Brand Media Coalition
free resource centers offering access to the latest research, news, and case studies; discounts, promotions, referrals, and commissions, when appropriate to third-party solution providers from participating coalition solution provider members.
Enterprise Engagement
Resources:
EEXAdvisors.com provides the only curated online marketplace to access hundreds of solution providers in all areas of human capital management and enterprise engagement throughout the world.
Online Overview:
10-minute short course: click here for a 10-minute introduction to Enterprise Engagement and ISO standards from the Coggno.com learning platform.
Services:
• The Engagement Agency at EngagementAgency.net, offering: complete support services for employers, solution providers, and technology firms seeking to profit from formal engagement practices for themselves or their clients, including Brand and Capability audits for solution providers to make sure their products and services are up to date.
• C-Suite Advisory Service—Education of boards, investors, and C-suite executives on the economics, framework, and implementation processes of Enterprise Engagement.
• Speakers Bureau—Select the right speaker on any aspect of engagement for your next event.
• Mergers and Acquisitions. The Engagement Agency's Mergers and Acquisition group is aware of multiple companies seeking to purchase firms in the engagement field. Contact Michael Mazer in confidence if your company is potentially for sale at 303-320-3777.
Enterprise Engagement Benchmark Tools: The Enterprise Engagement Alliance offers three tools to help organizations profit from Engagement. Click here to access the tools.
• ROI of Engagement Calculator. Use this tool to determine the potential return-on-investment of an engagement strategy.
• EE Benchmark Indicator. Confidentially benchmark your organization's Enterprise Engagement practices against organizations and best practices.
• Compare Your Company's Level of Engagement. Quickly compare your organization's level of engagement to those of others based on the same criteria as the EEA's Engaged Company Stock Index.
• Gauge Your Personal Level of Engagement. This survey, donated by Horsepower, enables individuals to gauge their own personal levels of engagement.
For more information, contact Bruce Bolger at Bolger@TheEEA.org, 914-591-7600, ext. 230.