Northeastern U. Study: Human Capital Management Has Arrived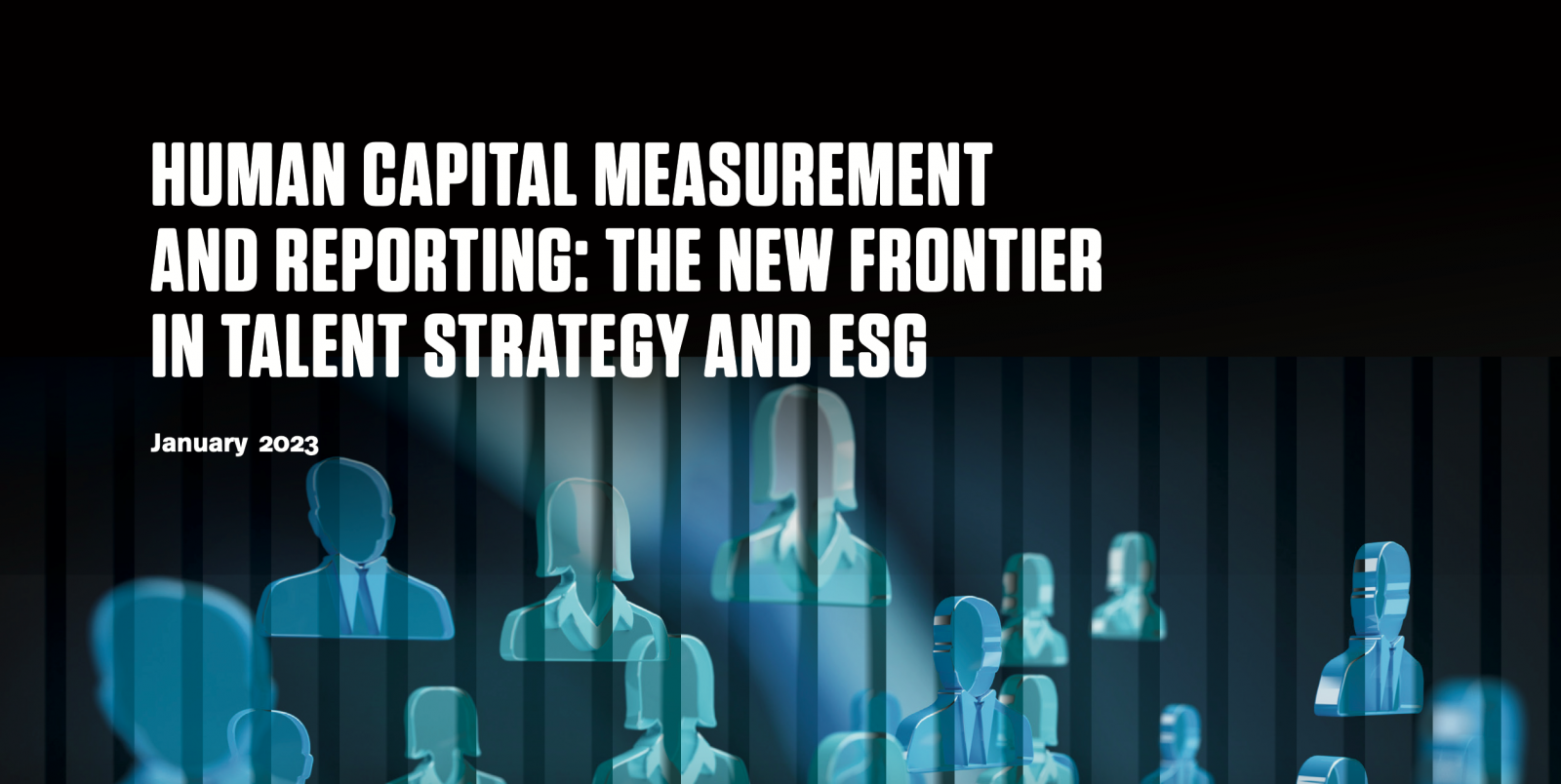 A study by the Center for the Future of Higher Education and Talent Strategy (CFHETS) at Northeastern University finds that the time has come for education, business, and organizations of all types to seriously address human capital, or the "S" of Environmental, Social, Governance (ESG), increasingly associated with the Stakeholder Capitalism movement. The Enterprise Engagement Alliance's founder Bruce Bolger was among about 30 professionals asked to contribute insights to the study.

There is a strong case for business leaders and policy makers to give the topic of human capital management more attention. That's a key finding of the study, "Human Capital Measurement and Reporting, The New Frontier in Talent Strategy and ESG," by Sean R. Gallagher, Curtis Odom, Emilee Trieckel, Monica Borgida, of Boston-based Northeastern University's Center for the Future of Higher Education and Talent Strategy (CFHETS).

Explains Gallagher, "The report is not about ESG per se, but the "S" in ESG is an important driver for businesses addressing human capital, and the human resources function is often not at the table. The chief financial officers, investor relations, boards, etc. need to engage more on the human capital topic to prepare." Gallagher is Executive Professor of Education Policy at the center.

He says that "as more and higher quality data (reporting/metrics) is sought or mandated, companies will need to make investments now to be prepared to respond. Defining and arriving at agreed upon/standard measures of 'talent mobility' could be especially compelling for companies' human capital narrative and investor and societal interests."

The report "analyzes the current state of human capital measurement and reporting and builds the case for greater attention to this subject. Additionally, it focuses on identifying gaps and opportunities for action among employers and other stakeholders in the field, with a focus on how new ESG investing dynamics are converging with human resources capabilities."

The report is based on "synthesizing research from a range of relevant domains, and original interviews with more than 30 national and global experts (including its own faculty.) It begins with a summary of forces driving the increased focus on human capital and its reporting, and then situates the issue within the context of evolving stakeholder capitalism and ESG standards, especially as the 'S,' or social element within ESG comes into focus. The report then explores existing human capital- and ESG-related reporting frameworks. Our key conclusions and recommendations, explored in-depth in the second half of this report, represent three areas of action: Building awareness and bringing attention to human capital measurement and reporting; collectively defining standards and best practices and developing technology infrastructure and analytical capabilities."

The Center for the Future of Higher Education and Talent Strategy (CFHETS) describes itself as "an applied research center that builds on Northeastern University's heritage of more than a century of leadership in experiential learning and its network of more than 3,300 employer partners. Drawing on the expertise of Northeastern faculty and affiliated industry-based scholars, CFHETS' analysis focuses on human capital trends including bringing the voice and perspective of employers into the education community, while also serving as a research-based academic voice and resource in the world of corporate talent strategy."

Bruce Bolger, Founder of the Enterprise Engagement Alliance, publisher of ESM, was one of several dozen experts included in the study. In the report, he says "'it's chaos out there—buzzwords, hype, bright shiny objects, just like Total Quality Management was in the '80s, noting that eventually the initial wave of hype gave way to better practices and results years later…Bolger explains that standards are 'a way to benchmark your own activities and, as an observer, to benchmark the activities of a company you're observing—organizing the analysis by the key criteria that are indicative of effectivenessness.
These include: having a clear, stated organizational purpose; objectives, methodologies, and metrics for each key aspect of stakeholder management, and a process for continuous improvement.'"

Subscribe to ESM's weekly newsletter.