Employee Engagement: Short Cuts Won't Get You Where You Want to Go
By Susan Adams, Director of Engagement, Dittman Incentive Marketing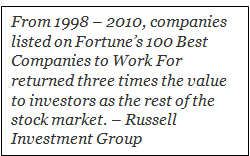 The business case is very clear. Employee engagement programs contribute to improved business outcomes. It makes sense that engaged employees will make a difference in a competitive marketplace by increasing productivity, inspiring innovation, and delivering best results to clients and consumers.
While the business strategy of engagement programs is widely accepted, companies still face formidable challenges in making a difference in the workplace. In July 2013, the Incentive Research Foundation released a report that found that an astonishing 71 – 78% of workers in the U.S. reported that they are "not engaged" or "disengaged."
5 Key Steps to Strong Program Design
To increase your chances of success, it's imperative to design engagement and recognition programs that include these five key steps along the way:
Step 1: Build a Strategic Foundation
Gain clarity and agreement up front on the goals you are trying to accomplish. Which behaviors are you trying to encourage? Is the intent to reinforce corporate values such as customer service or innovation, or are you providing incentives for sales during a slow-selling season? Set a time frame and be sure you have the resources and executive buy-in you need to ensure success.
Step 2: Assess the Situation
Take a holistic view of the organization, including external and internal factors, to understand the challenges faced by your audience. The assessment stage is also an opportunity for employees to participate in goal-setting and development, as well as to take baseline measurements of the behaviors and outcomes targeted by the program.
Step 3: Create a Framework
Establish the structure of the program, including: Program qualifications and rules; administration planning, tracking and reporting; and determining program type and duration. Be fair, keep it simple, and make it achievable, if you want to connect with people.
Step 4: Communicate
Strong, consistent communication keeps the program front of mind. Know your audience demographics, select appropriate vehicles including print and digital, consider a dramatic launch, communicate success, and publicly recognize those employees demonstrating the right actions and behaviors.
Step 5: Measure, Reward and Refine
Collect data at pre-determined periods so that you can uncover any trends in the success of the program. These measurements can include customer service scores, program participation, surveys pertaining to engagement, and retention, among others.
You must deliver on the organization's promises to reward employees to establish or reinforce trust, which is an essential part of engagement. Research shows that how recognition is given is as important as what is given, so make it personal and meaningful. The reward experience should be so memorable that creates the motivation to achieve again and also inspires others in the company.
Engagement programs are not static. Be prepared to adapt with the circumstances, market conditions, and in response to the program's success. A full, annual assessment of your engagement programs will give you the insight you need.
An engagement program will give your team the direction and momentum it needs to do great things. Taking the time to design a meaningful program will make the difference.
Dittman Incentive Marketing is a full-service provider of incentive, reward, and recognition programs to help clients engage key audiences.