Engagement Radio: Peter Hart and David Zinger on Leadership - Where Recognition, Engagement, and Art Converge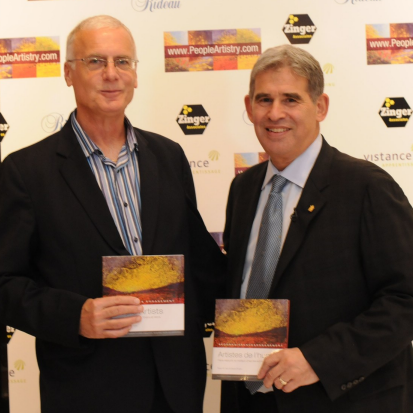 It's no surprise that Peter Hart, CEO of Rideau, would team up with employee engagement pioneer David Zinger to write two books that bring together the concepts of recognition, engagement and art. After all, Hart is also a painter with a studio adjacent to his office at Rideau, one of the world's largest recognition companies based in Montreal, and Zinger is a widely recognized pioneer in employee engagement with a large community and a series of books on his own. Their key point is that engagement is not a program but a way of managing that cannot be faked or papered over with a "campaign." Here is a recent Q&A they did with Paul Hebert, host of the 'Engagement Radio' podcast series.
Paul Hebert:
Today we have two great guests, Peter Hart and David Zinger, co-authors of the interestingly titled book,
People Artists: Drawing Out the Best in Others at Work
. Their website for the book is
peopleartistry.com
. Peter is the CEO of Rideau, a leading company in recognition and reward program space, and he also has a new project called Vistance, which is an advanced analytics product that firmly links recognition incentives to real true ROI. He's a board member of the Incentive Federation, Recognition Professionals International and
Accueil Bonneau
, a shelter for the homeless in Montreal.
Our second guest is
David Zinger
. David is founder and host of the 5,000-plus member
LinkedIn Employee Engagement Network
, and a prolific author whose titles include Assorted Zingers: Poems and Cartoons to Take a Bite Out of Work and Zengage: How to Get More Into Your Work to Get More Out of Your Work. He has co-created 10 exceptional free employee engagement e-books in conjunction with the Employee Engagement Network. David has also taught educational psychology and counselling psychology at the University of Manitoba.
With that, let's get things going. What prompted you to collaborate on this book? Why did you guys get together and decide to do this? And more specifically, what is the connection between art, recognition and engagement?
Listen to the podcast:
Paul Hebert
Engagement Strategies social media editor
Engagement implementation consultant