Another HR Tech Leader Says Engagement Is Transformative - and 'Now'
"Employee engagement looks to be the future of human resources and the technology that supports it. If human resources is going to be the business of getting work done, the new world of employee engagement just might provide the tools and the metrics to make that happen."
So wrote George LaRocque, Principle of
Larocque Inc
., in a July post on his company's HRwins blog. The
infographic
he posted echoes remarks by Bret Starr, founder of The Starr Conspiracy, who in the recent ESM article
Human Capital Tech Expert Bret Starr: Engagement Has Arrived
told us much the same thing – that engagement has emerged as a formal field and will transform business (and potentially human resources) in an exciting, positive way.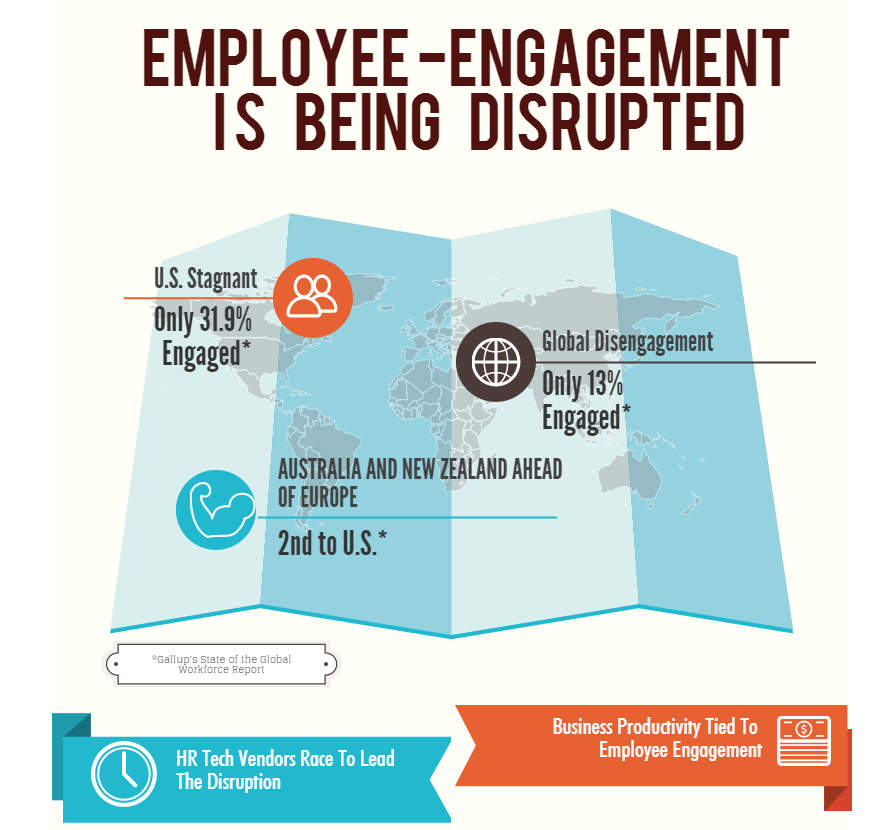 LaRocque, an independent consultant who has done some contract work for The Starr Conspiracy, shares some of the same views, but his company is a bit different in that it provides advisory surveys to human resources technology companies, as well as to human resources purchasing teams. LaRocque is a frequent speaker on human resources technology and other human capital issues, and his background includes over 20 years in the recruitment and talent management fields, as well as being a human resources practitioner and technology executive.
In the post, he writes: "In 2012 we all noticed that employee engagement was ripe for disruption. Global employee engagement had been stagnant for years (and still is!). At the time, the large enterprise was stuck with annual surveys and disparate solutions, normally involving large amounts of consulting dollars. The SMB (small- to middle-sized businesses), they were left to fend for themselves.
"Now here we are in 2015 and the disruption is at its peak. There is a transformation taking place," he writes. This time, he says, the SMB isn't left behind. "In fact, they are leading the charge in many ways." To support his case, LaRocque notes: "Every human resources technology segment is starting to put engagement at its core. I don't think we'll be left with a 'one-size-fits-all' platform or approach to engagement, but I do believe that customers will have some exciting choices to make in both point-solutions and new emerging platforms. That's good news for customers."
LaRocque's infographic outlines the core businesses that are emerging in the engagement field. He suggests that the major segments will include human resources, wellness, performance, rewards, talent acquisition and more, noting that "Engagement is setting the tone for the most exciting innovation I've seen lately."