C-Suite Network Aims to Fill Key Void in Leadership Community
On the surface, the C-Suite Network is a promising new membership organization serving top management at established companies large enough to have multiple vice-presidential level executives. Dig deeper, and one discovers an organization built by highly experienced marketers that aims to create a new business model marrying variations of the Linked in and traditional association membership concept.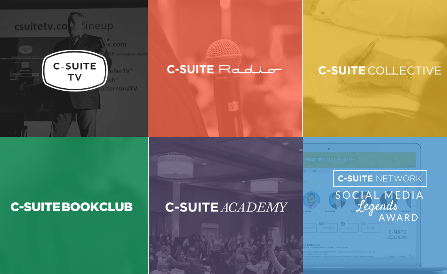 Based on mostly business relationships and a commitment to providing quality, useful content in multiple media, the C-Suite Network has attracted over 175,000 corporate executives who have opted in to join the C-Suite Network many of whom actively engage with the content at C-Suitenetwork.com, and its education events now attract hundreds of executives, according to Thomas White, CEO and co-founder with colleagues Jeffrey Hayzlett and Karl Post.
The founders not only are setting out to create an organization that helps align executives in the C-suite, but also do what White says Linkedin cannot do: enable C-suite executives to connect in trust in a way in which they receive useful, compelling information that is edited by experts, and can make connections with people who are vetted. If the C-Suite Network fulfills its mission, there will be potentially thousands of C-Suite communities in different industries, communities, regions, whatever, through which leaders can benefit from access to credible useful information relevant to their needs and the opportunity to connect with colleagues in an environment they trust.
White said the idea for the C-Suite Network came from dissatisfaction he and his co-founder Hayzlett had starting about a decade ago that there was no executive organization they felt compelled to join. "We want to be part of something with our peers, that inspires us, that gives us insights, enables us to provide service to others, and that's fun. Yes, there is the Young President's Organizations, which in many ways is a cigar club, and there are of course organizations for executives at the Fortune 500, but often associations are role specific." He further explained, "When we first started in 2013 we thought we would focus on the CEO. But as we began the launch process, we realized that the big gap is that no other organization brings together the entire leadership team." These different branches of business are in affect competing, he said, when they can benefit by working together.
The initial model was to enable qualified people to sign up for free, so that the founders could identify the best ways to serve the audience. Subscribers receive a weekly e-newsletter and access to a variety of content online, in videos, podcasts, and interviews, and at four live events planned for 2016, starting March 13-15 in Boston. Because the education is specifically designed for executives at companies with around $10 million in sales (or large enough to have an executive staff), registration for the events is by invitation or subject to approval. All executives are welcome to apply by clicking here.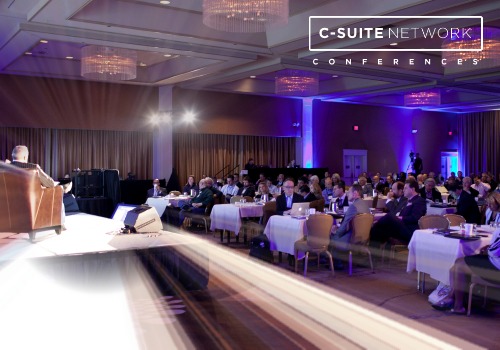 According to White, almost half of the 175,000 people who have so far joined came as a result of the "Rolodex" of his colleague Hayzlett, who among past positions was CMO for Eastman Kodak and similar posts at other large companies, host of business programs on CBS and Bloomberg, New York Times best seller Mind Your Own Business that, White said, helped propel a very successful speaking career totaling now nearly 150 events a year. His background helps explain the stature of the organization's advisory board, which includes executives such as Paul Carbone, CFO of Dunkin' Brands; Beth Comstock, Senior Vice President and Chief Marketing Officer of GE; Rance Crain, President, Crain Communications; Todd Davis, Founder of LifeLock; Carolyn Everson, Vice President of Global Marketing Solutions for Facebook; and more of that level across multiple industries and positions.
Going to the Next Level
According to White, "We used the first two years to determine what would be of value to business people of this caliber. Were they interested in being part of this community? We created C-Suite radio, C-Suite TV, C-Suite book club, C-Suite community. We exceeded every expectation we had and are now ready to go to the next level by applying what we have learned.
One would think that C-Suite would be satisfied to convert the 175,000 subscribers into a membership model, a program they will announce in March that will still include a free membership, but add a $250 a year executive membership and an executive circle leadership of $1,000, all providing additional levels of services and value related to access to its growing number of educational and other service offerings. It also has a special membership status called C-Suite advisors--people who provide advice on how to do a better job. They plan to have up to 250 such positions at $1,000 per year.
A New Business Model for Business Communities
According to White, the opportunity is even bigger than creating a valuable membership community connecting executives across the C-suite. "We are what Linked in could have been but isn't. Linked in gets a lot of people to join, but why would a business leader be on Linked in today? There are two problems. It started out as a recruiting structure and now it has evolved to be a direct marketing service. There's no verification. Anyone can join. Most business leaders who belong don't do so to learn and share information with their colleagues. Business leaders connect in trust. We can do that.
How? "First, C-Suite Network is not for everyone. It's for business leaders at established companies with sales in the area of $10 million. If a company is developed, and has proven itself, it will have a leadership team. They all face the same issues. When you are in startup mode, it's a very different picture. The C-Suite Network is for executives taking an established business to the next level.
The key to engaging its audience, White said, is understanding their needs. To that end, they are building analytics into their technology platforms that provide information on what people really have interest in based on their actions over time.
This spring, C-Suite Network will launch its new social media platform to connect vetted members in a way they believe Linked in cannot easily do. The opportunity, he believes, is to provide a platform not only for its current community but for potentially thousands of organizations with C-suite executives in search of a community that helps them master more skills and work more effectively with their colleagues.
"We believe we're developing a model and platform that can be used not only by many organizations in the U.S. but overseas as well. Organizations will be able to create their own branded private experience with their own branded content, polls, and experiences for that group." And, of course, once an organization has created its own C-Suite Network, its members can participate and share with others."
For information, subscriber, register for events, etc. go to: C-Suitenetwork.com.
For additional information about joining, go to: C-suitenetwork.com/join/
To become a sponsor or for other information, email info@c-suitenetwork.com or call Ashley Knapp, Event Coordinator, 605-275-4975.