EEA Stock Index Beats S&P 500 by 21.4% on 4th Anniversary
How would you feel about an investment that increased 84.9% in four years? In other words, for every $10,000 invested, you received a return of $18,940 over that period. That's the four-year performance of the
Engaged Company Stock Index (ECSI)
, a theoretical ETF (Exchange-Traded Fund) created to test the hypothesis that companies with high levels of customer, employee and community engagement outperform the general market. If you had put your money in an index of the S&P 500 over that same timeframe, your money would have returned 63.5%, or $16,350.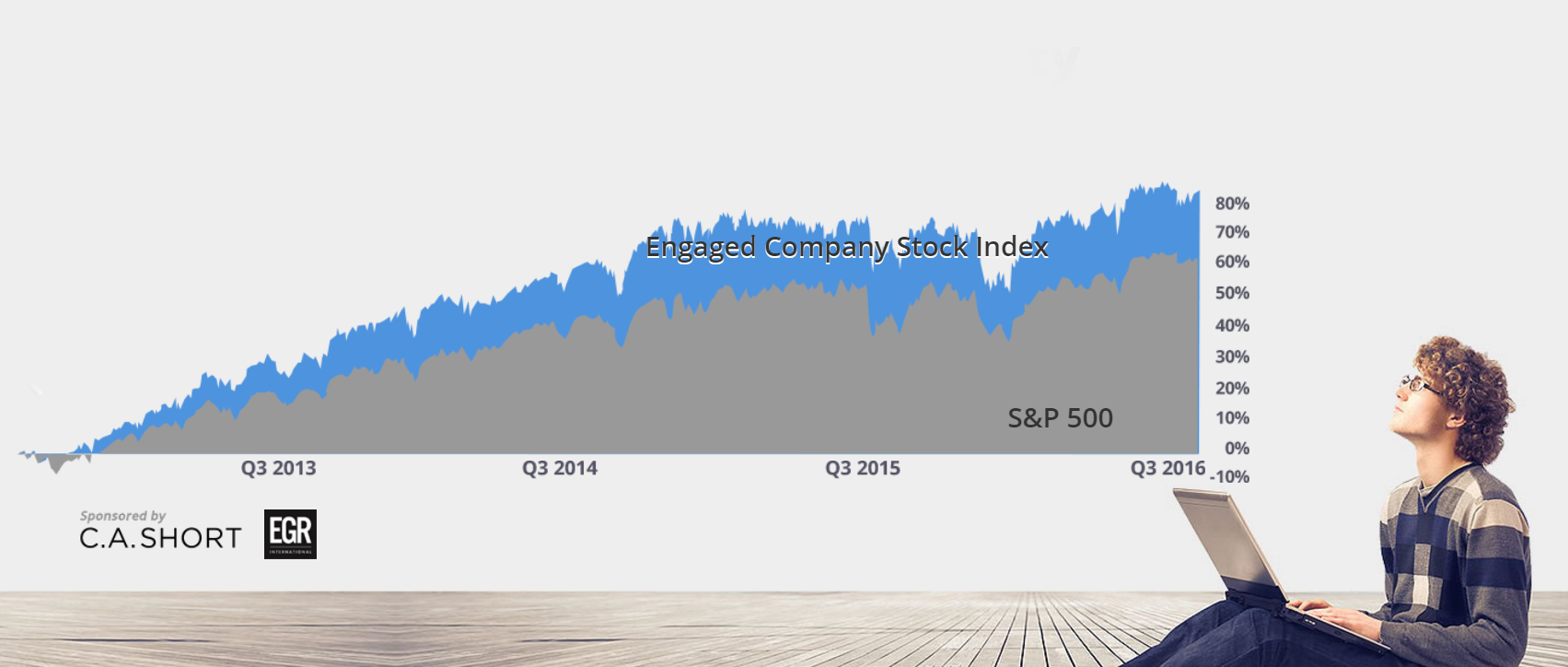 Not only has the ECSI consistently outperformed the S&P 500 over four years, it beat the great majority of hedge funds as well. The ECSI's returns fall just short of those of Warren Buffet, whose company, Berkshire Hathaway, has returned 7.5% per year since 2004, just shy of the S&P 500's 7.6%, according to an article in the Oct. 3, 2016 edition of
Barron's
. The performance of the ECSI is particularly noteworthy in light of the fact that many major pension funds have reported sub-par returns from their investments, according to
Governing.
As recently reported by
Engagement Strategies Media
, investors have begun to catch on. In addition to CalPERs and other major pension fund groups worldwide that have begun to focus on human capital investments (and more specifically on employee and customer engagement information), another recent article in
Barron's
demonstrates that the financial media has begun to catch on as well. While the authors of a feature on the performance of the
Top 200 Sustainable Funds
were writing more broadly on the ESG sector (stocks selected on environmental, social, and governance factors), they noted, "Companies that ignore ESG do so at their peril…Good corporate governance plays a winning hand in capital allocation and is critical to corporate longevity." Phil Davidson, co-manager of
American Century Equity Income
, the No. 3 performer on the list, said, "If a company is being managed for the short-term to maximize revenue, that's not sustainable." The article reported that ESG stocks now comprise one of every six dollars invested.
The Engaged Company Stock Index was conceived of by the Enterprise Engagement Alliance and
McBassi & Co
., based on McBassi's
Good Company Index
that tracks several hundred public companies based on their levels of customer, employee and community engagement collected from about a dozen different sources. To create the ECSI, McBassi analysts select from that overall list those companies with the highest levels of enterprise-wide engagement, reconfiguring the portfolio once a year based primarily on updated scores from its Good Company Index. The index will be updated again in early 2017. McBassi is a leading human capital analytics firm whose founder, Laurie Bassi, is an early pioneer in this emerging discipline.
"Alex Edmans, Professor of Finance at the London Business School, conducted
ground-breaking research
demonstrating the connection between stock performance over time and companies that were rated best places to work," says Bruce Bolger, founder of the Enterprise Engagement Alliance. "The Engaged Company Stock Index goes one step further by identifying companies that meet our criteria and then tracks them going forward to see what actually happens when one invests on this basis." The ECSI also tracks customer engagement based on independent surveys and community engagement through business practices and number of lawsuits. Because the Engaged Company Stock Index is not a formal ETF, support for its management comes from EEA sponsors, notably
C.A. Short
, a leading employee engagement company, and
EGR International
, one of the first full-service engagement agencies. Eventually, the goal is to find a financial institution that can market this as a formal ETF so that pension funds and the general public can benefit.
According to Dan McMurrer, who manages the ECSI, more of the ECSI's gains relative to the S&P 500 have come when the market is going up; the companies in the portfolio tend to do a bit better than the market during those periods and generally do not drop as much when the market is down (see chart). The portfolio weights are relatively similar to those of the S&P 500 overall, but the ECSI is a bit more heavily weighted in Transportation, Consumer Staples and Discretionaries, and underweighted in Finance, Energy and Business Services.
ECSI stocks tend to be a bit smaller than the average company in the S&P 500, as well as just a bit cheaper (price/earnings ratio of 17.7 for our portfolio, versus 18.2 for the S&P 500). This is not by design, but rather a pattern reflected in the companies with high enterprise-wide engagement ratings. Among the big winners in the portfolio over the last year have been Intel, General Mills and Johnson & Johnson. Companies that have dragged down performance over the last year include consumer companies Nordstrom and L Brands.
Traditionally, the ECSI turns over about 40% of the portfolio each year as it calculates new scores for companies as employers, sellers and stewards. "We expect that to be similar for the portfolio revamping coming up in the next few months," McMurrer says.
While the EEA does not desire to, and is not authorized to, sell securities nor solicit investments, those who would like to create their own ECSI can do so at websites such as
Folioinvesting.com
. This site and others enable individuals to create portfolios for the purposes of tracking and investing in groups of self-selected stocks.
---
Contact Information:
McBassi & Company
303-981-1526
C.A. Short
800-535-5690, ext. 244
EGR International
212-884-1854