EEA Webinar Highlights Latest Trends, Opportunities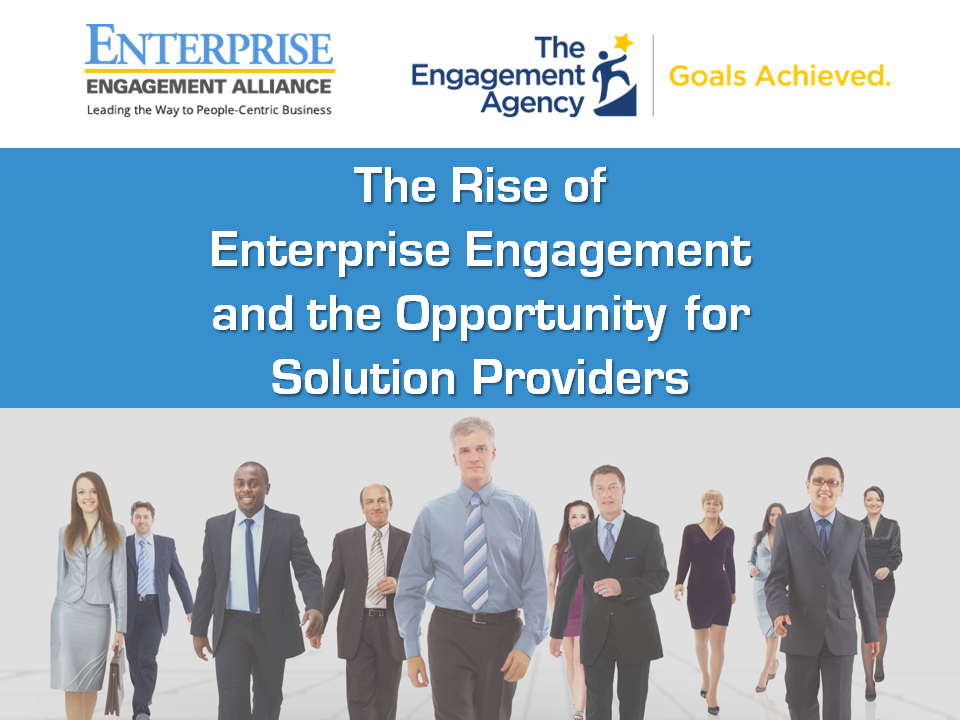 The development of a formal field of Enterprise Engagement has finally neared a tipping point, creating significant opportunities for all types of organizations and the solution providers that support them. That's the key message of a recent webinar sponsored by the Enterprise Engagement Alliance (EEA) on November 17.
Click here
for a recorded version with slides.
The purpose of the webinar was to kick off the official creation of the not-for-profit Enterprise Engagement Alliance with a clear explanation of the field we serve, the latest developments and the services provided by the EEA and the for-profit Engagement Agency to help organizations of almost any type profit from engagement. Below is a written recap of the event.
Overview of Enterprise Engagement
Enterprise Engagement is a formal business process that helps organizations achieve financial or other goals and objectives by fostering the proactive involvement of all those people who can contribute to success. Every business can benefit from a formal engagement plan, including customers, distribution partners, employees, vendors and communities. The engagement plan strategically addresses all the key levers of engagement – good leadership, benchmarking and surveys, communications, learning, rewards, ROI measurement and more.
Enterprise Engagement has applications for businesses, not-for-profits and governments to help them improve performance and achieve goals in sustainable ways. It also creates new ways for engagement solution providers to expand their business.
Why Now
The Human Capital Coalition of pension and trust funds with $2.6 trillion in funds are now demanding that companies invest in human capital, employee engagement and other people-related initiatives.
Three leading international pension fund organizations with over $6 trillion have embarked on a separate initiative.
CalPERS, the largest U.S. pension fund, recently filed a formal request to the Securities and Exchange Commission (SEC) stating that public companies should formally disclose human capital and employee engagement investments.
The International Standardization Organization is now creating standards for reporting on human capital metrics by public companies for Europe.
Other drivers toward creating a more formal approach to engagement include:
Analytics can measure the ROI of engagement programs in ways never before possible.
Social media is shifting power to consumers and employees.
Communication is moving from mass to one-to-one.
Customer experience has become a competitive edge.
Employees have become critical to the brand equation.
The C-Suite is beginning to get it; the C-Suitenetwork.com is adding a group on the topic on its new member portal focused on executives at companies with annual sales of over $5 million.
Engaged public companies outperform the stock market. (See Engaged Company Stock Index at TheEEA.org).
Investors are getting it. A recent article in Barron's reported that one in six investment dollars is now going into funds focusing on sustainability, social responsibility and human-based management.
International Standardization (ISO) may soon require it.
Who Can Benefit?
Corporations, Not-for Profit Organizations, Governments that need to create a sustainable culture of performance and innovation and to achieve key goals.
Companies that sell strategies, promotions, loyalty, incentives, promotional products, meetings and events, communications in all media, gamification, analytics and more to help organizations achieve goals.
Management consultants and branding companies.
Engagement is a pathway to top management and a worldwide phenomenon.
Engaged Company Stock Index Performance
The companies in the ECSI have outperformed the S&P 500 by 22 percentage points in the nearly four years since its founding, about the same as Warren Buffett. The Engaged Company Stock Index was created to demonstrate the bottom-line benefits of engagement to the investment community and high-level executives.
Launched Oct. 1, 2012 by the EEA and McBassi & Company based on McBassi's Good Company Index of 400 publicly-held companies for which data is available, the ECSI is comprised of 45 companies rated to have the highest levels of customer, employee and community engagement from 12 different sources.
The Potential Emergence of ISO Standards
The International Organization for Standardization (ISO) is now creating standards for all aspects of human capital and employee engagement, some of which could be added to ISO 9000 quality management standards and even potentially to healthcare standards now under development.
Organizations cannot "flip a switch" with a simple purchase to comply with the likely standards and disclosures. They need to be informed of these company disclosures and standards and will need time to prepare. Engagement strategies focus on achieving strategic and tactical goals, not simply on ad hoc reward programs, pizza parties, etc. Engagement is a way to redesign and better align current external and internal marketing, incentive and recognition programs, not a replacement for them.
Enterprise Engagement touches customers, distribution partners, employees, vendors and communities. Engagement strategies have clear return-on-investment (ROI) measures based on specific goals and objectives. Engagement strategies focus on identifying precisely the right engagement levers, from training, and communication to rewards and analytics. Every engagement strategy is solution-neutral.
An Open-Source Approach
Much like the concept of six-sigma, Enterprise Engagement utilizes a formal approach to address the key issues that connect engagement and performance. The levers and implementation framework for engagement are in the public domain. The key is having the experience and analytical skills to create an engagement business plan, the means to implement effectively and measure results. Program design is critical: For large organizations, engagement can be more complex than advertising due to the large number of tactics, management teams and audiences involved, and there will be more large scale agencies serving this marketplace.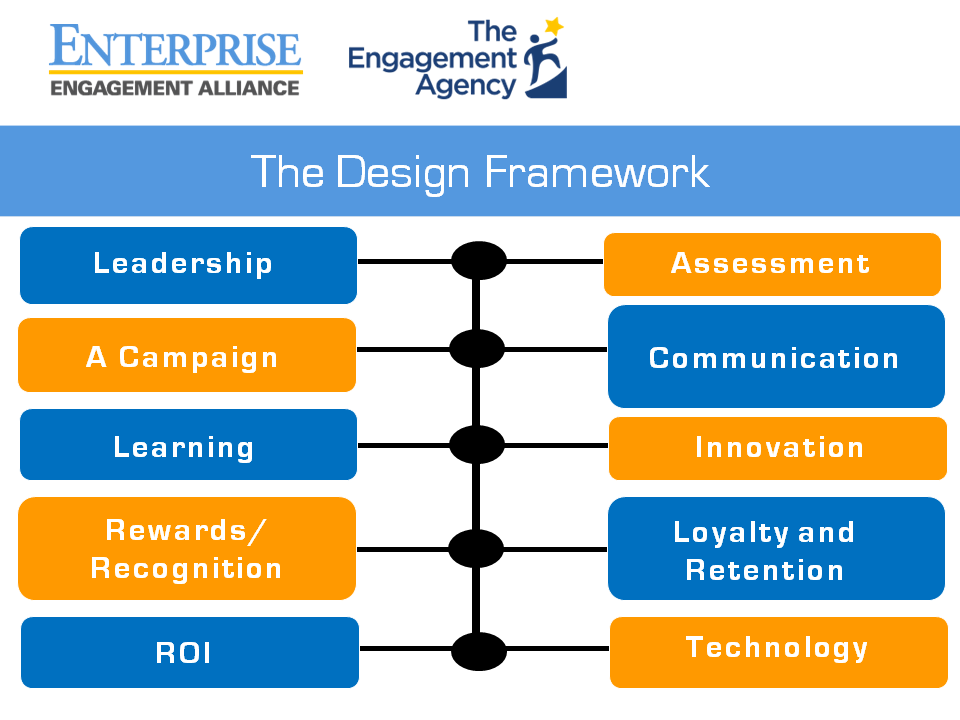 Based on considerable research, fostering the proactive involvement of people to achieve goals on a sustainable basis includes:
A clear sense of mission and goals
Emotional bonding
Capability
Fun
Support
Task value
Feedback
In turn, just as with marketing or any major project, the best results come from a formal plan that includes the following elements:
Assessment
Communication
Information
Innovation
Rewards & Recognition
Measurement
Feedback
The plan can also include any of these tactics:
Enterprise branding
Audience recruitment and assessment
Engagement business plan design
Leadership coaching
Communications in every form – digital, video, face to face, print, promotional products
Learning
Loyalty
Gamification
Innovation and collaboration
Rewards & recognition
Measurement and analytics
Technology
A Fresh Approach to Ongoing Challenges
Engagement draws from the same budgets used to:
Increase customer loyalty and referrals
Improve distribution partner performance
Increase results of sales, customer service, productivity, quality, wellness, safety and other efforts.
Increase customer and employee retention.
Improve community relations.
A key to significant growth for solution providers is to do what the ad agencies did: get to the C-Suite and Chief Marketing Officers. Enterprise Engagement addresses mission-critical issues like:
Maximizing customer satisfaction and positive word of mouth
Increasing the commitment of resellers
Attracting and retaining the best talent and promoting wellness and safety
Maximizing productivity, quality, service and delivery of brand promises
Building the best possible relationships with an organization's community.
Engagement is about achieving specific strategic organizational goals related to branding, customer and dealer engagement, management or ownership change, retention, quality, service, wellness, performance, etc. The benefits come from utilizing traditional engagement tactics – promotions, loyalty programs, incentives, promotional products, events, recognition, etc. – more strategically with a direct connection to achieving organizational goals.
A 'Blue Ocean' Market
From a business standpoint, the opportunities related to Enterprise Engagement include:
Few competitors. Very few recognition, incentive, or loyalty companies do more than pay lip service to the science of engagement.
Multiple reseller channels. While the concept of selling through resellers is well established in incentives and recognition, the opportunity has only just begun in engagement.
A unique proposition. While many believe the battle will be fought on the technology front, the true competitive advantage lies in effective program design and business development.
Demand is being driven by the desire for science and ROI. Companies will increasingly listen to scientific approaches that provide a formal framework and performance measures. Organizations need specialists who can help them better align traditional engagement tactics that get siloed in many organizations.
About The Enterprise Engagement Alliance at TheEEA.org
The goal of the EEA is to provide a formal framework, curriculum, and certification and other services to help any organization of any size profit from engagement. It is funded through individual and corporate memberships, and training and consulting fees. Its services include:
Engagement Strategies Media at Enterpriseengagement.org providing corporate management and solution providers up-to-date news, research, case studies and profiles and the resources needed to achieve engagement.
Enterprise Engagement: The Roadmap – a book that provides a clear, formal framework for implementation and measurement and an update of critical engagement disciplines.
The Engaged Company Stock Index to demonstrate on a real-time basis the economic benefits of Enterprise Engagement.
Speaking, consulting and training on engagement business plan design to help organizations and solution providers learn how to develop and implement formal engagement strategies.
Engagement University and Expo for engagement best practices and certification training, held in Chicago, April 18-20, 2017.
The Engagement Agency is designed to help solution providers bring engagement solutions to their clients. These include the formal EEA methodologies, as well as a wide variety of technology and expert solutions from a growing community of engagement solution providers representing key tactics. The Engagement Agency provides:
Strategic support for solution providers moving to engagement
Content marketing programs to reach people interested in what you sell
eNnewsletters to generate leads and clickthroughs to your content
Presenting your products and services at the Engagement Expo
Providing training for your team on program design and solution selling.
Clients can include:
Management consultants
Recognition companies
Incentive companies
Branding companies
Assessment services
Learning services
Communications firms
Analytics companies
Promotional marketing firms
Rewards & recognition providers.
The Engagement Agency helps improve integration by continually identifying different types of resources that engagement program designers can draw from to achieve specific results.
---
Nick Gazivoda, Engagement Enterprises
914-591-7600, ext. 238