Enroll Now in ISO 30414 Certification Preparation…Get Ready for the Coming Human Capital Mandate
The ICEE training and certification process for ISO 30414 Human Capital Internal and External Reporting standards begins with four preparation webinars in January 2020. Join the Enterprise Engagement Alliance now to begin the process for ISO 30414 professional certification process.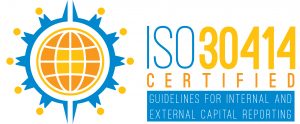 The International Center for Enterprise Engagement training and certification preparation program for ISO 30414 Human Capital Internal and External Reporting standards kicks off in January 2020 with a course consisting of four webinar classes, starting Wed. Jan. 8 at 9 am Eastern US time, 7 pm Pakistan time for the Central Asia community, followed by classes at the same time on the following three Wednesdays in January.
Qualified and dedicated candidates can complete the process of achieving ISO 30414 professional certification in about a three-month period. The course and certification equips qualified professionals to help their organizations or clients turn human capital expenditures into a profit center (rather than the traditional cost center) and address the coming mandate for disclosures from investors, the public and regulators.
The Benefits of ISO 30414 Certification
•
Be among the first to achieve certification in the
new ISO 30414 standard
that Workforce.com recently called a "big deal" and a SHRM commentator called "a boon for human resources."
•
Help your organization or customers turn traditional human resources and marketing tools into an investment with a clear return-on-investment.
•
Become an expert in helping the growing number of companies seeking to publish Corporate Responsibility Reports that meet regulatory and public standards.
•
Profit from a clear business model for qualified solution providers by helping organizations benefit from the standard in multiple ways.
•
Take advantage of ESM at
EnterpriseEngagement.org
and
EEXAdvisors.com
marketplace platform to share information and find certified practitioners around the world.
Learn from the people who lead the creation of the standard.
The Faculty: Founders of ISO Human Capital Standards
The co-founders of ICEE at
TheICEE.org
and directors of this program are Dr. Ron McKinley, Lee S. Webster, Zahid Mubarik, who are co-founders, among others, of the ISO 260 working group that created the ISO 30414 standard, with over 80 years of combined human resources, general management, and analytics management experience between them.
The ISO 30414 Certifications and Qualifications
•
ISO 30414 Human Capital Internal and External Reporting standards certification for professionals demonstrates the experience and knowledge necessary to enable an organization to benefit from human capital reporting for internal use and for public disclosures. To qualify, one must have at least a college degree and three years of demonstrated management, auditing or equivalent experience at a company or solution provider verified by three references.
•
Certified Practitioner for ISO 30414 demonstrates a thorough knowledge of the standard in a one-hour oral exam and has no work experience requirements.
•
Organizational ISO 30414 certifications, available from ICEE, demonstrate an organization's commitment to disclosing human capital information in conformance with internationally accepted practices.
The education program for ISO 10018 Quality People Management standards will be announced in January.
The Certification Process for Professionals
ISO and CP Professional Applicants: All candidates must participate in four live webinars held on Wednesdays each month starting on Wed., Jan. 8 at 9 am East Coast time, 7 pm Pakistan time for the Central Asia market, and on the following three Wednesdays at the same time. (The next courses will have schedules oriented for other time zones.)
ISO 30414 candidates: Candidates must submit in written form all the elements necessary for the proper implementation of an audit and/or development of a conforming human capital reporting process, including the audit checklist, evidence, and evaluation process, followed by at least a one-hour recorded video web meeting. All participants must also complete a written, multiple-choice question exam.
Note: The certification is provisional until candidates develop or conduct an ISO 30414 conforming disclosure for their own organization or that of a client.
Certified Practitioners: Participation in all the webinars and follow up multiple-choice test, and a one-hour recorded webinar question and answer session, is required of those seeking a certification but lacking the requisite education or management experience.
The Costs
EEA Membership fee: $250 for professionals; $550 for organizations for annual EEA membership. Membership provides ongoing information on the standard and human capital management field, the educational materials for standards preparation, access to the first two webinar classes, an annual orientation or update session on the standard, and the right to display the logo of the certification when it is achieved. Solution providers/consultants with at least two certified individuals can present themselves as an ISO 30414 solution provider. All employees must pay the same fees for preparation and certification; there is a $200 additional annual license fee for the third or any subsequent employees who achieve certification for as long as they remain with the company; otherwise, it reverts to $250.
ICCE ISO 30414 preparation and examination fee: $2,500 for developed nations; $1,250 for developing nations, every five years.
EEA Certified Practitioner exam: $250 every five years.
Note: current EEA membership is required to use and display the certification.
How to Get Started
Sign up
to become a member: $250 individual, $550 corporate. (Major credit cards accepted worldwide.)
After joining, you will be invited to an orientation meeting to discuss how you can profit from your membership and/or to answer any questions related to certification.
For those who wish to sample a class,
click here
to register for free access to the first class on Jan. 8.
For More Information
In the Mideast, Europe, and Asia:
Zahid Mubarik, Executive Director ICEE, at: tel. 92-3212444234;
Zahid@thehrmetrics.com
In the Western Hemisphere: Bruce Bolger, Executive Director, Enterprise Engagement Alliance at:
---
Master the Principles of Enterprise Engagement to Achieve Organizational Goals and Enhance Your Career
Profit from a new strategic and systematic approach to engagement to enhance your organization's brand equity; increase sales, productivity, quality, innovation, and safety, and reduce risks.
Get trained to become a Chief Engagement Officer for your organization.
Achieve ISO 10018 Quality People Management Certification to demonstrate your organization's strategic commitment to people to your customers, employees, distribution partners, vendors, communities, investors, and regulators.
Learn how to create Sustainability or Integrated Reports for Your Organization or Clients.
Get up-to-speed on ISO human resources standards and guidelines to enhance HR performance.
Live Education: Enterprise Engagement in Action. Take advantage of scheduled monthly live webinar preparation courses for the Certified Engagement Practitioner designation consisting of three one-hour classes and of quarterly Advanced Engagement Practitioner courses consisting of three one-hour webinar classes. The AEP course is for individuals or teams seeking preparation ISO 10018 professional certification status. ICEE periodically runs regional one-day workshops on ISO 10018 Quality People Management principles and certification.
Resources: The Brand Media Coalition, the only guide to the story-telling power of brands and where to source them for business, event, promotional gifting, and rewards and recognition.
2019 Enterprise Engagement Solution Provider Directory
. The only directory of engagement solution providers covering all types of agencies and tactics as well as insights on how to select them.
Communities: The Enterprise Engagement Alliance and Advocate and the Brand Media Coalition free resource centers offering access to the latest research, news, and case studies; discounts, promotions, referrals, and commissions, when appropriate to third-party solution providers from participating coalition solution provider members.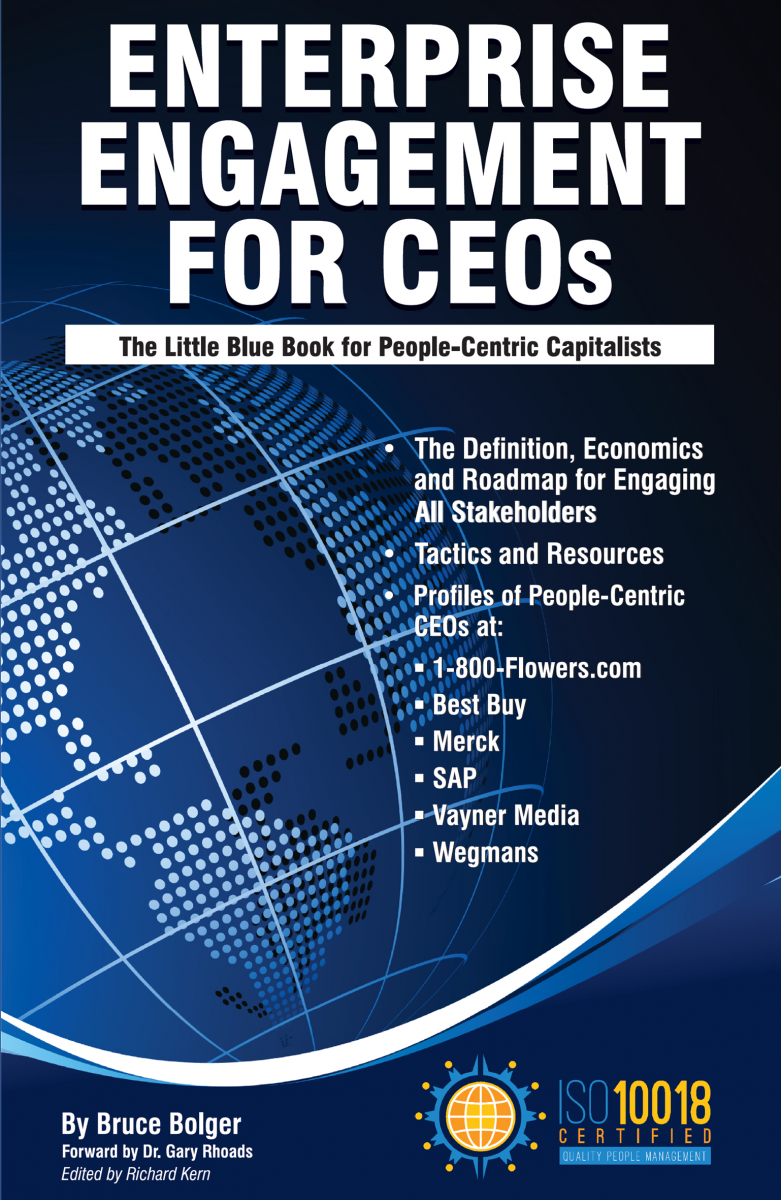 Enterprise Engagement: The Roadmap 5th Edition
The first and most comprehensive book on Enterprise Engagement and the new ISO 9001 and ISO 10018 quality people management standards. Includes 36 chapters detailing how to better integrate and align engagement efforts across the enterprise. (312 pages, $36.)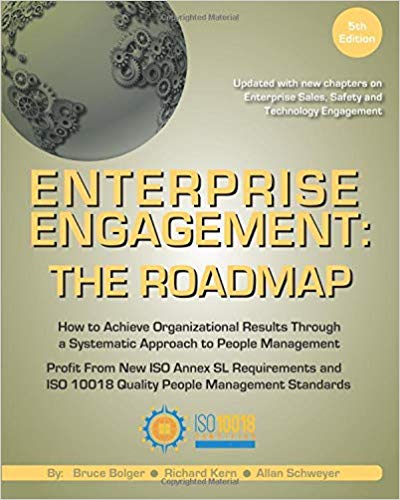 Online:
10-minute short course: click here for a 10-minute introduction to Enterprise Engagement and ISO standards from the Coggno.com learning platform.
Services:
• The International Center for Enterprise Engagement at TheICEE.org, offering: ISO 10018 certification for employers, solution providers, and Enterprise Engagement technology platforms; Human Resources and Human Capital audits for organizations seeking to benchmark their practices and related Advisory services for the hospitality field.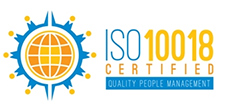 • The Engagement Agency at EngagementAgency.net, offering: complete support services for employers, solution providers, and technology firms seeking to profit from formal engagement practices for themselves or their clients, including Brand and Capability audits for solution providers to make sure their products and services are up to date.
• C-Suite Advisory Service—Education of boards, investors, and C-suite executives on the economics, framework, and implementation processes of Enterprise Engagement.
• Speakers Bureau—Select the right speaker on any aspect of engagement for your next event.
• Mergers and Acquisitions. The Engagement Agency's Mergers and Acquisition group is aware of multiple companies seeking to purchase firms in the engagement field. Contact Michael Mazer in confidence if your company is potentially for sale at 303-320-3777.
Enterprise Engagement Benchmark Tools: The Enterprise Engagement Alliance offers three tools to help organizations profit from Engagement. Click here to access the tools.
• ROI of Engagement Calculator. Use this tool to determine the potential return-on-investment of an engagement strategy.
• EE Benchmark Indicator. Confidentially benchmark your organization's Enterprise Engagement practices against organizations and best practices.
• Compare Your Company's Level of Engagement. Quickly compare your organization's level of engagement to those of others based on the same criteria as the EEA's Engaged Company Stock Index.
• Gauge Your Personal Level of Engagement. This survey, donated by Horsepower, enables individuals to gauge their own personal levels of engagement.
For more information, contact Bruce Bolger at Bolger@TheEEA.org, 914-591-7600, ext. 230.