News Analysis: The Action Plan for Stakeholder Capitalism
Now that the concept of Stakeholder Capitalism is beginning to capture the popular imagination, what can business leaders do about it? Fortunately, the International Organization for Standardization has issued a roadmap for implementation in the form of ISO standards 30414 Human Capital Internal and External Reporting and ISO 10018 Guidelines on People Involvement and Competence. The roadmap leaves open myriad ways to get to the destination as long as the process is strategic and systematic and led by the CEO.

Stakeholder Capitalism is inevitable: it's better business for capitalists to address the needs of all stakeholders, and it's one of the few topics almost everyone agrees upon. Multiple surveys find that almost all Americans believe capitalism can work better for people, and
over 70% of Americans
say they prefer to work for, buy from, or invest in organizations that focus on people and sustainability. ESG (Environmental, Social, and Governance) factors now represent a major consideration for investors managing tens of trillions of dollars worldwide.
In the last year, some of the world's most prestigious organizations have embraced the concept of stakeholder capitalism.
The Embankment Project
founded by the Rothschild family, EY, and supported by many leading companies; the
Business Roundtable
, and the
World Economic Council
(among the first to use the term), all have issued or updated charters based on the principle that organizations will produce the best results for shareholders by strategically and systematically addressing the needs of all stakeholders—employees, customers, distribution partners, suppliers, and communities.
The challenge: the need to address the needs of all stakeholders requires a long-term, strategic and systematic approach to managing all an organization's human capital that simply does not exist in most organizations and is taught almost nowhere in business training. CEOs are taught to think short-term and to view human capital as a cost--not an asset--that is not carried on the balance sheet and cannot be measured or effectively reported. In fact, the only opposition to the recent
Securities & Exchange Commission
proposed rules for human capital disclosures came from the attorneys for GM, Chevron, and Federal Express who agreed on the importance of human capital but argued that there are no effective or comparable measures.
The Solution Begins at the Top
The practical implementation of Stakeholder Capitalism begins with the recognition that human capital indeed can be measured and that there is already a successful model employed by many leading capitalists that is both profitable for shareholders and beneficial to all stakeholders. Despite the lack of education on the topic, a clear roadmap exists for Stakeholder Capitalism in a way that can be transparently reported to all stakeholders.

Many if not most organizations lack the fundament elements required for stakeholder capitalism, starting with: having a CEO who fundamentally believes that people are the asset most critical to keeping an organization's promises; maintaining and acting upon key performance metrics, and possessing a fully aligned organization—from marketing, sales, and customer service, to operations, logistics, finance, and administration--dedicated to serving internal and external customers. On the other hand, most of them already employ most if not all of the tactics necessary to address the needs of all stakeholders, but fail to do so in a strategic and systematic way; i.e., branding and culture development, assessment and feedback, recruitment and coaching, marketing, communications, learning, innovation, diversity, loyalty, rewards and recognition, analytics, etc. Human capital management remains in the same state as quality management in the US during the 1980s: ad hoc, reactive, with a lot of buzzwords and little progress.
To help organizations address this issue, ISO (International Organization for Standardization), has issued two standards that provide a roadmap for the transparent internal and external reporting of human capital and for the implementation of a strategic, systematic, and measurable approach to addressing the needs of all stakeholders. The benefits are the same increased efficiencies and improved performance and experiences brought about by the application of other ISO standards, notably ISO 9001 quality management standards. They do not replace the myriad tactics organizations use to engage and equip people; they enhance them through a more transparent, strategic, and systematic process.
ISO 30414: Providing the Baseline for Human Capital Measurement
There's an old saying: that which gets measured, gets done. ISO 30414 standards, published in early 2019, provide a clear roadmap for human capital measurement, action, and disclosure. The standard proposes multiple ways to report on human capital for the benefit of management planning and stakeholder disclosures, including:

Leadership: leadership trust; span of control.
Leadership development: Percentage of leaders/talent who have formal mentors or coaches; percentage of leaders who have the formal function of mentors or coaches.
Organizational culture: Engagement, satisfaction, commitment scores; retention rate; productivity (revenue per employee; turnover; profit per employee; human capital return on investment.
Costs: Total workforce costs, external workforce costs, ratio of the basic salary and renumeration for each workforce category; total costs of employment; cost per hire; recruitment costs, turnover costs. Compliance: Number and type of grievance filed; findings and actions arising from these, training hours on compliance and ethics.
Diversity: Workforce diversity with respect to age, gender, nationality, disability, job family, job level/hierarchy, qualification, diversity of leadership team.
Occupational health and safety: Lost-time for injuries; number of occupational accidents; number of people killed during work (fatality, death or mortality rate); training hours on health and safety at work vs. total amount of training hours; number of employees who participated the training/total numbers of employees.
Recruitment, Mobility and Turnover: Number of qualified candidates per position; quality per hire; average length of time needed to fill vacant positions; time to fill vacant critical business positions internal/external; percentage of positions filled internally, and more.
Employee Bench Strength: Turnover rate; involuntary turnover rate; voluntary turnover rate (without retirement); exit/turnover reasons/leaving employment by reason.
Skills and capabilities: Total development and training costs; learning and development--percentage of employees who participate in training compared to total number of employees per year; average training hours per employee; number of training participants differentiated in training categories, internal mobility rate, succession planning, and more.
Workforce Availability: Absenteeism rate; full-time equivalents; number of employees; contingent workforce; independent contractors; temporary workforce; number of full-time and part-time employees.
Once an organization has determined the measures appropriate for managing its success and for sharing with stakeholders, the next step is action.
The ISO 10018 Quality People Management Action Roadmap
In the late 2000s, the people who manage the ISO 9001 quality management standards realized pretty much at the same time as the ISO group that overseas over 60 ISO business management standards that they had overlooked a key success factor in the implementation of ISO standards: a strategic and systematic approach to addressing the needs of all stakeholders. To address this oversight, ISO created Annex SL requirements to be included in all ISO business management standards, including ISO 9001 quality management, ISO 45001 safety, and ISO 14001 environmental standards. The ISO 9001 working group went further. It created an entirely new standard known as ISO 10018 People Involvement and Competence standard specifically designed to do for quality people management what ISO 9001 accomplished for quality manufacturing: Apply a strategic and systematic approach that connects the dots between all the tactics and people required to successfully implement any standard or business practice.
As demonstrated by the first recipient of the ISO 10018 Quality People Management certification,
DTE Energy
, there is a clear roadmap for a sustainable approach to addressing the needs of all stakeholders. What it requires is not only a leadership committed to a strategic and systematic approach but a formal and auditable plan to align the activities of the entire organization to put the focus on meeting the needs of internal and external customers rather than focusing on the self-interests of each department.
In the simplest terms, this means that the organization has established:
A clear brand, values, cultures, and objectives that it consistently reinforces from top management out to the field.
A strategic and systematic approach to connecting the promises made to external customers with the tactics used to engage and equip all the necessary internal stakeholders.
A regular process for conducting and acting upon external and internal surveys.
A training and development process that supports the overall brand and objectives supported by ongoing communications and rewards and recognition.
A process for fostering innovation.
Multiple means of measuring outcomes.
In other words, ISO recommends the same overall approach to people management that worked so well for quality management: a strategic and systematic approach led by the CEO that is sorely lacking in the world of people management.
Stakeholder capitalism is here to say, because it works better than shareholder capitalism and because there are clear ways to measure success and a clear roadmap to achieve it.
---
Master the Principles of Enterprise Engagement to Achieve Organizational Goals and Enhance Your Career
Profit from a new strategic and systematic approach to engagement to enhance your organization's brand equity; increase sales, productivity, quality, innovation, and safety, and reduce risks.
Get trained to become a Chief Engagement Officer for your organization.
Achieve ISO 10018 Quality People Management Certification to demonstrate your organization's strategic commitment to people to your customers, employees, distribution partners, vendors, communities, investors, and regulators.
Learn how to create Sustainability or Integrated Reports for Your Organization or Clients.
Get up-to-speed on ISO human resources standards and guidelines to enhance HR performance.
Live Education:
The Northwestern University Law School's Workforce Science Project is sponsoring the first certification preparation program for ISO 30414 Human Capital Reporting and ISO 10018 Quality People Management standard, the first of which was recently achieved by DTE Energy. Professionals for organizations and solution providers seeking to benefit from the new ISO 30414 Human Capital Standards, ISO 10018 Quality People Management, and other standards can attend an intensive program requiring no more than one night away from the office for most US attendees to learn how these standards an improve performance, efficiency, and stakeholder experiences and prepare for certification. Click here for more information.
Enterprise Engagement in Action. Take advantage of scheduled monthly live webinar preparation courses for the Certified Engagement Practitioner designation consisting of three one-hour classes and of quarterly Advanced Engagement Practitioner courses consisting of three one-hour webinar classes. The AEP course is for individuals or teams seeking preparation ISO 10018 professional certification status. ICEE periodically runs regional one-day workshops on ISO 10018 Quality People Management principles and certification.
Resources: The Brand Media Coalition, the only guide to the story-telling power of brands and where to source them for business, event, promotional gifting, and rewards and recognition.
2019 Enterprise Engagement Solution Provider Directory
. The only directory of engagement solution providers covering all types of agencies and tactics as well as insights on how to select them.
Communities: The Enterprise Engagement Alliance and Advocate and the Brand Media Coalition free resource centers offering access to the latest research, news, and case studies; discounts, promotions, referrals, and commissions, when appropriate to third-party solution providers from participating coalition solution provider members.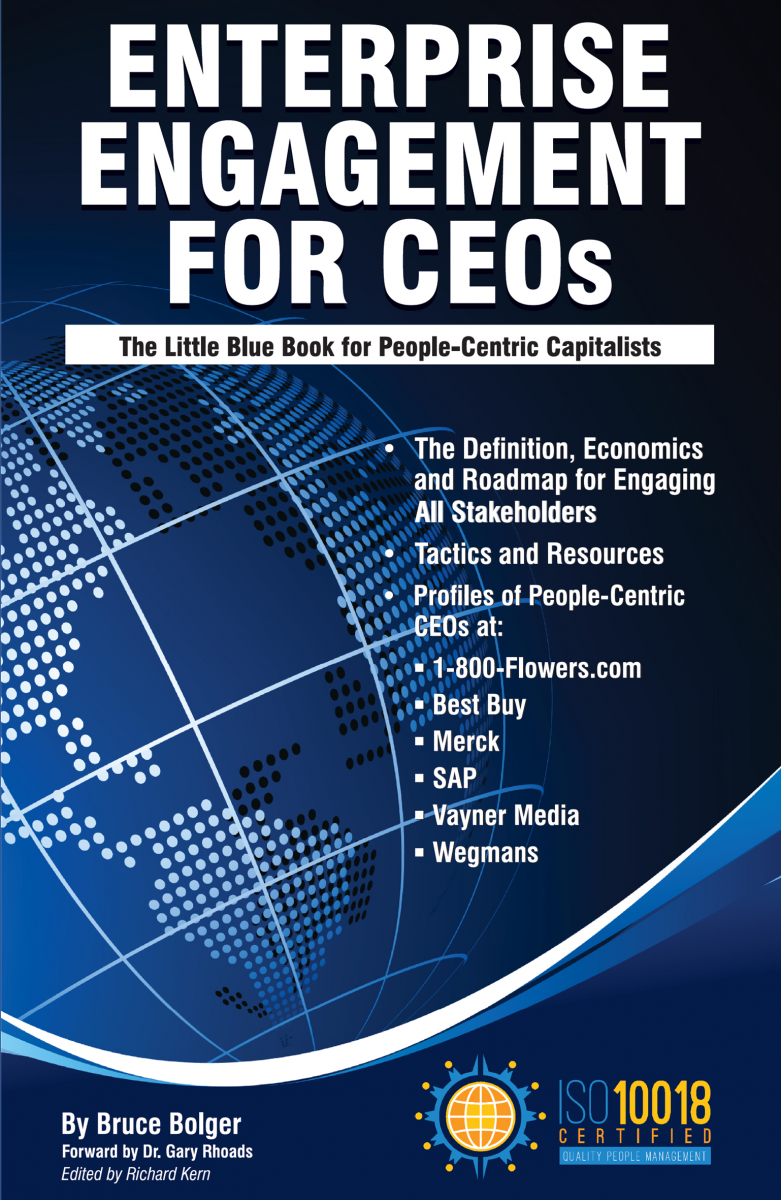 Enterprise Engagement: The Roadmap 5th Edition
The first and most comprehensive book on Enterprise Engagement and the new ISO 9001 and ISO 10018 quality people management standards. Includes 36 chapters detailing how to better integrate and align engagement efforts across the enterprise. (312 pages, $36.)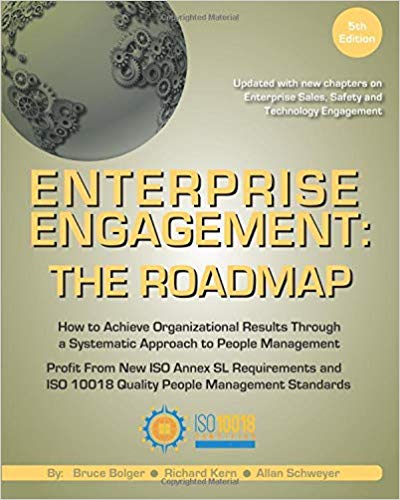 Online:
10-minute short course: click here for a 10-minute introduction to Enterprise Engagement and ISO standards from the Coggno.com learning platform.
Services:
• The International Center for Enterprise Engagement at TheICEE.org, offering: ISO 10018 certification for employers, solution providers, and Enterprise Engagement technology platforms; Human Resources and Human Capital audits for organizations seeking to benchmark their practices and related Advisory services for the hospitality field.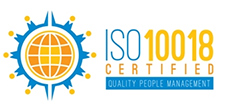 • The Engagement Agency at EngagementAgency.net, offering: complete support services for employers, solution providers, and technology firms seeking to profit from formal engagement practices for themselves or their clients, including Brand and Capability audits for solution providers to make sure their products and services are up to date.
• C-Suite Advisory Service—Education of boards, investors, and C-suite executives on the economics, framework, and implementation processes of Enterprise Engagement.
• Speakers Bureau—Select the right speaker on any aspect of engagement for your next event.
• Mergers and Acquisitions. The Engagement Agency's Mergers and Acquisition group is aware of multiple companies seeking to purchase firms in the engagement field. Contact Michael Mazer in confidence if your company is potentially for sale at 303-320-3777.
Enterprise Engagement Benchmark Tools: The Enterprise Engagement Alliance offers three tools to help organizations profit from Engagement. Click here to access the tools.
• ROI of Engagement Calculator. Use this tool to determine the potential return-on-investment of an engagement strategy.
• EE Benchmark Indicator. Confidentially benchmark your organization's Enterprise Engagement practices against organizations and best practices.
• Compare Your Company's Level of Engagement. Quickly compare your organization's level of engagement to those of others based on the same criteria as the EEA's Engaged Company Stock Index.
• Gauge Your Personal Level of Engagement. This survey, donated by Horsepower, enables individuals to gauge their own personal levels of engagement.
For more information, contact Bruce Bolger at Bolger@TheEEA.org, 914-591-7600, ext. 230.