Human Capital Disclosures Are Coming, Ready or Not
When 140 of the world's largest companies support an effort to develop a core set of common metrics and disclosures on non-financial factors to their investors and other stakeholders, the pressure will only grow on all organizations to publish Corporate Responsibility Reports for their customers, employees, communities, and boards, whether in the private or public sectors.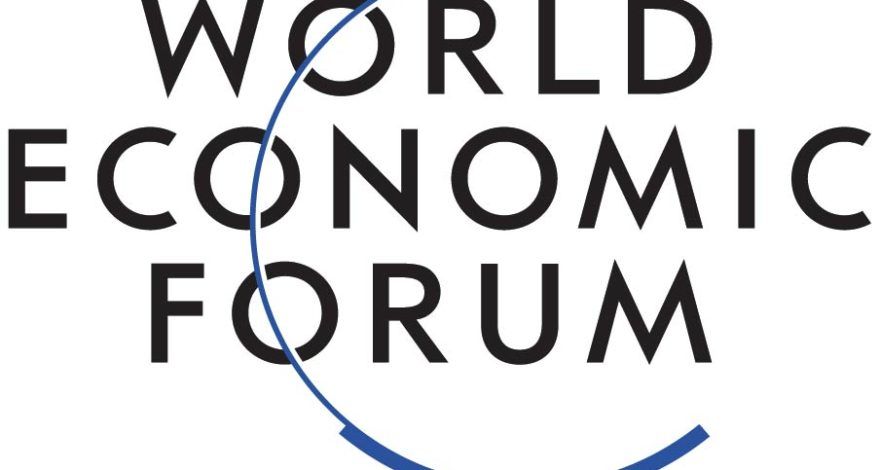 While the US Securities & Exchange Commission (SEC) continues to weigh disclosure requirements on human capital, one of the world's most prestigious business organizations will shortly release formal recommendations for comparable disclosures on ESG (Environmental, Social, and Governance) practices to be used by its members.
Based on a request of its International Business Council (IBC), the World Economic Forum (WEF) is creating a proposal for common ESG (Environmental, Social, Governance) disclosures. According to the WEF announcement, "Chief executive officers increasingly see topics of Environmental, Social, and Governance (ESG) and Sustainable Development Goals (SDG) as important to long-term business value creation."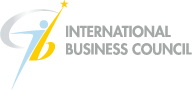 The goals are ambitious: "Adoption of such recommended universal metrics and disclosures by IBC companies is intended to be a catalyst for greater alignment and synergy among existing ESG standards and ultimately a system-wide solution, such as a generally accepted international accounting or other reporting standard drawn from best practices."
Observes Dr. Ron B. McKinley, Co-Founder of the International Center for Enterprise Engagement at
TheICEE.org
, "This announcement is a significant breakthrough for human capital reporting. When this many leading organizations agree to provide so much specific information about how they manage their people, it will pressure all CEOs of all types of organizations to do the same, for the betterment of investors, employees, customers, communities, and other business partners. I suspect we will begin to see more and more organizations worldwide publishing Corporate Responsibility Reports." ICEE is one of the first organizations to provide training and certification for ISO 30414 Human Capital Reporting and ISO 10018 Quality People Management standards.
Prepared in collaboration with the four leading accounting firms, Deloitte, EY, KPMG and PwC, the proposal, titled,
Toward Common Metrics and Consistent Reporting of Sustainable Value Creation,
"recommends a set of core metrics and recommended disclosures. The intent is for the metrics to be reflected in the mainstream annual reports of companies on a consistent basis across industry sectors and countries." Note that these recommendations come despite the recommendations by leading US companies to the SEC that it not require disclosures on human capital.
See ESM: SEC Human Capital Proposal Draws Near 80 Comments, No Media Attention.
Says Klaus Schwab, Founder and Executive Chairman of the World Economic Forum. "For stakeholder capitalism to become a reality, we must be able to measure companies' performance on environmental, social and governance metrics…The International Business Council's decision to endorse this principle, and their willingness to be measured in their annual reports on more than profits, is a crucial step to change our economic system for the better."
Explains Brian Moynihan, Chairman and Chief Executive Officer, Bank of America. "By aligning companies with asset owner and asset managers through common, limited and meaningful metrics, we will ensure sufficient capital is available to meet the sustainable development goals. Companies can deliver great returns for their shareholders, invest in their employees, share their success with the communities in which they operate and drive progress on societal priorities."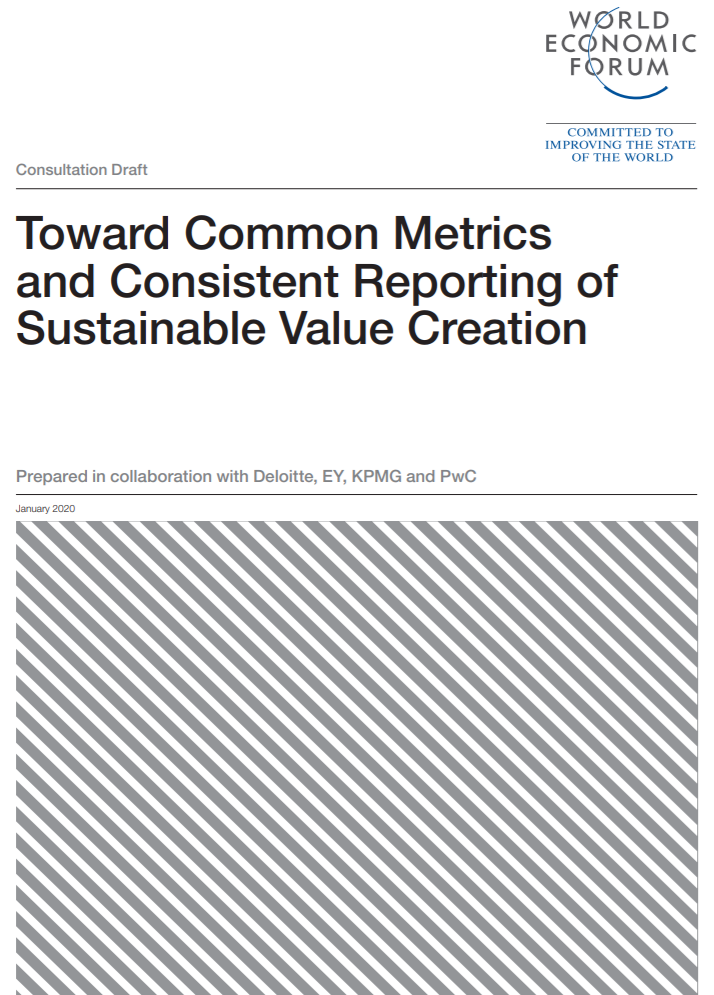 While the disclosure framework is still being finalized, WEF issued a
discussion paper
that includes detailed information on the recommendations. The human capital disclosures that would be recommended include:
Governing purpose: The organization's stated purpose linked to societal benefit and their core business.
Quality of the governing body: Composition and diversity of the board.
Stakeholder engagement: Impact of material issues on all stakeholders.
Dignity and equity: Wages, equality, labor conditions.
Health and safety: Number and nature of accidents; absentee rate.
Innovation in better products and services: Expenditures in research and development.
Training: Nature of and investment in skills development.
Wealth creation and employees: Number of new jobs created; turnover rate.
Community and social vitality: Monetary and volunteer activity.
The intent is to draw as much as possible of the criteria from existing disclosure requirements, the report says.
Says WEF's Schwab, "The International Business Council's decision to endorse this principle, and their willingness to be measured in their annual reports on more than profits, is a crucial step to change our economic system for the better."
---
Master the Principles of Enterprise Engagement to Achieve Organizational Goals and Enhance Your Career
Profit from a new strategic and systematic approach to engagement to enhance your organization's brand equity; increase sales, productivity, quality, innovation, and safety, and reduce risks.
Get trained to become a Chief Engagement Officer for your organization.
Achieve ISO 10018 Quality People Management Certification to demonstrate your organization's strategic commitment to people to your customers, employees, distribution partners, vendors, communities, investors, and regulators.
Learn how to create Sustainability or Integrated Reports for Your Organization or Clients.
Get up-to-speed on ISO human resources standards and guidelines to enhance HR performance.
Live Education:
The Northwestern University Law School's Workforce Science Project is hosting the first certification preparation program for ISO 30414 Human Capital Reporting and ISO 10018 Quality People Management standard, the first of which was recently achieved by DTE Energy. Professionals for organizations and solution providers seeking to benefit from the new ISO 30414 Human Capital Standards, ISO 10018 Quality People Management, and other standards can attend an intensive program requiring no more than one night away from the office for most US attendees to learn how these standards an improve performance, efficiency, and stakeholder experiences and prepare for certification. Click here for more information.
Enterprise Engagement in Action. Take advantage of scheduled monthly live webinar preparation courses for the Certified Engagement Practitioner designation consisting of three one-hour classes and of quarterly Advanced Engagement Practitioner courses consisting of three one-hour webinar classes. The AEP course is for individuals or teams seeking preparation ISO 10018 professional certification status. ICEE periodically runs regional one-day workshops on ISO 10018 Quality People Management principles and certification.
Resources: The Brand Media Coalition, the only guide to the story-telling power of brands and where to source them for business, event, promotional gifting, and rewards and recognition.
2019 Enterprise Engagement Solution Provider Directory
. The only directory of engagement solution providers covering all types of agencies and tactics as well as insights on how to select them.
Communities: The Enterprise Engagement Alliance and Advocate and the Brand Media Coalition free resource centers offering access to the latest research, news, and case studies; discounts, promotions, referrals, and commissions, when appropriate to third-party solution providers from participating coalition solution provider members.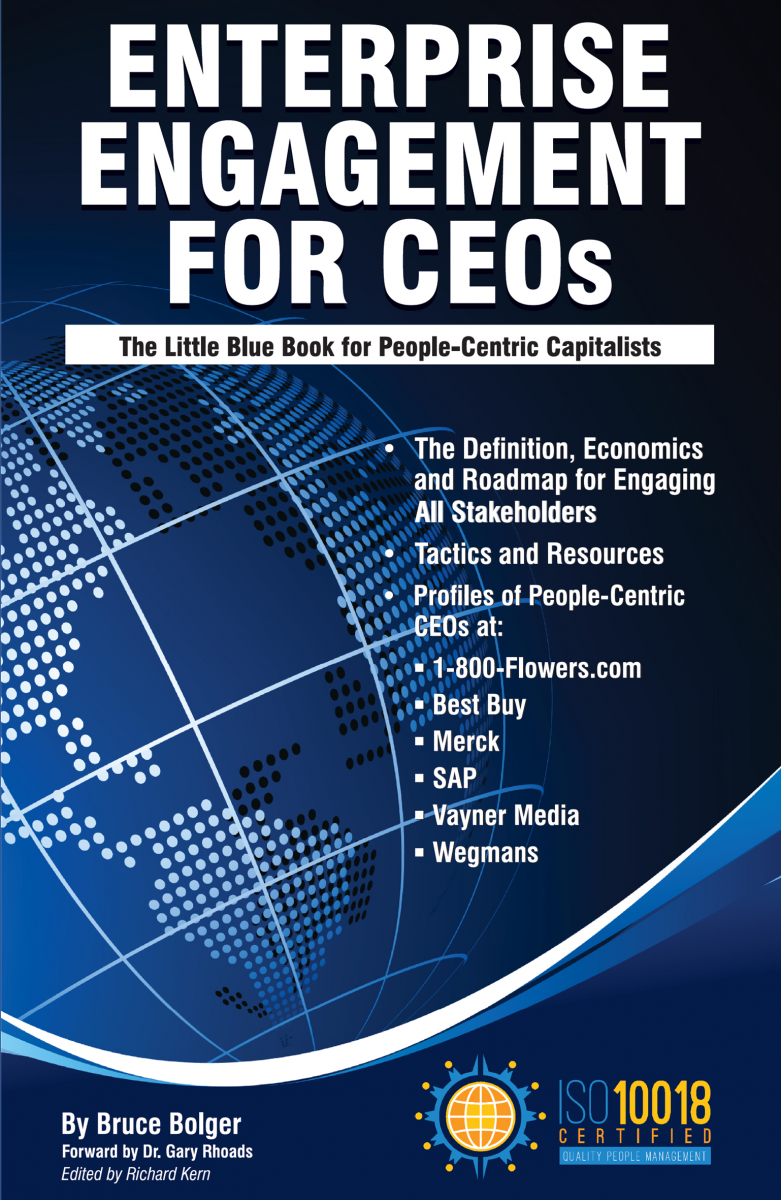 Enterprise Engagement: The Roadmap 5th Edition
The first and most comprehensive book on Enterprise Engagement and the new ISO 9001 and ISO 10018 quality people management standards. Includes 36 chapters detailing how to better integrate and align engagement efforts across the enterprise. (312 pages, $36.)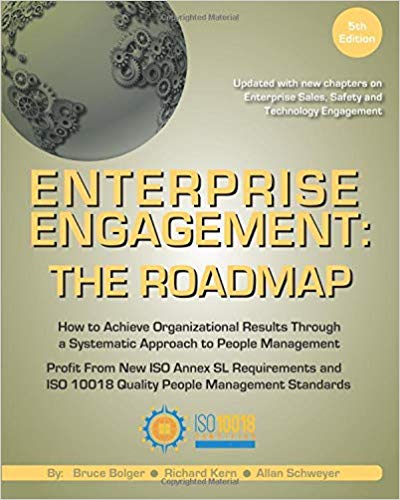 Online:
10-minute short course: click here for a 10-minute introduction to Enterprise Engagement and ISO standards from the Coggno.com learning platform.
Services:
• The International Center for Enterprise Engagement at TheICEE.org, offering: ISO 10018 certification for employers, solution providers, and Enterprise Engagement technology platforms; Human Resources and Human Capital audits for organizations seeking to benchmark their practices and related Advisory services for the hospitality field.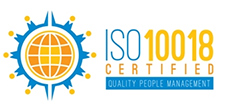 • The Engagement Agency at EngagementAgency.net, offering: complete support services for employers, solution providers, and technology firms seeking to profit from formal engagement practices for themselves or their clients, including Brand and Capability audits for solution providers to make sure their products and services are up to date.
• C-Suite Advisory Service—Education of boards, investors, and C-suite executives on the economics, framework, and implementation processes of Enterprise Engagement.
• Speakers Bureau—Select the right speaker on any aspect of engagement for your next event.
• Mergers and Acquisitions. The Engagement Agency's Mergers and Acquisition group is aware of multiple companies seeking to purchase firms in the engagement field. Contact Michael Mazer in confidence if your company is potentially for sale at 303-320-3777.
Enterprise Engagement Benchmark Tools: The Enterprise Engagement Alliance offers three tools to help organizations profit from Engagement. Click here to access the tools.
• ROI of Engagement Calculator. Use this tool to determine the potential return-on-investment of an engagement strategy.
• EE Benchmark Indicator. Confidentially benchmark your organization's Enterprise Engagement practices against organizations and best practices.
• Compare Your Company's Level of Engagement. Quickly compare your organization's level of engagement to those of others based on the same criteria as the EEA's Engaged Company Stock Index.
• Gauge Your Personal Level of Engagement. This survey, donated by Horsepower, enables individuals to gauge their own personal levels of engagement.
For more information, contact Bruce Bolger at Bolger@TheEEA.org, 914-591-7600, ext. 230.