ISO Human Resources Standards Q&A With Zahid Mubarik, ICEE Country Director
Zahid Mubarik, Executive Director, Central Asia, Mideast, and Europe for the International Center for Enterprise Engagement provides answer to frequently asked questions about ISO (International Organization for Standardization) human capital standards. Mubarik, who has earned an ISO 30414 professional certification, is also CEO of HR Metrics, an international human capital analytics firm based in Islamabad.
---
What Is a Standard?
A standard is a document that provides requirements, specifications and guidelines or characteristics that can be used to consistently ensure that materials, products, processes and services are fit for their purpose.

Who Develops Standards?
ISO is a legal association of members of national standards bodies representing 162 countries, supported by a Central Secretariat based in Geneva, Switzerland. The foremost aim of international standardization is to facilitate the exchange of goods and services through the elimination of technical barriers to trade and inter-organizational operations. ISO develops international standards for all industry sectors--except for electro technology, covered by IEC (International Electrotechnical Commission) and telecommunications, covered by International Technical Union.) ISO has 326 technical committees for standards development, and it has developed over 23,012 international standards for many professions. ISO standards make a positive contribution to the world we live in by improving efficiencies and transparency.
Why Standards Are Important?
The global economy is transforming the definition of value from physical to intellectual capital. In most countries, business is the most powerful driver of the economy. The World Trade Organization (WTO) requires its member countries to use international standards. Estimates by the Organization for Economic Co¬operation and Development (OECD) show that standards and related conformity assessment have an impact on 80 % of the world's trade in commodities. Here are few examples from leading economies.
Source
.
•
In Canada, the increased use of standards accounted for 17% of the labor productivity growth rate and about 9 % of the growth rate in economic output (real GDP) from 1981 to 2004.
•
In the UK, standards made an annual contribution of 2.5 billion pounds to the economy, and 13% of the growth in labor productivity has been attributed to standards.
What Are ISO Human Resources Standards
•
In the past, ISO standards were developed only for the manufacturing sector. Currently more than 70% of the global economy is comprised of the service industry. The ISO human resources standards offer broad, coordinating guidance to human resources practitioners and help to harmonize disparate practices for the benefit of organizations and their employees. They are designed to boost local economies by removing of barriers to trade, enhancing international market access and improving business efficiency, flexibility, and providing a cost-effective means of complying with international and regional rules and conventions and enhancing employee satisfaction. HR standards specify the minimum effective approaches, measurements and metrics to perform essential workforce management practices.
•
The standardization processes extend to all fields of human resources management, including Workforce Planning, Talent Sourcing, Recruitment, Selection, Retrenchment, Training and Development, Job Analysis, Job Design, Organizational Development, Performance Appraisal, Total Rewards, Employee Relations, Legislative and Regulatory compliance, Change Management, Diversity and Inclusion Management, Expatriate Management, Human Resources Communications, Workforce Readiness and Sustainability, Leadership Development, Human Resources Shared Services, Metrics, Analytics, Professional Certification, Wellness and Work/Life Balance Programs, Human Resources Aspects of Alliances, Joint Ventures, Mergers and Acquisitions, Human Resources Terminology and Nomenclatures.
What Are the Business Benefits of Human Resources Standards?
•
The HR standards offer broad, coordinating guidance to HR practitioners and harmonize disparate practices for the benefit of organizations and their employees. As a result of applying these standards, labor markets can become true marketplaces, in which commonly understood forms of transactions include employee competencies, complete and timely information, and virtual/flexible working arrangements; and creating talent exchanges analogous to stock exchange transactions.
•
Talent in developing countries will have increased access to job opportunities elsewhere due to interoperable workforce staffing practices.
•
Standardized HR processes reduce paper documentation and promote telecommuting and distance learning, further reducing the carbon footprint created by business travel needs and redundant administrative workforce practices.
•
Multinational companies can share talent and labor more quickly and with less risk of loss and fewer errors.
•
HR standards can increase employee satisfaction and labor peace as job-to-employee alignment is better achieved through consistent and effective management practices.
•
Consistency in HR practices reduces the cost of investigations and other regulatory responsibilities of government agencies and ministries charged with overseeing workplace practices.
•
The cost of managing employees declines as workforce management approaches align with the standards and economies of scale across sectors, in relocation, benefits, compensation and other HR functions.
•
Business leaders finally have a means to measure the value of the intangible assets including HR.
•
The transparency of HR practices enhances the reputation of organizations, improves employee morale, lowers labor turnover, decreases accidents, enhances product quality and fosters greater consumer and investor confidence.
•
Employees' expectations for treatment and opportunity within organizations are better understood by all parties and their competencies and other assets are more portable as employees transfer among organizations. Whether skilled or unskilled, employees are incentivized to improve their capability and to trade them across borders to willing employers.
•
The cost of products and services goes down due to an increase in efficiency of acquisition, transfer, and maintenance of talent, benefiting consumers as well.
•
HR Management Systems from different organizations can better interact without encountering the data transfer barriers among diverse software applications.
What Is Role of ISO Technical Committee 260
With a view to promote consistency and standardize the workforce management practices in terms of responsibilities and performance expectations, ISO initiated standardization of HR and formed a Technical Committee (TC 260) in 2011. Initially the ISO TC 260 was comprised of 11 countries, including the US, France, Germany, Sweden, Switzerland, Austria, Italy, Norway, Netherlands, Pakistan and Portugal. Currently TC 260 has 31 countries Participating "P" and 26 serving as Observers "O". The ISO TC 260 secretariat is held by American National Standards Institute ANSI. Details can be found
here
.
ISO HR Standards Published to Date
1.
ISO 30400: HRM (Human Resources Management) Vocabulary
2.
ISO 10667-1:2011: Assessment Service Delivery — Procedures and methods to assess people in work and organizational settings — Part 1: Requirements for the client
3.
ISO 10667-2:2011: Assessment Service Delivery — Procedures and methods to assess people in work and organizational settings — Part 2: Requirements for service providers
4.
ISO 30401:2018: Knowledge Management Systems -- Requirements
5.
ISO 30405: HRM Guidelines on Recruitment
6.
ISO/TR 30406:2017: Sustainable Employability Management for Organizations
7.
ISO/TS 30407:2017: Cost-Per-Hire Metric
8.
ISO 30408: HRM Guidelines on Human Governance
9.
ISO 30409: HRM Guidelines on Workforce Planning
10.
ISO/TS 30410:2018: Impact of Hire Metric
11.
ISO/TS 30411:2018: Quality of Hire Metric
12.
ISO 30418: 2019: Human Capital Reporting
Why Human Capital Reporting Is Important
•
Modern organizations recognize that the bulk of value creation is by an organization's people, and that good management practices and decisions can enhance performance. Using people analytics supports HR professionals in organizations seeking to adopt a more data-driven decision-making process as opposed to making decisions based on gut feelings. However, before organizations can take this step and start with advanced people analytics, there is the need to build a strong data foundation and overall metrics landscape. This is where the ISO 30414 Human Capital Reporting Standard comes into play. Human capital reporting provides qualitative and quantitative information on the workforce (Human Capital) and HR practices. The goal is to make value contribution of human resources to the organization more transparent. The standard can be used as a tool to demonstrate an organization's social responsibility to internal and external stakeholders.
•
CEOs are under growing pressure from investors, investment companies, government regulators, customers, employees, and communities, organizations to invest in all their stakeholders, including employees, customers, distribution partners, vendors, and communities and to disclose those investments and outcomes.
•
ISO standards provide the first and most widely accepted roadmaps for voluntary, strategic and systematic processes that improve outcomes and experiences.
•
With the new focus on human capital as an asset, the funds organizations budget to engage people are increasingly becoming considered an investment with a desired ROI, creating a new demand for voluntary, sensible and auditable practices.
•
By connecting the dots between the organization's brand, culture, and objectives, with the multiple tactics used to engage all stakeholders, leaders can not only improve performance through efficiencies but create better experiences for all stakeholders.
What Is the ISO 30414 Human Capital Reporting Standard?
•
The ISO 30414 is a voluntary guideline for all types and sizes of organizations, with the aim of establishing a worldwide standard for the quantification and analysis of key employee-related metrics. It was developed by many experts across the world, including academia, HR associations, HR practitioners from small and large companies, and HR consultants.
•
The standard provides guidance around eleven workforce related areas. It contains 58 people-related key metrics. Some metrics are for internal reporting while others are for external stakeholders. All metrics are differentiated, with specific recommendations for organizations of different sizes.
The Benefits of Using Human Capital Reporting Standard
Internally, human capital reporting assists organisations to move towards a more data-driven decision-making process across all facets of workforce management. It enables organizations to run HR like a business. If human capital reporting is firmly established, the next step is the implementation of advanced people analytics. By using the metrics for public reporting externally, organizations can also fulfil the needs of investors and other stakeholders seeking to have a firmer grasp of an organization's most valuable resource, human capital metrics, when properly interpreted can, in time, provide some predictability on your human capital's potential to deliver sustainable growth. The ISO 30414 human capital reporting standard offers following benefits:
•
The use of standardized and agreed-upon data, which describes organizational value in a broadly comparable sense,
•
The improvement of HR management processes that support good practice in establishing and maintaining positive employment relations,
•
Greater understanding of the financial and non-financial returns that are generated as a result of investments in human capital,
•
Accessible and transparent reporting of human capital data and insights that enhances internal and external understanding and assessment of an organization's human capital and its present and future performance.
What Are the Metrics in Human Capital Reporting Standard ISO 30414?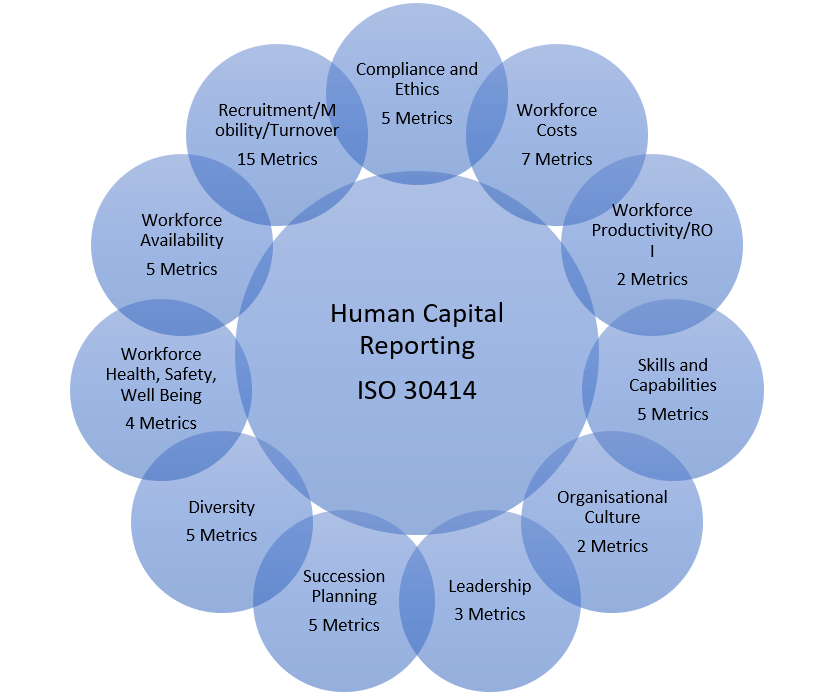 Which Organization Provides Certification on ISO HR Standards?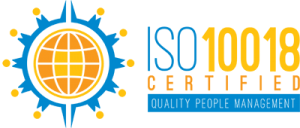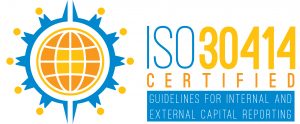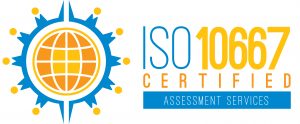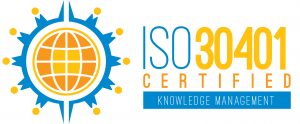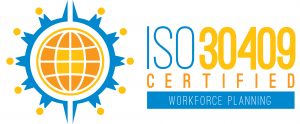 What Is the Difference between Professional and Organizational Certification?
•
Professional certification is meant for individuals who wish to acquire expertise to become consultant or auditor of ISO HR Standards.
•
Organizational certifications are meant for companies who wish have their processes audited to ensure proper implementation and to market this commitment to stakeholders.
How to Get Professional Certification?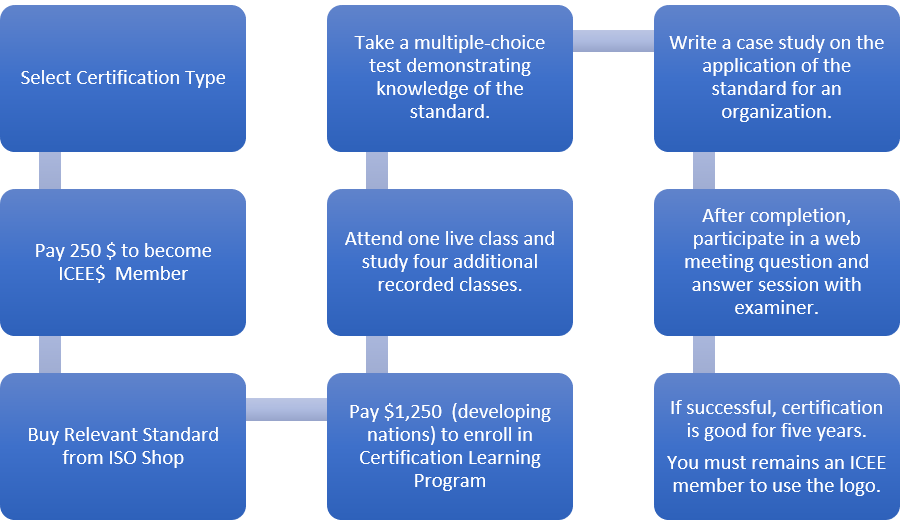 *In the case study, candidates must demonstrate the ability to develop or audit an ISO-compliant process by writing a development or audit plan based on a case study provided by ICEE for the exam, as well as have at least three years of management experience above.
*During the oral exam, candidates will be tested on questions to ensure they understand the scope of the standards. The questions relate specifically to the content provided in the education materials and are designed to establish a clear understanding of the principles and tactics of the standard, not to trick people. Candidates are judged on their overall understanding of the key principles of the standards, including the whys; the general principles; the tactical framework, applications, and other key issues clearly covered in the advance training. In most cases, candidates will know immediately upon the conclusion of the meeting if they have passed. There are no grades. Successful candidates will receive a letter of certification and the relevant Certified Practitioner certification and be listed in the ICEEs's
membership directory
and/or
Enterprise Engagement Advisors solution provider directory
as long as they remain an ICEE member in good standing.
ICEE Membership Benefits
•
Access to training material for all available certifications and access to instructors for guidance.
•
A listing in the Enterprise Engagement Solution Providers directory for solution providers and in the ICEE membership directory for practitioners seeking to become known as professionals in the field.
•
A weekly newsletter designed to brief members on latest trends, research, solutions, case studies, mergers and acquisitions in the field, professional opportunities, and more.
•
Discounts to events, products, and services, from a growing community of engagement solution providers and educators, as well as referral fees for advisors and consultants from participating solution providers.
•
Includes the right to use the logo for the certification earned as long as one remains as a member in good standing."
How to Achieve Organizational Certification
Organizational certification is meant for companies seeking to demonstrate their key practices/processes follow effective measurable reportable framework.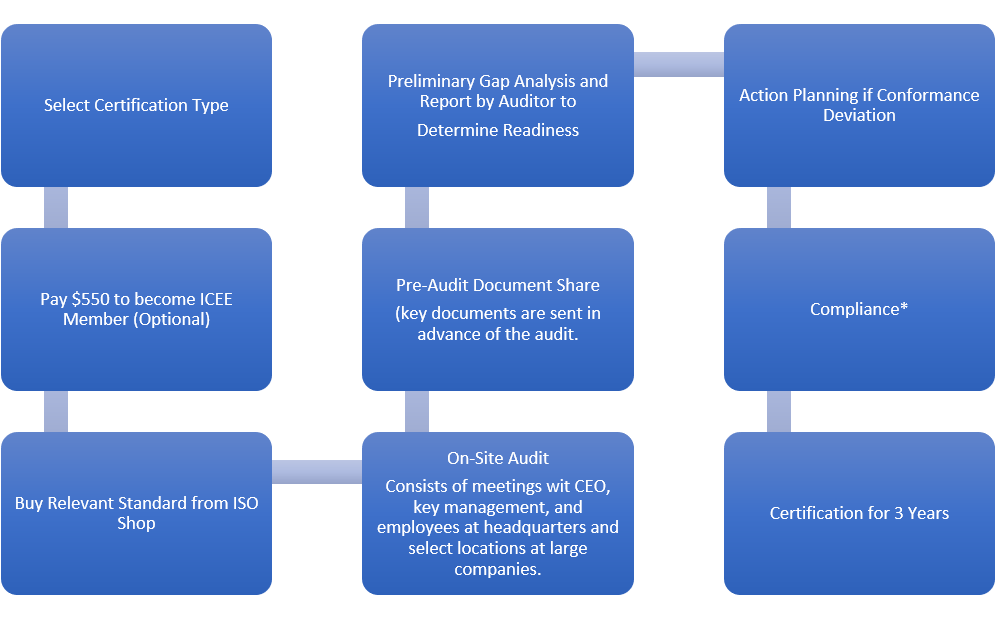 *Once an organization is ready, a meeting will be scheduled generally a minimum of four weeks in advance of the on-site audits. These start with a meeting with the certification team to review the certification management plan; documents provided to substantiate organizational practices and answer any questions; a meeting with the CEO or head of the division; individual 15-minute meetings with key organizational management relevant to the standard; and 15-minute meetings with employees relevant to the standard. These meetings are held to confirm a general understanding of the standard and the processes related to supporting that standard as outlined in the certification management plan submitted. Depending on the standard, the audit might include a general guided tour of the operation for the auditor to review any on-site implementation of the standard. ICEE understands the need for many organizations to comply with PCI compliant practices. If the organization has more than one location, depending on the size of that organization and the specific standard, the auditor may have to visit some or all the locations—a determination that is made during the expert assistance phase. An audit requires generally one day on location, if the organization has only one location. Depending on the standard, the audit may require about a half day at each additional location. If there any many locations, the auditor will determine the appropriate number and type of locations to visit.
At the completion of the audit, a preliminary determination can usually be provided on a conference call including the desired management representatives. If there are gaps to address, the organization receives a preliminary report with a gap analysis, with what is required for certification, etc., so that your organization can determine an action plan and timeline. In most cases, a future visit will not be required but rather the submission of substantiation of the elements deemed critical to demonstration of a strategic and systematic approach that addresses the needs of the interested parties as it relates to each standard. If an additional visit is required, the cost is generally assessed on a per-hour fee plus travel expenses.
As noted, ISO certifications are pass-fail. However, the ICEE examiner will provide additional detailed information the organization can use to potentially improve its processes or results as part of the final written audit report. Upon successful completion, the organization will receive a letter from ICEE stating that its processes have met the requirements of the standard, and the organization can tell its stakeholders that its practices officially comply with the ISO standard as certified by the auditor.
Fees for Organizational Audit Costs: $10,000 (1 location). Add $2,500 per location. Discounts may be applied to small, not-for-profit or government organizations.
•
The number of locations to be audited is generally determined in the additional gap analysis phase. Travel expenses are not included, as well as a possible supplement for extra travel hours due to distances involved—all disclosed and agreed upon in advance.
Solution Providers Seeking to Become ICEE ISO Certifiers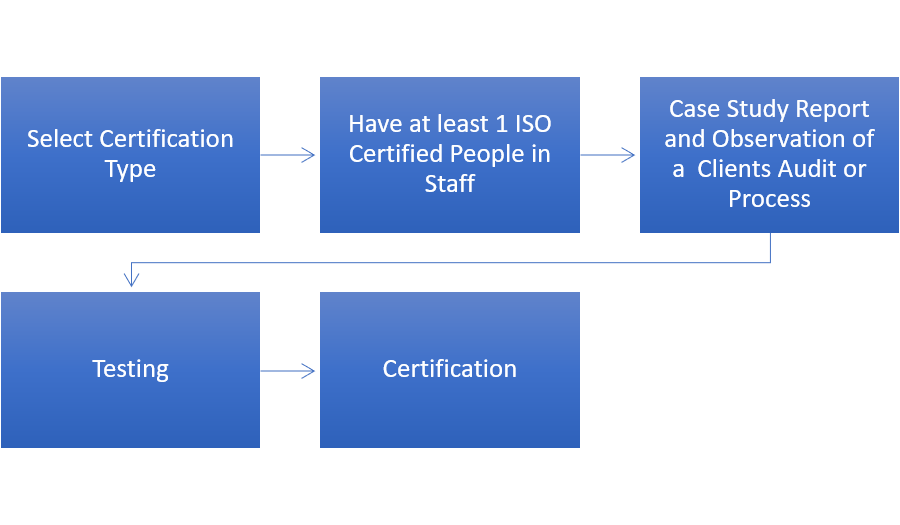 Audit Costs: $6,000
based on one location. Travel expenses are additional, as well as a possible supplement for extra travel hours if intercontinental travel is involved.
Technology Certifications
Technology can help support many of the processes involved in ISO standards, and therefore ICEE provides certifications for technologies that help organizations strategically and systematically address the processes and practices involved. Note that the certification is not based on the examiner's subjective appreciation for the technology's user interface or other features, but rather on whether it supports the key framework of the standard.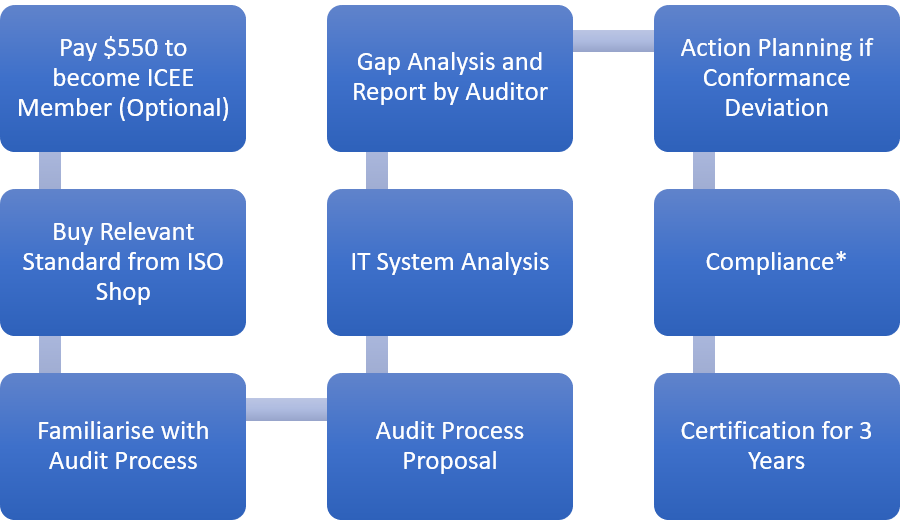 Audit cost and report: $3,000 every three years.
Optional Use of the ICEE ISO Certification Logo
•
Organizations that see the benefit of displaying and marketing the ISO logo to its stakeholders can license the use of the logo, which includes:
•
Use of the authorized ISO logo in all talent, customer, community, shareholder, etc. communications.
•
A listing of your company in the ICEE and EEA web sites of certified companies.
•
An article about your company in EEA's media platform at
EnterpriseEngagement.org
, with an audience of about 20,000 people per month.
•
An ICEE press release about your certification for use in your own community.
•
Participation in optional speakers and media spokesperson program.
Annual Fee of Using ICEE Logo (includes all membership benefits of EEA)
•
$2,500 per year
for companies with sales under $1 million per year
•
$3,500 per year
for the $1 million to $50 million sales range
•
$4,000 per year
for over $50 million to $500,000 million
•
$5,000 per year
or over $500 million to $1 billion
•
$7,500 per year
for over $1 billion per year in sales
Business Model for Auditors, Developers, and Solution Providers
Having a professional or solution provider certification opens a valuable business opportunity at a time of growing focus on human capital management. The Professional ISO certification comes with a complete sales, marketing, and training package on which one can generate fees, as well as the right to license the ICEE ISO logo on an ongoing basis on which one receives an ongoing share to certify other professionals or solution providers. The certification enables the recipient or its organization to build its own network of developers or auditors reporting to him or her, using the same model ICEE is using to help candidates in such a way as they can achieve recurring revenues through:
•
ICEE memberships.
Certified individuals or their companies receive 10% of membership fees generated by people seeking certification for as long as they remain members.
•
Exams for Certified Practitioners and ISO Certifications.
Certified individuals or their organizations will be paid $100 per hour by ICEE for administering exams, usually one hour per Certified Practitioner Exam and up to 10 hours for both oral and written report review for full ISO certification.
•
Audits or development.
Provided one is an ICEE member in good standing, one can use all the ICEE's materials to conduct audits and development programs and can charge whatever they wish and keep all the revenue. There is no need to subject a certification for review by ICEE if a client is not interested in the use of the ICEE ISO logo or accreditation, provided the ICEE's name is in no way affiliated with whatever letter of compliance you provide.
•
ICEE ISO logo license fees.
Should clients wish to use the ISO logo that corresponds to the standard and obtain the same rights as a certified professional or company in terms of the ability to create a network of auditors or developers; and or to use the logo for talent marketing, the company is entitled to 20% of the license fees for as long as its is the auditor. The recorded webinar meeting and written report when applicable must be submitted to ICEE for approval before a logo will be issued, and personal contact will be made with each candidate based on the type of certification. All individuals and companies issuing standards under your supervision must also submit the same information to ICEE in order to access the ICEE ISO logo and marketing support program.
ICEE reserves the right to audit any candidate or company at any time in a professional and transparent manner and to withdraw the right of an auditor at any time, as someone that individual or organization as certified as an auditor, to use the logo.
Note: ICEE ISO standards are not a multi-level marketing program.
It is expected that each certified professional or organization will personally vouch for the integrity of its own community, because their own certification will be subject to loss if there is any question as to the quality of the audits. ICEE believes that a multi-level marketing program would lead to conflicting interests inconsistent with the integrity of the ICEE brand of ISO human capital certifications.
---
Master the Principles of Enterprise Engagement to Achieve Organizational Goals and Enhance Your Career
Profit from a new strategic and systematic approach to engagement to enhance your organization's brand equity; increase sales, productivity, quality, innovation, and safety, and reduce risks.
Get trained to become a Chief Engagement Officer for your organization.
Achieve ISO 10018 Quality People Management Certification to demonstrate your organization's strategic commitment to people to your customers, employees, distribution partners, vendors, communities, investors, and regulators.
Learn how to create Sustainability or Integrated Reports for Your Organization or Clients.
Get up-to-speed on ISO human resources standards and guidelines to enhance HR performance.
Live Education:
The Northwestern University Law School's Workforce Science Project is hosting the first certification preparation program for ISO 30414 Human Capital Reporting and ISO 10018 Quality People Management standard, the first of which was recently achieved by DTE Energy. Professionals for organizations and solution providers seeking to benefit from the new ISO 30414 Human Capital Standards, ISO 10018 Quality People Management, and other standards can attend an intensive program requiring no more than one night away from the office for most US attendees to learn how these standards an improve performance, efficiency, and stakeholder experiences and prepare for certification. Click here for more information.
Enterprise Engagement in Action. Take advantage of scheduled monthly live webinar preparation courses for the Certified Engagement Practitioner designation consisting of three one-hour classes and of quarterly Advanced Engagement Practitioner courses consisting of three one-hour webinar classes. The AEP course is for individuals or teams seeking preparation ISO 10018 professional certification status. ICEE periodically runs regional one-day workshops on ISO 10018 Quality People Management principles and certification.
Resources: The Brand Media Coalition, the only guide to the story-telling power of brands and where to source them for business, event, promotional gifting, and rewards and recognition.
2019 Enterprise Engagement Solution Provider Directory
. The only directory of engagement solution providers covering all types of agencies and tactics as well as insights on how to select them.
Communities: The Enterprise Engagement Alliance and Advocate and the Brand Media Coalition free resource centers offering access to the latest research, news, and case studies; discounts, promotions, referrals, and commissions, when appropriate to third-party solution providers from participating coalition solution provider members.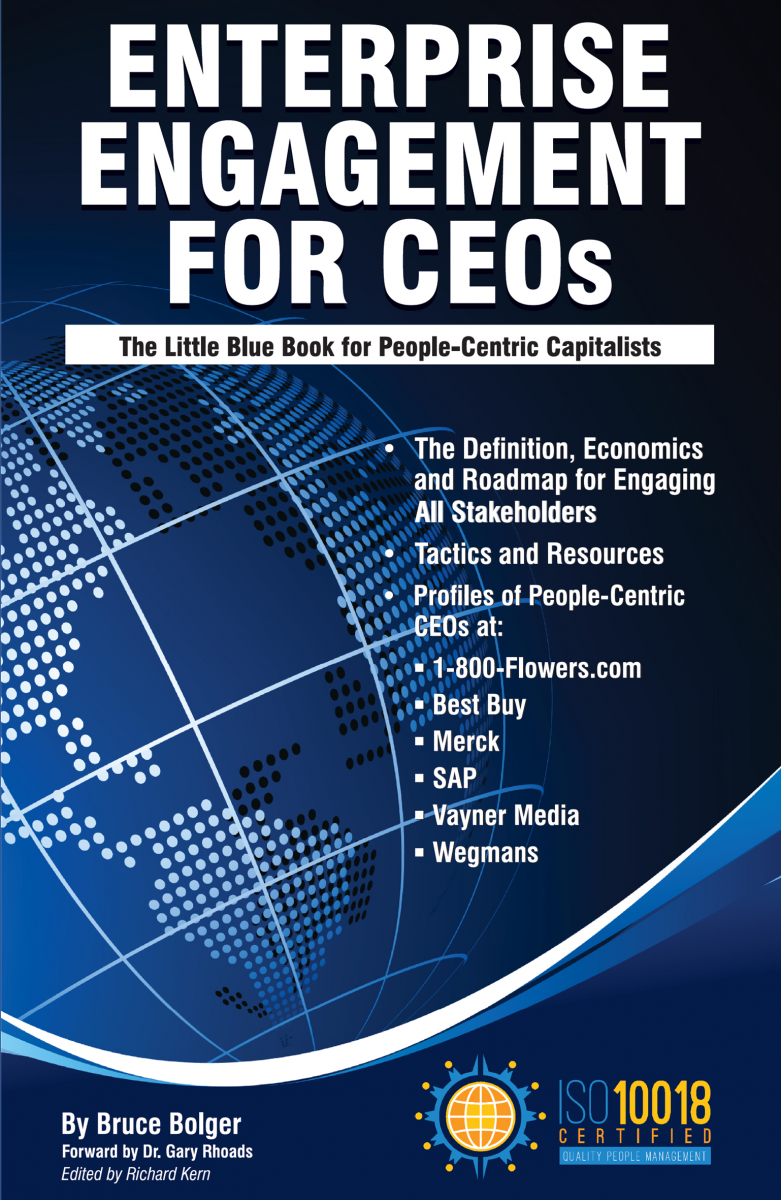 Enterprise Engagement: The Roadmap 5th Edition
The first and most comprehensive book on Enterprise Engagement and the new ISO 9001 and ISO 10018 quality people management standards. Includes 36 chapters detailing how to better integrate and align engagement efforts across the enterprise. (312 pages, $36.)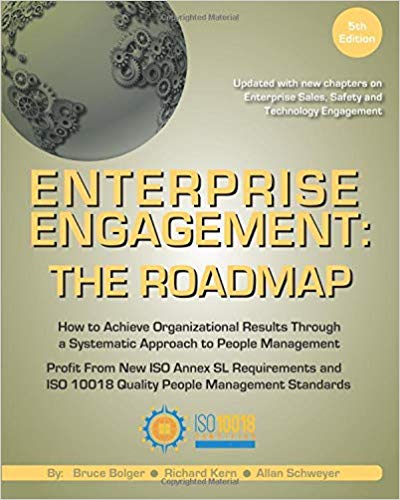 Online:
10-minute short course: click here for a 10-minute introduction to Enterprise Engagement and ISO standards from the Coggno.com learning platform.
Services:
• The International Center for Enterprise Engagement at TheICEE.org, offering: ISO 10018 certification for employers, solution providers, and Enterprise Engagement technology platforms; Human Resources and Human Capital audits for organizations seeking to benchmark their practices and related Advisory services for the hospitality field.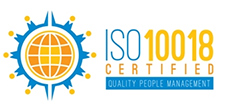 • The Engagement Agency at EngagementAgency.net, offering: complete support services for employers, solution providers, and technology firms seeking to profit from formal engagement practices for themselves or their clients, including Brand and Capability audits for solution providers to make sure their products and services are up to date.
• C-Suite Advisory Service—Education of boards, investors, and C-suite executives on the economics, framework, and implementation processes of Enterprise Engagement.
• Speakers Bureau—Select the right speaker on any aspect of engagement for your next event.
• Mergers and Acquisitions. The Engagement Agency's Mergers and Acquisition group is aware of multiple companies seeking to purchase firms in the engagement field. Contact Michael Mazer in confidence if your company is potentially for sale at 303-320-3777.
Enterprise Engagement Benchmark Tools: The Enterprise Engagement Alliance offers three tools to help organizations profit from Engagement. Click here to access the tools.
• ROI of Engagement Calculator. Use this tool to determine the potential return-on-investment of an engagement strategy.
• EE Benchmark Indicator. Confidentially benchmark your organization's Enterprise Engagement practices against organizations and best practices.
• Compare Your Company's Level of Engagement. Quickly compare your organization's level of engagement to those of others based on the same criteria as the EEA's Engaged Company Stock Index.
• Gauge Your Personal Level of Engagement. This survey, donated by Horsepower, enables individuals to gauge their own personal levels of engagement.
For more information, contact Bruce Bolger at Bolger@TheEEA.org, 914-591-7600, ext. 230.