Enterprise Engagement Certification Course for CFOs, Attorneys Open to Public
A continuing education program for CFOs (Chief Financial Officers) and attorneys on human capital management, reporting, and ROI of engagement in the new world of ESG (Environmental, Social, and Governance) is the topic of a four-hour virtual workshop for attorneys and accountants seeking to maintain their accreditation through continuing education. The program, set for May 15 from 9 am to 1 pm, is open to anyone in business for $49.
This new course, developed and presented by the Enterprise Engagement Alliance for the
Accountant Lawyers Alliance
, is focused specifically on the needs of the CPAs (certified public accountants) and attorneys seeking to demonstrate and apply their understanding of the basic principles involved with managing, measuring, and reporting on all aspects of human capital and stakeholder engagement. Participation qualifies for CPE credits for accountants and CLE credits for attorneys.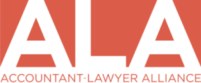 The first of the bi-annual program will be held on Friday, May 15 from 9 am-1 pm.
Click here
to register. The four-hour virtual program is $49 for nonmembers of the ALA.
Speakers and panelists include:
Bruce Bolger
, Founder, Enterprise Engagement Alliance, program host.
Dave Bookbinder
, Senior Director, CFGI, and author of The New ROI, on human capital and valuations.
Al Cini
, CEO, Co-Founder of BCAT, on Brand Alignment.
Todd Hanson
, CEO, Founder, of Catalyst Performance Group, on Business Operating Systems and ROI of Engagement.
Manny Lara
, Director, Human Resources, Progressive Community Health Centers, on human capital management.
Barbara Porter
, Managing Director, EY, on Stakeholder Capitalism and the growing pressure for human capital reporting.
Tyrone Smith Jr.
, People Operations, Global Workforce Analytics Leader, Ryan, on human capital management.
Nick Shepherd
, Fellow, Chartered Professionals Accountant (Canada), author Have Accountants Lost Their Balance, former CFO, on accounting for human capital.
Topics Covered
According to the ALA, the need for CPAs and attorneys to have a firm grasp of human capital management, measurement, and ROI of engagement is being driven by:
•
The risks associated with failing to have a strategic and systematic approach to the management of all stakeholders.
•
The increasing pressure on the International Financial Reporting Standards Foundation to develop standards for the disclosure of human capital information in financial reports.
•
Research and empirical data showing a clear link between financial results and the effective use and engagement of employees and other key stakeholders.
•
The impact of Covid-19 on workforce management and engagement.
•
The new US Securities and Exchange Commission SK regulations now requiring US public companies to disclose information on the human capital resource issues material to organizational performance, including information on practices and metrics.
•
The recognition that organizations spend up to half or more of annual expenses on people with, in most cases, little return-on-investment measurement.
•
An increased interest in ESG investing.
Learning Objectives
•
Review how human capital is currently treated for financial reporting purposes.
•
Discuss the future of human capital reporting.
•
Describe the core principles of human capital management and measurement.
•
Review empirical evidence supporting the firm stakeholder value theme.
•
Learn about the various tactics of engagement and their business models.
•
Review case studies of effective practices.
The program is directed by Bruce Bolger, founder of the Enterprise Engagement Alliance at
TheEEA.org
, a leading education, outreach, media, and advisory company focusing on human capital management, measurement, and the return on investment of engagement practices.
The ALA partners with
McDevitt and Kline LLC
for certificate issuance. McDevitt & Kline, LLC is registered with the National Association of State Boards of Accountancy (NASBA), as a sponsor of continuing professional education on the National Registry of CPE (Continuing Professional Education) sponsors.
Click here to register. The four-hour live virtual program is $49 for nonmembers of CE Workshops.
For More Information
Bruce Bolger
Founder, Enterprise Engagement Alliance
914-591-7600, ext. 230
---
Master the Principles of Stakeholder Capitalism And Implementation Through Enterprise Engagement
Education, Certifications, and Information to Activate
Stakeholder Capitalism Available Nowhere Else
A complete learning, certification, and information program and a course syllabus for educators.
Training and Certification
Enterprise Engagement Alliance Education: Certified Engagement Practitioner; Advanced Engaged Practitioner, and Certified Engagement Solution Provider learning and certification programs on how to implement Stakeholder Capitalism principles at the tactical level.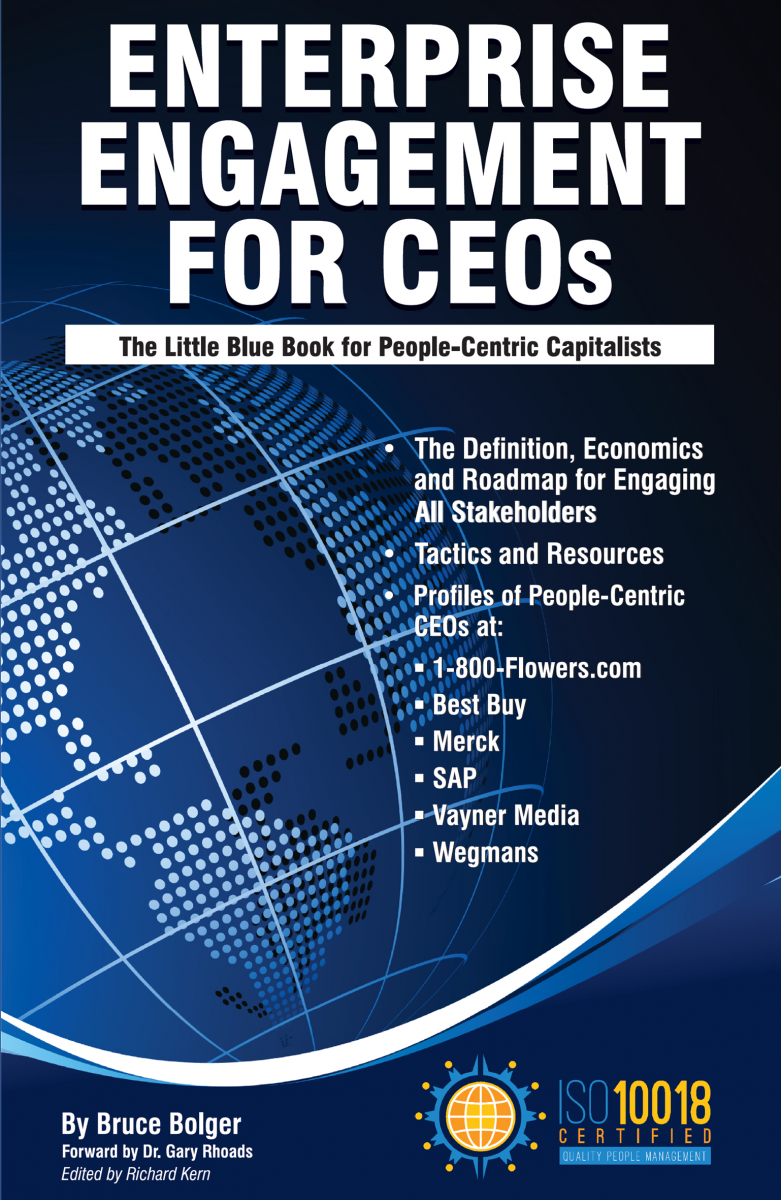 Join the EEA to begin your certification process or see our other resources below.
THE ONLY BOOKS ON STAKEHOLDER CAPITALISM IMPLEMENTATION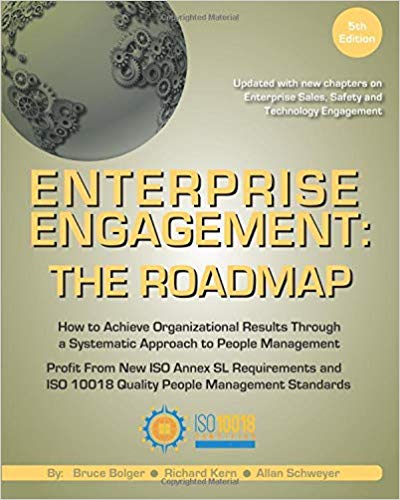 Enterprise Engagement: The Roadmap 5th Edition
The first and most comprehensive book on Enterprise Engagement and the new ISO 9001 and ISO 10018 quality people management standards. Includes 36 chapters detailing how to better integrate and align engagement efforts across the enterprise. (312 pages, $36.)
OTHER RESOURCES TO ACTUALIZE STAKEHOLDER CAPITALISM
Communities:
The
Enterprise Engagement Alliance and Advocate
and the
Brand Media Coalition
free resource centers offering access to the latest research, news, and case studies; discounts, promotions, referrals, and commissions, when appropriate to third-party solution providers from participating coalition solution provider members.
Enterprise Engagement
Resources:
EEXAdvisors.com provides the only curated online marketplace to access hundreds of solution providers in all areas of human capital management and enterprise engagement throughout the world.
Online Overview:
10-minute short course: click here for a 10-minute introduction to Enterprise Engagement and ISO standards from the Coggno.com learning platform.
Services:
• The Engagement Agency at EngagementAgency.net, offering: complete support services for employers, solution providers, and technology firms seeking to profit from formal engagement practices for themselves or their clients, including Brand and Capability audits for solution providers to make sure their products and services are up to date.
• C-Suite Advisory Service—Education of boards, investors, and C-suite executives on the economics, framework, and implementation processes of Enterprise Engagement.
• Speakers Bureau—Select the right speaker on any aspect of engagement for your next event.
• Mergers and Acquisitions. The Engagement Agency's Mergers and Acquisition group is aware of multiple companies seeking to purchase firms in the engagement field. Contact Michael Mazer in confidence if your company is potentially for sale at 303-320-3777.
Enterprise Engagement Benchmark Tools: The Enterprise Engagement Alliance offers three tools to help organizations profit from Engagement. Click here to access the tools.
• ROI of Engagement Calculator. Use this tool to determine the potential return-on-investment of an engagement strategy.
• EE Benchmark Indicator. Confidentially benchmark your organization's Enterprise Engagement practices against organizations and best practices.
• Compare Your Company's Level of Engagement. Quickly compare your organization's level of engagement to those of others based on the same criteria as the EEA's Engaged Company Stock Index.
• Gauge Your Personal Level of Engagement. This survey, donated by Horsepower, enables individuals to gauge their own personal levels of engagement.
For more information, contact Bruce Bolger at Bolger@TheEEA.org, 914-591-7600, ext. 230.