Use This Free Checklist to Evaluate Your Human Capital Reporting
Last month, the Enterprise Engagement Alliance shared a rating system for human capital reporting that investors and other stakeholders increasingly seek from organizations in which they wish to invest, work for, do business with, or have located in their communities. See ESM: EEA Releases First Draft Ratings on Human Capital Reporting. Having received generally positive feedback on the disclosure format, here's a free checklist any organization can use to evaluate whether its own human capital reporting provides meaningful information.
To create its new Quality in Human Capital Reporting ratings and scorecard, the Enterprise Engagement Alliance draws upon the ISO 30414 Human Capital reporting and ISO 10018 People Engagement standards. Here is a checklist any organization can use to determine if its human capital reporting is providing information of value to stakeholders. This checklist is based on the evaluation form used by Enterprise Engagement Alliance evaluators.

Quality in Human Capital Reporting Framework Ratings and Scorecard

A perfect score is 56.
PDFs or Web addresses of disclosures reviewed and referenced in this report:
____Corporate Sustainability/Responsibility Report:
____Securities and Exchange Commission 10-K Report:
____Other: Please specify.
Each Corporate Sustainability or Human Capital Report is evaluated based on:
•
The number of critical human capital issues addressed.
•
The clarity of organizational purpose and objectives and definition of stakeholder audiences.
•
The specificity and comparability of metrics reporting, i.e. ISO, GRI, SASB, UN, IFRS Foundation, etc. or an internal process that can be succinctly explained and is auditable. (The EEA ratings do not dictate the use of one reporting framework over another.) T
•
The degree to which the metrics align with stated goals.
•
The explanation of tactical methodology to encourage stakeholder engagement that address the topic categories of the ISO 30414 Human Capital reporting and ISO 10018 People Engagement standards, which address the interests of all stakeholders.
•
Accountability—who oversees the process.
Scoring
•
Methodology Point Score—0 points are assigned for no methodology information provided; 1 point is assigned for a basic summary information of specific programs or methods; 2 points for explaining how these methodologies support overall organizational goals.
•
Metrics Point Score--0 points are assigned for no metrics provided; 1 point is assigned for basic metrics compared year to year (input data related to costs or basic demographic or related information); 2 points metrics aligned with the stated organizational objectives.
•
XYZ provides many details in the human capital portion of its overall Corporate Sustainability Report covering nine of the 14 recommended disclosure topics. The report is detailed on methodologies but provides much less in terms of actual metrics disclosed or associated with results or organizational objectives.
•
Specifically, the report lacks information on costs; productivity; recruitment, mobility, and turnover; employee bench strength; workforce availability, and customer engagement.
•
While it discloses the demographic composition of its workforce, the report could provide more metrics related to the level of diversity and inclusion (participation of different demographics in organizational initiatives) and mobility.
•
Micron provides the following information and metrics on its people practices; 2019–2020 FTSE 4 Good Index Constituent (FTSE Russell); 2019–2020 Certified Great Place to Work; 2020: Best Employers for Diversity (Forbes); 2020: America's Most Responsible Companies (Newsweek); 2020: Top 100 Global Innovators.
•
It uses the SASB and GRI reporting frameworks.
Corporate Sustainability Report Evaluation Form
| Category | Y/N | Methodologies | Metrics |
| --- | --- | --- | --- |
| 1. Leadership | | | |
| | | | |
| 3. Costs | | | |
| 4. Diversity, Equity, Inclusion | | | |
| 5. Occupational Health and Safety | | | |
| 6. Organizational Culture | | | |
| 7. Productivity | | | |
| 8. Recruitment, Mobility and Turnover | | | |
| 9. Employee Bench Strength | | | |
| 10. Skills and Capabilities | | | |
| 11. Workforce Availability | | | |
| 12. Customer Engagement | | | |
| 13. Supply Chain Engagement | | | |
| | | | |
---
Master the Principles of Stakeholder Capitalism And Implementation Through Enterprise Engagement
Education, Certifications, and Information to Activate
Stakeholder Capitalism Available Nowhere Else
A complete learning, certification, and information program and a course syllabus for educators.
Training and Certification
Enterprise Engagement Alliance Education: Certified Engagement Practitioner; Advanced Engaged Practitioner, and Certified Engagement Solution Provider learning and certification programs on how to implement Stakeholder Capitalism principles at the tactical level.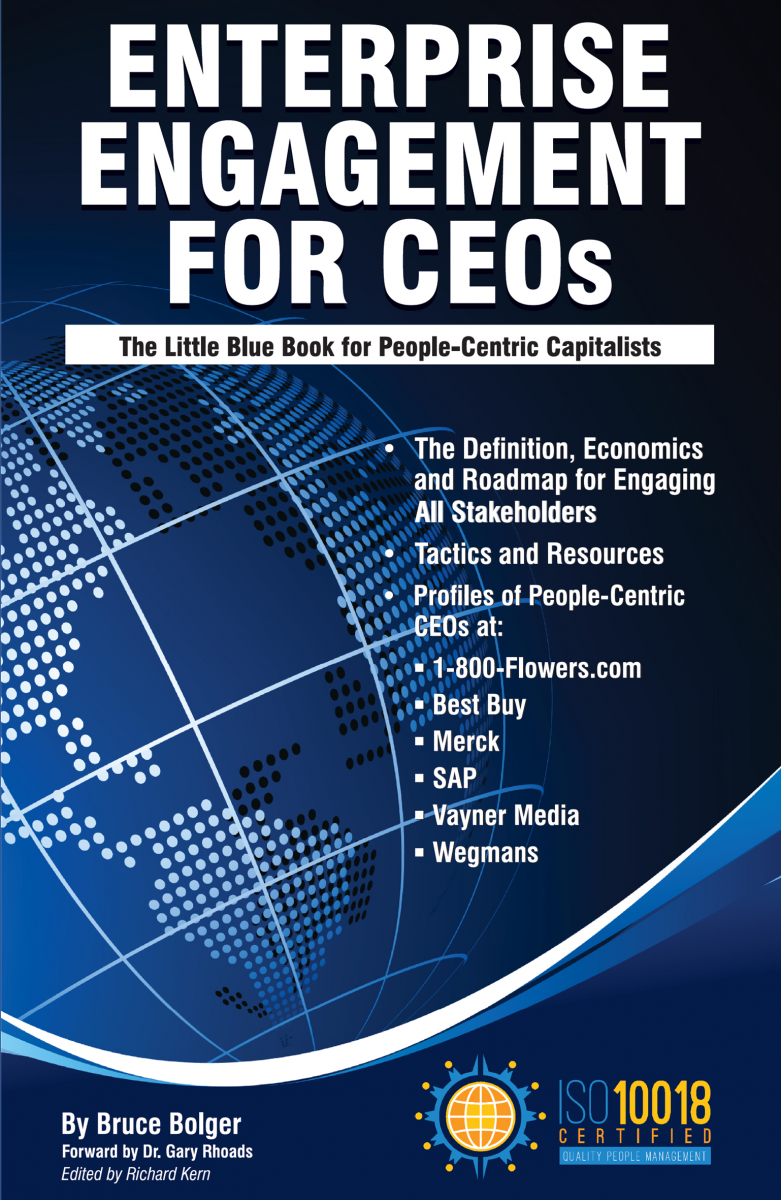 Join the EEA to begin your certification process or see our other resources below.
THE ONLY BOOKS ON STAKEHOLDER CAPITALISM IMPLEMENTATION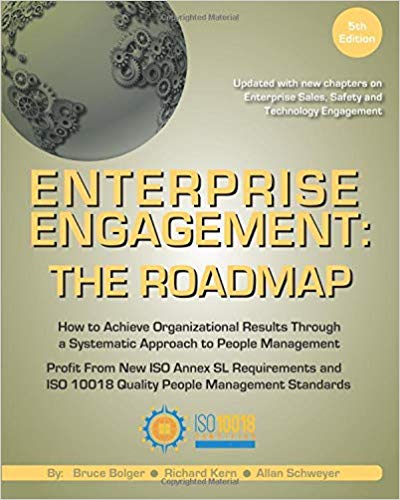 Enterprise Engagement: The Roadmap 5th Edition
The first and most comprehensive book on Enterprise Engagement and the new ISO 9001 and ISO 10018 quality people management standards. Includes 36 chapters detailing how to better integrate and align engagement efforts across the enterprise. (312 pages, $36.)
OTHER RESOURCES TO ACTUALIZE STAKEHOLDER CAPITALISM
Communities:
The
Enterprise Engagement Alliance and Advocate
and the
Brand Media Coalition
free resource centers offering access to the latest research, news, and case studies; discounts, promotions, referrals, and commissions, when appropriate to third-party solution providers from participating coalition solution provider members.
Enterprise Engagement
Resources:
EEXAdvisors.com provides the only curated online marketplace to access hundreds of solution providers in all areas of human capital management and enterprise engagement throughout the world.
Online Overview:
10-minute short course: click here for a 10-minute introduction to Enterprise Engagement and ISO standards from the Coggno.com learning platform.
Services:
• The Engagement Agency at EngagementAgency.net, offering: complete support services for employers, solution providers, and technology firms seeking to profit from formal engagement practices for themselves or their clients, including Brand and Capability audits for solution providers to make sure their products and services are up to date.
• C-Suite Advisory Service—Education of boards, investors, and C-suite executives on the economics, framework, and implementation processes of Enterprise Engagement.
• Speakers Bureau—Select the right speaker on any aspect of engagement for your next event.
• Mergers and Acquisitions. The Engagement Agency's Mergers and Acquisition group is aware of multiple companies seeking to purchase firms in the engagement field. Contact Michael Mazer in confidence if your company is potentially for sale at 303-320-3777.
Enterprise Engagement Benchmark Tools: The Enterprise Engagement Alliance offers three tools to help organizations profit from Engagement. Click here to access the tools.
• ROI of Engagement Calculator. Use this tool to determine the potential return-on-investment of an engagement strategy.
• EE Benchmark Indicator. Confidentially benchmark your organization's Enterprise Engagement practices against organizations and best practices.
• Compare Your Company's Level of Engagement. Quickly compare your organization's level of engagement to those of others based on the same criteria as the EEA's Engaged Company Stock Index.
• Gauge Your Personal Level of Engagement. This survey, donated by Horsepower, enables individuals to gauge their own personal levels of engagement.
For more information, contact Bruce Bolger at Bolger@TheEEA.org, 914-591-7600, ext. 230.