Does the End of Third-Party Cookies Spell the Return of Permission Marketing?
In the late 1990s, the marketing world was abuzz with the concept of permission marketing—identifying and building relationships with people willing to engage with your organization. Despite the promise, the concept never fully took off because of the rise of search-engine and third-party cookie marketing, making it possible to target people seeking related information without having to get permission. Now, with the end of third-party cookies, and the rise of Chat AI as a search tool, the strategic use of contextual content will be more important than ever.

The Challenges of Cookie-less Marketing
Permission Marketing: The Strategy for Capturing First-Party Data
In the World of Permission and Chat AI, Content and Incentives Rule
Address the Customer Experience

The major web browsers are phasing out the use of third-party cookies. What does this have to do with marketing? Everything. By using third-party cookies, marketing agencies can place ads on content directed to specific audiences based on the web sites they have visited, or other actions taken, meaning that the advertiser does not need to get permission to display ads on thousands of web sites. Without third-party cookies, organizations of all sizes will have to focus more on strategies to gain permission to market to their customers and prospects via the web or email, in addition to traditional search advertising and other tools the browsers are developing to serve up targeted content on a permission basis.

The Challenges of Cookie-less Marketing

The elimination of third-party cookies "represents a considerable change for marketers who heavily relied on cookies for their ad campaigns," says Neil Patel, Founder of NP Digital and a widely followed digital marketing expert, in his report, "Marketing Without Cookies." For years, many digital marketing teams relied on cookies for marketing, he notes. "However, everything is about to change. Mozilla Firefox and Apple Safari already block third-party cookies, and recently, Google revealed it would no longer support cookies on ad networks and its Chrome browser." Cookies are digital bits of code for which companies now need permission to place on your site, but few people bother to read the fine print, and many simply decline to opt-in to the use of cookies of any kind.

Patel continues, "Your marketing campaigns don't have to suffer because you don't have access to third-party cookies. You can learn to leverage tools like first-party data to increase the effectiveness of your marketing efforts without depending on cookies." This is easier said than done, or the permission marketing revolution would have fully evolved sooner.

Permission Marketing: The Strategy for Capturing First-Party Data

First-party data is information your company captures directly from interactions with your customers and prospects across channels, this can include information supplied in sign-up forms, purchases, white paper downloads, sales history, data from mobile apps, customer feedback, email engagement, web site activity and other engagements. The advantage of first-party data is that is owned by your organization; you don't depend on any other third-party to access it. The downside is that in most cases you need permission to access this data for marketing purposes.

In 1999, marketing guru Seth Godin published the book, Permission Marketing, Turning Strangers Into Friends and Friends Into Customers," in which he wrote: "Instead of annoying potential customers by interrupting their most coveted commodity, time, permission marketing offers consumers incentives to voluntarily accept advertising. Now the Internet pioneer who has dramatically improved marketing effectiveness in media introduces a fundamentally different way of thinking about advertising products and services. By reaching out to only those individuals who have expressed an interest in learning more about a product, permission marketing enables companies to develop long-term relationships with customers, create trust, build brand awareness, and greatly improve the chances of making a sale."

Sadly, Godin's vision has only partially materialized, most likely because search engine advertising and contextual advertising (ads placed on desired web sites or targeted content) powered by third-party cookies have made it relatively easy to target ads without consent. The elimination of third-party cookies, marketers all agree, will force marketers to change their ways.

In the World of Permission and Chat AI, Content and Incentives Rule

Patel suggests that companies can collect first-party data through online surveys, sign-up forms, newsletters, community polls, SMS interactions, mobile notification processes, and direct mail. Other valuable permission tools include offering useful content or services people are willing to sign up for or traditional incentives, such as contests, sweepstakes, loyalty, and referral programs.

In the world of permission, content is king. Content can consist of news; how-to, reference, and profile articles; videos; music; games, or even live or hybrid events. To effectively drive engagement and the willingness to opt-in, the content must be created by experts who understand your organization's marketplace, the personas of your buyers and influencers, what type of content they most likely will gravitate to and in what medium.

The first rule of content marketing is to focus on your audience, not your own company. What is your organization's core purpose, goal, and objectives, and value proposition; who are its various stakeholders and what are their personas and needs? The goal is not to continually talk about your own organization, although that can be woven into the story, but to find or create information that can help or entertain your stakeholders in a way that shows you care more about them than your own organization.

Content will also be critical in traditional advertising. "That's where contextual advertising comes in. In context-based advertising, ads are placed on web pages according to the website's content. For example, a tech blog may display ads about computer accessories, while a vegan-living website may display ads about vegan food products." This will provide new opportunities for media companies offering creative ways for advertisers to share their thought leadership and offers on related content.

According to a recent report by the social media company Dash Hudson, "97% of the time, creators experience a higher engagement rate when they post in collaboration with a brand, as opposed to the engagement rate a brand receives when posting their own content."

First-party cookies have the additional benefit of helping companies personalize the experience based on the user's interaction. These can include personalized welcome messages, offerings or information based on past visits. According to Patel, "Studies show 90% of users find personalization appealing and 80% of consumers are more likely to make a purchase when brands provide personalized experiences."

Another major factor today supporting the importance of content: more people are conducting searches on Chat AI technologies, which rely heavily on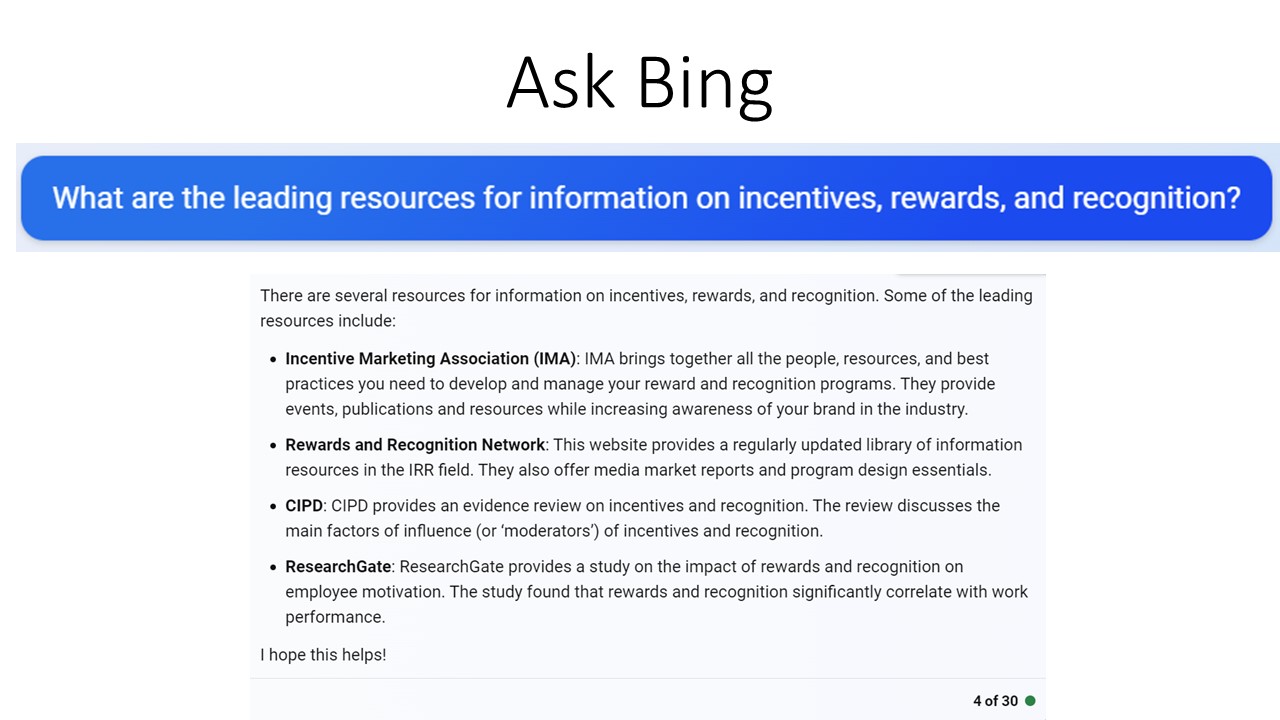 language-based tools to deliver results. As the two slides show, the Enterprise Engagement Alliance's extensive content on stakeholder capitalism and incentives, rewards, and recognition, is rewarded in Chat AI-based searches. The EEA's RRN media platform appears among the top results if one searches for leading resources for information on incentives, rewards, and recognition. The author of this article, founder of the Enterprise Engagement Alliance, appears among far more notable business names in a search for experts in the emerging field of Stakeholder Capitalism, according to this recent search on Bing.

Sophisticated marketers use so-called Consent Management Platforms that enable organizations to compile in one database all the preferences and permissions of each customer used in targeted e-newsletters and other campaigns.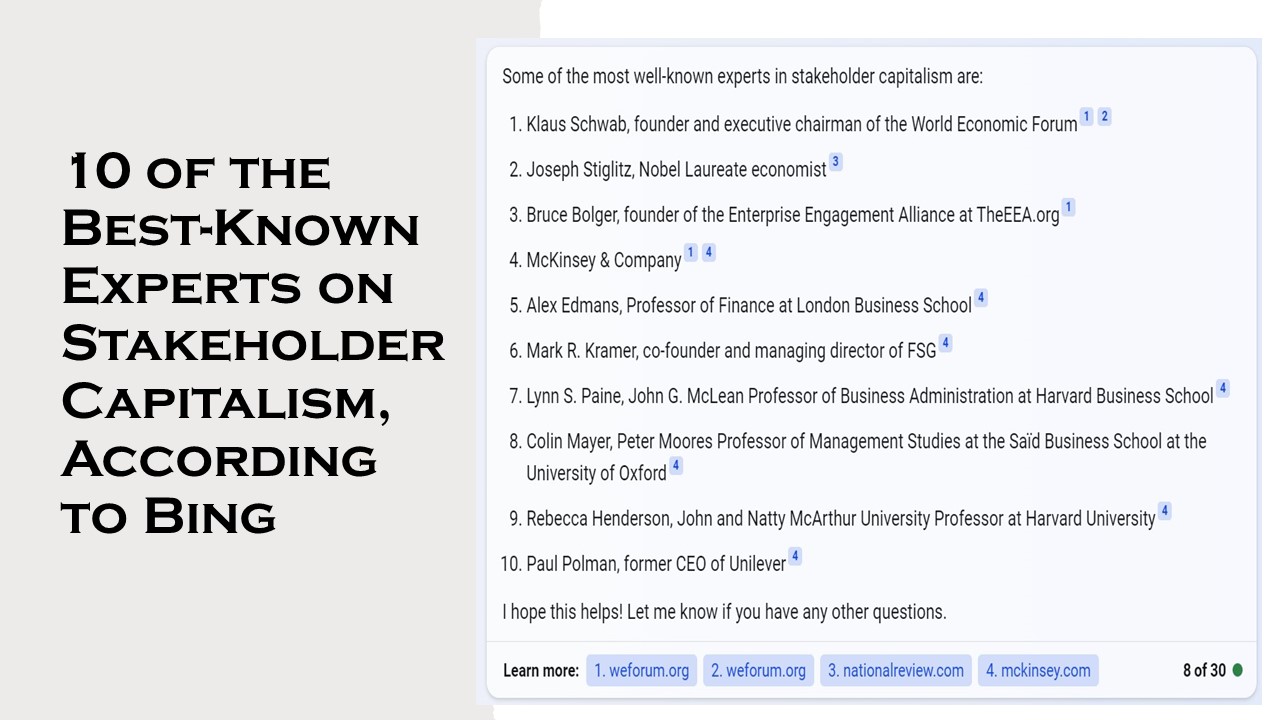 This information can help determine the type of content best suited to specific audiences and can be shared with the sales team through customer relationship management (CRM) systems. While the practice of remarketing—placing cookies on the web sites of people who visit your site so that your ads follow them for a specified period—will become challenging, there are ways to use first-party cookies to target ads on platforms such as Facebook.


Address the Customer Experience

Another approach to addressing the new world of cookie-less marketing is to focus on addressing customer pain points. Patel notes that there are big differences between how consumer perceptions of a brand and that of its management, as the chart below indicates. Ironically, a lot of the issues related to addressing customer pain require having more highly motivated employees.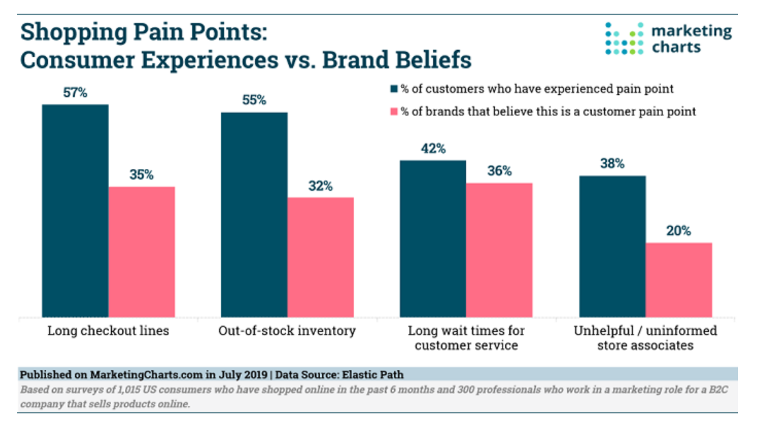 For More Information
Bruce Bolger, Founder
Enterprise Engagement Alliance at TheEEA.org
914-591-7600, ext. 230
Bolger@TheEEA.org


---
ESM Is Published by The EEA: Your Source for Effective Stakeholder Management, Engagement, and Reporting

Through education, media, business development, advisory services, and outreach, the Enterprise Engagement Alliance supports professionals, educators, organizations, asset managers, investors, and engagement solution providers seeking a competitive advantage by profiting from a strategic and systematic approach to stakeholder engagement across the enterprise. Click here for details on all EEA and ESM media services.

1. Professional Education on Stakeholder Management and Total Rewards
Become part of the EEA as an individual, corporation, or solution provider to gain access to valuable learning, thought leadership, and marketing resources to master stakeholder management and reporting.
The only education and certification program focusing on Stakeholder Engagement and Human Capital metrics and reporting, featuring nine members-only training videos that provide preparation for certification in Enterprise Engagement.
EEA books: Paid EEA participants receive Enterprise Engagement for CEOs: The Little Blue Book for People-Centric Capitalists, a quick implementation guide for CEOs; Enterprise Engagement: The Roadmap 5th Edition implementation guide; a comprehensive textbook for practitioners, academics, and students, plus four books on theory and implementation from leaders in Stakeholder Management, Finance, Human Capital Management, and Culture.
2. Media
3. Fully Integrated Business Development for Engagement and Total Rewards

Strategic Business Development for Stakeholder Management and Total Rewards solution providers, including Integrated blog, social media, and e-newsletter campaigns managed by content marketing experts.

4. Advisory Services for Organizations

Stakeholder Management Business Plans; Human Capital Management, Metrics, and Corporate Sustainability Reporting for organizations, including ISO human capital certifications, and services for solution providers.

5. Outreach in the US and Around the World on Stakeholder Management and Total Rewards

The EEA promotes a strategic approach to people management and total rewards through its e-newsletters, web sites, and social media reaching 20,000 professionals a month and through other activities, such as: