EEA YouTube Show Dissects Key Elements of EU Corporate Sustainability Reporting Directive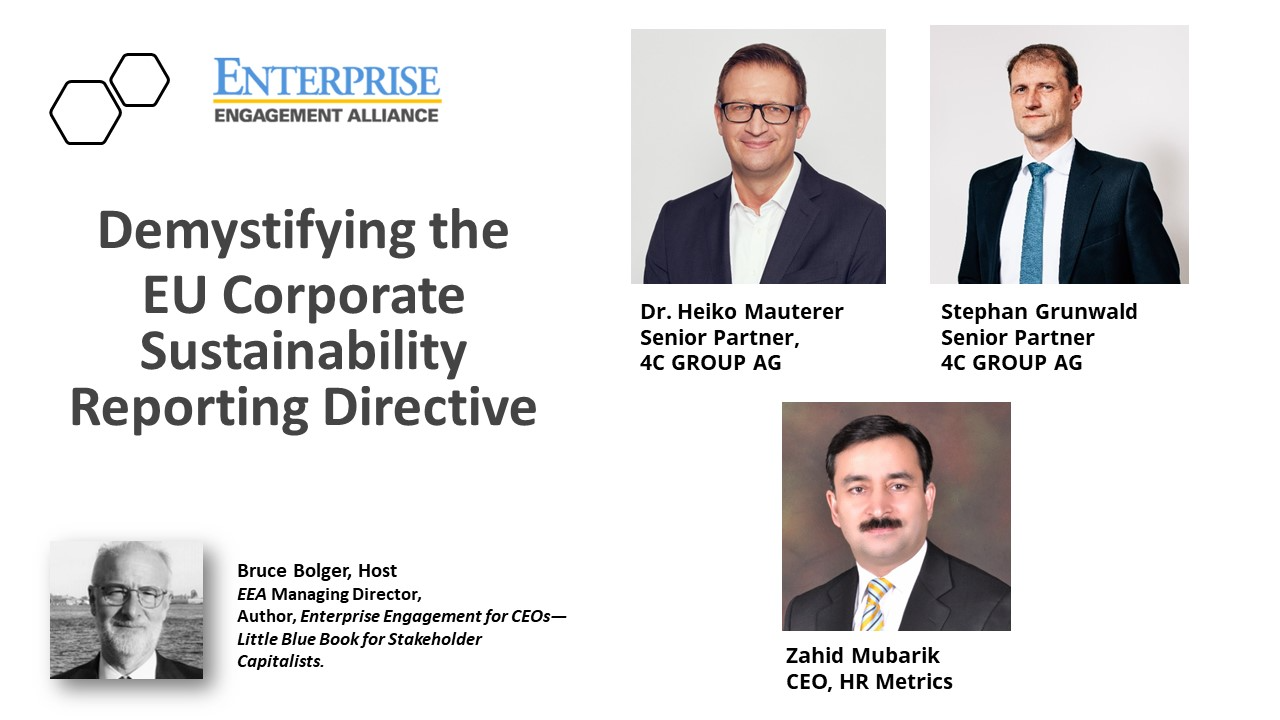 The presenters of this one-hour program summarized below are four experts on stakeholder management and reporting who are among the few who have produced corporate sustainability reports consistent with ISO 30414 human capital standards, ISO 10018 people engagement standards, or the new European Union Corporate Sustainability Reporting Directive.

A Compliance Issue or Business Opportunity?
Presenters Who Have Done the Work
Advisory Support for Organizations Worldwide

This one-hour EEA YouTube show is for boards, asset managers, general management and leadership in marketing, sales, human resources, etc. seeking to understand the new European law, its implications, and the best way to prepare. This program emphasizes the "S" or stakeholder aspects of the new law, overlooked by many firms that traditionally focus on the environment aspects of sustainability.

The program also provides an overview for the many companies that may wish to become implementers or auditors of compliant corporate sustainability reports. A European Union official recently said that it's important for independent providers be able to work on EU CSRD assurance, and not simply the big for accounting firms, according to Responsible Investor.

This is the second part of a series. The first show focuses mostly on the fundamental purpose of the law and its potential impact around the world.

A Compliance Issue or Business Opportunity?

This program can help management determine if they wish to view the law as a business opportunity or compliance challenge.

Conducted by four experts on stakeholder management, metrics, and reporting who are among the only people who have ever produced or audited human capital standards consistent with IS0 30414 human capital standards and ISO 10018 people engagement standards and in one case the new EU Corporate Sustainability Reporting Directive, this one-hour program provides an overview of what management in all areas of business need to know about the new law.

Many legal experts and business advisors believe the new law will have even greater worldwide impact than the European Union General Data Protection Regulation (GDRP), which is widely followed around the world. This session provides a framework to help ensure that companies seeking to comply with the law achieve the best results and do not overpay by engaging potentially high-priced legal, accounting, or management consulting firms who have never actually done the work.

The program provides quick overview of the law and what it means to large organizations and their customers; what companies need to do based on whether the law is viewed as a compliance issue or an opportunity; the people and time involved, and a basic overview of human capital standards and the auditing process.

Presenters Who Have Done the Work

The presenters are:

Stephan Grunwald, Senior Partner and founding member of 4C GROUP and an expert in the field of sustainability management and reporting. He is one of the first practitioners to implement the new ESRS (European Sustainability Reporting Standards) within organizations and discusses the benefits and success factors for the adoption of this new EU regulation. He provides an overview of the steps involved with organizing and manage the data needed for compliance, as well as the reporting submission process.

He is joined by Dr. Heiko Mauterer, Senior Partner of Germany based 4C GROUP; member of the International Organization for Standardization (ISO) working group that created and manages the ISO 30414 human capital standard, and whose company has audited the human capital reports of some large enterprises conforming with ISO 30414 standards.

Grunwald and Dr. Mauterer provide an overview of the law, its direct and indirect impact on European, North American, and other businesses; its general principals, and conduct a deeper dive on an environmental and human capital standard in the law to provide an idea of the logic, issues, and processes involved.

Bruce Bolger, Founder of the New York-based Enterprise Engagement Alliance, is one of the first if only companies to facilitate the creation of a human capital report generally consistent with the new European Union law in that it addresses all stakeholders.

Bolger talks about the implementation process, time, and costs involved based on an organization's size and whether it sees the law as a competitive opportunity or a compliance burden. For those who see it as an opportunity, Bolger points to a recent Nasdaq report finding that the law provides an opportunity for organizations to foster alignment toward a common purpose, goals, and objectives, with clear metrics and a built-in continuous improvement process.

Zahid Mubarik, Founder of Pakistan-based HR Metrics, a leading human capital management, training, and certification firm and a founding member of the ISO committee managing the ISO 30414 standards, probably has trained more professionals in ISO human capital standards than anyone else by a large margin. In his portion of the program, he addresses the concept of human capital standards and independently audited reporting. This includes background on the world of standards, the philosophy behind them, and how organizations can take advantage of an already available body of work to turn the EU CSRD into a business opportunity.

Advisory Support for Organizations Worldwide

The organizations of the speakers have collaborated to create the first international corporate sustainability reporting organization providing a worldwide service for the creation and/or independently auditing of corporate sustainability reporting consistent with the new EU Corporate Sustainability Reporting Directive, whether an organization must directly comply or not. Click here to learn more about the service.

To contact the speakers:

Bruce Bolger, Founder
Bolger@TheEEA.org

Stephan Grunwald
stephan.grunwald@4cgroup.com

Dr. Heiko Mauterer
heiko.mauterer@4cgroup.com

Zahid Mubarik
zahid@thehrmetrics.com

---
Through education, media, business development, advisory services, and outreach, the
Enterprise Engagement Alliance
supports professionals, educators, organizations, asset managers, investors, and engagement solution providers seeking a competitive advantage by profiting from a strategic and systematic approach to stakeholder engagement across the enterprise.
Click here
for details on all EEA and ESM media services.
1. Professional Education on Stakeholder Management and Total Rewards
Become part of the EEA as an individual, corporation, or solution provider to gain access to valuable learning, thought leadership, and marketing resources to master stakeholder management and reporting.
The only education and certification program focusing on Stakeholder Engagement and Human Capital metrics and reporting, featuring nine members-only training videos that provide preparation for certification in Enterprise Engagement.
EEA books: Paid EEA participants receive Enterprise Engagement for CEOs: The Little Blue Book for People-Centric Capitalists, a quick implementation guide for CEOs; Enterprise Engagement: The Roadmap 5th Edition implementation guide; a comprehensive textbook for practitioners, academics, and students, plus four books on theory and implementation from leaders in Stakeholder Management, Finance, Human Capital Management, and Culture.
2. Media
3. Fully Integrated Business Development for Engagement and Total Rewards
Strategic Business Development
for
Stakeholder Management
and
Total Rewards
solution providers, including Integrated blog, social media, and e-newsletter campaigns managed by content marketing experts.
4. Advisory Services for Organizations
Stakeholder Management Business Plans
;
Human Capital Management, Metrics, and Corporate Sustainability Reporting
for organizations, including ISO human capital certifications, and services for solution providers.
5. Outreach in the US and Around the World on Stakeholder Management and Total Rewards
The EEA promotes a strategic approach to people management and total rewards through its e-newsletters, web sites, and social media reaching 20,000 professionals a month and through other activities, such as: